(Here's a teaser video with 1 example of each of the 10 tips mentioned below. Read on for 30 more tips.)
Over the past two years I've spent a lot of time scouring YouTube and the Internet. I've wanted to get a really good sense of what kind of marketing tips are out there for lawn and landscape companies.
I've made a few general observations…
The large majority of content addressing marketing for landscapers is geared towards entrepreneurs and businesses under $2 million in annual revenue.
Most of the people offering these tips are either A) well-intentioned small business owners sharing their personal advice or, B) landscaping marketing agencies that specialize in small businesses.
And lastly, most of the popular "influencers" make money by producing videos (ads on YouTube, product endorsements, selling software, franchises, or courses for startup businesses).
None of these things are bad. However, these landscaping marketing strategies may not apply for companies with an annual revenue of over $2M or for companies pursuing aggressive growth goals. These tips are aimed at the bulk of the landscape industry, small startup businesses.
Just like you don't want to be Just Another Landscaper, I don't want this to be just another article about marketing for landscapers. These are not basic tips. They are specifically for companies that plan on surpassing $2M in annual revenue (or are well past it already).
Advanced Marketing Strategy for Landscapers
Strap in. I'm about to show you the difference between a marketing strategy that will leave you floundering and those that have proven to work for dozens of rapidly-growing landscaping companies (anywhere from $2M-$30M+).
1. Refine Your Positioning Strategy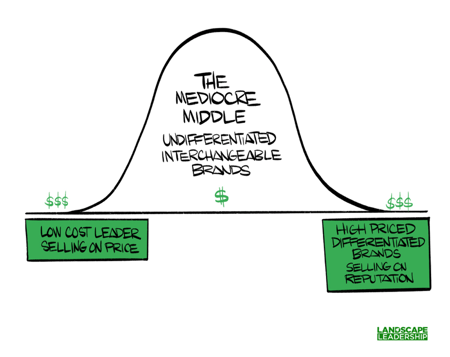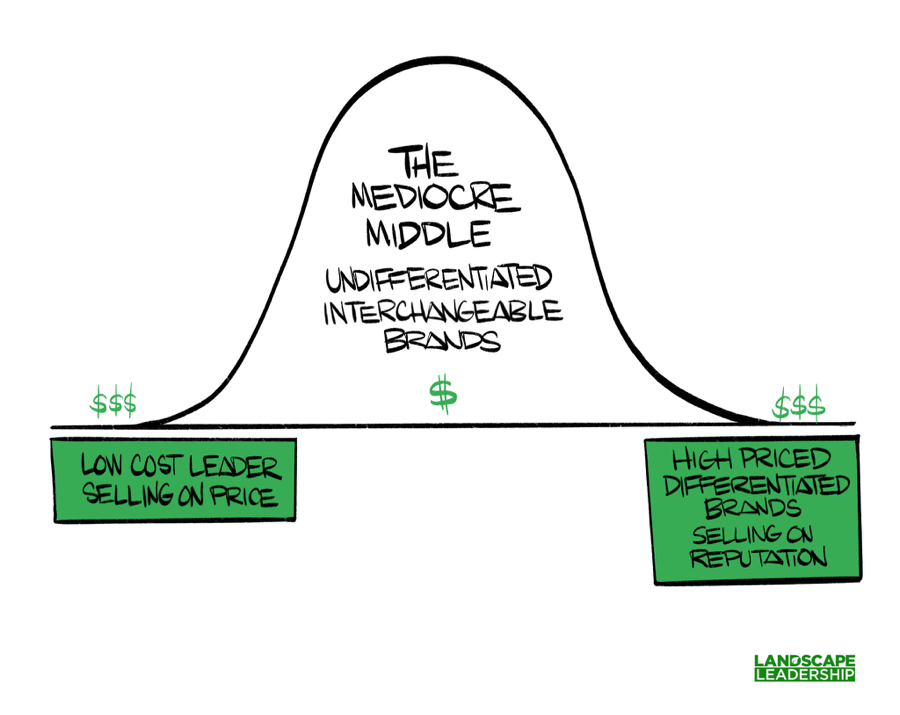 Look at the biggest and most profitable landscaping companies and you'll notice one thing. Their landscaping marketing strategy shows they're not trying to do everything for everyone. Plus, there are some obvious differences from their competitors.
How Another Landscaper Positions Themselves
Advanced Positioning for Landscapers
Stops performing services that are unprofitable and focuses on their

core competency

Chooses a lane, either residential or commercial
Has a profitable

minimum level of engagement

and knows when projects/clients are too big
Limits services areas to where they are the most efficient and profitable
(RELATED READING: The Right & Wrong Way to Diversify Landscaping Services)
2. Create a More Compelling Message
Research a dozen or so landscaping websites from around the country. You'll find most companies use the same phrases, confuse their prospective landscaping customers, and really don't stand out. This has a huge impact on their marketing success.
Just Another Landscaper Messaging
Speaks in first person ("we" and "us") in their marketing communication
Focuses too much on awards and credentials
Highlights features of their services over benefits to their customer
Overcomplicates the process for customers to work with them
Advanced Messaging for Landscapers
Talks 10x more about their prospect than themselves
Focuses more on empathy for their prospect than touting their own authority
Clearly and concisely explains

the main issues and solutions

Makes it simple for prospects to request a consultation/quote
(RELATED READING: See How Easily You Can Use These 5 Elements of Storytelling to Sell More Work)
3. Implement a Better Branding Strategy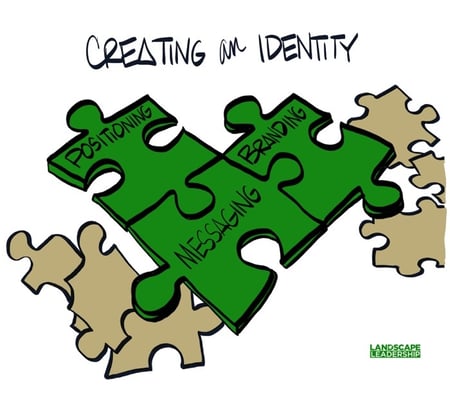 Brands that are a hot mess often stand out for the wrong reasons. If you ever intend to excel in this area, it may be time to have a pro refresh your branding.
Just Another Landscaper Branding
Has a busy, typical, outdated, and confusing logo (clipart of grass and a tree and font from the 80s)
Has a dull or confusing

landscaping company name

Either has A) tiny truck logos on doors or B) vehicles that look cluttered and busy
Has little consistency across various print materials (brochures, direct mail, job signs), and marketing assets are cluttered, trying to accomplish too much
Advanced Landscaping Branding
Clean,

simple, modern logo

that adheres to best design practices
Has a company name that reinforces positioning, differentiates them from competitors, and leads to favorable consumer perceptions
Tasteful

vehicle wraps

with clean, recognizable branding
All company assets adhere to a defined brand-style guide and focus on getting a prospective customer to call or visit the company website
(RELATED READING: A New Logo Won't Fix Your Problems)
4. Track & Analyze Marketing Performance
So far, all of the landscaper marketing tips above have focused on critical, foundational strategy. The tips that will follow this one will get more into specific tactics. However, this is a very important step to explore before you do so.
It's extremely common for companies to waste money on landscaping marketing initiatives because they don't measure results. It's time to get a plan in place to prevent this.
Just Another Landscaper Marketing Analysis
Uses gross revenue growth as their measure of success
Focuses primarily on vanity metrics such as overall website visits, ad impressions, social likes, search engine ranking position ("first page of Google")
Relies on "gut-feeling" or subjective feedback from others
Advanced Landscaping Marketing Analysis
Focuses on bottom-line profit numbers for their

most profitable landscaping service

divisions
Focuses on increasing more important indicators of success such as the amount of

local website visits

, quantity of qualified leads generated and value of sales closed
Establishes measurable goals and benchmarks
(RELATED READING: 5 Meaningful Website Metrics to Understand & Track)
5. Utilize High-Quality Professional Photography & Video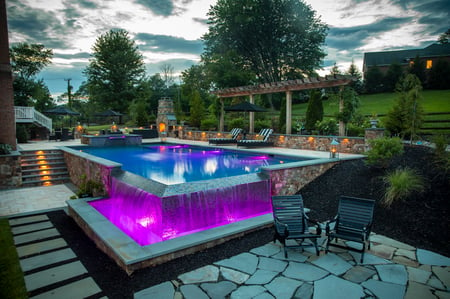 I'm sure you've seen it...tacky and underwhelming images and videos. If you're going to look like a big dog, you've gotta well...look like one. It's time to spend money and put some thought into your visual marketing assets.
How Just Another Landscaper Approaches Marketing Photos & Videos
Uses DIY photos with bad lighting, random objects in shots, that feature unimpressive projects
Creates long, boring, poorly-produced videos

Hires a pro

, gives them a list of properties and tells them to just go "get stuff" and tries to figure out where they can use it later
Haphazardly spends money on photos and videos
Advanced Landscaping Photo & Video Marketing Strategy
Pro photos with great lighting, props, and people using your most impressive projects
Insists on engaging, concise, and

compelling professional videos

that reflect important client-focused messaging details
Hires a professional,

carefully plans the photo shoot

with all of its details to create assets with intentional uses
Creates and executes a plan to invest money in new visual assets each year
(Image Source: Rock Water Farm Landscapes & Hardscapes)
6. Create a Website That is a Lead-Generation Machine
Your landscaping website should be one of your most-valuable marketing assets. If it's doing its job, website visits from within your local service area should be increasing as well as a constant flow of qualified leads for your sales team.
Just Another Landscaper Website
Basically a virtual brochure using hyperbole and industry jargon
Confusing and frustrating to use
Either A) cannot be easily found in search results for dozens of popular search terms or, B) utilizes awkward

search engine optimization (SEO)

tactics which are a turnoff to website visitors

Thoughtless written and visual content

appears ametuer and confusing
Very few qualified leads generated
Advanced Landscaping Website
Provides concise information about services and also utilizes high-quality content such as blog articles, interactive tools, and downloadable resources for deeper research

Easy navigation

for prospects to do their research and request a quote
Found in search results for hundreds of search terms yet designed for a human to use
Written and visual content is easy to mentally digest and encourages a great website user experience
Consistently generates more qualified leads, year over year
(RELATED READING: 12 Essential Ideas to Implement on Your Landscaping Website's Homepage)
7. Only Use Paid Advertising with a Proven ROI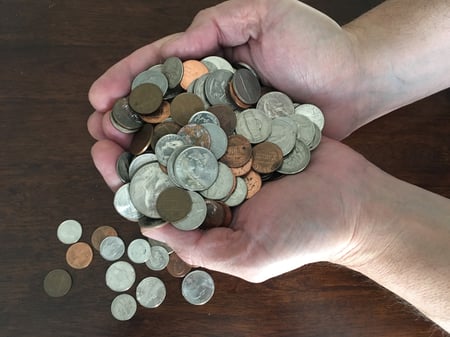 It's very common for landscaping companies to waste time and money on ineffective advertising campaigns. Larger, more successful landscaping companies often approach advertising differently.
How Just Another Landscaper Advertises
Cannot clearly state how much they spent on various campaigns and what is working (or isn't)
Spends money on costly sponsorships, print, and digital ads that don't generate many qualified leads
Invests a lot of time and money into exhibiting at events and sees very little benefit
Advanced Advertising for Landscapers
Can easily understand and prove ROI based on website visits, calls, form leads generated, and ultimately sales closed
Discontinues advertising that has proven to be ineffective and

invests more money into winners

instead
Only participates in events that create legitimate business opportunities on a consistent basis

(RELATED RESOURCE: Marketing ROI Calculator & Annual Marketing Budget)
8. Create an Email Marketing Strategy That Actually Produces Leads
We get them every day. The spam emails that clog up our inboxes and we unsubscribe from. It's a constant barrage of "blasts" and promos that are of little interest to us. Don't be that brand.
Just Another Landscaper Email Campaigns
Blasts entire contact list with annoying, self-serving promotions
Sends

long, boring newsletters

with dull subject lines
Doesn't use an

email marketing platform

Emails customers too much or erratically
Uses email templates that look terrible on certain devices
Advanced Landscaping Email Campaigns
Segments contact lists to send topics of interest to the right people
Uses short, visually-compelling email to drive contacts to their website or to call
Can track opens, clickthrough rates, landing page form submissions, and calls generated
Finds the right frequency and sticks to a consistent plan
Designs emails that look great on any phone, tablet, or computer
(RELATED VIDEO: 7 Reasons Your Email Marketing is Failing)
9. Leverage a Formal Customer Referral Program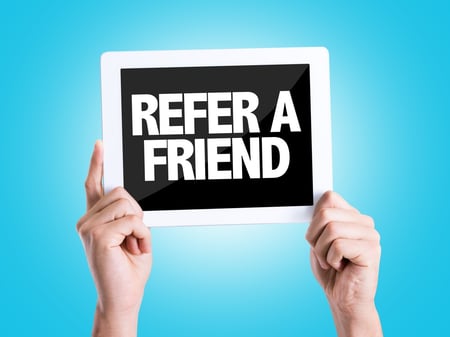 Virtually every company boasts that they get landscaping customers from word-of-mouth. However, most of them cannot tell you exactly how it's happening or have a strategy to improve results.
Just Another Landscaper Referral Program
Randomly offers up various credits or gifts for referrals
Doesn't directly ask for referrals on a consistent basis
Can't attribute the amount of referral revenue generated
Advanced Landscaping Customer Referral Program
Has a defined referral reward and meticulously keeps tabs on referrals
Promotes its

customer referral program

regularly across various marketing channels
Can give detailed reporting on proposals generated and business closed on referral opportunities
(RELATED READING: Customer Referral Programs - Tips & Examples)
10. Improve Your Sales Organization to Close More Leads
Leads are great, but if your sales team is overburdened or processes don't allow for a great customer experience, it means landscaper marketing dollars will be wasted. Just addressing marketing isn't enough. Your sales process needs attention.
Just Another Landscaper Sales Process
Reps take too long (hours or even days) to respond to marketing inquiries
Salespeople send out a lot of proposals with minimal to no follow-up
Only focuses on sales goals, not opportunities that are lost
Rarely (if ever) talks to prospects again
Overwhelmed sales reps with manually-executed sales-related tasks
Advanced Landscaping Sales Process
Has sales team members instantly fielding inquiries or diligently follow-up contact attempts
Qualifies initial interest and makes repeated attempts to close proposals
Regularly evaluates closing percentages and uses data to help improve the skills of their salespeople
Has a detailed process for

re-engaging prior prospective customers

Uses

sales automation

to increase efficiency and improve the prospective customer experience
(RELATED PODCAST: Is Your Sales Process Leaving Money on the Table?)
Just Another Landscaper or Are You Ready for Advanced Marketing for Landscapers?
Now that you've seen the difference between being Just Another Landscaper and a company utilizing these advanced approaches, I hope you can clearly spot the difference. Knowing this will help you maximize your success.
If you're ready to dig into these landscaper marketing tips in greater detail, click on any of the links above in this article to learn more. Or, if you're reading this, and are ready to create a landscaping marketing strategy that works specifically for companies in the $2M to $30M+ annual revenue range, be sure to schedule a meeting to learn more.