Whether you're just starting a landscaping company, purchasing enclosed trailers for your lawn care outfit, or looking for a fresh way to re-brand your tree service, vehicle wraps are one of the most cost-effective ways to get exposure.
This mobile signage has the potential to reach thousands of people in your local community each and every day.
Vehicle signage had its origins in time-consuming, costly, and permanent hand-painting. It was a big investment 20 years ago that not only meant having your vehicle down, wallet emptied, but also a truck shackled to your company until it was being held together by duct tape.
However, vehicle wraps have come a long way. This artform and advertising media now can be installed in just a few hours, designed to fit varying budgets, and can even serve as temporary signage on trucks and trailers leased for only a few years. The simple logo can now be a multi-faceted message covering any portion of a truck, trailer, or piece of equipment.
The image above is a great example how our client, Outback Landscape, uses bold colors to get recognized each day. The vinyl is even reflective, so it can be seen in the early morning hours or at night!
In addition to working in marketing for the green industry for the past couple decades, I have also ran a sign shop for over 10 years, lettering vehicles just like the ones we'll feature in this article. I'll give some tips on how to get even more bang for your buck with vehicle wraps.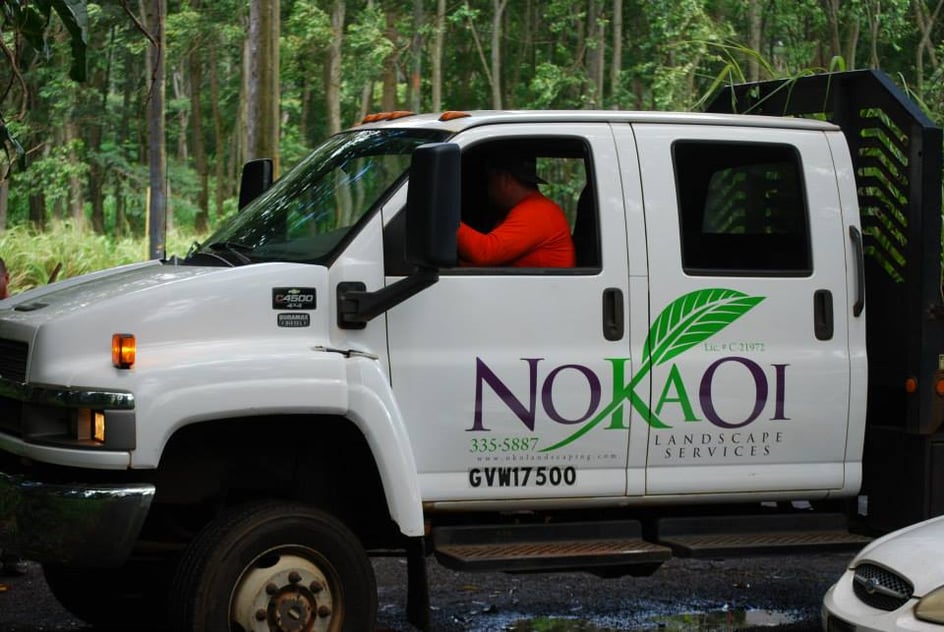 (Here's a great example of a clean logo with only 2 colors. Our client, No Ka Oi Landscape Services in Hawaii, has a one-of-a-kind logo that no one will forget! Tips: If you can legally move those numbers to above the front tire, they won't distract from the logo. Using the purple color, in a thinner font could help as well.)
Wraps, Graphics and Truck Lettering: What's the Difference?
Although some terminology is used interchangeably, these various forms all employ using vinyl film that adheres to non-pourous surfaces like automotive paint and glass. Here's the difference:
Wraps:

This term gets its name from covering large areas (partial wrap) to an entire truck or trailer (full wrap) with lettering, printed logos, pictures and more.

Graphics:

This name can be used interchangeably, not indicating one way or another the placement or inclusion of design elements.

Truck Lettering:

The old terminology where logos were simply placed on the 2 side doors is where "lettering" got its name. Many sign companies will use this term to convey that a simple logo and lettering is applied to a small area.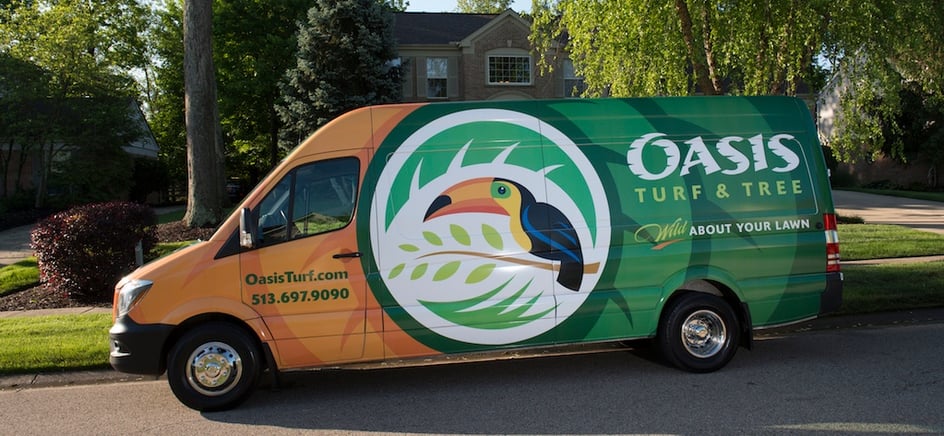 (This is an awesome example of how a lawn care company can get more customers just by parking at the curb while performing services in Cincinnati suburbs. Our client, Oasis Turf & Tree, made great use of their brand's colors and kept it simple with this lawn care van.)
Why Are Vehicle Wraps & Graphics So Popular?
Exposure: Think about how many people see your company's fleet each day. Even if you have but one pickup truck, hundreds, if not thousands of people see it in any given day. In a single year, one vehicle alone could receive hundreds, thousands, or a million advertising impressions.
In a few seconds, landscaping vehicle wraps can communicate who you are, what you do, and how to reach you. The more often a prospect sees your company's brand, the more likely they will be to remember it when searching for a provider.
Return on Investment: Placing ads in magazines, phone books, or PPC advertising are marketing initiatives that cost you every single month, year after year. Unlike these mediums, lawn care vehicle wraps are paid for one time, and last for 5-12 years.
(RELATED READING: Landscape Logo Basics - 6 Elements of an Effective Landscape Logo)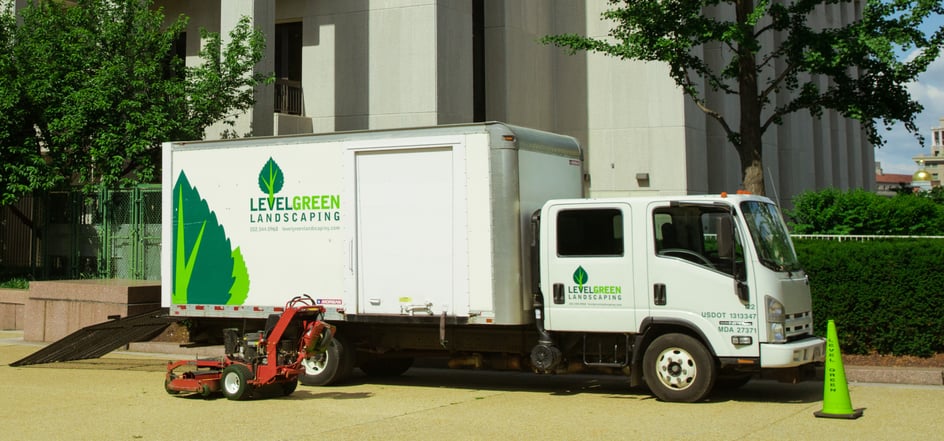 (Think you can only put one logo on the same side of your truck? Not so if it's this large. This is a great example of how just a 2-color logo and some white space make a great statement for our client and commercial landscaping contractor in Washington D.C., Level Green Landscaping. Good job keeping those USDOT numbers out of the way too! Did you ever think about using that space above the cab or on the front? Another logo would look sharp there!)

Any Reasons to NOT Wrap a Truck, Trailer, or Piece of Equipment?
Today's vehicle signage is semi-permanent. It can withstand typical washing and use and be removed years later with a little bit of heat and a lot of elbow grease. So long as the paint behind the graphics is properly applied, you can literally heat the vinyl film up and peel it right back off of your vehicle.
If you have landscaping trailer wraps or truck graphics applied to the entire painted surface of your vehicle, the film will actually preserve the paint behind it, protecting it from the fading of UV light. However, if you choose to have only portions covered, it means only those portions being preserved. When later removed, you'll be able to see that these areas did not fade. This can sometimes be buffed out by a body shop.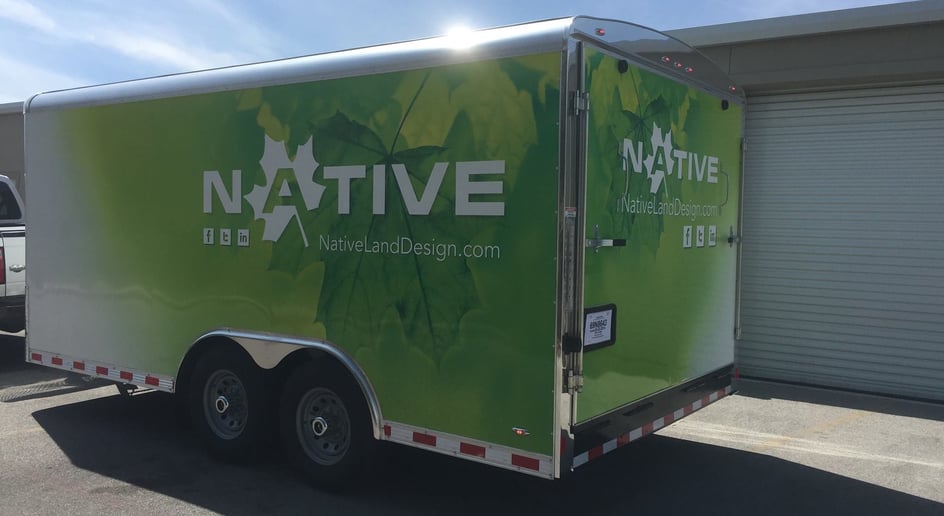 (Client and commercial landscaping company, Native Land Design in Texas, shows off a perfect way to use background images without distracting from the logo. Leaving a phone number off of your trucks and trailers won't get you more calls, which may have been a deliberate move from Native since they service a lot of commercial properties and may not want too many calls from residents or tenants.)
There may be some reasons why landscaping companies, lawn care providers, or tree services may not want to install vehicle wraps or lettering:
Reasons to NOT install Vehicle Signage
If you're selling the vehicle in the next 12 months.

Adding graphics, particularly a full-wrap may not get you much ROI after paying to remove the graphics after a short time span. Go with a small logo that is less expensive and easier to remove.

If the trailer or vehicle's paint integrity is poor.

Removing vinyl on a cheap paint job could actually peel off paint layers.

If you consider your personal use of the vehicle in the evenings or weekends more important than advertising your business during the week

(Don't even go with magnets. Nothing says I may be out of business next week, or a painter on the weekends, like a set of magnets).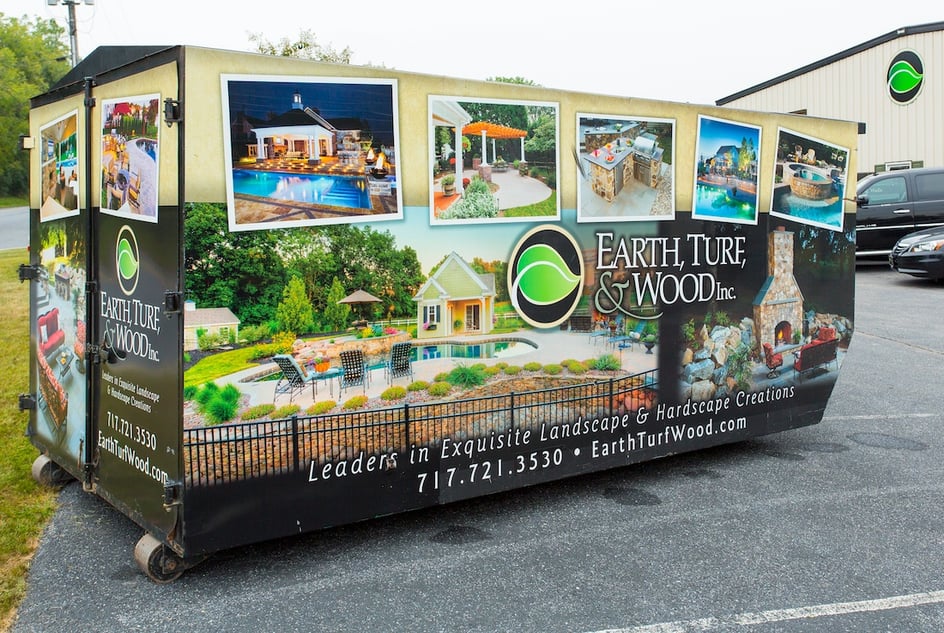 (Our client, Earth, Turf, & Wood in Denver, PA understands the value of branding on all types of equipment, right down to the roll-off dumpsters they keep on sites for weeks on end! Imagine strolling through the neighborhood and seeing this effective marketing!
Special Landscaping, Lawn Care and Tree Service Vehicle Wrap Considerations
We all know a classy job when we spot one. It's simple, clean, and communicates the perfect amount of information. Go overboard and people may be confused or get the wrong message.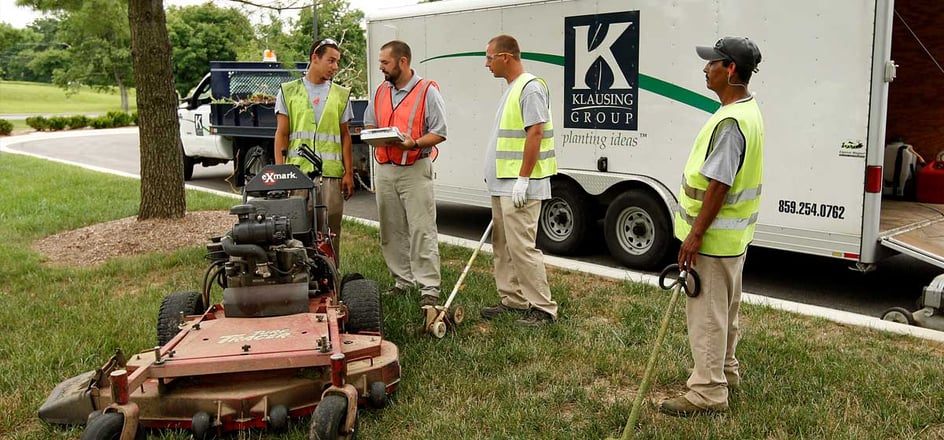 (This is a good example of how less is more. Our client, Klausing Group in Kentucky, uses a clean logo and few colors and a phone number to display their brand on this mowing trailer. One addition you may also want to consider is adding your company website in the lower left corner.)
Here are some design elements to keep in mind as you talk to a sign shop about landscaping truck wrap ideas:
Design Considerations
Get a nice logo.

When people see your

company logo

, they should remember you.

Don't include too many pieces of information.

Resist the urge to make designs too busy. Logo, phone, website, tagline, and subtle imagery. If your vehicle is large enough, or you are having

enclosed landscaping trailer wraps

done, you may have more real estate for bullet points, etc. Resist overcrowding small vehicles.

Use as many sides of vehicles and equipment as you can.

The backs of trailers and vehicles are an absolute must. You can even have some fun on the hood or above cabs in the front.

Don't be too colorful.

This is a subtle balance that a good vehicle wrap designer will have an eye for. If possible, stick with 2-3 colors for main elements.

Make sure images don't overpower your branding.

If your images are busy, reduce their opacity so they don't distract from the more important company info.

Use very large, high resolution professional images.

There's nothing more tacky than blurry, DIY photos of your work driving around town.

Consider vehicle purchases by their ability to be wrapped.

You may have a truck with great functional use, but it could have a tiny area for a logo. It's an important part to consider.

Include the necessary license, DOT, and regulatory numbers.

Don't make them any larger than they need to be and make sure they are placed to not distract from the more important design elements.

Remove vehicle emblems and model numbers if possible.

If you have a giant "F-350 Super Duty" decal or emblem on your truck there is no reason you should design your wrap or lettering around it. These can be removed with a little heat and some gentle prying. You're advertising for your business, not for Ford.
(RELATED READING: 7 Guidelines for Choosing a Landscaping Company Name)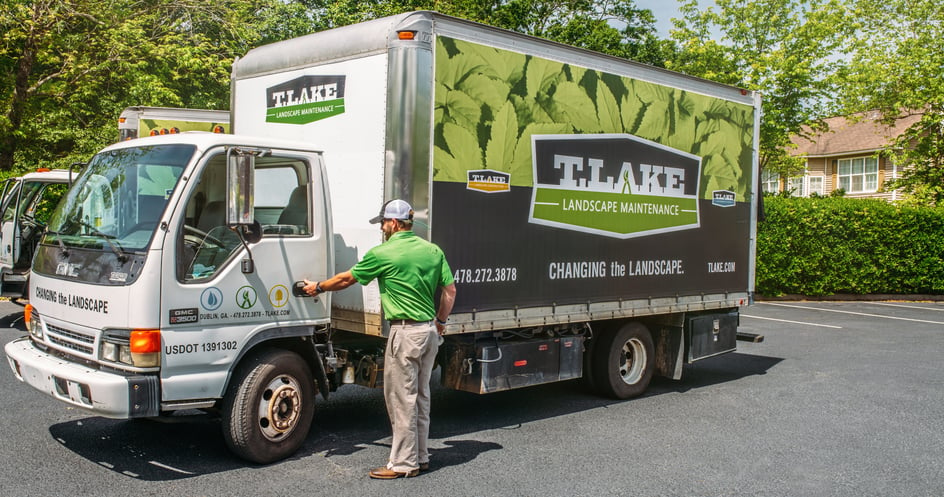 (Our client T. Lake Landscape Maintenance in Georgia, nailed it on this one. They kept the image above the mid-line, to not make it too busy on the box of this truck. You can see their branding from all sides of the vehicle, and it's particularly nice to see the logo above the cab, instead of cramming it under the windshield with the tagline.)
Practical Considerations
Be aware of typical wear and have a plan.

If you have areas where vibrating hoses lay, or latches that swing it may wear off vinyl graphics. In some cases, adding some thicker overlaminate could help to provide some protection, or your designer can place elements strategically to not interfere.

Train your team how to properly wash vehicles and equipment.

Getting too close with a pressure washer or vigorously scrubbing vinyl with a stiff brush (particularly when it's cold) can damage it. Be sure they know how important it is to take a little extra time to do it right.

Inspect your fleet for wear and repair graphics regularly.

While your fleet isn't being used as heavy during certain times of the year, have a team member inspect each piece and get a plan together to repair missing numbers, letters, etc.

Put a logo on everything you can!

Seriously, why not have branding on mowers, trailers, aerators, and more? If you're on a property, visitors can see you.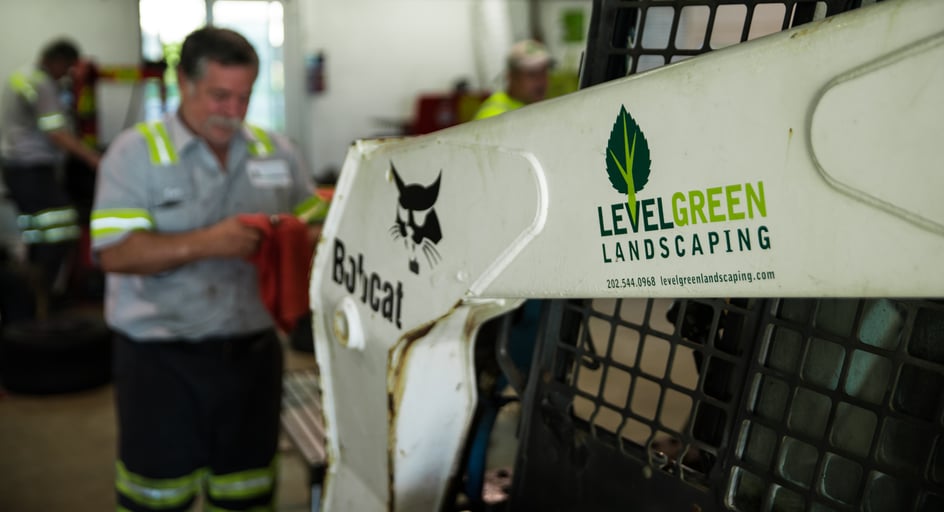 (Level Green Landscaping added their logo to a Bobcat they use on properties. Why not advertise your company while machines move or are parked there overnight? Just make sure you put it on spots like this, that aren't prone to rubbing off while equipment is moving, digging, etc.)
The Cost of Vehicle & Trailer Wraps
If you plan to price out landscaping vehicle wraps, get a couple preliminary estimates. Know what portion of the vehicle or trailer you intend on covering, and a basic idea of the design concept. This should be enough for a general quote.
The cost will be based on design time, materials used, and difficulty of installation. Wrapping around corners and over door handles, etc. will add to the labor time. A simple design of some logos and phone numbers on a pair of truck doors could start as low as $250-$350. Throw in a tailgate, and you'll approach the $500-$600 mark.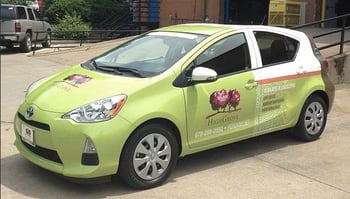 Partial to full wraps can range from $800 and up on a partial wrap on an economy car (like this sales vehicle wrap from our client, Highgrove Partners) to wrapping an entire box truck for $6,000-$8,000. It all varies on scale and difficulty.
Be sure to ask for references of other local companies who your sign shop installed graphics for a few years ago. Call them and ask how their work held up. It's easy to make it look great in the beginning, but poor workmanship could lead to peeling or fading elements.
Ask for any guarantees on workmanship or materials. Not all vinyl films, inks, or installations are the same. Some materials could last as little as 4-5 years before they start fading and some vinyl films may endure for 10-12 years.
We'd love to see examples of your awesome fleet graphics! Email us some pictures and we will either share them on social media or add them to this article. With the right choices, it won't be long until people will be letting you know that they see your mobile billboards everywhere!
For more helpful branding tips and advertising advice for your landscaping, lawn care, or tree service company, feel free to subscribe to our blog for regular tips.