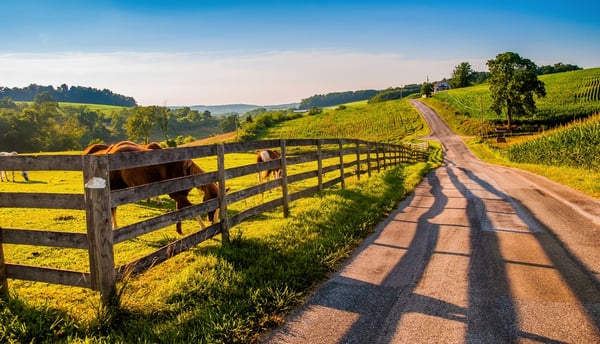 After visiting two clients recently in northern Virginia, I was reminded how important it is to define where – and where you do not – offer your services.
Rock Water Farm and Kingstowne Lawn & Landscape know where their bread and butter is and don't stray far from it.
These companies aside, I find that many in our industry are undisciplined in managing their service area limits, instead chasing any and all opportunities falling outside this area.
I'm reminded of a landscaping company I worked for early in my career located in west Michigan. We chased work up and down the Lake Michigan lakeshore from New Buffalo to Pentwater (a span of 160 miles) while mostly ignoring the explosive housing growth within a 15-mile radius around us, including the high-end subdivision across the street.
Instead of establishing a stranglehold on these local developments we routinely proposed design/build work 40+ miles away that our landscape maintenance division would never be able to service.
Our mistake seems obvious in hindsight, but the truth is, this company had no positioning strategy whatsoever. Management never said not to chase this work.
Think about the time and profit potential wasted when straying too far. Sales people see fewer prospects each week, closing fewer deals. Account managers are stretched between properties unable to service their customers effectively. Crews are burdened with more windshield time, literally driving down your profit margin.
I'm stressed out just writing this! How about you?
Setting limits
Firmly establishing limits for your service area is fundamental to your company's positioning strategy.
I refer to this as your Target Account Boundary (TAB).
Establishing your company's unique Target Account Boundary is an exercise and investment that will pay immediate and long term dividends.
Here are a few recommendations...
Get internal buy-in
You'll need to explain to your team why defining your Target Account Boundary is so important. Show them how this fits into your overall positioning strategy and, better yet, show how you are currently wasting time and profit potential.
I suggest highlighting your boundary on a large map and hanging it on a wall that is visible to every client-facing team member.
Set expectations. Get comfortable saying "no" to everything outside your TAB. Then hold people accountable.
Manage client churn
If you do this right you should have a number of current clients falling outside your newly established Target Account Boundary.
Of these clients, identify your "dogs". You know who they are. Agree upon a plan to transition away from these unprofitable problem childs within 6 to 12 months.
Next, evaluate the profitability of your other accounts outside your TAB. Plan to roll out a significant pricing increase to them over the next 6 to 12 months.
You'll lose a few accounts. Get comfortable with that. Your soon-to-be more focused business development efforts will make up for your losses.
Revisit your Target Account Boundary frequently
Your first attempt at defining your TAB will be very conservative. Revisit your boundary in 12 months.
You should be more comfortable saying "no" after a full year adhering to your TAB. In fact, you should feel empowered (that's the power of positioning, my friends). So shrink your limits even more to get to your real TAB.
This exercise will require some difficult decisions. You're bound to get push back from your people. Get over it. This is an instance where short-term, temporary pain will lead to long term profits.
Be ruthless, except when...
There will be exceptions when you'll be open to opportunities outside your Target Account Boundary.
Often this will be a current customer bringing you another opportunity. Or from a regular referral source like an architect or asset manager.
Be sure the opportunity meets these criteria:
The project or account has a clear, agreed-upon scope of work that fits your current positioning and capabilities, and...
You are viewed as the irreplaceable expert and will be paid as such, and on your terms.
In simpler terms, the opportunity must be low risk and (very) high reward. If not, it's "no, thank you".
---
If you found this article insightful, I recommend reading some of our other articles on positioning. I also suggest reading the article I wrote last week about how your service offering impacts your positioning.
We've got over 3,000 lawn and landscape industry pros subscribed to this blog. Want to join them? Subscribe here. Or just add your email address in the form below. You'll get a new article every Tuesday morning.