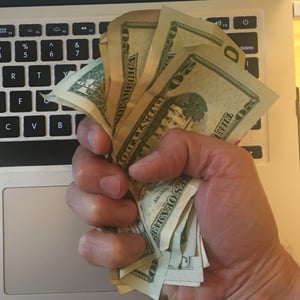 Over the years, lawn care and landscaping companies have asked us a LOT of questions about various advertising mediums.
But the one that seems to come up the most often (with skepticism and criticism) is Google Ads (also referred to as PPC, Pay Per Click, or Google Adwords.
Do you find yourself at one of these places?
You're contemplating using Google Ads for lawn care or landscaping leads
You did your own Pay Per Click in the past but weren't that impressed
You hired a marketing agency to place PPC ads for lawn care or landscaping lead generation
You've grown your business without this advertising medium but are always looking for ways to land new customers
Well, I am assuming most (if not all) of you fit into one of those categories. If so, I've got something special for you. Over the past month, I've taken this complicated (and most often very boring) topic and created a series of videos for you.
The 2 reasons I created these videos are:
I want you to STOP wasting money on poorly-performing landscaping or lawn care PPC campaigns (seriously some of you are throwing away tens of thousands of dollars each year).
There is a ton of BORING information out there. I get that you're busy and I'm going to keep this practical and tactical (while making a fool of myself from time to time).
Let's get started, shall we? Watch them one-by-one below or you can view the entire Playlist on YouTube.
Video 1: PPC Google Ads - 3 Problems for Lawn Care & Landscaping Companies
Description: In this introduction to a video series, we'll talk about 3 of the biggest problems that cause lawn care and landscaping companies to waste money in their Google Ads (AKA Google Adwords, PPC, Pay-Per-Click) advertising.
(RELATED READING: Why We Don't Always Encourage Lawn & Landscape Companies to Spend Money on PPC)
Video 2: Landscaping & Lawn Care PPC - Messed Up Priorities
Description: Should your lawn care or landscaping company invest in PPC (Google Ads or Google Adwords)? This landscaping and lawn care marketing tactic could help you sell more work, but only IF you have your priorities right. Find out 2 important things to do first in order to get a great ROI.
(RELATED READING: Okay, MAYBE Pay Per Click (PPC) Can Work for Lawn Care Companies - a Recent Update)
Video 3: How Much to Spend on Lawn Care Pay Per Click Advertising (PPC) Without Getting Burned
Description: Considering pay per click advertising for lawn care leads? Find out how much to spend on lawn care PPC, both how much you should pay a lawn care marketing agency, how Google Ads calculates click costs, as well as what is a good monthly Google Ads budget for your lawn service.
Video 4: Google Adwords for Lawn Care - Improving ROI & Measuring Success on Pay Per Click (PPC Advertising)
Description: Are you flushing Google Adwords dollars down the toilet? Check out some of these proven tips to save tens of thousands of dollars and generate thousands of leads for your lawn care company. In this final video in our series, we'll cover how to measure the right numbers and how to make meaningful changes each month to improve your lawn care marketing efforts and ultimately sell more lawn care customers.
(RELATED READING: 5 Meaningful Website Metrics to Understand & Track)
Want regular, practical tips like these to take your lawn care or landscaping business to the next level? Then consider subscribing to my YouTube channel. Or if you'd rather read our in-depth articles on Landscape Leadership's website, you can also subscribe to our blog.