(Thinking to myself)...Hmmmm....we really need more of this lawn care or landscaping work on the books...
(Lightbulb moment!)....I know! I'll send out an email blast.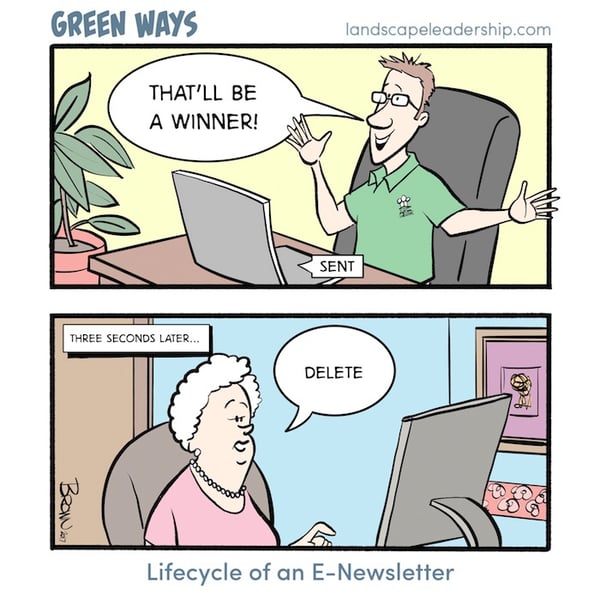 Have you gotten bad results with email marketing for your lawn care landscaping company?
Maybe you've been thinking that you want to use email marketing to generate more lawn care landscaping leads, but you're not quite sure if it actually works.
Well, today, I'm going to share seven reasons these campaigns commonly fail. Stay tuned.
(Check out the video with description, resources, comments, etc. on YouTube)
Video Transcription
Hey, what's up? It's Chad with Landscape Leadership. We've helped dozens of lawn care and landscaping companies all across the country generate a consistent flow of great leads for their sales team.
If you're new here, make sure you hit that button in the bottom right corner to subscribe to the channel as I frequently release new landscaping and lawn care marketing tips.
Also, all the resources I'm going to mention in this video, along with some bonus materials, are gonna be found in the description below.
My Beef with How the Green Industry Uses Email Marketing
One of the many ways that we help lawn care and landscaping companies generate hundreds, even thousands of leads for their sales teams each year is through email marketing.
And since I get a chance to talk to dozens of lawn care and landscaping company owners throughout the year, I somehow ended up on their email marketing subscription list and I end up getting their email blasts...even though I'm located in a different state entirely.
(eye rolls)

Don't tell me that email marketing does not work to generate leads because I've personally seen it work.
However, there are a lot of reasons why this can potentially go wrong and crash and burn. Let's talk about the seven most common reasons.
Problem #1: Ignoring Context
The fact is is that I hear the term email "blast" a lot in the green industry. And that is a clear indicator that we might not understand what context is as a rule.
Think about it. Would you want to be blasted? Probably not.
Just loading up a list of thousands of people's email addresses and letting 'er rip is a terrible way to approach email marketing. You're going to piss off your contacts and they're going to end up unsubscribing or they could mark you as spam.
This means that you're never going to make it into their inbox ever again.
Whenever possible. Pull a filtered list out of your database. Think about customer status, what types of services they have or don't have, and make sure that email that you're sending, to this person is meeting their context.
Problem #2: Horrible Subject Lines
Think about it. You have about one second to make somebody smile and even remotely interested.
If you're using typical, confusing, or long subject lines, this is an easy way for your email to end up in their trash bin.
Now, there are a lot of resources out there about how to write a good email subject line. They're not going to include "This Month's Newsletter" or "Our Latest News". I can assure you of that.
Problem #3: Crappy Email Templates
Your email should look great on any type of device, whether it's a 27 inch wide monitor, a tablet, or a smartphone, it should look fantastic.
Also, there's a careful balance between eye-catching and simplicity. You don't want your email to look dull and typical, but you also don't want things to be overwhelming.
Problem #4: It's Long and Boring...
This is not an article. People are going to get this and bounce! When they see paragraph after paragraph of text, they are going to head for the hills.
Think of a great email like you would a great meal. You're going to want to take a bite at a time and each bite after the next is going to be better. Don't just shove the whole meal down their throat. Give them a bite, a time.
Help them to digest it and make them interested for the next course. This means including small paragraphs, images, and bullet point lists. Also, be sure to provide a clear call to action at the bottom of your email.

Problem #5: It's Selfish and Annoying
A general to follow is always get way more than you're asking for.
You might want to test your email, send it to somebody, a friend of yours, maybe even someone outside of the industry and ask them candidly, "Tell me, what is your feeling when you get this email?" You might be surprised at their answer.
Are you begging for people to buy your latest and greatest promotion? Are you sharing news that they could really just care less about?
Problem #6: Your Frequency is Off
Now this is a tricky one and you'll want to ease into it. I've seen some companies send absolutely no emails in the history of their business, and I've also seen other ones that are sending four, five, six, even seven emails a month, which might be a little too much.
You're gonna want to test this out and start off light and work your way up. I have seen companies send out two emails a month and have it be very successful.
The key is you have to follow all of these tips and don't fall into any of these common pitfalls so that the emails you're sending are truly valuable to the people that are receiving them.
And finally...
Problem #7: You're Repeating the Same, Old Mistakes
Email marketing for lawn care and landscaping companies is not a set it-and-forget-it kind of thing.
True Story...I actually had a lawn care company owner tell me that his marketing was a "set-it-and-forget-it" kind of thing, which is a terrible way to approach growing your business.
You want to make sure that you keep an eye on your email marketing campaigns over a long period of time. Utilize a piece of software and email marketing tool that allows you to look at what emails are getting opened, which ones are getting clicks and all ultimately which ones are generating phone calls and form completions on your website
Making Changes for Email Marketing Success
Now as you run your campaigns and you start looking at results over time, you're going to want to make some small subtle changes one by one. Don't make too many at once or you might not understand which of those changes actually lead you to success.
If you have an email marketing tool like HubSpot, or MailChimp, or Constant Contact, these types of platforms will often allow you to A/B test, meaning send the same email and change one element, like the subject line or an image to see which one performs better.
Creating an effective email marketing campaign that generates leads for your lawn care landscaping company can be a lot of work. So you might want to turn to an outside source, like a marketing agency to help you out with this. I'd love to know how email marketing is working or maybe not working for your lawn care landscaping company.
Why do you think your landscaping or lawn care email marketing is failing? Which one of these problems do you want to tackle first? I hope you start generating hundreds and thousands of leads through email marketing for your lawn care or landscaping company. Thanks a lot. Have a really great day!
Want regular, practical tips like these to take your lawn care or landscaping business to the next level? Then consider subscribing to my YouTube channel. Or if you'd rather read our in-depth articles on Landscape Leadership's website, you can also subscribe to our blog.
Image Source: Oasis Turf & Tree