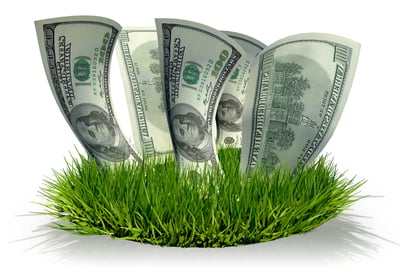 This is a guest post written by our friend, Lindsey Getz, who contributes regularly to many of the lawn and landscape industry publications you are familiar with.
Is your landscape business as profitable as it could be? Even if you're seeing top line growth, you could be missing out on some key refinements needed to achieve enhanced profitability (i.e.- your bottom line).
That's because it's not uncommon for landscape business owners to make total revenue out to be the primary measure of success.
But the truth is, your business could be profitable as a whole while still being dragged down by certain poor-performing services. Lackluster profitability is a problem for the majority of companies in the lawn and landscape industry—and it may be holding you back from greatness. While there's plenty of hat-hanging done on achieving certain revenue levels, the truth is that some small companies who have a better grasp on their most profitable landscape services could be taking home more profit.
At the end of the day, shouldn't our goal be to walk away with more cash in our (and our employees') pockets?
When "Full Service" Causes a Loss of Focus
One of the reasons that companies may stray from narrowing their focus to analyze their individual services may be the pressure to be "everything to everyone." More than ever, there seems to be a strong trend toward landscape companies being "full service". In a rush to be accommodating, many landscape business owners have added or kept services without even knowing which are profitable and which are not.
But you don't want to be dragging around a dead weight.
Unfortunately, Greg Herring, founder and CEO of The Herring Group, says he sees a lot of businesses struggling with lackluster profitability. Much of this stems from the "failure to disaggregate their profitability numbers."
"In other words, when business owners take a look at their QuickBooks income statement, they have one set of numbers—and everything is aggregated," Herring explains. "But in order to really know what's going on in your business, you have to completely separate all of those numbers. This is called portfolio analysis and it's one of the best things that you can do for your business—but most people fail to do it."
However, Herring says that failure to take a deep dive into the profitability of your services can be stagnating growth. There are always going to be some areas that aren't doing well and either need to be re-evaluated or dropped. Without a close evaluation, you have no way of knowing your most profitable landscape services.
"The problem in looking at all of your numbers lumped together is that there is nothing actionable," Herring continues. "What you need to do is create columns for all of your services so that you can determine your gross profit and net profit, by division."
Of course, Herring recognizes that the mindset behind a full-service model may be that certain services are necessary to keep clients happy.
"There's the strategy that you go in at market on certain services like landscape maintenance—but then make it up on enhancements," Herring says. "The general rule of thumb with this strategy is to strive to break even on maintenance and then make the most profit from enhancements, irrigation, and lawn care. Traditionally, mowing and mulching are the two least profitable landscaping services—and at the bottom line may actually be unprofitable."
Even if this is your strategy, Herring says you still need to be breaking down profitability. In fact, if being "full service" in order to upsell is your business approach, Herring advises that rather than looking at profit by division you look at profit by customer.
"If you're a company that is performing mowing and mulching to keep your clients happy and secure more enhancement and lawn care work, then you need to make sure you're successful with the upselling of those services," he says. "You very well could have some maintenance clients that aren't signing on for enhancement work—and you're actually losing money. That's a client you need to get rid of because there's no longer any strategic value."
(Review this article about the six legit reasons to let go of a current customer.)
How Identifying Your Most Profitable Landscape Services can Guide Decisions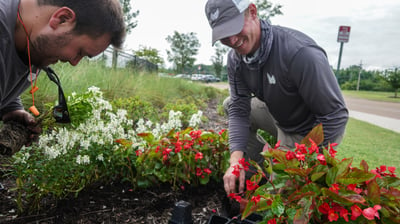 Truly understanding your most profitable landscape services can set you up for even greater success. Trey Ball, CFO for Michael Hatcher & Associates, Inc., headquartered in Olive Branch, MS says that knowing which service lines are most profitable allows a company to put plans into action to grow those lines even further.
Ball says that an evaluation of service profitability also puts you in a position to better understand your local market. Knowing your most profitable landscape services, as well as which services are performing poorly, can help to determine if your company's pricing is not in line with the rest of the market.
"It also reflects how efficient operations are with performing industry benchmarks," Ball continues. "Each service line will have different margins and profits. But it's more important to maximize the efficiency of each service line to ensure that each one is exclusively profitable."
For Michael Hatcher & Associates, Inc., the company has determined that their lawn spray division has the best gross profit margins. It was ultimately decided that these services would best be provided by a separate company—prompting Michael Hatcher to acquire Master Lawn, a leading lawn spray company in the area.
(Full disclosure: Michael Hatcher & Associates and Master Lawn are both clients of Landscape Leadership.)
"Lawn spray works as a stand-alone entity because many customers just want that service alone," Ball says. "The homeowner maintains the rest of the yard because he or she either likes it or can do it. We then market other services to them hoping to provide more opportunity to grow."
Ball acknowledges that without truly knowing the profitability behind their individual lines, this key decision to make a business acquisition could not have been made with such confidence.
How Profitable are Landscaping Businesses?
When it comes to profitability, you might be wondering where you stand. Herring says that his organization produces a benchmark report each year in order to provide landscape business owners with these metrics.
The average profitability for a landscape company is net 5 percent.
But Herring says that he believes that a well-run landscaping company should be between 10 and 12 percent. That means that even those companies which consider themselves profitable and successful are falling short of where they could be. A lot of this comes down to lackluster profitability and a misunderstanding of the company's most profitable landscape services—and what to do with them.
"In most cases, it's not a matter of working more diligently but working smarter," Herring says. "Most landscape business owners do not take the time to perform a portfolio analysis and determine their most profitable landscape services, or their most profitable customers. Let's be honest, most people did not get into this industry because they want to spend their time calculating this data. But it must be done."
Herring says that at a high level, landscape business software can assist in the process by enabling business owners to run their metrics through a system and streamline some of that data producing process. But he warns it's not a magic bullet.
"You still need to take the time to learn the software and to enter correct data into the system," Herring says. "The dirty secret of the landscape industry is that there's a whole lot of math involved and there's no way around it. Software doesn't get rid of the math, it just allows you to better manage it."
Making the Hard Decisions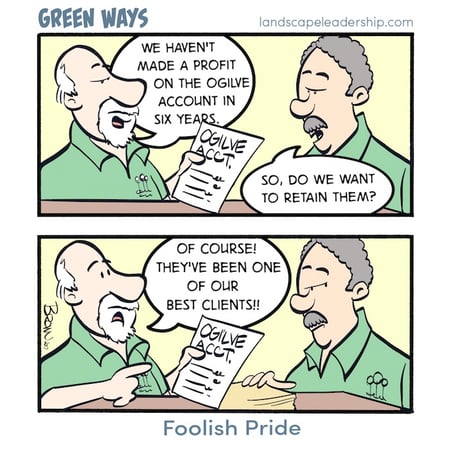 At the end of the day, Herring says that understanding your least profitable landscape services is as important as knowing your most profitable landscape services, because you might need to make some hard decisions.
Some of the most difficult decisions that landscape business owners have to make in regard to profitability come down to dropping customers, dropping services, or, raising prices. The latter is often just as hard for owners as the former solutions. But Herring says that shifting your mindset and being proud of solid pricing for solid work is important.
"I think that to some degree, there are owners who feel guilty about profit," Herring says. "You don't see that a lot in other industries, but you see it here in the Green Industry and honestly that's a shame."
That's why Herring is looking to up-end the traditional mindset.
"We prefer to think of profit as a measure of customer satisfaction, employee efficiency, and management effectiveness," he says. "If you're doing those things well, you should feel no guilt in raising your prices so that you can raise your profits. When it gets right down to it, we're creating value for our clients and we should be proud of that."
---
A big part of becoming a more profitable landscaping company is to be able to attract your ideal client. At Landscape Leadership, we can help you with exactly that. If you want to learn about how our marketing programs can boost your company's top line and bottom line schedule a meeting with us.
If you want more lawn and landscape industry insight like this, subscribe to our blog. Just add your email address to the form below.