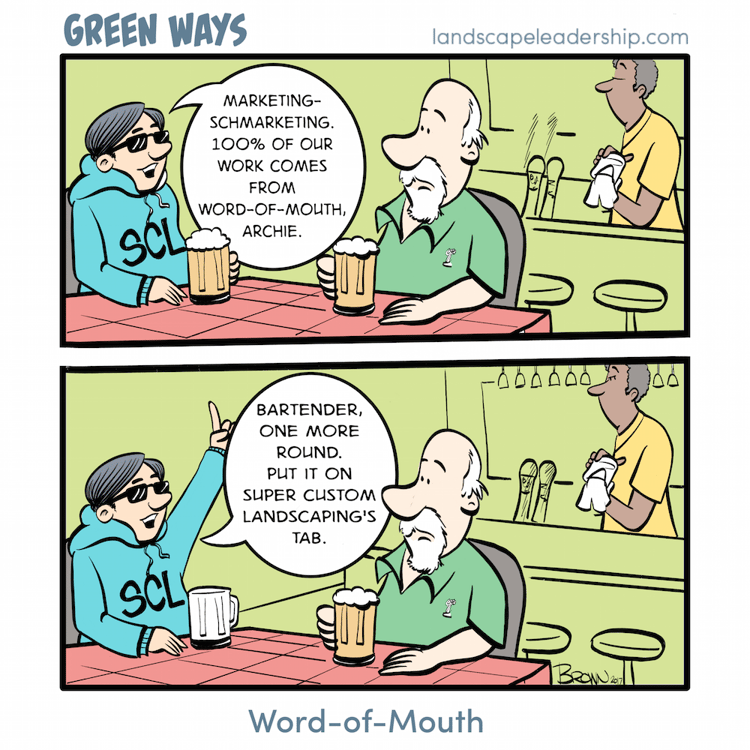 Purchase our entire collection of Green Ways comics on Amazon
In the lawn and landscape industry it seems as though referrals are the default – and sometimes only – new business option.
Ask any business owner in our industry where the majority of their new leads and sales come from and you'll most certainly hear, "referrals and word-of-mouth". See Eddy, owner of Super Custom Landscaping, in the comic above.
Our friend, Jeff Korhan of the Landscape Digital Institute, partnered with Landscape Management magazine to survey landscape professionals for the 2017 Digital Marketing Report and found that "nearly nine out of 10 respondents report that referrals are their top source of business leads".
I cringe when I see numbers like these and hear business owners tell me, "We get all of our business from referrals."
If that's the case with your business, then let me be candid with you: You're missing out.
Below are seven compelling reasons why I say this. I've taken these directly from management consultant, David C. Baker, who articulated this better than I could have, in his article titled "Seven Reasons Not To Be So Proud Of All Those Referrals". My personal comments are italicized in parenthesis.
1. Referrals might be a positive spin on a lack of discipline. The truth behind firms that claim this could just be laziness.
(This is absolutely on-point. I would also suggest a reactive mindset – vs. proactive – is involved here. Also a lack of sales-related systems and processes. Referrals simply become the fall-back for companies.)
2. Referrals are passive by definition. You aren't in the driver's seat when depending on them. You are at the mercy of your clients. Some clients want to share you and others don't.
(If you offer commercial landscape maintenance services and work with professional property management companies, that last sentence may sound familiar.)
3. Referrals are not a reliable source of business if your firm is oriented around a horizontal positioning (practice area, demographic, etc.). They are more so if your firm is positioned vertically because clients – when they change jobs – typically move to a new employer in the same vertical.
(This can be especially true as it relates to commercial property maintenance.)
4. Referrals bring you more of the same. So relying on them is fine to the extent that you want more of the same.
(For many companies, "more of the same" just leads to a slow death. Eddy and Super Custom Landscaping are on this path.)
5. Referral chains tend to decay over a period of 6–9 years, primarily because people listen to the opinions of someone at or above their own perceived level of influence. The referral you receive, then, is at or below the level of the referring source. The person who listens to a given client respects that person's opinion, and that's where the decay begins.
6. Referrals, when they come from one consistent source, are a client concentration issue in disguise. If the referrals stop flowing, you'll feel that pain severely.
7. Referral-heavy firms stay busy but they seldom generate a price premium.
(It can be very difficult to raise your rates and prices – bolstering your bottom line – when your referrals anticipate and expect the same pricing as the original referral source. You can be caught in an endless cycle.)
Let me be clear: I'm not suggesting a referral-based marketing and sales strategy is a bad thing. It's just one piece of the overall marketing strategy. You need to balance that with a consistent inbound strategy and some good ole fashion prospecting.
This balance will ensure for a healthy pipeline that won't dry up, even if (when?) your referrals do.
---
Is your company relying too heavily on word-of-mouth and referrals? Get your inbound marketing and sales strategy in gear by contacting us today. We'll walk you through our proven and predicatable process for generating more inbound leads and opportunities for your sales people who are sitting around twiddling their thumbs waiting for their next referral :)
Want more insight? Join over 3,000 of your green industry peers who are subscribed to our blog. Subscribe here or just add your email address in the form below. You'll receive one or two new articles each week, delivered straight to your inbox.
Purchase our entire collection of Green Ways comics on Amazon