There's no sense arguing the point: Customer referrals are one of the best sources to grow your lawn care, landscaping or tree service company.
Industry peers concur that referrals close at a higher rate than most other marketing mediums and the customers that result also are more easy to retain.
I've been in the green industry for about 20 years now and have personally had the opportunity to take a referral program delivering mediocre results and see it become a business development powerhouse for a sales team.
I've also seen my share of what companies offer up for their customer referral programs and had a little glimpse into what they do to promote them.
State of the Green Industry: Customer Referral Programs
Recently, I posted a discussion to a group on LinkedIn, asking for feedback and also later reached out to other companies to see what they are offering. I wanted to know a few things:
1. Do you have a formal customer referral program?
In my experience over the past couple decades, I've seen that less than half of green industry companies have a formal program. While they are more common among lawn care companies, landscape companies and tree services don't always have a program defined. Many state that they indeed offer rewards for referrals, but it ends up being more a token of appreciation after the fact.
In a lot of cases in which I inquired, respondents knew they had a program, but were unsure of the details (even company owners).
2. What is the reward you offer?
About two-thirds of the companies with a program had some sort of reward defined, specifically if they were a B2C company. Commercial landscaping companies and design/build firms seemed to handle this on a case-by-case basis.
Here are some of the referral rewards that green industry pros are currently offering:
Gift card to key accounts once a year, and ask at that time for referrals (commercial maintenance company)
$50 credit on their account if their referral becomes a new client (residential lawn care company)
$75 credit for sold referrals and also give discounts if next door neighbors sign up for services (residential lawn and landscape maintenance company)
$25 credit to a customer for a sold referral or a $25 VISA gift card if they aren't an active customer (residential lawn care company)
$50 check, enclosed in a handwritten thank you card for sold referrals (residential full-service lawn/tree/landscape company)
$25 credit to the referring customer and $25 coupon to the new customer (residential lawn and tree care company)
Customer credit of $35 for smaller residential landscape maintenance projects or unstated, discretionary credits for larger design/build projects (residential design and maintenance company)
Tiered rewards for residential design/build referrals that end in a $25,000 or higher job (VISA gift card of $200 for first referral, $500 for second, $1,500 for third referral in a year-or instead of the VISA, they can choose a $1,500 weekend get-away)
3. How has your customer referral program been working for your lawn care, tree service or landscaping company?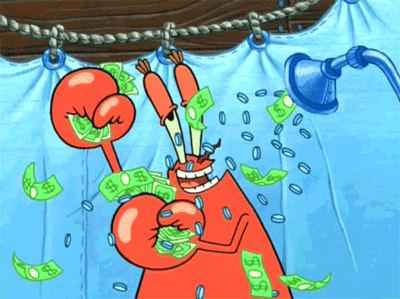 Most of the companies I talked to also couldn't specifically quantify how many referrals they got, how much revenue it resulted in, nor what their closing rates were.
Now while I recognize that this information isn't readily accessible or on the tip of the tongue of everyone in the company, I find that this is pretty common. Only about 10% of the companies I surveyed could cite customer referrals as one of their top three marketing sources. Those companies did also concur with my prior experience of customer referrals closing at 75-85%.
However, ask yourself or industry peers these questions and they will commonly struggle to clearly quantify the results.
(RELATED READING: 5 Practical & Effective Cross-Selling Strategies to Earn More Revenue from Your Customers)
How to Have a Customer Referral Program That Works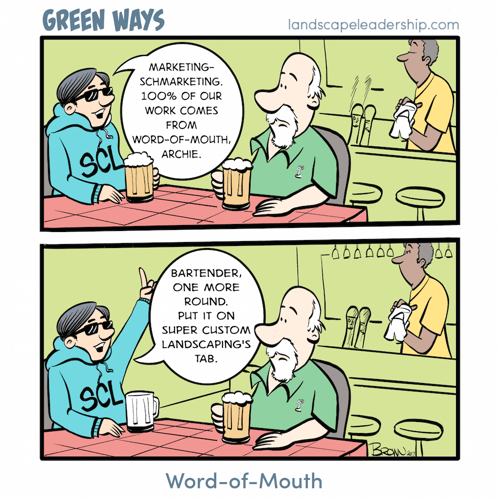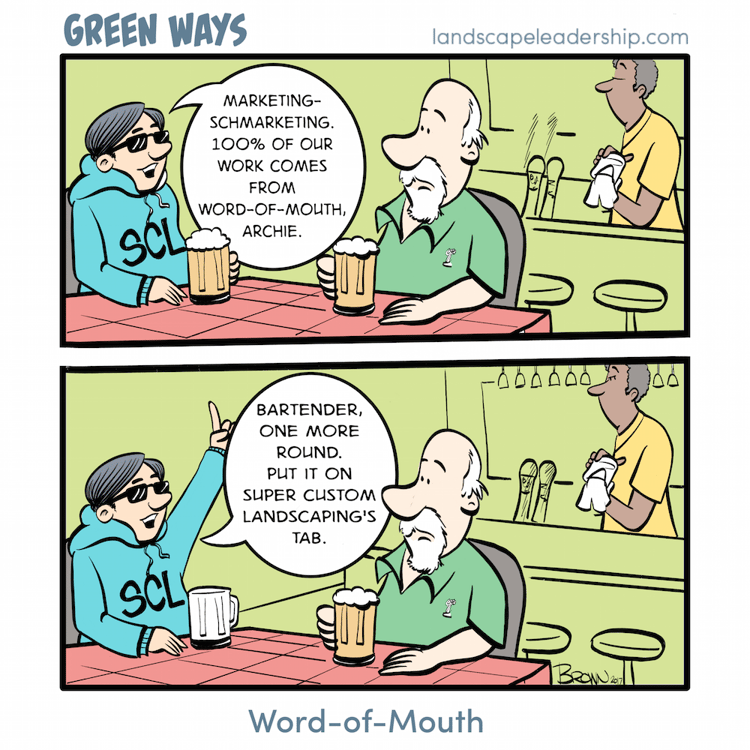 If your company has a great customer referral program, your team and your customers will know about it. You and most of your team will know just how effective it is, and it will grow year over year.
But it doesn't happen on its own. It takes three things to succeed:
1. A Seriously Compelling Offer
Discounts, credits, gifts and cash are waved in front of consumers every day, trying to entice them to be brand evangelists. As more and more companies formalize customer referral programs, common rewards will lose their appeal (remember mail-in rebates?).
It's time to be memorable. Are you just offering chump change? Customer referral programs are just one opportunity to be different than your competitors. Would your reward excite you? If so, would it excite your spouse or friend? Ask them to give you a candid reaction. You may think it's generous, but it could be extremely mediocre.
Personally, I think $50 cash is a tipping point for a referral that leads to $400-$1,000 in business for your company. Credits may be good for some people, but they mean they have to spend more money with you. Cash is king in my mind. But then, that's what motivates me. And the company that offers up to $1,500 for the third design/build referral in a year? Yeah, that's what I'm talking about!
However, not every customer is going to be motivated by a monetary reward. A $50 gift card to the hippest new restaurant in your community could just be a cool way of saying thank you.
Another idea is, instead of giving cash, make a donation to your customer's favorite charity. If a they send you a $15,000 design/build customer there's no reason not to give at least $100 to that client's favorite charity. That personalizes the thank you more.
And speaking of personal touches, take a few minutes and write a handwritten thank you card. Enough with credit line items on statements or an impersonal email! If you're super busy and have 300 referrals to pay out a year, go ahead and get your receptionist to write it, but make sure it's signed by the company owner.
2. Promote It Like You Mean It
Tastefully communicate your customer referral program regularly. The reason your team doesn't know what it is and why your customers haven't a clue is because you aren't telling them enough.
Quiz your team frequently about the program's details. Whether they are in sales, the office or out in the field, they should all know it well.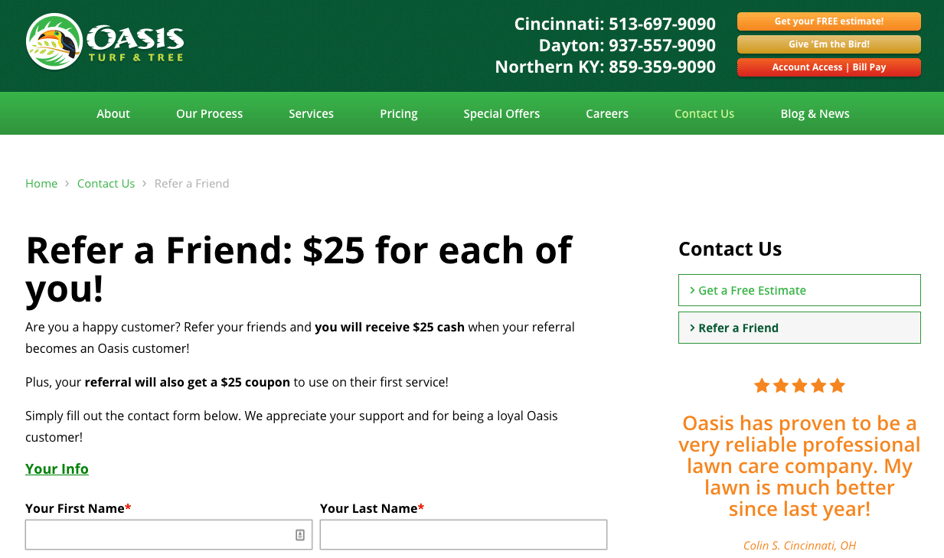 (Above is a great example of how our client, Oasis Turf & Tree, generates customer referrals right on their website.)
There are many places and mediums in which you can communicate the program with your customers such as:
On your website (have a subtle link in the main navigation and on its own page, possibly in a sidebar here and there, and in the footer menu)
Inserts, flyers or postcards
In the footer or signature of emails
Separate email campaigns to customers
On your proposals (why not tell a new client?)
Renewal notices or pre-pay offers
During phone and on-site discussions with happy customers
Wherever, whatever and whenever, passionately promote your customer referral program and make it part of your ongoing company growth strategy and culture. Be the company that says, "WE LOVE REFERRALS!"
3. Meticulously Track & Report on Referrals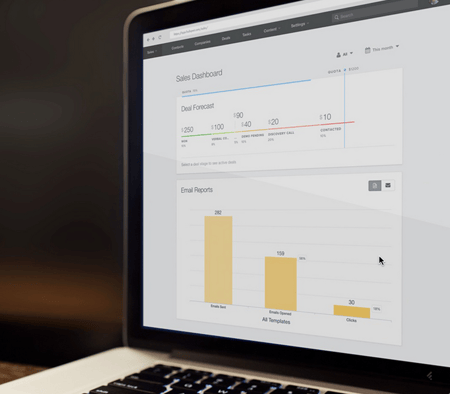 Nothing will suck the wind out of your brand evangelists' sails more quickly, than crappy follow-up and lousy tracking. Again, referrals close higher than any other marketing mediums and the resulting customers are the least likely to cancel. This should be a HUGE priority for your company.
Follow up on referrals within 24 hours, and try to contact them no less than three times. Develop a foolproof system to capture referral information and store them in the customer's file in the CRM you're using and track it along the way.
Connect it as well to the new prospect. When the new prospect sells, pay your customer their reward quickly. Don't let them get a chance to wonder where their reward ever got to! If they call in a month after their friend's project is completed and you haven't paid them, it raises suspicion of if you forgot.
Even if the referral doesn't sell, make sure to give your customer feedback. Thank them for trusting you enough to spread your name, ask them to continue to refer business to you, and let them know the outcome of their referral.
Be sure to also have that prospect's account flagged in case they change their mind later. It sure will tick off your customer if they end up seeing your trucks at their referred neighbor's house 6 months later!
Make sure your team is regularly updated on the success of your referral program. Create some excitement about its results and they will remember to promote it more often.
(RELATED READING: How to Set Up a Sales Tracking System for your Landscaping Company)
More and More Lawn Care, Landscaping & Tree Service Customers
Profitable, easy-closing sales of loyal customers is what it's all about! If you want your customer referral program to work, it can't be an afterthought. Get together with your team and brainstorm about how you can create a truly unique (and very generous) offer.
Think about how much money it takes in marketing dollars to acquire a new customer. Many industry experts say it costs anywhere from $100-$150 on average to acquire a new customer. Why would you offer a customer significantly less than that for a qualified referral?
Make it very simple for your customers to refer and keep track of the results and celebrate successes often and in no time you'll be surprised at just how many referrals your customers are bringing in.
What is your company doing for a customer referral program? I'd love to hear from you. Feel free to connect with me on LinkedIn or Twitter and share your successes or ask questions.
For more regular tips like this, be sure to subscribe to our blog.