Let's talk about rebranding a lawn and landscape-related business.
If you're considering a rebrand yourself, I'm not surprised. We talk to quite a few companies who are contemplating the same, or even recently completed a rebrand.
When do companies consider a rebrand? I have a few observations:
A company has progressed from one stage of growth to the next and wants to create a more professional image to reflect this maturation. This could be a company moving out of start up phase or a more established company.
A company has outgrown its current positioning in what they offer or to whom. This could be a lawn care company who adds (or drops) tree care service.
A company is acquired or makes an acquisition. Or, as with the Brickman and Valleycrest merger, a new brand emerges (Brightview).

Ultimately, companies tend to rebrand because they have an identity problem- some more severe than others.
Rebranding alone won't fix this problem. Creating a fancy new logo and tagline – or even changing your company's name – is only one piece of your "identity" puzzle.
Your company's positioning and messaging must also be considered.
Some definitions (and a case study)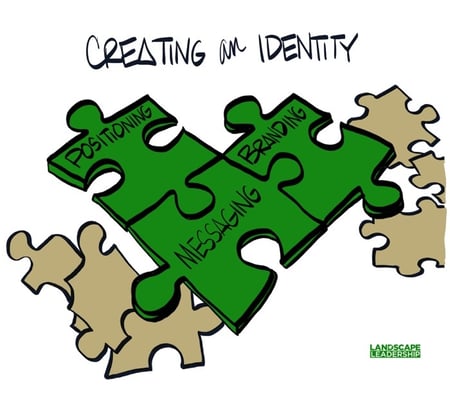 When I speak of your branding I'm referring specifically to your company's choice of name, logo, tagline (if you have one), colors, and other design cues. And, how these are used in a cohesive and consistent way across your website, vehicles, advertising, etc.
Positioning is how you differentiate your company from your competitors (most importantly, in the mind of your customers). It's what you stand for.
It's the "what you do and who you do it for".
Messaging is how you communicate the "what you do and who you do it for".
Positioning decisions must come before branding and messaging.
Unfortunately, as is often the case, difficult and sometimes painful decisions involving a company's positioning are set aside (or flat out ignored) in favor of the "creative" rebrand.
It's easy to get stakeholders excited about a sexy brand re-fresh. Not so much when it comes to the dirty work of positioning. This is because positioning often involves giving up something to sharpen focus elsewhere, which tends to hurt some feelings.
If your positioning is weak you will struggle with how you communicate what you do (i.e.- your messaging). You know this is true if you played a role in your company's website design because creating a website forces you to consider how best to address who you work for and what you offer them.
I can typically tell how well positioned a company is just by counting the number of links in their website's navigation menu.

I like the design of NALP's header (including the new logo), but there are a lot of links in the navigation menus. This can often be a sign that a company or organization needs to narrow their positioning. It screams, "We're everything to everybody".
Wrap up
Creating a unique identity that truly sets you apart from competitors involves more than re-designing a logo and wrapping your vehicles.
You can have the coolest logo on the planet but still be considered Just Another Landscaper if you ignore your positioning and fail to properly communicate what you offer to your audience.
Branding, positioning, and messaging need to work together. Start with positioning and let that guide the others.
---
Landscape Leadership can help you with all three pieces of the identity puzzle. We'll start by taking you through our Positioning & Messaging Development program. Then the creative follows.
Schedule a meeting with us to learn more about our process.
Did you know over 3,000 landscape professionals have subscribed to this blog? You can too! Just add your email address in the form below and receive new articles every Tuesday morning.