Our love affair with HubSpot continues!
Today I want to dig deeper into HubSpot's sales software and CRM to show you some of the features that would be valuable to your landscaping company, especially for those involved in sales.
Most of the features I'm going to discuss are included in the free version of the HubSpot CRM. I'll point out which are premium features and will add costs for those users.
Connect with more leads and close deals faster
1. Activity Tracking
Picture this: You've sent an updated proposal to your prospect two days ago via email. You haven't heard a peep from them. Did they get the proposal? Have they looked at it?
With HubSpot's sales software you can track email opens and even clicks so you know exactly when your messages are being read.
You can receive these "activity notifications" directly in your browser or within the CRM.
You can also receive these notifications when an existing contact is on your website. Do you have a lead that went dark on you? You'll know the exact second they are back on your website. Now is the perfect time to follow up.
2. Email Templates (premium feature)
Creating templates for repetitive emails will save you a lot of hours.
We use email templates for:
Qualifying new inbound leads and requesting more information
Sending meeting confirmations and agendas
Prospecting
And your templates are always one click away inside your inbox – whether you use Outlook or Office 365 for Windows, or Gmail.
Templates can even be shared with other HubSpot users.
3. Meetings (premium feature)
Boy, I was happy when HubSpot introduced this new feature. This is a real time-saver.
Simplify how you schedule meetings by eliminating the back and forth. Block off specific times on your calendar for meetings and allow your prospects or customers to choose the best time to meet with you. Meetings syncs to your Google or Office 365 calendar, so contacts can always see your most up-to-date availability.
When you let prospects automatically book meetings on your calendar, you'll save hours of time spent on unnecessary back and forth emails.
4. Tasks
Create tasks for yourself or for other users within HubSpot's CRM and receive an email notification alerting you that the task is due.
This is a great way to create reminders for yourself or someone else to follow up with a prospect or customer rather than letting them slip through the cracks.
Do you get the common, "Follow up with me in three weeks" comment from prospects? Get rid of the sticky notes and instead create a task in HubSpot to automatically remind you about the follow up needed.
5. Connect with Gmail and Outlook
Duplicate entry is a pain in the butt and one of the reasons many lawn and landscaping companies fail to successfully implement CRM software.
By syncing with your tools in Gmail and Outlook, HubSpot CRM eliminates the time spent duplicating your efforts.
Here are some of the things you can do:
Automatically sync your emails between Gmail or Outlook and the HubSpot CRM
Sync meetings between your calendar and the HubSpot CRM
Add contacts to the CRM directly from your inbox
Now your tools work together; making you more productive.
6. Contact timeline and activity
See everything about a lead in one place.
Go way beyond names and job titles. Every interaction with a lead is stored in a tidy timeline, including calls, emails, meetings, and notes.
You'll never need to dig through a messy inbox or spreadsheet to figure out where a relationship left off.
Sync up with HubSpot Marketing, and you'll even know which content (web pages, blog posts, videos, etc.) your lead has consumed so you can personalize your approach.
7. Filtered views
Easily create and save custom views of your contacts and deals in the HubSpot CRM so you can quickly retrieve the information you need most.
Here are some of the filtered views we have set up in our CRM:
A view of our most recent job candidates
A view of our current customers
A view of new sales qualified leads (SQLs) and opportunities from the previous week
A view of sales "closed won" this year-to-date
A view of proposals presented last week
You can even create filtered views to see the activity of individual sales reps or for specific divisions of your landscaping company.
8. Parent/Child companies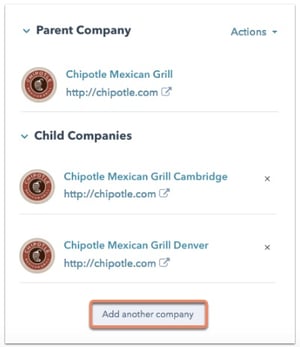 Creating "parent" and "child" companies in the CRM is an effective way for commercial landscape contractors to organize and manage clients.
Our recommendation is to add the property management company to the CRM software as the "parent" company and then add the individual properties that company manages as the "child" companies.
9. Organize your deals
Whether you have an established sales process or you're starting from scratch, HubSpot's sales software makes it easy to create an ideal process that matches the way your landscaping or lawn care company sells in real life.
Add, edit, and delete deal stages and properties without help from IT, and push deals forward by assigning tasks to your team. Then drag and drop deals between stages when they're successful.
Add new deals in seconds and let HubSpot fill in deal records automatically based on information already in your CRM software.
And performance and sales activities are automatically tracked for your entire team – even by department or service – so you can grab metrics around quotas, productivity, pipeline health, and more whenever you need them. Want to see where you're at with lawn care-related sales? No problem; easily separate out these deals from the other services you offer by using filtered views (see #7 above).
10. Leverage integrations like Pandadoc
Stacking integrations onto HubSpot's sales software can make it even more powerful and valuable to your landscaping sales team.
The integration we utilize most at Landscape Leadership in our own sales process is an app called PandaDoc.
With PandaDoc, you can create, send and track your landscaping proposals directly in HubSpot's CRM. There's more:
Create professional proposal templates to use over and over again (time to get rid of your Word and Excel templates).
View all of your proposals within HubSpot. There's no need to go anywhere else.
Allow your prospects and customers to sign your proposals digitally.
Receive notifications when the proposal is viewed or signed.
---
There you have it, 10 of our favorite features of the HubSpot sales software. You can read more about why we recommend HubSpot's software to companies large and small in the landscape industry in this article.
As a HubSpot certified agency partner, we help companies in the green industry implement HubSpot's sales software and CRM, from the setup and customization all the way through training your staff. If this sounds like the kind of help you'll need to implement HubSpot successfully, get in touch with us.
Did you know that over 3,000 lawn and landscape industry professionals just like you are subscribed to our blog? You can join them by subscribing here or just adding your email address below. That's it. You'll receive our new articles in your inbox. Usually one per week. Do it!