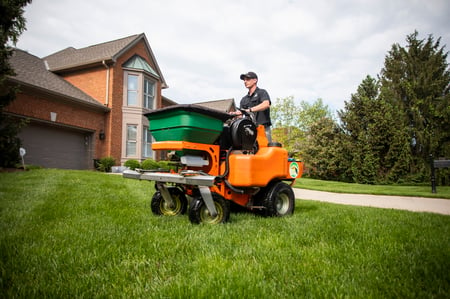 Marketing a lawn care business often carries with it a degree of experimentation.

Unfortunately, trial and error can mean wasted money, time, and missed opportunities to get more lawn care customers.

You already put so much blood, sweat, and tears into growing a lawn care business. The last thing you want is to rub salt in the wound with tactics that pan out to be a colossal waste of time (and money).

I get it. I've spent 20+ years in the lawn care industry, with almost half of that time spent in marketing roles. In my previous position at a $13M company, we experimented with all sorts of lawn care lead generation strategies.

Some were huge successes and others were unfortunate failures.
Since coming to Landscape Leadership in 2016, I've helped dozens of green industry companies grow their lawn care businesses. I've been personally involved with parts of their strategy and they have shared insights into their campaigns (and results) outside of the services we offer.

Some of our clients' campaigns have been impressive...others didn't pan out so well. There are a lot of variables and different companies often have different results.

But I sincerely commend any company's courage and openness to try new marketing strategies. You often never know until you try.

Today, I want to share what I and other green industry professionals have learned to be the 16 best (and worst) lawn care lead generation strategies (ranked best to worst). I'll give them a 1 through 5-star rating.
Image Source: Oasis Turf & Tree

1. Create a Killer Lawn Care Website
★★★★★ (5 of 5 Stars)
Your website has two goals, 1) to attract prospective clients and 2) turn those website visitors into qualified leads for your sales team.

Lawn care SEO (search engine optimization) is a widely misunderstood and oversimplified term. The core concept is that implementing certain online strategies both on and off of your lawn care website will allow it to appear higher in organic search results for hundreds of phrases consumers will enter into search engines.

Traffic is great, but you should also be converting anywhere from 1-3% of all website visitors into a qualified lead. If you are finding that isn't the case, it could point to fixing major flaws with the user experience, images, videos, and copywriting.

If you do this right, organic website traffic and lawn care leads will increase over time to deliver results for years to come.
Tips for Generating Organic Website Traffic
An ample amount of time needs to be invested when building your website. If you're getting a quote under $12,000 for a new website, it's a good sign there isn't much SEO research or quality copywriting involved.

Consistently creating useful, long-form blog content over the years can help you to rank for hundreds of search terms. A great content strategy with remarkable content requires expertise that's worth investing in.

Set up online directory listings with Google My Business, social media profiles, etc. Make sure you have a consistent company name, address, phone, website, etc. listed. Search engines love this validation.
Lawn Care Lead Generation Tips for Websites
Use high-quality, professionally-created visual and written content. You're a lawn care expert. Hire some pros that do these things better and stick to what you do best.

Everything on your website should call visitors to action. Whether it's continuing their research or getting a quote, make this experience easy for them.

Test and refine your strategy. A great lawn care marketing agency can identify problems and make improvements to get more lawn care leads over time.
(View video comments, links, etc. regarding Building a Killer Lawn Care Website)
2. Invest Wisely in Google Ads
★★★★★ (5 of 5 Stars)
These ads that appear at the top of search results can be a great way to increase visits to your website and resulting leads while you are working to improve your organic traffic.

However, Google Ads (also referred to as Pay-Per-Click or PPC) can result in a poor ROI if you don't take the right approach. This lawn care lead generation strategy works best for services like lawn care that have a short sales cycle, high sense of urgency, and smaller price tag.

If you do this correctly, you should be getting a cost per lead of $10-$35 for Google Ads (outside of what an agency charges for management).

Lawn Care Lead Generation Tips with Google Ads
Budget for a minimum of $1,500 per month with Google. Otherwise, your ads won't show up many times per day. Some competitive, well-populated markets will demand this. And for the smaller markets, it's better to have it allocated and not use it than to not show up.

Pay an agency to spend 5-10 hours per month working on improvements. A low management fee could mean they just send you an automated report with no insights or strategic changes.

Experiment with different ad copy to see what works best.

Create and refine landing pages to convert more clicks into leads.
(View entire video playlist, comments, links, etc. regarding Google Ads for Lawn Care)
3. Develop an Effective Direct Mail Strategy
★★★★☆ (4 of 5 Stars)
Sending postcards can be a great lawn care lead generation strategy. A carefully executed campaign should result in a 1.5 -3.5% return.

This means if you're sending 10,000 lawn care postcards, you should be getting 150-350 new lawn care leads.

If that's not happening, there is an issue with your list, timing, offer, design, or website landing page.
Tips for Successful Lawn Care Postcards
Keep your design simple, with one image on each side, a compelling and clear offer, customer-focused messaging, and multiple methods to contact you.

Create a unique call tracking number for better reporting.

Use QR codes to make it easier for prospects to get to the right landing page on your website.

Direct prospects to a landing page on your website that has the most important information, a form, and the call tracking number.

Use social proof like a great Google Review on postcards.
(View video comments, links, etc. regarding Lawn Care Postcards)
4. Wrap Your Lawn Care Trucks
★★★★☆ (4 of 5 Stars)
Each technician traveling through prime target neighborhoods will be parked in front of 20-30 homes a day. Use their vehicles to reinforce your brand recognition.
Wrap your vehicle in a unique but tasteful fashion. Don't overdo or underdo this.
Tips for Wrapping Lawn Care Vehicles
Pay for a great professional design, even if that means using an outside graphic designer. Not all sign shops are great at this. Ask to see examples of their work.

Be sure your logo is big enough to be seen when traveling down the street. Phone and website addresses are great, but they're most likely going to do an internet search for your brand name.

Be sure to also wrap the back of your trucks.

Opt for new fleet vehicles with ample surface areas. Flatbed trucks may need additional panels for this prime lawn care advertising real estate.
Image Source: RainMaster Lawn Systems
[RELATED READING: Wrapping Lawn Care Vehicles - Ideas, Examples, & Costs]

5. Post Yard Signs at Each Completed Service
★★★★☆ (4 of 5 Stars)
When that lawn care truck is finished treating 10-15 lawns in that neighborhood, make sure the neighborhood knows. Doing this throughout the year is a great way to reinforce your presence for multiple days after the treatments are completed.
Tips for Lawn Care Signs
Go big. If you're doing lawn care treatments, use a sign 6" or larger. Some of our clients even post ones that are 8.5" x 11"

Post them along the street/sidewalks where people will see them.

Opt for the extra protective coating so they last longer and won't easily droop or fade.

Include your logo and only legally required info. People won't stop there to call you or go to your website. They're going to search online for your brand.
6. Send Great Email Marketing
★★★☆☆ (3 of 5 Stars)
If you've done a great job over the years collecting emails from prospects and customers, be sure to capitalize on being able to reach out to them from time to time.
Sending seasonal tips and offers can be a great way to increase your average customer value with add-on services and also can re-engage past estimates or canceled customers.
Tips for Lawn Care Email Marketing
Send no more than two emails a month

Create short, engaging subject lines

Keep your email content concise and use great images.

Try to be helpful. There will be times for subtle promotions but don't annoy people by begging for their business.
[RELATED READING: The 7 Deadly Sins of Email Marketing - Is Your Lawn Care Company Guilty of These?]
7. Promote Your Customer Referral Program
★★★☆☆ (3 of 5 Stars)
Just creating a lawn care referral program won't be enough. You will have to consistently and tastefully promote it. Make it worthwhile for your customers to refer friends and family members.
Tips for Lawn Care Referral Programs
Create a very compelling reward that they'll remember and is different than your competitors.

Give options for them to submit referrals in multiple ways (phone, website, etc.)

Thank your customer for every referral they send whether it sells or not. A hand-written card is a nice touch.

Meticulously track and follow up on referrals.
(View video comments, links, etc. regarding a Lawn Care Referral Program)
8. Utilize Facebook for Lawn Care Leads
★★☆☆☆ (2 of 5 Stars)
Up until this point, my recommendations are what I would consider the absolute critical ways to get lawn care leads.

Social media is where I start to waver in my recommendations.

In times when demand is at its peak, Facebook ads can be a viable lawn care lead generation tool. However, in my experience and that of our clients, these ads are typically more costly than a properly-run Google Ad campaign. Proceed with caution and measure your results.

Just posting to Facebook or other social media platforms can be useful but I wouldn't hang your hat on its abilities to generate a ton of great leads for your lawn care business. Compare this to items 1-7 above and you'll see social media users often don't have the same level of intent as someone who is actually searching online for lawn care services.
Look at these graphs below. The first shows website visits by traffic source. You can see social media (teal) is a relatively small number of visits. This client puts A LOT of time into posting to social media. Then look at the second graph. This shows how many leads actually come from social media. You can see that it doesn't have the same impact as organic traffic or paid search via Google Ads. It can work, but just make sure you have realistic expectations.


[RELATED READING: 6 Time-Saving Social Media Tips for Lawn Care Companies]
9. Advertise on Lead Generation Websites
★★☆☆☆ (2 of 5 Stars)
Platforms like HomeAdvisor, Angie's List, Thumbtack, Yelp, Houzz, and others promise lawn care companies that they will help them show up in search results and get lots of lawn care leads.

In both my experience and that of most of our clients, these lead generation websites offered fewer lawn care leads and also had a higher cost per lead than investing in Google Ads or improving your own website.

It all comes down to you being able to realize what your cost per lead is and ultimately how many of these you actually sell.
10. Advertise on Radio Stations
★★☆☆☆ (2 of 5 Stars)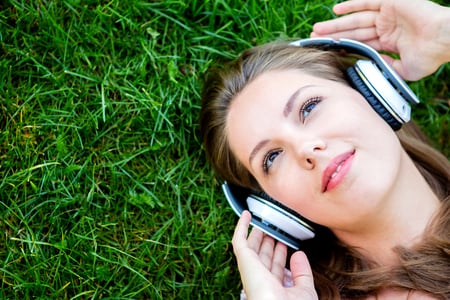 I've tried this multiple times and several of our clients have as well. I think radio ads can have some value to reinforce other advertising campaigns you may be running. They see your trucks, signs in yards, get a postcard in the mail, and then hear your radio spot.

Then you just hope the prospect actually mentions the radio ad, not the most memorable of the items above. People are unlikely to pull over or drop what they're doing to call on your radio ad.

I'm not saying you shouldn't run them, just consider your ROI and priorities. I also have seen that radio ads work best for established companies that have a lot of brand equity built up over 10+ years.
[RELATED PODCAST: What Lawn Care Companies Should Know About Advertising]
11. Run Magazine Ads
★★☆☆☆ (2 of 5 Stars)
This falls into the same category as the radio ads above. It can be a good way to defend your position in your market, but it may not yield a ton of leads.

One exception could be to place ads in coupon clipper magazines for a limited time. Just know that your offer and your ad need to be very impressive to stand out. You may also attract customers that are very motivated by cost. That may not align with your positioning.
12. Sponsor Events & Organizations
★☆☆☆☆ (1 of 5 Stars)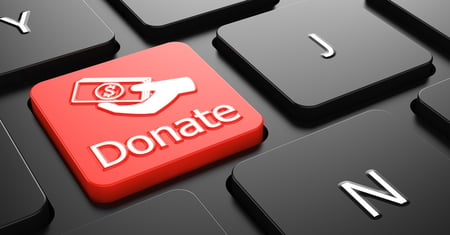 Here's where you're going to find my strong objections beginning for the rest of our list. I think it's awesome to support your community. But just do this for the sheer purpose of giving back.

This is not a good way to generate leads and often requires a big investment for people to really remember you.

People don't often choose contractors because they sponsored their kids' sports teams. They choose them because of what they learn about them on their websites, referrals from friends, and Google reviews and ratings
[RECOMMENDED READING: The Good, the Bad, and Ugly of Online Reviews]
13. Buy Billboard Advertising
★☆☆☆☆ (1 of 5 Stars)
Placing these ads on busy roadways can be an ego boost when people tell you they saw your billboard. However, billboard advertising can be expensive and people are focused on getting somewhere safely. How many times have you remembered a billboard?

I'm not saying there's no place for this but it all comes back to priorities and ROI. It can be a good way to maintain your brand's leadership position in your market but don't count on a ton of lawn care leads from these.
14. Purchase Print or Digital Yellow Page Ads
☆☆☆☆☆ (0 of 5 Stars)
I can't believe in 2021 and beyond we still need to talk about this, but we do. These companies have quite the sales pitch and a ton of empty promises.

Barely anyone uses these anymore and if you do the right thing with item 1 on our list, you can accomplish way more.

The only thing I'd recommend here is to claim and complete any of their free online directories they may offer.
15. Air Television Commercials
☆☆☆☆☆ (0 of 5 Stars)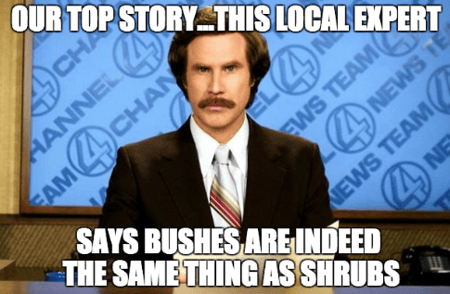 I'll be honest, I do have one client who uses television ads and I have done so in the past. They're useful in peak seasons but the cost is very high both for great production and running these television spots.

These may be a good way to defend your well-established brand position, but it's not something I'd recommend for new lawn care lead generation efforts.

Plus, with people spending so much time with streaming apps and on-demand video, they're very likely to never see your commercial.

Again, these types of ads work best for established companies that have a lot of brand equity built up over 10+ years.
16. Place Retargeting or Display Ads
☆☆☆☆☆ (0 of 5 Stars)
Ads that follow you around online are annoying and intrusive. I've tried these in the past and also have had clients place them. The cost is minuscule but the results are even less.

I'd focus your lawn care lead generation efforts on something you can get a better lead conversion rate (Google Ads) instead of 0.010% like you'll see with retargeting ads.

FYI, I've been on some of your websites and your ads are following me around. I don't even live in the same state! That's some great targeting there...
Investing in the Best Lawn Care Lead Generation Strategies
One of the most common questions I get is, "Chad, what do you think about ____?" (fill in the lawn care lead generation strategy)

Well, now you know. My opinions have come from spending millions of dollars on marketing and advertising campaigns. At my prior job, my success or failure is what drove my raise, bonuses, and keeping my job. (Oh, and I wasn't fired LOL)

These opinions have been reinforced by what I've seen dozens of some of the most successful lawn care companies doing.

Don't keep wasting your money on lawn care lead generation strategies that get poor results. Learn from all of our mistakes and successes.

However, leave room for some experimentation. Just be smart about it. If you prove me wrong, send me an email or connect with me on LinkedIn. I'd love to hear what you've learned.


Are you interested in a comprehensive lawn care lead generation strategy? If so, then schedule a meeting with us. Want more candid insights like these? Then subscribe to our blog. We'll send our latest articles directly to your inbox. Just add your email to the form below.