This article provides an in-depth overview of what it is like to work with a digital marketing agency like Landscape Leadership as well as tips and advice on hiring the best agency for your lawn and landscape industry business.
This is a long article! Because of this, we've broken it into sections you can jump to directly by clicking the Content links below.
If your company is considering hiring a marketing agency, we hope you find our insight helpful.
____________
CONTENTS
Start growing your business | Inbound vs. outbound | Why hire a marketing agency | When to hire a marketing agency | Find a partner you can trust | Should you hire a local marketing agency? | 11 habits of highly effective agencies | Putting a price tag on marketing | Setting Expectations: Not an overnight success
____________
Introduction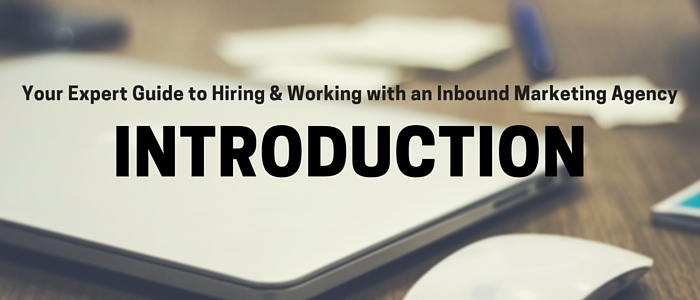 Start growing your business
While you might be able to mow a lawn or install an irrigation system in your sleep, understanding how to best market your company and services probably isn't second nature to you. That's when partnering with a marketing agency, like Landscape Leadership, can help.
An agency will work with you and your team to boost brand awareness, generate new leads, help close more sales and even improve customer loyalty.
It's not always practical or possible to handle all of your marketing initiatives in-house, whether you're lacking in staff size or experience. Either way, a marketing agency can create a personalized plan to get your landscaping business where you want it to go.
Companies and organizations from all industries work with marketing agencies, whether it's a software company, university or landscaper or lawn care operator. Basically, anyone who wants to better market and grow their business can turn to an agency.
Our clients include people who work in or sell to the green industry: landscape contractors, lawn care operators, commercial landscape management companies, retailers, nurseries, manufacturers and more.
Inbound vs. outbound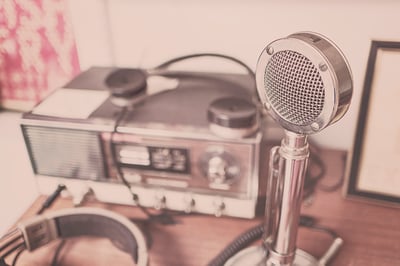 Buying habits have changed. Consumers have the control, and they don't want to be interrupted by your marketing message.
So while outbound marketing methods like cold-calling, radio advertisements and direct mail may have once been effective, that's not necessarily the case in today's economy. These efforts focus on interrupting a consumer's attention in the hopes of building greater brand awareness.
On the other hand, inbound marketing is based on the concept of earning prospects' attention and making your company more easily found online by producing content they value.
Inbound marketing is especially effective for small business — like many in the green industry — that deal with long research and buying cycles, high-dollar values and knowledge-based products. In these areas, prospects are more likely to hire companies that demonstrate superior expertise in their industry.
So instead of running some kind of advertisement, you can build credibility with inbound marketing, displaying your expertise over the long haul with the content you create and share.
The content that drives the engine of an effective inbound marketing program is focused on building thought-leadership, being relevant and generating qualified leads for your landscape industry business.
Green industry companies who part with outbound marketing methods to follow their customers online stand to blow key growth metrics like marketing efficiency and sales productivity out of the water. The inbound combination of remarkable content and website engagement create a bedrock foundation for sales and marketing efficiency, effectiveness and growth.
Getting Started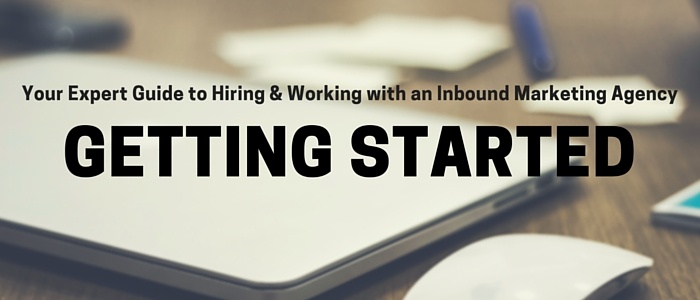 Why hire a marketing agency
You have three basic choices when you decide to grow and increase your marketing efforts: hire someone in-house, retain an agency or a combination of both.
Many of our lawn and landscape industry clients have existing marketing support in-house, although this person is seldom dedicated only to marketing tasks. In fact, this person typically is in more of a support role for the sales team or even administrative team. This person's role is stretched thin between departments leaving little time and resources for actual marketing activities. Sound familiar?
With marketing and technology rapidly evolving — especially online — companies realize there is only so much they can handle in-house today. For this reason, they look to an agency like Landscape Leadership as a partner.
There are numerous advantages to partnering with a marketing agency versus hiring exclusively in-house. Here's a look at just a few:
Cost. Hiring an agency can actually cost a company less than hiring in-house. The reality is that you will need to pay top dollar for elite in-house marketing talent. An intern won't cut it today. Chances are the salary you will need to pay will be higher than the annual retainer you pay an outside marketing agency.
Team. When you hire an agency like Landscape Leadership, you're hiring an entire expert team of professionals, not a single individual.
Expertise. Good luck finding a single individual with the experience and specialized knowledge needed to implement a fully integrated program that includes content marketing, social media, SEO, advertising, email marketing, web design and analytics. A digital marketing team like Landscape Leadership will have all of these capabilities (and more).
Experience. It's hard to find in-house help with the marketing expertise you need plus experience in and knowledge of the green industry. You need both.
Time. One person cannot possibly do everything required to execute a sophisticated strategy in today's new age of marketing.
Retention. It's hard enough finding an in-house marketing superstar, but keeping them happy and on your team for the long haul is even more difficult. The reality is that your top talent is going to move on to bigger and better opportunities, leaving you in the endless cycle of recruiting and training.
Administration. Hiring, training, payroll, benefits, taxes… The list goes on. It's a pain having employees! Hiring a marketing agency is a much simpler, less painful process.
Consider these advantages when considering a marketing agency.
When to hire a marketing agency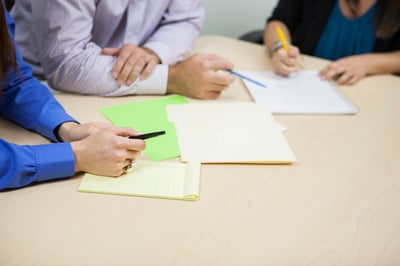 Here are a few scenarios when you would benefit from having an agency on your side:
Your landscaping business is growing, but you're not quite ready to hire someone full-time in-house to focus on marketing.
You have a large company but can't seem to manage everything in-house.
You don't have the people with the right expertise and background.
You are wearing way too many hats and need to off-load more job functions.
A highly efficient marketing agency will be able to meet your unique needs, create a plan to help you reach your goals and implement it.
But before you start the search for an agency, make sure you understand the different types and parts of marketing.
As opposed to traditional outbound marketing where you blast your message (direct mail, advertising, etc.) out to your audience, inbound marketing brings visitors to you — and that's what agencies like Landscape Leadership offer.
There are also different types of marketing agencies, so it's important to know what you're looking for when trying to hire. For example, some agencies offer only SEO and pay-per-click advertising while others offer a full-suite of digital marketing services. Some agencies are more consultative in nature. Others still are more focused on traditional marketing like branding and advertising.
The Hiring Process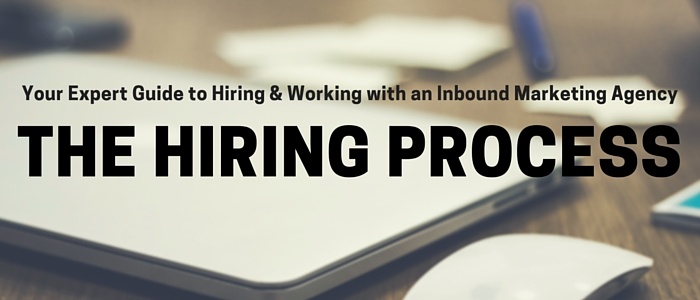 Find a partner you can trust
You're probably not a marketing expert — hence the reason for hiring an agency. But, that doesn't mean you should feel like a fish out of water during the process.
Once you find agencies you're interested in learning more about, put them through an interview process. Here are some important questions to ask them:
Who will manage my account?
How many other accounts is that person managing at the same time?
Do you have good client success stories or case studies?
Who will be writing and creating content on my behalf? Will it be someone with knowledge of the industry or outsourced?
Do you offer services that fit my unique business and objectives?
Do you place an emphasis on measurement?
Look for reputable agencies that you can trust. You can do that by seeing if they have a well-designed, informative website and an active presence on social media.
If an agency is pushing for you to invest in content marketing — like blogging, videos or case studies — but they aren't doing it themselves, that's not a good sign. They need to walk their own talk.
You should also look beyond their site and check out a few of their clients' web sites. Read the content and see if it's on point, consistent and timely. This will give you a real understanding of what they can do for your company.
As you're talking with the agency, you should be cautious about agencies that want to bring you on as a client too fast. Instead of listening to your marketing needs and goals, these companies will go right to talking and pitching you a proposal. That means they probably aren't diligent enough during the sales process. And if that's the case, you're most likely just a number to them.
You should also be wary of companies that offer guarantees for their services. This is something you'll commonly run into when talking with SEO providers who guarantee they will get your site on the top of Page 1 of search engines. There are so many things that are out of an agency's control, so the company should set realistic expectations up front.
Should you hire a local marketing agency?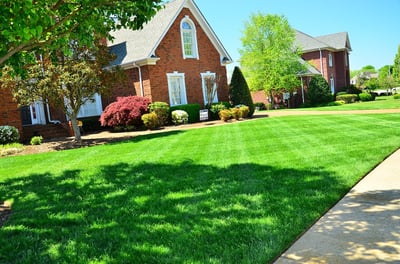 On your search for the right agency, you might also wonder if a local company would be best. I completely understand why a lawn care or a landscaping company would prefer to hire a local marketing agency. Familiarity is important as it relates to the location of your business.
But here's the question you should really consider: Does this shared location trump the benefit that comes from an agency's expertise in a given industry or niche? For example, would you find greater value and benefit in working with a local agency who has 20 clients, all in a different industry, or an agency who has 20 clients exactly like you? That's ultimately your call. Personally, I would choose option two.
The reality is that finding a local provider who also has expertise in your industry or niche is very difficult. You will most likely need to choose between one or the other when hiring a marketing agency. A common location won't help you much if your marketing agency does not possess the skills and talent your company needs.
If you're considering a local agency, you need to have this question at the top of your list when interviewing them: Will they work with your local competitors, or will they offer exclusivity?
At Landscape Leadership, we offer our clients exclusivity. For example, while we work with a commercial landscape contractor in Atlanta, we will not work with any competing companies in that same market. This is a huge advantage to the contractor. We can offer this exclusivity because we work in multiple markets and don't limit ourselves to a single local economy.
A local marketing agency may not be willing to offer this same level of exclusivity. If not, who's best interest do they have in mind? You need a partner — local or otherwise — committed to your business success, not your competitors.
If you're like some business owners and management teams, you might not be comfortable meeting and communicating virtually. We've run into that in the past.
When it is an absolute necessity for you and your team to get face-to-face with your marketing agency on a regular basis then, yes, consider hiring local.
At Landscape Leadership, we visit with our clients in-person once each year and virtually on a weekly and monthly basis. The tools and technology exist today which enables highly effective and efficient virtual communication and connectedness.
Traits Required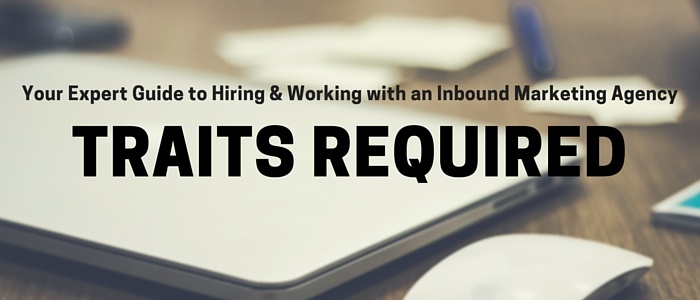 11 Habits of highly effective agencies
As you go through the interview process, make sure the agency possesses these 11 important traits.
1. Delivers inbound services that matter
While a specialty or two like social media or email is to be expected (more on that later), any firm that asserts themselves as an inbound agency must offer four core services. These services are each comprised of several tactical components. But to execute in a way that delivers real value and maximum impact, all need to be performed together. Seeing that an agency folds all of the supporting pieces together into one cohesive strategy is a good sign they know how to execute and get results.
The first core service of inbound marketing is an agencies ability to generate traffic to a website through SEO, blogging and social media sharing. Second, agencies should be able to tell their clients they can develop the premium content needed to capitalize on that traffic by building landing pages and managing online lead generation efforts. Third, agencies need to be able to construct targeted lead-nurturing campaigns aimed at converting those leads into customers. Finally, analysis and measurement needs to be present at every step in the process.
2. Clearly defines delivery process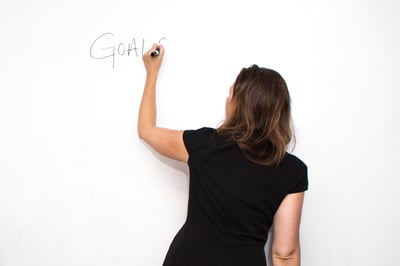 Any agency worth considering should be able to plot out the specifics and details for the campaigns and strategy they propose for your business.
Building on the goals and challenges identified in the sales process, your potential partner agency should be able to outline their approach in terms of the four core services and explain all of the tactics they plan to employ in their execution. Expect a timeline for each chunk and a description of resources needed along the way.
Make sure what precedes and follows each major component makes logical sense. Does your business have no web presence? Then traffic generation services like SEO, blogging and social media need to come first. Is your website under performing from a lead generation standpoint? If so, your agency partner will need to ensure your site has decent traffic and then begin crafting premium offers and landing pages.
Are too few sales being attributed back to the website? An agency brought on to help with that challenge will (again) need to look at the traffic and lead numbers to ensure quality is present and then begin crafting targeted lead nurturing and email follow-up sequences. Obviously, the ability to measure and interpret data is a baseline skill for each of the core services, and each agency you consider should be able to set benchmarks, identify trends and take action.
3. Conducts goal-oriented sales process
The sales process of a good inbound agency will start with your goals and challenges, and dovetail into how they can help you. You're sure to see slides about who they are and what they do, but they should understand their services are most compelling when they can be seen as potential answers to the business challenges you are facing.
Getting answers to these critical questions at the outset will allow them to prescribe a plan unique to your business. Your goals and challenges should be natural segues into discussions around their capabilities and case studies.
4. Maintains a website optimized for inbound
They will most likely talk the talk, but does the agency you are considering walk the walk? Meaning, do they do inbound for themselves? Digging into their site for a solid yes or no answer to this question could give you interesting insight into just how good they really are at what they do.
Because you're in "hiring mode," your trips to their site have likely been dominated by scouring their services and client testimonial pages. But take a step back from these self-promotion-heavy pages and ask yourself: Do they do the things they're proposing for me? Do they blog with the frequency they say I will have to? Do their social media accounts boast the type of activity they preach will be critical for your success? Can Call-to-Actions buttons and premium content offers that display their thought leadership be found throughout the site?
"A truly effective inbound marketing agency should be its own best case study. Think twice about engaging with an inbound firm that doesn't make the services it sells a priority for their own business," says Patrick Shea, HubSpot's Channel Marketing Director.
5. Presents compelling case studies
You're sitting at a conference table. A prospective agency partner is projecting some flowchart-heavy Powerpoint slides and outlining the inbound marketing strategy they've designed for you.
While you're following the arrows and considering their capabilities, you should be asking yourself two key questions: "Have they done this before, and if yes, can they replicate that success for me?" Even go a step further with your questions: "Have they had success with other lawn and landscape industry companies like us?".
Any inbound agency truly dedicated to delivering ROI will be eager to show you how they've done it for others. Ask for these client success stories early on. These testimonials should include not only glowing remarks from the end client but also numbers and campaign strategies that summarize the impact of their work.
Make sure you consider the four core services of inbound marketing when looking at these numbers and testimonials. Do these case studies cite proof these guys were able to increase their customers website traffic? Did leads increase? Were these qualified leads that turned into customers and affected the company's bottom line? Make sure the accomplishments they are boasting align with the goals you have.
6. Showcases specific areas of focus
Does the prospective agency you are talking with have a sweet spot? If yes, is that sweet spot service or tactic-specific?
For example, maybe they've done SEO for years and years and gotten phenomenal results. Or is their sweet spot industry specific? Meaning they have crushed numerous client engagements in your industry (or a close relative to your industry) before? If they do, look to see if those sweet spots align with the challenges you are facing and goals you identified in the sales process. They should.
Use the sales process to get a solid handle on your prospective agency's areas of focus. If they have a service sweet spot, like social media for example, they should know the fastest and most surefire ways to leverage social media for traffic and leads. Or if they've worked in your industry before, they'll likely know all of the key industry terms and thought leaders — which will make content easier to create at the outset. This is Landscape Leadership's major competitive advantage.
Specialties like the examples referenced above can shine extra bright when incorporated into a comprehensive strategy spanning the four core services. Just make sure their biggest strengths make you stronger.
7. Trains your internal team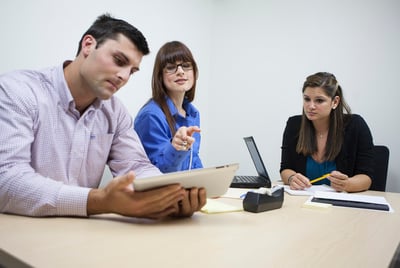 Inbound marketing hinges on effort. Effort to create content. Effort to tweet. Effort to research keywords for SEO. Effort to blog. Effort to think about conversion events on your site and how lead nurturing campaigns could be tuned to better perform. Lots of effort.
Any agency you hire will need to spearhead and facilitate all of these efforts, but should also be ready, willing and able to teach any members of your team interested in being part of the overall effort.
"An agency truly worth its weight will be eager to talk with all your folks, train them on blogging and social media best practices and harness their brain power. The more hands on deck, so to speak, the quicker things take root and being yielding results. Everyone wins," Patrick Shea says.
8. Has in-house capabilities
A complete inbound marketing strategy is comprised of many different tactics. It's like a puzzle — but not because it's confusing. It's a puzzle in the sense that it's got a lot of pieces. Pieces that should not stand on their own, but when put together, make total sense. And to truly succeed online, a business will need to have a comprehensive strategy inclusive of all the right pieces.
Assembling the pieces together into one, cohesive strategy is the job of your agency. Make any prospective agency be truthful about each step of the strategy they are proposing and how it gets done. Each of these pieces represents a crucial tactic, and it is important that you understand a potential partner firm's capabilities at the outset of your relationship.
Ask who is responsible for each piece because they might not have the talent in-house to deliver a service entirely on their own. They might outsource. Agencies that use partners for technical pieces of the work, like website design and integrations, will be relying on the schedule of another when they make the handoff. Probe them around who their partners are, how long they have been working with them, general timetables and what pieces of the work will get shifted to them.
9. Possesses strong project management skills
Inbound marketing is an organic process. It requires time, elbow grease and coordination. Any inbound marketing agency you choose to partner with is going to need to make requests of your time at the outset of your engagement and also at other points along the way.
Does the agency you're considering have the process and communication skills to make you think they will make reasonable and realistic requests of other folks on your team? Also, have they set clear expectations around what each inbound component will require in terms of time and resources? Do you get the impression they can manage campaigns with lots of moving parts?
A good agency will make your life easier, not the other way around.
10. Places an emphasis on measurement
The Internet is an infinitely measureable place. This makes each piece of the inbound methodology trackable. This should be a fact leveraged heavily by any inbound agency you're considering working with. Your prospective agencies should have presentations littered with the words "metrics," "benchmarks" and "analytics."
Progress made toward your goals should to be measured at every step of the way, and an inbound marketing agency worth its weight will be able to track all campaigns and report on performance regularly.
You have goals. You are trying to meet those goals by hiring this agency. Therefore, it should be as focused as you are on charting success in an undeniable, data-driven way.
11. Values transparency
Make sure the agency you are considering embraces transparency as a core value. Though you're not likely to see this word next to a bullet on Powerpoint slide, an agency can infer and prove they are transparent with their clients by citing and discussing three main business practices.
First, they should outline a regular meeting schedule in their sales process. These meetings allow the agency a regular venue to raise questions and concerns as an engagement is progressing.
Truly transparent inbound agencies will insist on you having login credentials to the online marketing software they use to run your campaigns. These accounts are loaded with data, and they should be open and comfortable with you walking around in their world.
Transparent agencies make their end client part of the team and get better velocity for it. They solicit input and feedback often, and couple their own expertise and judgment with their clients industry experience to craft inbound strategies and call audibles where needed.
Cost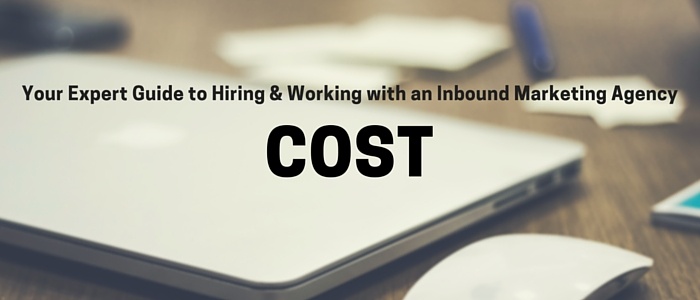 Putting a price tag on marketing
Now that you have a good idea of what to look for, your next question is probably, "What will it cost me?" That really depends on what you want from an agency.
Do you want a company to handle everything, or are you just looking for a little help here and there?
On average, Landscape Leadership's clients spend between $40,000 and $60,000 with us annually. Monthly retainers are in the $3,500 to $6,000 range. We work with lawn and landscape industry companies with annual revenues from $1 million to more than $30 million. Our clients agree to a 12-month engagement to work with us.
Your marketing budget will depend on your company's size and how aggressive you want to be with reaching your goals. Our recommendation is to budget between five and 10 percent of your sales to marketing.
When deciding between hiring an agency on a project or retainer base, consider the work you want them to do. If you need a website redesign or branding overhaul, that's more of a one-time thing and could work on a project base.
On the other hand, if you want monthly content marketing, social media management, analytics/reporting or email marketing, that calls for a retainer since it's ongoing.
Most agencies are going to be more focused on one type (project or retainer), so look for one that has what you want.
No matter what type of agreement you go with, there might also be additional costs when working with an agency.
For example, our clients are expected to use HubSpot's marketing software, which starts at $200 a month.
Setting Expectations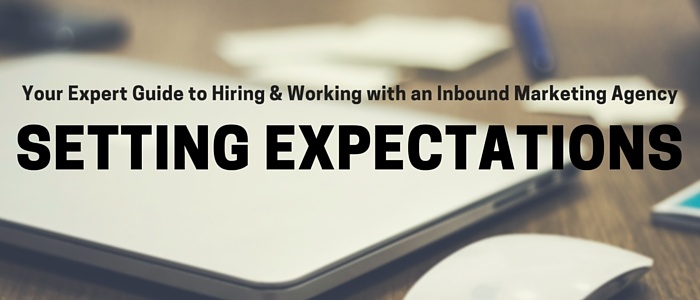 Not an overnight success
If you're going to spend your hard-earned money on something, you'll want to make sure you know what to expect from the very beginning. So, it's important to find an agency that's transparent and realistic when setting those expectations.
Writing blogs or engaging people on social media isn't going to impact your bottom line over night — but it will help you build a strong foundation to drive sustainable results.
For example, it might take six months to see substantial site growth when using an agency. That progress could be an increased number of leads, site visits or contacts from organic search. Once your site hits its stride, its momentum can continue to grow from there.
But to get you to that point, you can't just hire an agency and expect them to handle it all. It needs to be a real partnership if it's going to work.
In the beginning, it will take more time because you need to adjust to working with the agency and get on board with their plans. Once you've settled in, you and your team will still need to actively participate in the process, such as sharing information for the blogs and having regular meetings with the agency.
Conclusion
Hire an experienced agency
Whether you're lacking the time, experience or both, your landscaping or lawn care company needs to find an agency that will meet all of your inbound marketing needs.
Your goals may change, so make sure the marketing agency offers a wide range of services and has an experienced team that can grow with you. By doing your homework on the agency upfront, you can make sure you hire one that has leaders, skill sets, capabilities, personalities and the experience to create a lasting partnership with your business.
If you have a company in the lawn and landscape industry, start generating more qualified leads and closing more sales by partnering with Landscape Leadership. To learn more and inquire about our marketing services, please contact us here.
Did you find this article helpful? Then subscribe to receive instant updates straight to your inbox. Just add your email below. Receive candid sales and marketing insight specifically for your green industry business.
Photo Credits: Pexels.com, HubSpot, Bryan Clayton