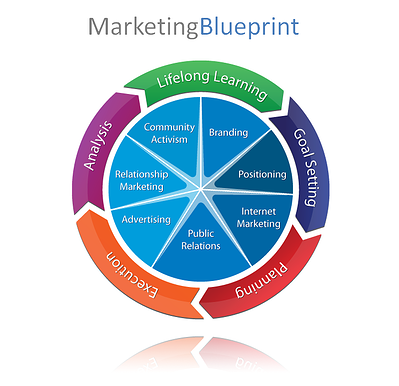 We developed our Marketing BluePrint about three years ago while writing The Little Green Book of Big Marketing Tips & Tactics for Landscape Professionals (yeah, mouthful).
At Landscape Leadership we use this to organize our marketing efforts. It provides us with a simple framework to work within while planning how best to market our services.
Believe it or not, we do implement more traditional marketing methods beyond the Internet. Yes, we do go offline occasionally. And in that is the first big takeaway we want to stress: The most effective and impactful marketing programs utilize both online and offline marketing strategies. It's an absolute must if you want to maximize your company's reach.
The second big takeaway is this: Free is great, but again, the most impactful marketing programs include both free and paid solutions. A good example of this is search marketing in which to get the best results (the highest rankings and increased traffic) we recommend adding paid search campaigns (Google Adwords, for instance) to what you are already doing organically. A balanced approach will give you the best returns.
Let's take a closer look at the seven categories within our Marketing BluePrint and discuss how we approach each in our own business.
Branding
Branding, in theory, is simple. In practice, at least for us, it has been difficult over the past four years because we have evolved so much as a company. That happens, it's completely natural.
We can't all be like Coca Cola or Apple. But what we can be is consistent. And that's really what branding is all about. Be consistent in everything you do from the fonts used on your website and invoices to the logo and colors on your equipment and uniforms to how you communicate exactly what it is you do.
Big takeaway: If you want people to remember you; be consistent.
Positioning
The concept of positioning is one of our favorite topics. And it is critical to the success of your business.
The most successful companies, whether in corporate America or in the green industry, share an intense focus. They discover the one thing they can be the absolute best at and then focus the entire company behind that single effort.
What is Apple know for? Design
Volvo? Safety
Aquascape? Water features
What about you?
At Landscape Leadership we know what we can be the best at: Generating more leads and building stronger brand awareness and customer loyalty for companies in the green industry. Are we interested in working with companies outside of the green industry? No.
Big takeaway: It's easier to say "no" to opportunities when you understand your position. And being able to say "no" is a powerful thing.
Internet Marketing
Using the Internet to market our services is clearly our top strategy. Our inbound marketing methods include:
Content marketing

Blogging (This is our absolute #1 strategy)
News releases
Monthly e-newsletter
Premium content such as infographics, e-books, workbooks, tip sheets, etc
Writing for other green industry sources like Lawn & Landscape magazine as well as guest blogging.

Social media

We're most active on Twitter
Facebook, LinkedIn, Google+ and Pinterest play a secondary role

Search marketing

On-page optimization of blog posts and web pages
Link building by writing articles for others as well as by creating unique, shareable content.
We don't currently engage in any paid search advertising
For us, everything starts with creating great content that you find helpful and useful. That's our objective. If we can do that, everything else like getting links and increasing our search rankings just falls into place. And as we increase traffic to our site every month, the number of leads we generate also rises.
Big takeaway: Social media, search marketing and content marketing each play a key role in a cohesive inbound marketing strategy.
Picture a delicious cheeseburger in your hands: Your content is the meat. Social media is the tasty cheese on top and the bun is your SEO (search engine optimization). Without the meat--your content--your burger becomes nothing but tasteless bread and cheese.
Public Relations
The lines have been blurred between traditional PR and social media. Much of what a company does with social media is a form of public relations. Traditional PR firms are using social media with their clients. Inbound marketing firms like Landscape Leadership are using traditional PR tactics for our clients. It's all good!
At Landscape Leadership, we put a huge focus on public relations. Earning publicity and aligning ourselves with other green industry organizations builds more brand awareness than what we could possibly do on our own. Partnering with others earns us more exposure, plain and simple. And, unbiased third-party endorsements add to our credibility and how we are viewed as experts in our field.
We write for numerous industry magazines and provide interesting and relevant stories and quotes whenever possible. We will also present numerous webinars for organizations like PLANET and publishers like Lawn & Landscape magazine.
Big takeaway: Never wait for others to invite you to contribute. You must actively seek out opportunities for yourself. But do it with the mindset of, "How can I contribute and provide value". There are magazines and newspapers who would love to write about you or have you write for them. There are bloggers that would love your contribution. You just have to ask. They are not going to call you.
Advertising
Advertising is not currently a part of our marketing strategy. We don't see any value in print advertising or direct mail advertising, even though we are in a very focused niche and industry which would allow us to effectively target our advertising.
Advertising holds no value for us because of this:
Big takeaway: Advertising has no credibility. Do you believe everything (or anything) you see and hear in an advertisement? Of course not. Neither do your prospects and customers. No matter how creative your advertising, prospects still see it as a paid message from a company anxious to make a sale.
Relationship Marketing
We lump referrals and networking into what we call "Relationship Marketing", for pretty obvious reasons. This is where we go offline.
How we network has changed dramatically in just the past five years. When I was running my landscape design firm five years ago I relied heavily on networking at events and groups like BNI and the Chamber of Commerce.
Today, most of our networking is online, but we do place an emphasis on networking offline with our green industry peers at annual events like PLANET's Green Industry Conference and ANLA's Management Clinic. This is a cornerstone of our marketing strategy. These networking opportunities have tremendous value that cannot be underestimated.
Big takeaway: You can build relationships offline and online. One isn't better than the other—they complement each other. I have wonderful relationships with green industry friends around the country that started online only to blossom as we've built our relationships offline. (Yeah, that sounded really weird. I've never used the word "blossom" before; certainly not while describing a relationship.)
Community Involvement
Landscape Leadership is not a locally based business—we have clients spread across the country. But we do have a community that we love being a part of: the green industry. Hi neighbor!
This is one reason we love operating within a single industry. We can make a larger contribution in the community and hopefully play an integral role in shaping the industry's future.
Our community is important to us. Hopefully our actions reflect that.
We'd love to hear your thoughts. Feel free to leave your comments below.
Today, using social media to direct traffic to your website and generate new leads is an indispensable part of your marketing mix. We designed this ebook to help you identify the key social media channels where you should be present and how to optimize them for lead generation. Download it today!