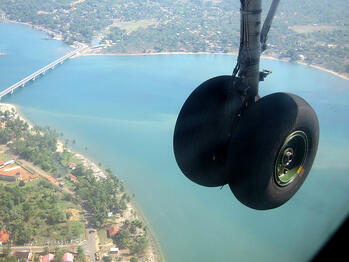 Here's a typical setting: I'm speaking at a green industry conference, presenting our inbound marketing methodology and gushing about HubSpot's all-in-one marketing-automation software. "Do you want to generate more leads and close more sales? This is how you do it...", yada yada...
Lot's of heads bobbing up and down. Lot's of note taking. (A couple guys sleeping because they were out too late the night before boozing it up.)
Then the inevitable comment/question combo: "This sounds like a lot of work....How the heck are companies finding the time and money for this?"
Great question.
From our experience--as a marketing agency that works directly with green industry companies like yours--we would say the resounding answer is companies are simply shifting marketing dollars from traditional, costly, interruption-based marketing to more targeted, cost-effective inbound marketing strategies.
Instead of dropping $40,000 each year on an ineffective YellowPages ad, companies are retaining agencies like ours or hiring within. Instead of spending $10,000 on a direct mail piece or a print ad campaign in a local newspaper, companies are hiring part-time freelance help.
The bottom line is, "inbound" is a helluva lot more effective than interruptive marketing and gives you more bang for your buck. It's also much easier to measure your results and return on investment--which makes opening your checkbook a little easier.
Let's be clear, I'm talking about shifting marketing budgets, not eliminating them entirely.
Some green industry companies have chosen to eliminate their marketing budgets. I hear this all the time: "We dropped all our advertising. We don't pay for anything. We just use our website and Facebook. We love FREE!" Well, good luck with that strategy, it's not very bright.
The idea that "You have to spend money to make money" is still alive and well, it's just changed a bit. It's now, "You have to spend money more wisely to make even more money".
So, how are green industry companies spending their marketing dollars more wisely? There are really three basic models that we have been seeing.
The "Here, you do it all" company
We like these guys.
These companies don't have dedicated marketing staff within the company--even though some of these companies can be generating millions of dollars in revenue each year. But, they still have a substantial marketing budget.
These folks rely almost completely on outside agencies like ourselves and smart marketing-automation software like HubSpot.
The "Partner with us, please" company
Many companies (of all sizes) fit within this category. These companies will have a dedicated marketing person internally, either part-time or full-time. They usually carry the title of Marketing Director. Many times it is the owner of the company.
These internal marketers simply don't have enough time or the specialized knowledge to run an all-encompassing, impactful inbound marketing program.
These companies will partner with an agency like ours to boost their effectiveness. They build a team with the internal marketing director leading the charge. This can be more cost-effective than the "Here, you do it all" approach but still get the specialized knowledge that comes with retaining an agency.
An agency partnership like this can work extremely well.
The "We don't need your help" company
These companies have a full-fledged marketing director and rarely retain an agency over an extended period of time. They'll work with project-based freelancers or agencies on occassion (website design, re-branding, etc) but handle the day to day marketing internally.
I'm not going to debate which approach is most effective--that completely depends on the company. I just want to make you aware of what other companies in our industry are doing based on our observations over the past year.
My main point is that companies are spending their marketing dollars differently today. Instead of wasting money on advertising, they're investing in smart software solutions, hiring marketing-savvy talent and partnering with specialized agencies like Landscape Leadership.
Feel free to share your comments or questions below. I'd love to hear how you're handling the marketing within your company.
If you're considering partnering with an agency, I highly recommend downloading our Ultimate Guide to Hiring an Inbound Marketing Agency. This will provide you with some good perspective on what to look for when engaging with an agency.
image credit: indi.ca