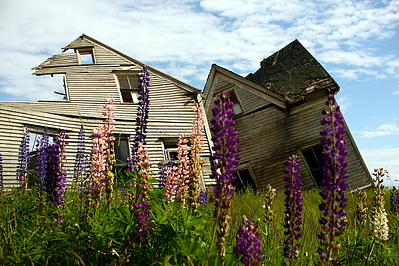 Let me introduce you to someone who's story may sound familiar to you. His name is Marketer Matt. Matt is the director of marketing for a large, family-owned garden center and landscape design/build contractor in Quahog, Rhode Island.
Matt began working at Griffin's Plants & Landscape during his college days, and upon earning his degree in accounting, Matt stayed with Griffin's as he began his search for a new job and career. After a brief break from the landscaping world and a stint with a local accounting firm, Matt realized his career -- and his heart -- belonged with the Griffins.
For the past nine years Matt has worked in all aspects of the business from retail sales and delivering plant materials to running a landscaping crew and even selling landscape work. Because of his experience and dedication -- and due to the company's strong growth -- the Griffins felt Matt was ideally suited for the newly created, full-time marketing position he currently holds.
Matt is now half way through his fourth year as the company's marketing director...and the Griffins are frustrated. Expectations haven't been met. Competitors are catching up. Growth has slowed and the company seems to be treading water as it relates to their marketing efforts.
The Griffins know they need to make some changes.
Identifying the problems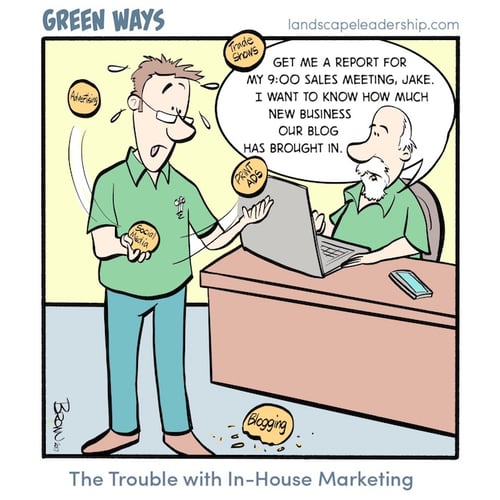 What I described above is a common story we see played out in green industry companies across the country who have an in-house "marketer" or marketing team. There are multiple failure points in this scenario that we've identified. I want to share five of these with you along with some tough questions to ask yourself as a business owner or as part of your company's leadership team.
Protective
Matt isn't open to anything that is going to rock his boat. Notice the emphasis on "his"? Let's be real, Matt is more concerned about himself than he is Griffin's Plants & Landscape who employs him.
We've seen this scenario play out first hand. The majority of green industry companies we speak with who have an in-house marketer or team view our agency as a partner. And that's how we view it. However, every so often we'll run up against a Marketer Matt who pushes back and resists change, almost as though they've been personally threatened in some way. Matt doesn't view an agency partnership as an effective way to help grow the business, he sees it as a threat to his livelihood.
Tough questions: Is your in-house marketer committed to growing your business or more committed to his/her personal agenda?
Reactive
Things evolve and change rapidly in the marketing world today. What may have worked five years ago -- or even five months ago -- may not work today and tomorrow. You need to be nimble and able to pivot on a dime.
We've found many in-house marketers and teams to be very reactive in nature, as opposed to being proactive. Marketer Matt shadows his competitors. He's a follower, and thus always behind. He waits for others to offer ideas instead of pushing forth his own initiatives.
Tough questions: Are you following your competitors? Or are they following you? Can your in-house team recognize opportunities and then act on them to drive results in a timely fashion? And can they do this without having you involved in every step?
Biased
When you're firmly entrenched in the day to day of your business it's very easy to become blinded by bias. Both Marketer Matt and the Griffins have struggled with this the past four years. Strong, fast growth led to a heightened self-perception of where the company stood in the eyes of consumers. This inaccurate self-portrait has led to some bad decisions, including mistakenly believing Matt was qualified to direct the company's marketing efforts.
Matt's biased viewpoint has led him to overlook weaknesses within the company and his own shortcomings along with outright ignoring competitors. One reason Griffin's Plants & Landscape is treading water is because they just haven't acknowledged the hard reality that there are flaws in their business that need to be fixed.
Tough questions: Is your perception of your business really in alignment with that of consumers? Have you put your business and brand on a pedestal that is only visible to you? Are you able to honestly acknowledge gaps and shortcomings in your marketing efforts and overall business?
Limited time
Marketer Matt is also frustrated with the current situation. He feels that the Griffin's expectations for him are unrealistic--and perhaps rightfully so. Yes, Matt's formal position is that of Griffin's "Marketing Director", but he also plays a supporting role in IT and sales and is also often asked to help with other in-office tasks like billing and even planning company events.
To say Matt is pulled in numerous directions is a major understatement. The fact is, Matt cannot focus on marketing the business in an effective way under the current circumstances. No one could. The Griffin's are beginning to acknowledge this, however, their lofty expectations for Matt don't yet reflect this new-found understanding.
Tough questions: Is your in-house marketing team really focused on marketing? If not, do your expectations need to be adjusted?
Limited knowledge and expertise
Marketer Matt is a resourceful and savvy guy, no doubt. He's proven that he can handle a lot. While Matt has been able to implement new marketing programs in the company, they are still falling short when it comes to driving bottom-line results. Matt's limited time and multiple roles plays a hand in this. And remember, Matt's expertise is accounting, not marketing.
The cold, hard truth is that Matt cannot keep up with the evolving world of marketing. He doesn't have time to acquire the necessary knowledge nor does he have a commitment from the Griffin's to further his knowledge through continuing education.
Matt has hit a ceiling that the Griffins are not enabling him to crash through.
Tough questions: Does the following paragraph sound familiar and reflect your current marketing situation?
Marketer Matt can blast out a mass email to the company's contacts but he can't segment that list for more effective targeting. Matt can write a blog post but doesn't understand how to optimize it for SEO and to attract visitors. Matt knows how to share an update on Facebook but doesn't understand how to drive traffic and generate leads from the social network. Matt thinks he knows where new leads and sales are coming from but really doesn't have a measurement and analysis process in place to know for sure or to measure ROI.
Is your in-house marketing falling short like this? Is it really driving the bottom line results you desire? These are tough questions you have to ask yourself as a business owner or member of your leadership team.
As an inbound marketing agency we partner with successful green industry companies across the country to drive these bottom line results. If you've considered partnering with an agency like Landscape Leadership, I suggest you read these two articles:
How Much Will it Cost to Hire a Marketing Agency -- 5 Key Considerations
Hiring a Marketing Agency: 5 Questions to Ask Your Potential Partner
And get in touch with us at (800) 681-9169 or fill out our handy contact form. I also suggest downloading our free ebook, "The Ultimate Guide to Hiring an Inbound Marketing Agency". Grab it by clicking on the image below.
image credit: Martin Cathrae