Your Sales & Marketing Partner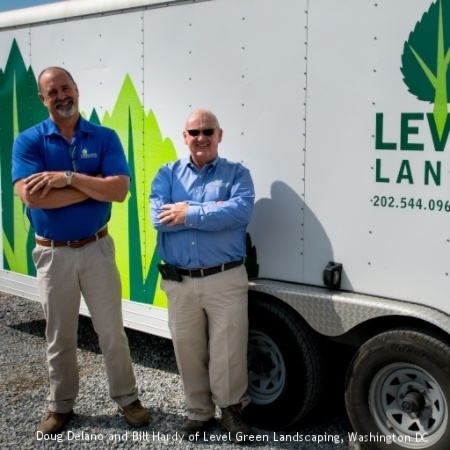 We understand how to get — and keep — your business in front of your prospects and customers. That's why companies like Level Green Landscaping in Washington DC trust Landscape Leadership to help them grow their businesses.
As an inbound sales and marketing agency, Landscape Leadership offers a full scope of sales, digital marketing and advertising services to a variety of lawn and landscape industry companies across the country, including:
Landscape contractors offering residential landscape design/build and maintenance services

Commercial landscape management and maintenance companies

Lawn care operators

Tree services

Landscape lighting contractors

Landscape architecture and design firms

Retailers like garden centers

Nurseries and plant wholesalers

Manufacturers, software companies and other green industry vendors
If you work in the lawn and landscape industry — or sell to green industry companies — then get in touch with us about your sales and marketing needs.
Does this sound like you?
Below is a snapshot of our ideal client:
Our clients are established companies doing at least $1.5 million each year in total revenue.
Our clients operate on a local level, not spread out regionally or nationally.
Our clients value our "inbound" approach to marketing and sales as well as our green industry expertise.
Our clients are not startup companies or franchise operators.
Sound like your company? Get in touch.
Why our clients hire us
First, with our background in the lawn and landscape industry, our team understands your type of business, seasonality in the industry, your challenges, and your customers. We speak the same language.
Second, this can often be a question of hiring in-house versus looking to an outside vendor – like an agency – for sales and marketing support. This is an important question many companies in our industry struggle with today.
Many of our clients have existing marketing support in-house, although this person is seldom dedicated only to marketing tasks. In fact, this person is typically in more of a support role for the sales team or even administrative team. This person's role is stretched thin between departments leaving little time and resources for actual marketing activities. Sound familiar?
With marketing and technology rapidly evolving – especially online – companies realize there is only so much they can handle in-house today. For this reason, they look to an agency like Landscape Leadership as a partner.
Why hire an agency?
There are numerous advantages to partnering with a marketing agency versus hiring exclusively in-house. Here's a look at just a few:
Cost. Hiring an agency can actually cost a company less than hiring in-house. The reality is that you will need to pay top dollar for elite in-house marketing talent. An intern won't cut it today. Chances are the salary you will need to pay will be higher than the annual retainer you pay an outside marketing agency.
Team. When you hire an agency like Landscape Leadership, you're hiring an entire expert team of professionals, not a single individual.
Expertise. Good luck finding a single individual with the experience and specialized knowledge needed to implement a fully integrated program that includes content marketing, social media, SEO, advertising, email marketing, web design and analytics. A digital marketing team like Landscape Leadership will have all of these capabilities (and more).
Experience. It's hard to find in-house help with the marketing expertise you need plus experience in and knowledge of the green industry. You need both — and that's exactly what Landscape Leadership brings to the table.
Time. One person cannot possibly do everything required to execute a sophisticated strategy in today's new age of marketing.
Retention. It's hard enough finding an in-house marketing superstar, but keeping them happy and on your team for the long haul is even more difficult. The reality is that your top talent is going to move on to bigger and better opportunities, leaving you in the endless cycle of recruiting and training.
Administration. Hiring, training, payroll, benefits, taxes… The list goes on. It's a pain having employees! Hiring a marketing agency is a much simpler, less painful process.
Our services
Does your company struggle with any of the following items?
Creating (and following) a logical and comprehensive marketing strategy each quarter and year over year — commitment is key

Updating your website and social media in a timely fashion

Ranking on the first page of search results for important local search terms related to your business

Finding the time to create truly relevant and helpful content, including blog posts, news releases, video and newsletters

Effectively communicating via email with your customers and prospects on a regular basis…without spamming them

Converting your website visitors into true leads your sales team can follow up with

Tracking your sales pipeline

Measuring and reporting on the most important marketing and sales metrics that impact your business— truly tracking the ROI of your efforts
These are the problems we solve for our clients. Landscape Leadership offers a wide range of sales and marketing services including strategy development, website design and development, content marketing, search engine optimization (SEO), social media management, sales pipeline management and analytics.
Pricing
Our pricing will obviously vary based on scope of services provided to each client, but we can offer you some perspective.
First, Landscape Leadership is very much a retainer-based marketing agency, not project-based like a web design company.
Our clients retain us on a monthly basis, and we provide ongoing services for a set amount each month. Our average retainer is $3,500 per month while others are over $5,000 each month.
Every client has different monthly deliverables based on their overall marketing strategy. Our retainers include specific deliverables each month and quarter, which can include:
Writing and publishing a specific number of blog posts each month
Creating content like case studies, buying guides, newsletters and video
A specific number of hours each month for social media management, SEO, website updates, etc.
A monthly advertising budget
Monthly reporting and client meetings
It's important to us that all our clients clearly understand what they are paying for each and every month. The transparent way we structure and deliver our sales and marketing services gives our clients a great deal of confidence and trust in us as their partners.
If you have more specific questions about pricing and how we structure our retainers, feel free to reach out to us.
Let's get started!
Are you ready to have a conversation with us? Hop over to our handy Contact page and complete the web form.
Additional resources for you