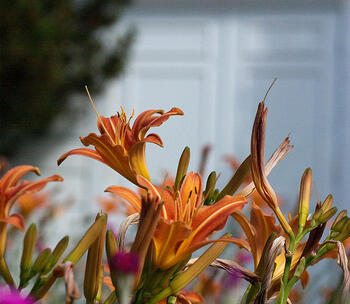 If you work in the green industry you've heard the phrase, "Sleep, Creep, Leap", as it relates to a landscape or garden. It's a simplistic description of how a newly installed landscape will evolve over its first few years.
In year one the plantings are overcoming shock and getting settled into their new home. Year two sees the plants acclimating to their environment, putting their energy into establishing themselves and showing a small amount of growth. In year three the plants take off and really begin to fill in their spaces in the landscape.
You start to see the payoff in year three.
The inbound marketing process is similar. I'll get to this in a minute, but first, let's think about outbound marketing for a moment.
When I say "outbound", I'm talking about the annoying, self-serving and obtrusive ways companies shove/cram/blast their marketing messages into our faces. You know, advertising and spam mostly.
These in-your-face outbound marketing tactics remind me of the tacky mass displays of annual marigolds and begonias in front of a gas station. Both offer a "quick hit" that's short-lived and unsustainable.
Inbound marketing is different--all of your current marketing efforts support and build on past efforts. For instance, your potential customers can find a blog post you wrote three years ago in Google's search results pages even today. They will not, however, find (or remember) the postcard you sent them three years ago.
That aside, now let's dive into how inbound marketing is exactly like landscaping.
Sleep
When you jam a daylily in the ground in August do you really expect it to make an impact that season? Your customers might, but you know better.
Similarly, launching a new website, a company blog or a Facebook Page won't have much impact attracting a barrage of new customers in the first few months. Hell, no one besides your mother will even read your blog for the first six months! This is OKAY! This is normal!
Building a marketing machine that drives brand awareness for your company and generates a boat-load of leads takes time, folks. It's hard work. You can't just flip a switch and expect a bunch of new leads to fall into your lap.
I know this is frustrating. It sucks spending your hard-earned money without an immediate payoff. But you Gotta. Play. The. Game!
This is what the "sleep" period for many of our clients will look like:
Our friends at Marketing Agency Insider call these "Builders". We call it "The Foundation". This is the marketing infrastructure that needs to be put in place to ensure for long term success.
Typically during this early stage the payoff or return will come in the form of increased brand awareness, which can be measured by website traffic (# of unique visitors, # of new visitors, referral traffic, etc) and reach (# of blog subscribers, # of Facebook fans, etc).
Creep
In good soil and with proper care, it doesn't take long for a plant like a daylily to establish its roots and begin to flourish.
The same can be said for a well-run inbound marketing campaign. This "creep" stage looks like this:
Brand awareness begins to increase dramatically as seen by a steady increase in new and unique website visitors along with an increase in number of social followers/connections.
More and more website pages begin ranking in the search engine results pages (SERPs) for important keyword phrases.
Website traffic from organic search begins to rise significantly as search rankings begin to climb.
Company and website begins to appear in more local search results.
Landing pages begin paying off with a small but steady flow of new leads each month.
At this point things are starting to get exciting. A company can start to see real results and trends based on the work they've put in. Now they're "all in" and ready for their inbound marketing efforts to really take off.
Leap
I'm sure you all know what a mass planting of daylily looks like by year three: It's ready to take over the garden. The mass is blending in with the other plantings and it's snuffing out those pesky weeds that once inhabited the space.
And this is exactly what you are doing to your competitors.
You are now dominating search results because of your regular blogging, link building efforts and social media activity.
You are not only driving a ton of visitors to your site, but you are also generating a steady flow of qualified leads with your collection of landing pages.
With a lead scoring and lead nurturing process in place your sales team is more effectively closing more sales.
Using marketing automation software like HubSpot, and after months of relentless effort, you are able to measure and analyze everything from where your leads and customers are coming from to what your most popular content is. From this data you can make even better decisions on how and where to focus your resources.
At this stage a company has serious momentum and is not about to take its foot off the gas.
This is where every company wants to be.
Just remember, this doesn't happen overnight. You've got to put in the hard work required. You have to first build the foundation.
image credit: erink_photography