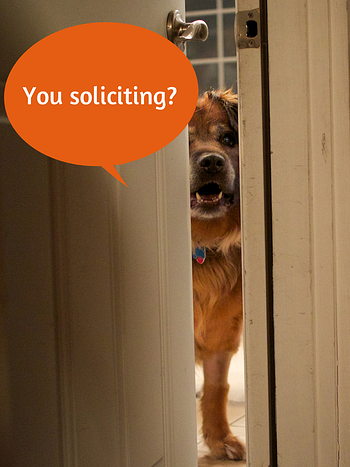 Knock, knock...
"Yes? Can I help you?" Asked Mrs. Homeowner peeking through her semi-open front door.
"Hi! My name is Chris. I work for a landscaping company called Greensward." (That's me)
"I was driving through the neighborhood and noticed your beautiful home that was recently built." I continued...
"Have you made plans for your landscaping yet? Here's one of our brochures." (Yes, now I'm soliciting)
"Yes. We're all set. Thanks". Closed door.
That exchange was about 12 years ago. I was a stuttering, sweaty-palms mess of a "salesperson" tasked with canvasing new home developments and handing out ridiculously expensive full-color brochures that no one wanted.
After explaining to my boss that a monkey could do the same and that this effort (his idea) to generate new leads was ridiculous, I was fired soon after. Thank God!
Fortunately for lawn and landscaping industry salespeople today, there's a more effective way to generate qualified leads and connect with your prospects. It's called the Internet. Yeah... Mind. Blown.
Here's the thing my boss – and many sales leaders even today – fail to understand: Mrs. Homeowner and others like her don't want our pretty brochures, door hangers and postcards with our biased and bloated hyperbole. It's not helpful to them. And it's a waste of time and money for the business.
You know what's better than wasting time knocking on doors or standing in a trade show booth? How about attracting qualified prospects to your business 24/7 who are actually searching for the types of services you offer with an intent to purchase.
You can do this with content marketing.
Of course, there's nothing easy about content marketing – you don't want to put a monkey on this (or an intern). If it were as easy as bombarding a neighborhood with postcards all of your competitors would be blogging, writing case studies, shooting videos... You know, actually helping your prospects.
Content marketing also takes big-time buy-in and commitment throughout your company, from the top down. This includes your sales team, which it could be argued, should play the starring role in your company's content marketing strategy.
Your sales team should play a starring role in your landscaping company's marketing strategy.
I can hear you now...
"What?!?! Our salespeople need to be selling! Why should they spend time writing and creating content?"
I'm glad you asked me that, Mr. Business Owner. Let's take a look at five compelling reasons why your salespeople need to start blogging and creating helpful content for your prospects and customers.
1. Your salespeople are on the frontline
Your salespeople understand the common objections that can be a roadblock to getting a deal done. They're on the frontline for the most frequently asked questions by prospects and customers.
Your salespeople should be subject matter experts in this regard. Keep in mind, these are the most important subjects that you want to create helpful content around, whether that's in the form of a 600-word blog post or a three-minute video. Answer objections. Answer FAQs. There is no one more prepared to do just that in your organization than your salespeople.
2. Your salespeople understand the timeliness and relevancy of topics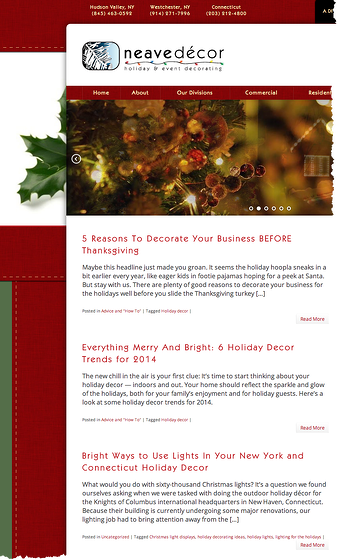 When it comes to content marketing it's important to stay ahead of your sales calendar – creating content now that will resonate with your prospects in the coming months ahead.
Look to Neave Group Outdoor Solutions as a good example of this concept in action. As their marketing agency, and leaning on their salespeople, we began creating helpful content related to Christmas and holiday decorating in August and September of 2013 to support their holiday decor division. We didn't wait until they were stringing lights on rooftops in November.
The number of website visitors, leads and customers increased dramatically compared to the previous year because these resources meant to attract and educate their prospects were available on their website at just the right time.
Schill Grounds Management in Ohio (client), one of the top snow and ice removal contractors in the country, is another good example. We've been creating content around snow and ice topics – like the salt shortage – since the summer months. Schill's salespeople inform our writing better than anyone.
Your salespeople understand the sales calendar and timeliness and relevancy of specific topics better than anyone else. Lean on them in your content creation efforts.
3. The right content can make your sales process (and people) more efficient
What salesperson wouldn't want to:
Increase their closing rate
Shorten the length of their sales cycle
This is exactly what helpful content can do for your salespeople and sales process.
Case in point: River Pools & Spas in Virginia. Co-owner Marcus Sheridan credits their content marketing efforts in helping them close 95 out of 120 sales calls in 2013 (79%).
Not only that, but River Pools has been able to shorten their sales cycle through the strategic use of content. By educating their potential customers via their blog, buying guides and transparent pricing information, River Pools now submits only one quote to a prospect, whereas other pool builders typically offer three to four additional quotes before finally making a sale. Not too shabby, eh?
When content can prove to be so valuable to your prospects during the sales process, why would you want your salespeople disconnected from the creation process?
4. Connect with a prospect before they talk with a salesperson
Do you know what's often missing in a traditional sales process? Trust! Trust between the prospect and the salesperson. Why did Mrs. Homeowner not open the door all the way for me 12 years ago? Simple, she didn't trust me.
Educating your potential customers with your expertise and insight begins to create that valuable trust before you even talk one-on-one. This is how the team at River Pools is able to close a high percentage of proposals in a short time frame. They've built up trust and credibility with their prospects well in advance of the initial consultation.
Video can be even more powerful than writing when it comes to connecting with potential customers. Why not let your prospect watch a video of one of your salespeople answering common questions related to planning for a landscaping project? Or a video of a salesperson describing a solution to a common lawncare problem? That's powerful stuff!
5. Crush your competitors
Let's get real pragmatic for a second. When it comes to success with content marketing, quality matters. But the amount of content also plays a major role. The more content you create the more opportunities you have to be found for different keywords and search queries.
Take a look at the graphs below from HubSpot's State of Inbound Marketing Report related to blogging frequency and quantity.

Bottom line: The greater amount of quality content you create the greater number of prospects that will find you. And that should translate into more qualified leads and customers – two things every salesperson loves.
If you have a sales team of four or five and they collaborate on a monthly basis to publish, let's say, 10 to 15 blog posts, you will crush your competitor down the street who relies on their over-worked in-house marketer who can barely publish two posts per month.
Your salespeople love a full pipeline, right? Then get them blogging to create the quantity of content needed to fill it.
Big-Time Bonus: Sell more by becoming a better teacher
If you want to understand a topic better, what do you do? Maybe read a book or take a course on the topic? That's a good start, but what if you want to become an expert? I would argue the best way to become an expert on the topic would be to teach others through writing and speaking on the topic.
To clearly and intelligently verbalize a response to a common objection or question from a prospect is a skill lacked by many salespeople. Why is that? I think it's because they haven't gotten clarity for the answer in their own mind before it comes pouring out of their mouth.
Writing (blogging) and speaking (videos, webinars, podcasts, etc) gives you the opportunity to gain clarity into a topic before you are face to face with your prospect. This is invaluable as a salesperson.
If you want your salespeople to be great at selling, maybe you should help them become great at teaching first.
If you want your salespeople to be great at SELLING, help them become great at TEACHING first.
Raise your hands – how many of you have your salespeople already involved in your content marketing efforts? How many of you plan to? I'd love to hear your thoughts on this topic. Feel free to share in the comments below.
Ready to get started with content marketing in your company? Want your sales team involved? My recommendation is to get organized first. We've created a helpful workbook for you that you can use to create a formal content plan and even an editorial calendar for your business. You can download the workbook here.
Image credit: Austin Kirk