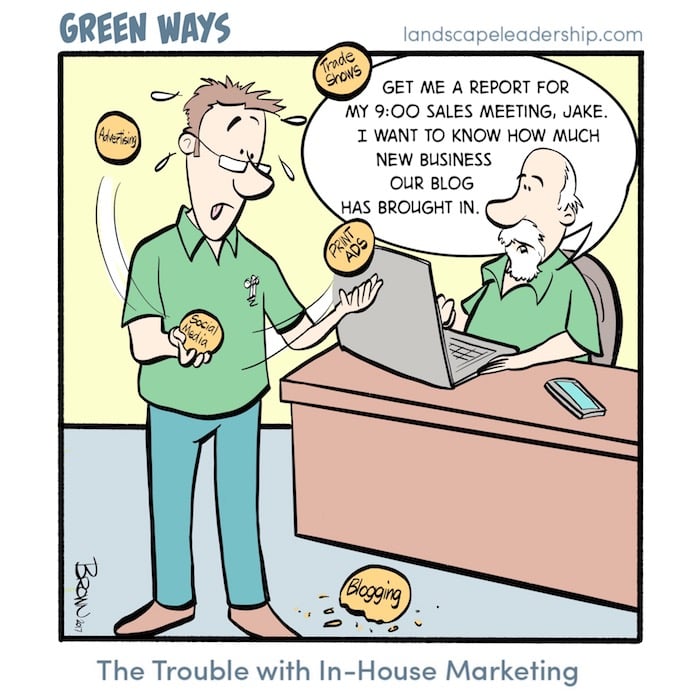 Purchase our entire collection of Green Ways comics on Amazon
Do you ever feel like managing the marketing for your landscaping company is like being caught in an impossible juggling act? The scenarios may be slightly different, but the concerns and challenges are extremely common and pose the same fundamental questions.
Should a landscaping or lawn care company hire an outside marketing agency?

What about the option of hiring an in-house marketing person?

Where does that person fit into the mix?

Is one better than the other?

Which should come first?

Can we have both, and how would that even work?

Can't we just add marketing to someone's current responsibilities?
I have a pretty unique position on this topic due to my experience over the past couple decades in the green industry. I worked for many years as a marketing manager at a $13 million company that offered a full range of lawn, tree, landscaping and even pest control services. Then I took on a new challenge, joining the Landscape Leadership team, working on the agency side of this equation.
(RELATED READING: 7 Lessons I Learned in My First 5 Months with a Marketing Agency)
The Dilemma: In-House Marketing vs. Outsourced Marketing Agencies
I understand the emotions that come along with these questions. In-house marketing managers and coordinators may see the concept of hiring a marketing agency for landscaping or lawn care companies from one of two angles. On one hand, they may be begging for some additional help as they are stretched too thin or be unsure of the best practices in one area. And conversely, hiring a marketing agency may be greeted with some trepidation, making them wonder if their job may become obsolete.
Company owners or upper management may also feel like they don't know which comes first, the chicken or the egg. Do you hire an in-house person first or after an agency? What if someone is already on staff? What if they aren't an ideal fit? And what about other outside vendors? How does it all work?
Have no fear. I'll be completely upfront and say that green industry companies should ideally have both outside vendors and someone in-house. And regardless of where you're at in the process or understanding on how this can happen, there will be some practical answers for your company in this article.
(RELATED PODCAST: Hiring Marketing Help In-House)
A Heavy Load of Never-Ending Improvements
One of the most exciting things about being a marketing professional in the green industry is that there is always something to work on and some way you can get better results for your company. That variety is what makes marketing people jump out of bed each day.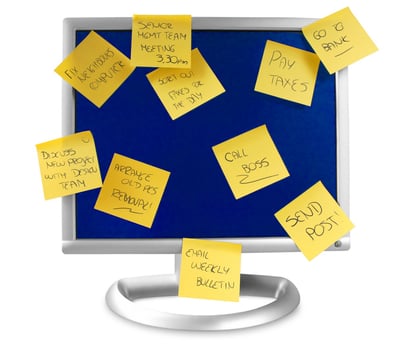 However, all of those improvements are also too much for any one person to completely handle and be successful at. It's also very common for marketing managers or coordinators to have other duties associated with their jobs, that pull them off of marketing-related tasks on a regular basis. Without outside help, it requires in-house marketing staff to neglect or delay certain initiatives.
There's a giant list of things they could do, and it's a matter of prioritizing tasks such as:
Advertising placements, strategy and/or design

Social media management

Website updates and improvements

Direct mail coordination and/or design

Online reputation management

Trade show planning and execution

Networking group involvement

Sign and vehicle graphic design oversight

Coordination of television, radio or other media initiatives

Content marketing strategy and implementation

Analysis and reporting on marketing campaigns

Photography and video shoot coordination

Training and/or communications involving internal staff

Assessing new marketing and advertising opportunities

Researching and interviewing potential vendors

And more!
That's a heavy load! Either some things are going to be dropped or some things are barely going to be lifted off the ground. And the larger your company, the more difficult it is for one person to handle the immense weight of these tasks without additional help (or without dropping the ball occasionally).
(RELATED READING: Should You Hire a Local Marketing Agency? 4 Important Considerations)
Unique Marketing Skill Sets
Although a talented individual may be able to handle most or even all of those list items, they will each have unique skills that shine through on particular areas. For instance, when I was an in-house marketing manager, I loved working on our website, writing blog content, and interacting with the public on social media. And there were measurable results of success in those areas. However, there were some of those list items that I enjoyed to be involved with, but required outside assistance. For instance, my graphic design skills were fine for high school booster club ads, but when it came time for magazine covers, I outsourced. I also recognized that even though I had some good preliminary ideas for TV commercials, it was best to punt to a pro to get the quality our brand deserved
The trick is to realize where your in-house marketing help's true skills are. Interest and activity doesn't always mean skill. They may love playing around in PhotoShop designing ads, but may really need the artistic touch of a graphic designer for those high-impact magazine covers. They may think that they are capable of handling a direct mail campaign, but realize there is a lot of value in hiring an outside vendor for a small fee, and just oversee the campaign.
The Immeasurable Value of In-House Marketing
Let's face it. Owners of landscaping and lawn care companies are extremely busy on many fronts. Most of them have little to no interest in making sure images are perfectly aligned on postcards, content is perfectly worded on the website, ads are placed in each publication they paid for, someone replied to a question on Facebook, or that someone was available for an urgent interview for today's 5 o'clock news about Emerald Ash Borer. That's why it's a great idea for green industry companies to hire in-house marketing help. Someone who is excited about those tasks will do the best job at making sure everything gets attended to.
However, when the tasks demand outside expertise or assistance, someone needs to coordinate all of these efforts with outside vendors like marketing agencies, public relations firms, printers, advertisers, etc. The minutiae of details is enough to make most company owners pull their hair out. But someone needs to oversee it to make sure every literal "t" is crossed and every "i" is dotted.
There are also tasks that demand a company representative to personally oversee. No one outside of your company may know better of how to respond to a bad online review. Outside vendors can't attend networking events for you, may not have the personal touch to craft a script for a radio ad, and the understanding of your local area to know which charitable events are best to attend or sponsor. In-house marketing managers or coordinators are a time-saving, valuable resource for your company.
Which Comes First? The Agency or the Staff?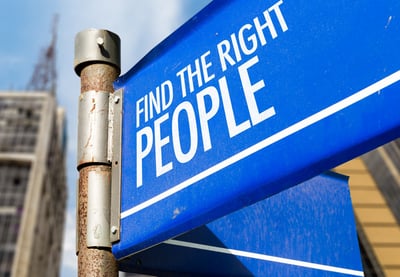 The ideal solution would be to create a marketing budget that allows for BOTH. An in-house marketing person, working with specialized vendors who are the best at what they do, will yield the best results.
When your company begins to go over the $1-1.5 million mark, you'll begin to feel the pain of needing someone in-house, to focus on growing your company. Start first with a lower-level, marketing coordinator which is typically salaried at $40,000 - $55,000 depending upon your market. They can handle the oversight and numerous details and defer to specialized experts when their skill set requires.
It may make sense, in the beginning, that your marketing coordinator also holds other job duties if your company is smaller and not involved on a deeper level with some of the initiatives mentioned here. Those other responsibilities often combine certain office management and sales-related tasks into their job description. That can help bear the weight of the additional salary for this new team member. However, as the company grows, transition those non-marketing activities to other team members and allow your marketing coordinator to focus on what they do best.
For companies that have grown to that $5-6 million and over mark, it may make sense to have a marketing manager or director instead of a coordinator, as there will be even more demand for additional marketing efforts and deeper strategy. This individual will have a more strategic background and longer experience demanding a salary of $50,000 - $75,000. And as the company grows past the $10-12 million mark, they may the need additional in-house help of an additional marketing coordinator for them to delegate some tasks to.
(RELATED READING: When to Hire In-House Marketing Help and How Much to Pay)
What If We Can't Afford Both?
Again, the ideal solution is to have both in-house and outsourced marketing for lawn care and landscaping companies. We hear this frequently when prospects or our clients first approach us, as they are often at that $2 million and up mark and feeling the pain of needing some help to continue growing.
To be completely honest, you're going to have to sit down as a team and crunch some numbers. If you're serious about growing your business, you're going to need to invest financial resources in growing. The prospect of spending $40,000+ on an in-house person, another $45,000+ on an outside marketing agency, and whatever else on other annual marketing initiatives you're investing in can seem like a big expense.
If you cannot bear the expense of both in-house and outsourced marketing help, you're going to need to make decisions that will offer you the best ROI for where you're at as a company. Think about investing in a strategy versus spending. Focus on using outside vendors that can truly understand your lawn care or landscaping business and are interested in a partnership that creates sustainable growth for you until you get to the revenue level where you can afford both in-house and outsourced vendors.
The whole exercise should also make you become extremely critical of your current advertising spend. Are you dumping money into efforts that show little to no return? Will you be completely dependent upon these marketing initiatives each month for these lackluster results?
(RELATED READING: Why We Don't Encourage Lawn & Landscaping Companies to Spend on Pay-Per-Click Advertising)
Marketing Partners for Landscaping & Lawn Care Companies
Tired of dropping some of the many balls you're juggling? Well, you're in luck. Your team doesn't have to know how to do it all, and they don't need to face the complicated task alone.
We love partnering with green industry companies that see the value in both in-house and outsourced experts. It's no surprise that our clients are leaders in their local markets because of investing in good people and partnering with a green industry specialized marketing agency and other vendors that really understand their businesses.
We'd love to help you consider how to fit both in-house and outsourced marketing help into your overall strategy. Feel free to contact us to learn how other companies in our industry have faced the same challenge and gone on to grow their businesses.