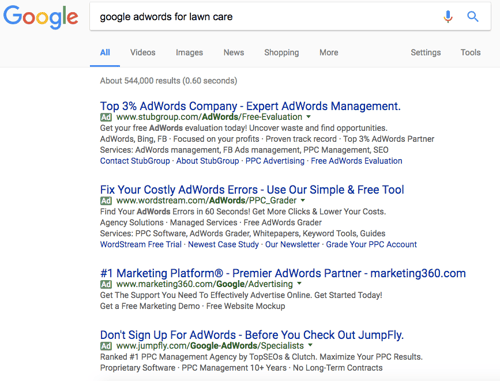 If you've been in the lawn and landscape industry for any period of time you've most likely spent some dough on pay-per-click (PPC) advertising. Probably with Google Adwords.
You're familiar with these text-based ads displayed at the top (and sometimes on the side) of a search results page when using Google. When a searcher clicks on one of these ads the advertiser is charged a fee, thus "pay-per-click" advertising.
How many of you click on these ads when you conduct a search online?
If your response is anything like the audiences I have posed this same question to, the answer will be less than 10%.
This is just the tip of the iceberg as to why we don't encourage our clients and other lawn and landscape industry companies to spend their marketing dollars on pay-per-click advertising.
Let's dive below the surface to discover the other reasons.
It's still advertising
As I've already alluded to, a small number of searchers actually click through these advertisements.
There are two main reasons for this, starting with the fact that advertising lacks credibility. Whether a 30-second spot on radio or television or a simple text-based ad in your browser's sidebar, consumers do not trust advertising or the company paying for it. Simple as that.
Second, consumers have become blind to advertising like this. Heck, there's even a name for it: Banner blindness, or ad blindness.
This reluctance – or total avoidance – to click through these advertisements leads to a very low click-through rate (CTR). Research from MOZ shows that 1.5%–2.5% of all search queries result in a click on a paid ad.
So what if you get lucky and your ad does get a click through?
(RELATED READING: The Best Ways to Advertise a Landscaping Business in the Digital Age)
Skeptical prospects and tire-kickers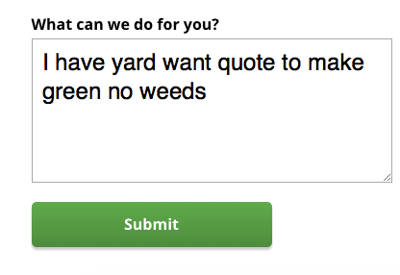 When someone clicks through your ad, they are visiting your website with a low level of trust and a weariness towards your company. That's not a good way to start a relationship.
If your company is spending money on pay-per-click advertising and attracting skeptical visitors like this then your website's content must be kick ass and able to establish at least a minimal level of credibility and trust when these visitors land on your site. All in less than 20 seconds.
This is the mistake most companies make: They start spending on pay-per-click advertising to get traffic but their website is a hot mess. The visitor lands on a homepage that looks like it was built five years ago. They either bounce instantly or contact you through your web form because they want a quote from ten different companies and could care less about learning more about you.
If you're happy spending your time on leads like this then have at it. If not, and you want a more qualified lead, then invest in your website before spending on pay-per-click advertising. This means an up-to-date, fresh design and user experience (especially on mobile, people!) and educational content like blog articles, case studies or even videos. Customer testimonials can also help build credibility and trust with your visitors.
Let's go one step further with this and talk about conversion.
(RELATED READING: 12 Essential Ideas to Implement on Your Landscaping Website's Homepage)
High-dollar leads
If you're paying $5 or whatever it may be every time someone clicks your ad and visits your website, you sure as heck better get them to stick around and convert into a new lead you can follow up with.
The problem with this is that most companies in the lawn and landscape industry don't have their websites optimized for converting pay-per-click advertising traffic.
Here's an example: If you're a full-service landscape company and you're running a PPC campaign promoting your irrigation services, your ad better be sending visitors to a unique landing page all about your irrigation services where the visitor can convert into a new lead.
Most PPC advertising campaigns I see land visitors on a company's homepage, left to figure out for themselves where the heck they need to go to get the specific information they thought they were getting when they clicked the original ad.
This poor optimization leads to low conversion rates which, in turn, means a high cost-per-lead. Which leads us to our next point.
(RELATED READING: The Number of Pages On Your Website Matters! Here's Why)
Fuzzy math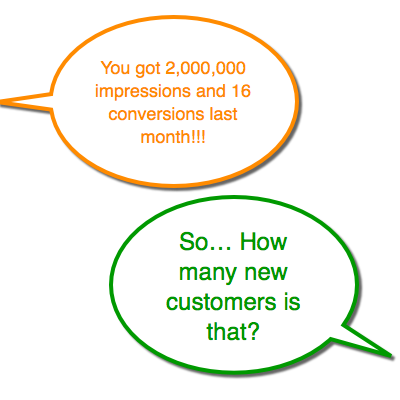 If your average lawn care customer spent $1,000 with you, would you be content spending $700 to acquire that customer? Content, or not, you would quickly be out of business.
This is not an exaggeration. I've seen exactly this.
Poor conversion optimization leads to a high cost-per-lead (CPL) which inevitably means a higher cost of customer acquisition (COCA).
The problem that we routinely see is that companies just don't know what their CPL or COCA is from their pay-per-click ad spend. Their advertising agency might tell them how many new conversions they get each month, but beyond that, it's just hope and prayer that paying customers are coming out the other end.
But what if they're not? Or at what cost?
(RELATED READING: 5 Inbound Marketing and Sales Metrics That Matter Most)
The crack cocaine of marketing
I can acknowledge Google Adwords and pay-per-click advertising does work for some lawn and landscape industry companies. By that I mean their PPC campaigns deliver an acceptable number of new leads at an acceptable cost per customer.
What worries me is when a company relies solely on pay-per-click advertising to generate new leads and customers. This is a dangerous dependency that will be hard to break.
It's a spend, spend, spend mentality as opposed to investing in your marketing.
If you spend $50,000 this year on pay-per-click advertising, guess what? You better spend the same – or probably more – next year if you want to maintain your flow of leads and customers. You can't turn it off or even dial it back because your business has become dependent on it.
Google and your ad agency will love you for it, baby!
A better way
We had the privilege of working with a large landscaping company for six years who we saw go from a $4million company to a $9million company. They invested heavily in our content marketing program during this time while also spending a considerable amount on pay-per-click advertising.
Both approaches have worked for this company.
But here's the kicker: They won't spend a dime with us this year – or maybe ever again – but the content they invested in with us will generate new leads and new customers for years to come at an extremely low CPL and COCA.
This is why we take the approach that we do when we work with companies like you. It's a sustainable, investment mentality.
This landscaping company will get a payoff that goes well beyond our working relationship. The same can't be said for their pay-per-click advertising.
I guarantee we didn't pay a dime on PPC advertising to get you here. Now that you are, how about joining over 2,000 other lawn and landscape industry professionals who are subscribed to our blog? We'll keep on keeping it real for you. Subscribe here or just add your email below.