The following article was written by Lindsey Getz and based on a recent Landscape Leadership survey of 50 in-house marketers at lawn and landscape companies in the United States and Canada.
---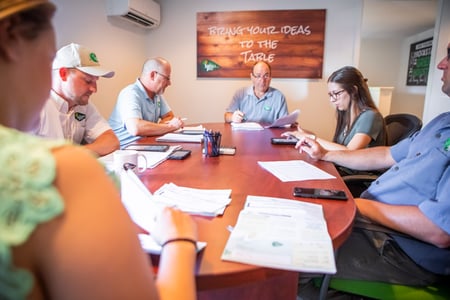 Is marketing a struggle in your lawn and landscape business?
If you're a lawn care or landscape business owner or manager, you might feel disconnected from the marketing effort or unsure whether it's actually achieving your big-picture goals. Perhaps you have an idea in your head of what the marketing efforts should be accomplishing but, if you're honest with yourself, you aren't overly invested in how it's actually playing out.
If you're handling your company's marketing duties, you might sense that disconnect as well—but feel that others at the company don't really understand or value your role. You might feel as though you're off on your own.
Landscape Leadership recently conducted a survey of in-house marketers (at green industry companies) to pinpoint some of their most significant challenges. A sense that marketing efforts were disconnected from the company's primary operations and overall vision was certainly conveyed in the results.
Let's look at the three primary challenges that came to light in survey results.
Challenge #1: Not enough time to do a great job
"Lack of time" was cited as survey respondents' number one challenge when it came to their marketing efforts.
This is something that Landscape Leadership's CEO and Founder, Chris Heiler, says was not surprising to him as in many cases – maybe even the majority – marketing responsibilities fall in the lap of an administrative or salesperson. It's incredibly rare for lawn and landscaping companies to have an in-house marketing person who is solely dedicated to that role. It's often one of the multiple hats a team member wears.
"Because of that, marketing becomes an afterthought," Heiler admits. "More than 60 percent of survey respondents said they commit less than 10 hours per week to their marketing role. Only 10 percent of those surveyed spend more than 20 hours of their week on marketing. Marketing simply isn't a priority."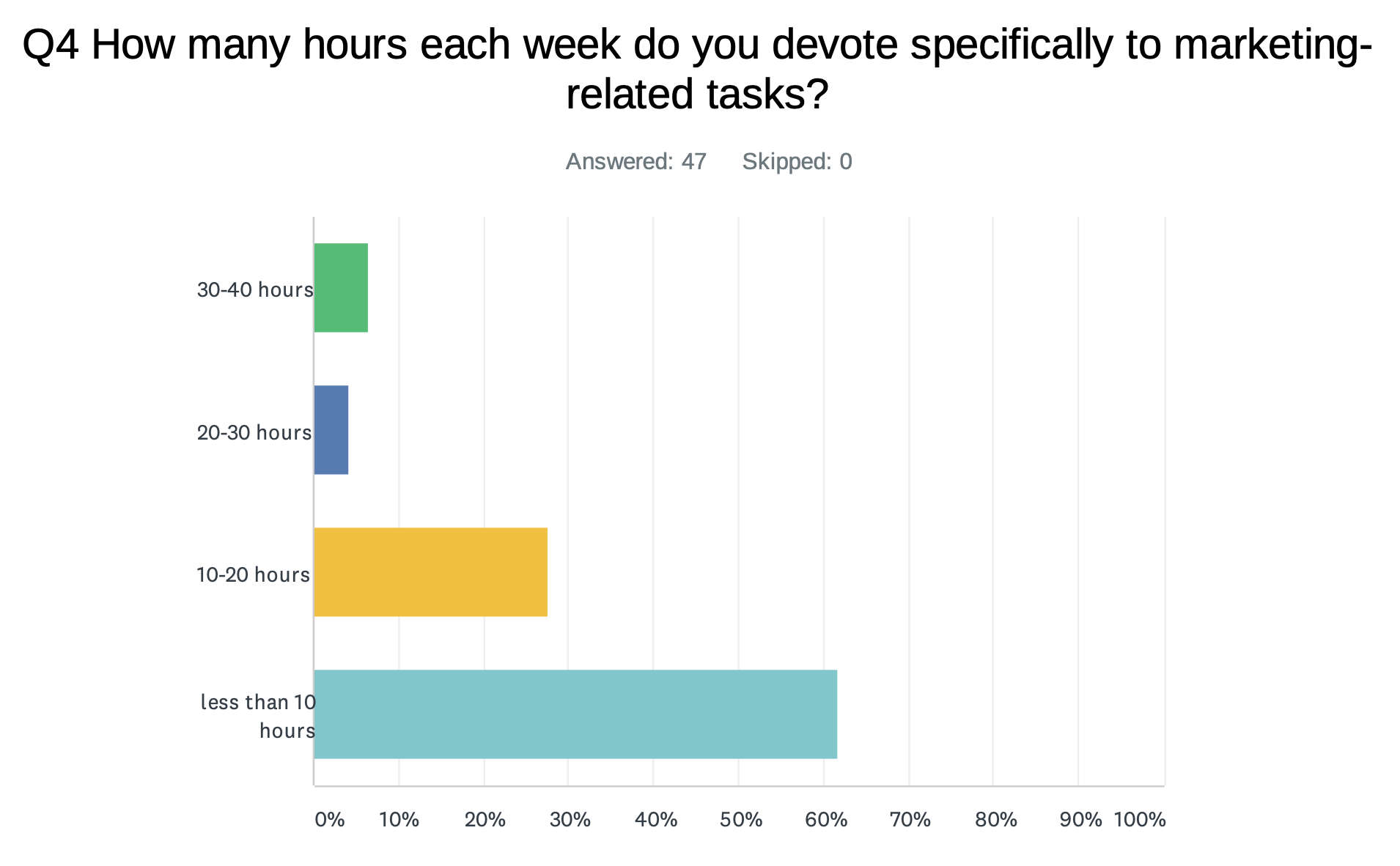 Chad Diller, Landscape Leadership's Director of Client Success, experienced this at his former employer of 13 years, Tomlinson Bomberger Lawn Care, Landscape, & Pest Control in Lancaster, Pennsylvania. He spent many years as an account manager while also pioneering most of the company's digital marketing efforts. Diller suggested to create a full-time, in-house role, and ultimately became the Director of Marketing.
"Initially, their vision for an in-house marketing role was for a part-time position but I wasn't interested unless I was able to dedicate all my effort towards the role," Diller recalls. "After some consideration and consultation with a business consultant, the company's leadership began to see the tremendous opportunity in creating a full-time marketing position so someone internally could be truly dedicated to that role."
When there isn't enough time spent on marketing the result can be convoluted messaging and a lack of big-picture goals the company can rally around.
In fact, less than 20 percent of those surveyed believed that their company had a clear and well-thought-out marketing strategy. That wasn't surprising to Heiler, either.
"When marketing's role is treated more as an afterthought than a priority, then very little time will be spent on developing and implementing a long-term strategy," he says. "This is supported by the fact that 34 percent of those surveyed claim their company's marketing strategy changes every year."
(FURTHER READING: How to Find an In-House Marketing Person and How Much to Pay Them [Video])
Challenge #2: Lack of buy-in
Another significant challenge that in-house marketers say they face is the lack of buy-in from the rest of the company. Unfortunately, when there is a lack of buy-in from decision-makers, it can impact the marketing budget. One respondent said that when budget trimming needs to be done, "marketing is the first thing to get cut."
And of survey respondents, 25 percent say they have no annual marketing budget at all.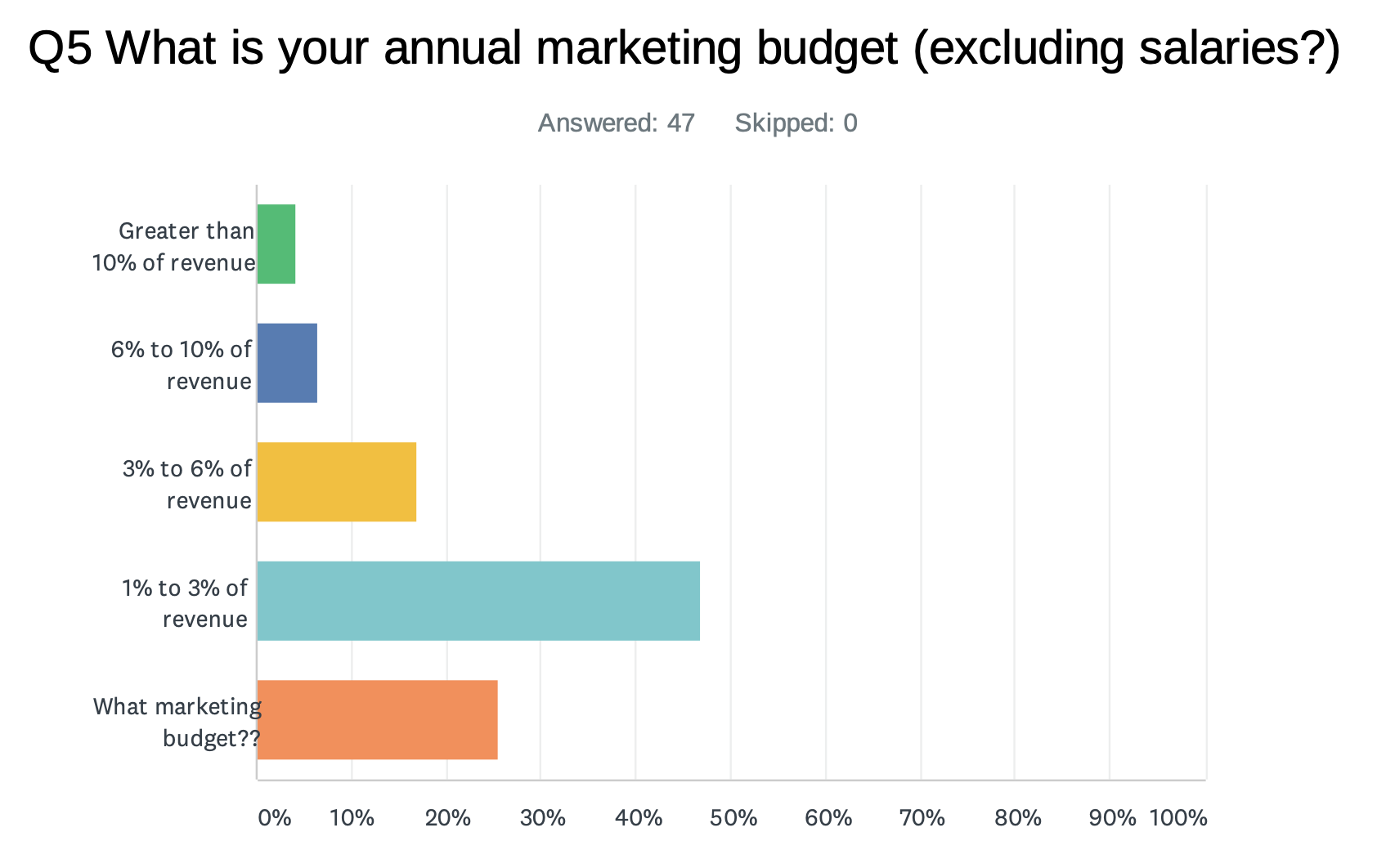 What many in-house marketing individuals do seem to have is a fair amount of freedom. Heiler says that he was surprised to see that more than 93 percent of those surveyed felt they had adequate autonomy and authority related to their in-house marketing role.
"However, while these folks have autonomy and authority in their role, what they don't have is adequate marketing budgets and the time to invest in marketing," Heiler continues. "And buy-in from the rest of the organization can be hard to come by. Only 40 percent of those surveyed are very satisfied with how their role is respected within their organization. I have plenty of anecdotal evidence from 20-plus years in the industry to support this as well."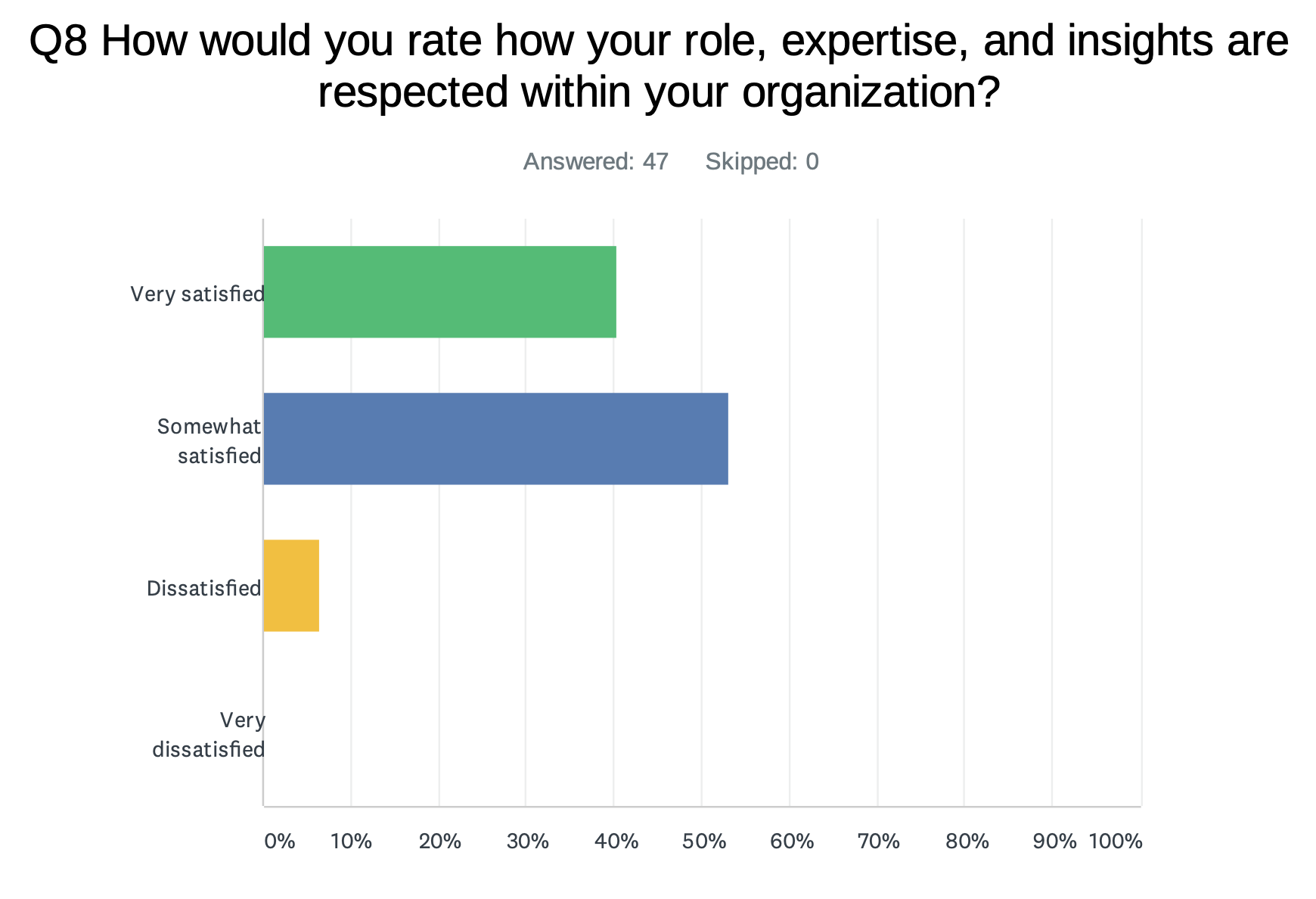 Connecting with the crews
This has been the case for Heather Kortokrax, Director of Marketing for TruNorth Landscaping in Traverse City, Michigan. She says that the owners have excellent buy-in but when it comes to some of the things that she needs help with from managers and foremen (like customer reviews or photography), the buy-in is not there.
To attempt to create more buy-in, Kortokrax says she has implemented two incentive programs—one for photography and one for customer reviews. Those in the field sending her the most and the highest-quality photos have the opportunity to win a cash incentive. The same goes for inspiring clients to submit reviews. Kortokrax says it's the foremen that tend to build great relationships with the clients but aren't always asking for a review request.
Ann Lally, Marketing & Sales manager for AgriLawn, Inc., in Oklahoma City, Oklahoma, expresses a similar disconnect between what's happening in the field and her marketing efforts back at the office. She says that it's hard to work with social media or create blog content when she's not the one in the field seeing what's happening on the properties.
Because of that, she has decided to get more connected by going on "ride-alongs" with the technicians. This not only gives Lally the opportunity to learn more about what's happening in the field but she has the chance to take plenty of photos and video.
Inspiring buy-in
Diller says that making connections with the crew and other team members at the company is essential when it comes to helping inspire their buy-in. They have to be able to see why the company's marketing efforts should matter to them.
"As a marketer, you need to think about how or why your role should matter to others at the company," Diller explains. "For instance, if I'm a crew leader, I care about getting my hours in and getting the work completed as smoothly as possible. But as a marketer, you're trying to help the company bring in more ideal customers so that the crew leader's job becomes easier. This way they won't have to deal with as many frustrating customers. Alignment between your mutual goals can go a really long way with buy-in."
Diller says that in his former marketing role, he was often visiting job sites and developing authentic relationships with crew members and technicians. He was always looking to educate and inspire team members to get onboard with the company's vision.
"When you're trying to sell your vision for the company's marketing strategy, it's your responsibility to create enthusiasm," he explains. "I would talk about how the crew isn't just building a patio, they are helping real people create memories and have a better quality of life. I would explain by appearing in a video or by letting me take pictures of them working, they're part of this greater purpose."
(FURTHER READING: 5 Reasons Your In-House Marketing May Be Failing You)
Challenge #3: A misalignment between sales and marketing
Misalignment between sales and marketing is also a common problem in lawn and landscape companies. The survey found that only 25 percent of respondents believe they communicate and work well with those on the sales team to drive growth for the company.
This is a missed opportunity, says Heiler, and it has financial repercussions.
"Companies are leaving a tremendous amount of money on the table because of this misalignment between marketing and sales," he says.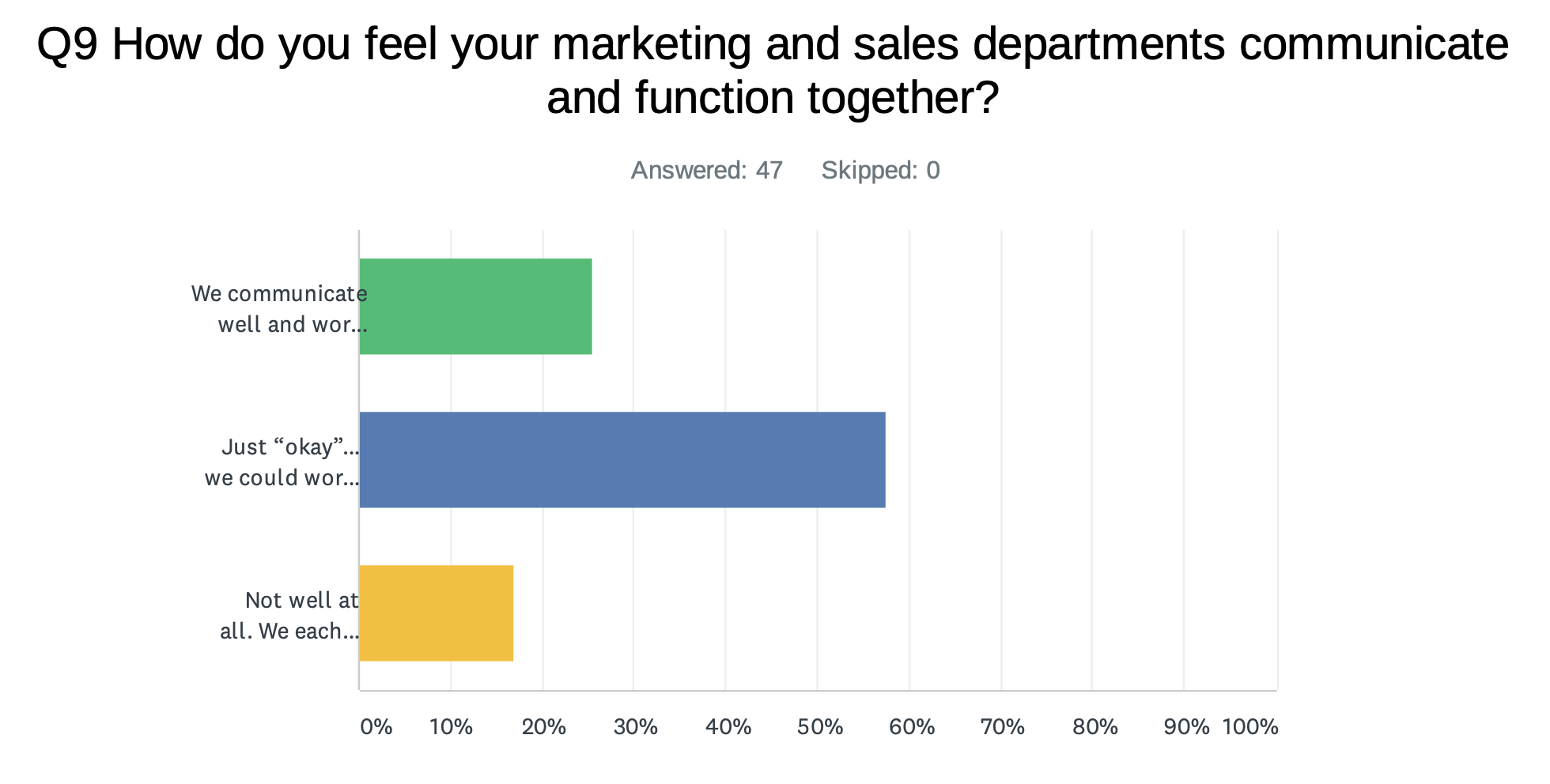 Diller says it's important for departments within the company to remember that they cannot operate in silos if the company wants to strive for united goals. Marketing should ultimately be what drives leads into the pipeline for the sales team. And sales needs to provide feedback regarding if the marketing initiatives are working.
"Salespeople also have to understand what the marketing priorities and specific marketing campaigns are," he continues. "Unfortunately, there is usually a big misalignment in that the sales team is not clued into what marketing is doing. They don't know what marketing assets exist. They aren't familiar with the campaigns that the marketing department is running. They certainly don't need to be involved in the minutiae, but they should know the plan—the main intentions and priorities of the lead generation process. And, if possible, they should have some voice in the planning process."
"At the end of the day, a strong marketing strategy drives better sales leads and that makes the salespeople's job easier", says Diller. Marketing managers will have an easier time getting sales team buy-in if you can show them the value of how it will help their process. When they're getting better-qualified leads, they're making more sales.
(FURTHER READING: Should I Hire Someone In-House or Hire a Marketing Agency [Video])
Looking to the future: overcoming these challenges
These challenges are no small feat to overcome for lawn and landscape companies across the country. From survey respondent data as well as anecdotal evidence, it's fair to say that the in-house marketing role clearly needs more attention and support.
Heiler says it like it is: "Company owners and management pay lip service to marketing by talking about how important it is, yet when it is time to spend money or make an internal marketing hire, they put their wallets away."
At the end of the day, everyone must be on the same page.
"How can someone do their job effectively if they are an afterthought to most of those in the organization? An in-house marketing person is not a team of one," Heiler says. "They need the full support of coworkers within all levels of the organization."
---
A big thanks to Lindsey for writing this article and summarizing the results of the survey. If you want more insight like this then please consider subscribing to the Landscape Leadership blog. We currently have over 5,000 lawn and landscape professionals as readers.
Image Sources: Joshua Tree Experts