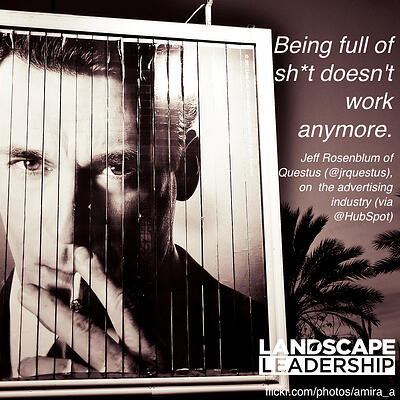 We get lots of questions about the best ways to advertise a landscaping or lawn care business in this new digital age. Questions like "Is radio and print advertising still relevant?", "Should we pay to be on Angie's List?" and "Does Facebook advertising actually work?".
All good questions, my friends.
Let's address the best ways to advertise a landscaping business by first making an important distinction between advertising and marketing.
Advertising is a form of marketing – they are not one in the same – and the terms should not be used interchangeably.
In its simplest form, advertising is paid or sponsored messaging broadcast via traditional media like television, radio, newspapers, magazines, billboards and direct mail or digital media like banner ads or Google Adwords.
Marketing is much broader and includes disciplines like branding and public relations and strategies like networking. Digital marketing includes strategies such as search engine optimization (SEO), email marketing and content marketing (all the fun digital stuff we offer at Landscape Leadership).
In this article I plan to focus strictly on advertising in the digital medium. Direct mail, print advertising, etc., etc., has its place... Just not in this article :-)
The Rules of Advertising
Let's start with a reality check. None of us are Coca-Cola, Apple or McDonald's. The biggest, most identifiable brands in the world were built on advertising (millions of dollars worth). The biggest marketing mistake you can make as a small business is to try and do the same. You don't have the budget. On top of that, advertising has no credibility.
"Advertising has as much credibility as a message inside a fortune cookie." Al Ries
Another mistake is to treat advertising as an investment and to expect a healthy return on that investment. Advertising is rarely worth what it costs – except for the big brands who use it to maintain their leadership position. Companies like Wal-mart and Microsoft don't expect a return on the millions of dollars spent on advertising – they treat the expenditure as insurance. They are simply protecting themselves against their competition.
My point is, for a small business like a landscape contractor or lawn care operator, you need to pick your spots when it comes to advertising: Be smart about where you put your dollars and manage your expectations accordingly.
Fortunately, with the digital age upon us, we have more cost-effective and targeted avenues for reaching our prospects and customers today via advertising. Let's dig into some of the best ways to advertise a landscaping or lawn care business in today's digital age, starting with niche social networks and review sites.
Niche social networks and review sites
Look in the mirror. You love looking at reviews online when making a purchasing decision, don't you? Well... So do your potential customers.
Remember what I said earlier about advertising lacking credibility? That's because traditional advertising is biased, and often times, down-right deceiving. We love (and mostly trust) online reviews because they are from a third-party – removing bias from the equation.
This is one reason why revew sites like Houzz and Yelp can be a smart choice to advertise your landscaping business. All have free plans which makes getting started a snap. As you get traction on a platform you can step into a paid "premium" plan for more local exposure. Note: I am not endorsing the paid plans. That decision is fully in your court.
Let's take a look at three of the most popular and important review sites for landscapers and lawn care operators, starting with Houzz.
Houzz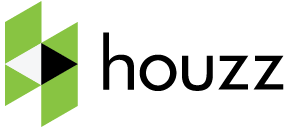 I refer to Houzz as a niche social network because it does have some social elements built into it such as a message board, commenting and sharing ideas with other Houzz users.
Houzz will be best for design and design/build-focused trades such as:
Landscape designers and architects
Landscaping contractors
Hardscaping contractors
Landscape lighting contractors
Pool designers and builders
It's all about inspiring homeowners with visuals of your work. If you're focused on commercial landscaping or the maintenance and lawn care side I would suggest passing on creating a Houzz presence and instead take advantage of Yelp and Angie's List.
What I really like about Houzz as a marketing platform for landscape companies is that it is very targeted. Homeowners using Houzz are actively searching for ideas and contractors for their projects. This can bring you qualified leads warmed up and ready to buy.
To be successful on Houzz, focus on the following:
Add new "projects" on a regular basis using your absolute best photography (you'll be competing against other amazing projects and images). This is not the platform to share average photos of your work.
Add detailed descriptions to your projects and each of your photos. Search engines like Google actually index the pages on Houzz and can rank these pages in their search results. So be sure to optimize your projects by adding descriptions.
Actively seek reviews from your customers. This will make your profile more visible within Houzz.
The screenshot below shows the Houzz profile of Neave Group Outdoor Solutions.
Angie's List and Yelp
Millions of households scour Angie's List and Yelp searching for reviews and service professionals like landscapers and lawn care operators.
Based on many personal discussions with landscape pros my view is that Angie's List and Yelp work best for lawn care and landscape maintenance companies versus design/build contractors. That said, there are always exceptions to the rule. Also, I've personally heard more success stories from contractors on Angie's List compared to those on Yelp. Take that for what it's worth.
Angie's List is a bit different from the other review websites like Yelp in that they charge users a nominal membership fee to read reviews of companies. This cuts down on bogus, anonymous reviews which can be a problem on many review sites.
Social media advertising
Social media has lost a little of its shine, at least for small businesses. There's such an overwhelming amount of noise on the social networks now that it has become very difficult for small businesses to reach their audience in an organic way.
Let's be clear: Just because you share an update on your Facebook page or in your Twitter stream it doesn't mean all of your fans and followers will actually see it.
If you want to leverage social media to generate qualified leads and customers for your landscaping business then now is the time to consider paying for advertising on these social platforms. That said, unlike a site like Houzz, users on social networks like Facebook and Twitter are typically not actively searching for ideas (or service providers) for their home improvement projects. They have a huge user base you can get in front of, but they are very passive.
Facebook
Chances are your "organic reach" — the total number of people you can reach for free on Facebook by posting to your Page — has been on a sharp decline like the majority of Facebook pages. For many pages, reaching a measly 10% of their fans with an update is challenging now.
Why should you consider advertising on Facebook? There are really two reasons to advertise your landscaping business on this massive social network:
To reach more of your current Facebook fans in order to increase interaction and engagement and even drive more repeat sales (assuming many of your fans are actually customers and not your neighbor).
To reach more Facebook users — who are not currently following you — in order to increase your number of fans, generate more leads and/or make more sales.
We've run numerous advertising campaigns on Facebook for our clients and the results have been positive, though not overwhelming. We've found the cost per click and cost per lead from Facebook advertising to be much lower than traditional pay-per-click advertising like Google Adwords.
Our current position on Facebook with our clients is that we will not put any time into creating a Facebook presence unless our client also has a budget for Facebook ads. That should tell you how we feel about Facebook at this point :-)
Twitter
I feel like Twitter – as a social platform and advertising platform – is best for B2B (business to business) companies like software companies, hardscape distributors and outdoor power equipment manufacturers who have a more national reach versus a strictly local market they operate in. I'm not convinced Twitter advertising is a smart spend for landscaping and lawn care contractors operating on a local level who are trying to reach homeowners.
Twitter advertising has proven effective for us at Landscape Leadership, as measured by number of leads and real opportunities generated. The cost per lead tends to be a little more costly compared to Facebook ads but I feel like the lead quality has been higher.
Promoted Tweets are the most common form of advertising on Twitter. You essentially pay to have your selected tweets appear in the feed of users who do not currently follow you. There are two primary reasons you would use Promoted Tweets:
To gain more Twitter followers, or...
To generate more visits to your website (and, hopefully, more leads)
If you or someone else in your company is a Twitter junkie and already using it to effectively reach your audience then I can recommend complementing the organic approach with Twitter ads. If you don't currently have a presence on Twitter, I don't suggest trying to build one with Twitter advertising.
The screenshot below shows an example of a Promoted Tweet on Twitter.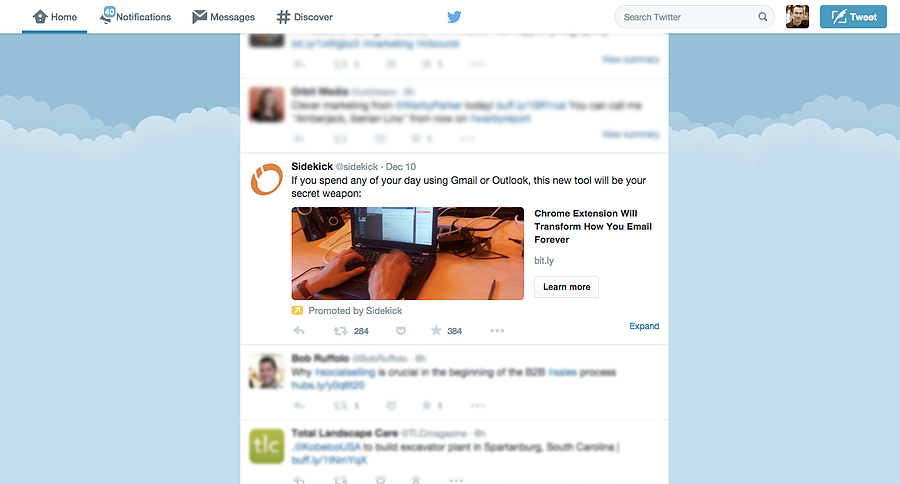 LinkedIn, Pinterest and Instagram
As a "professional" social network, LinkedIn's advertising platform is best for B2B green industry companies who cover a large market, either regionally or nationally.
The reason I say this is because, while LinkedIn has some fantastic targeting options, you can't utilize them to your advantage unless you have a very large market to target. If you're a local, commercial landscape contractor you will waste your money running LinkedIn ads in my opinion.
Pinterst and Instagram both launched advertising platforms recently. Advertising on Instagram is not available to all companies at the moment. Similarly, Pinterest encourages companies to join their "waitlist" for Promoted Pins.
Because Pinterest and Instagram are so visual, these social networks could ultimately prove to be effective advertising channels for companies focused on residential landscape design/build, pool building and landscape lighting. For now it's wait and see.
Retargeting
From Wikipedia: "Behavioral retargeting (also known as behavioral remarketing, or simply, retargeting) is a form of online targeted advertising by which online advertising is targeted to consumers based on their previous Internet actions."
Let me simplify this: Yesterday I visited www.tripit.com to learn more about their mobile app, eventually leaving the site without signing up. Today I visited www.allrecipes.com looking for a smoothie recipe. While on this site I was presented with a banner ad from TripIt, who is "retargeting" me. See the screenshot below.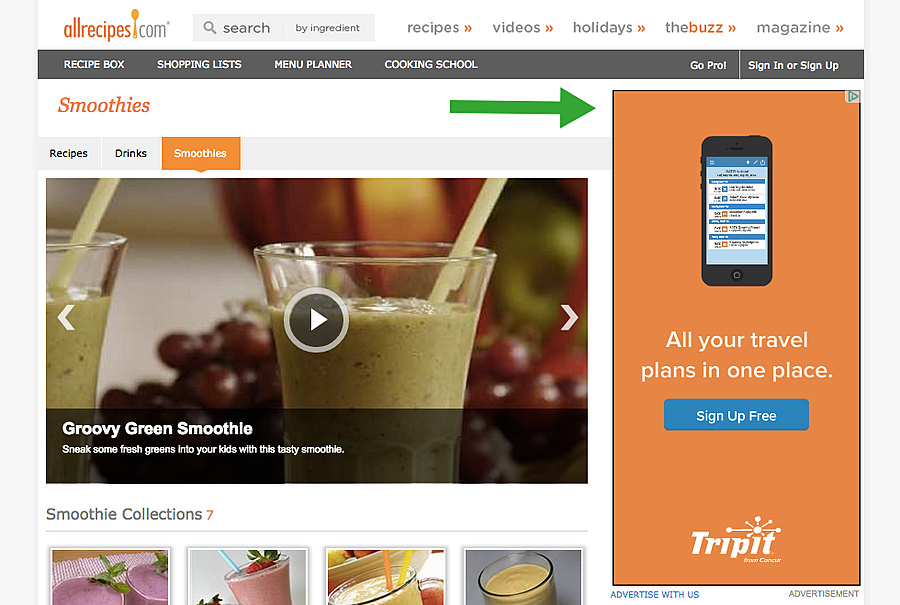 Retargeting your past website visitors can be an effective way to draw them back to your site in hopes of converting them into a lead. You're targeting people who have already shown interest in your company.
This differs from our next subject – Google Adwords – which targets people who most likely have never been to your site. Many companies will use both of these digital advertising strategies together.
Google Adwords (pay-per-click advertising)
You've gotta give it to Google, they've made a bazillion dollars with their Adwords platform charging advertisers on a "per click" basis. But is PPC (pay per click) advertising really worth it to companies in the lawn and landscaping industry?
It can be, if...
Your website is optimized for lead generation and pay-per-click advertising. In other words, you're not just sending visitors to your homepage but instead strategically leading them to unique landing pages where you can convert them into qualifed leads.
You understand how to target your unique audience with the digital ads and know how to manage a pay-per-click advertising budget.
You understand how to measure your return on investment.
If you don't have a firm grasp on the points above you will waste a lot of time and money on Google Adwords.
Conclusion
I hope this article was helpful in outlining the best ways to advertise a landscaping or lawn care company in today's digital age. There are many channels available to reach your audience, though not all will be a good fit for your specific business. There are also tools like HubSpot that can help you monitor and optimize your advertising. I hope this serves as a good guide to get you and your business headed in the right direction.