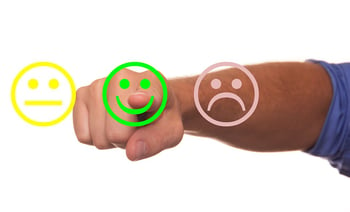 Getting lots of good online reviews for your landscaping, lawn care or tree service company will absolutely affect your company's bottom line. It means more website traffic, more leads and more sales.
Reviews are not only extremely important to your prospective customers and your company's success, but also to search engines.
But just how important?
How Online Reviews Affect Buyer Behavior
According to a study by BrightLocal, 86% of consumers trust online reviews as much as a personal recommendation from a family member or friend.
I talk to a lot of green industry company owners and they routinely cite "word-of-mouth" as one of the most important ways they've grown their business. But what happens when a prospective client doesn't have a friend who has had an outdoor kitchen built, or doesn't know their neighbors well enough to ask them what they think about their lawn care service? They go online instead.
Even if a prospective customer gets a recommendation, most of them will still validate the company by looking at their reviews and ratings. If their neighbor's recommendation turns out to have 3 stars online (or worse), they may look elsewhere. Most consumers read between two to ten reviews before deciding to do business with a company.
How Online Reviews Impact Local SEO for Landscaping, Lawn Care and Tree Service Companies
There is a direct correlation between both the quantity and quality of online reviews, and how your business will appear in Google Maps and organic search results. MOZ's Local Search Ranking Factors Survey found that online reviews impact about 6-15% of how search engines determine which websites rise to the top of search results.
You can do your own study as well. It's as simple as searching for your business category and city. I plugged in a few terms, looking for what results would show in a few various cities, all yielding similar results for landscaping companies in Pheonix, AZ.
The top placement on the search page will be PPC ads (which many people will scroll past), then the "snack pack" of featured local listings via Google Maps, followed by organic results.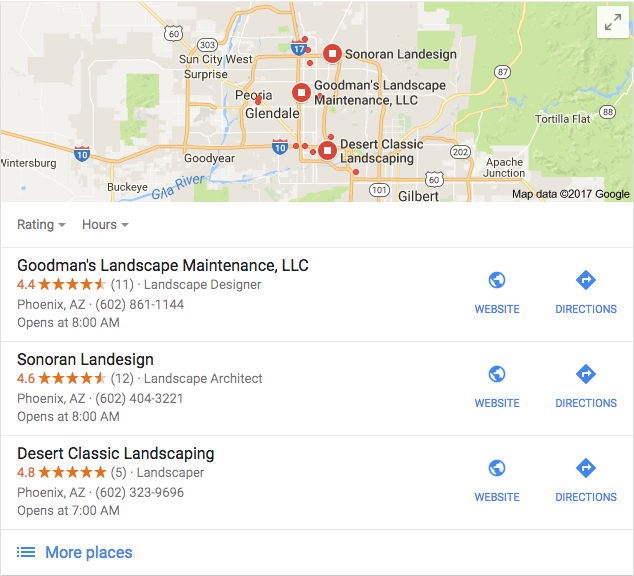 Google will list local contractors in their Maps listings which appears right below the PPC ads at the top of the search results.
A common thread in these searches is that the featured listings will often have at least 5 reviews and a rating of at least 4 stars. If you click the "More Places" button, you'll see the theme continues.

Clicking on the "More Places" link under the 3-pack will reveal even more local contractors listed.
The results give priority to companies who have both a good quantity of reviews and a great rating. Having your landscaping, lawn care or tree service company appear higher in these map results, with a lot of great reviews and a high rating, means better chances of beating out your competitors for good placement in search results.
Bad Strategies for Getting More Online Reviews
It's important to remember that search engines and review sites take the authenticity of their reviews very seriously. There are a lot of things well-intentioned companies do that could suppress reviews from even showing up.
Likewise, there are also some strategies that seem like good ways to get customers to leave a review, but deliver lackluster results.
Here are some bad strategies:
Offering any type of incentive or payment for writing a review
Having people from your company write reviews
Getting many reviews in a short amount of time
Creating fake accounts to write reviews
Expecting your customers will write reviews without being asked
Assuming a couple of requests will be enough
Sending review requests to upset customers
Sending review requests at the wrong times (during a drought, dead of winter, before you've had the chance to spray the lawn for dandelions first time in spring)
Over-complicating the process for customers to write reviews
3 Goals of Online Reviews: Quantity, Value & Rating
Before you formalize a process or utilize tools to get more good reviews for your landscaping, lawn care or tree service company, it's important to remember three important goals.
1) Quantity of Online Reviews
Of course more is better, but your company really needs to be careful to get reviews gradually over time. It's unlikely that you'll get more than a couple reviews each year without employing a deliberate strategy, but it can also be counter-productive to get too many, too quickly if you're doing a good job of asking.
Many sites such as Yelp and Google pay attention to this fast-and-furious activity and in some instances, suppress search results or even hide reviews. Getting too many too quickly communicates that reviews are being solicited versus coming from a customer's legitimate experience.
It's extremely rare to find a green industry company with more than 30 reviews. In fact, most I see have less than 10 (if that). The companies with more than 10 reviews and a high rating are usually the ones you'll see in those top results.
If you look at search results, you'll see that after a company receives five reviews, a star-rating will show with prominent colors. Your first goal should be to get at least five reviews, but keep in mind that more is better, shooting for at least 30-50 over time.
2) Value of Online Review Content
Since many consumers look at two to ten reviews, an ideal goal is to get your customers to actually provide some substance to their reviews. While you cannot write the reviews for yourself, you can suggest they give specific reasons for how they score you. This will be addressed later in this article.
3) High Ratings
Of course it's a great goal to have a 5-star rating, but it may not be a practical one. Most great green industry companies end up with somewhere around a 4.3 to 4.75 star rating. If you only have 5 reviews and get one negative review, you're going to need a lot more stellar reviews to get your rating back where you want it. That's just another reason to get plenty of reviews on a regular basis.
Personally, it seems more authentic to see an imperfect company. In fact, a lot can be said about a company by how they respond to negative reviews.
(RELATED READING: The Good, Bad & Ugly of Online Reviews for Landscaping, Lawn and Tree Care Companies)
How to Get Lots of Good Reviews for Your Landscaping, Lawn Care or Tree Service Company
Over 99% your customers will not write your company a positive review unless asked. In fact, it seems people are more apt to write a negative review than to sing your company's praises online. Getting lots of good reviews is going to take a deliberate, ongoing strategy.
Here are some guidelines for earning great online reviews:
Create a process that is easy for your customers (and ultimately you as well)
Give clear, simple, but meaningful instructions
Ask several times each year but don't beg
Explain why it's important both to the public, and your company
Choose the best times are to ask for reviews (right after a job is completed, times of the year when things look their best, less busy times for your customer)
Filter out people that have already left you a review, so not to keep bugging them
Automate the process as much as possible
Spread your review requests out over the year so not to get too many responses at once
Respond online to every review with a unique message, expressing gratitude
Only send reviews to customers who you know love you and have a plan to minimize negative responses
There are many ways to ask for online reviews, but the ones that make it easy for your customer come with a convenient link to click on. That's why we prefer delivering this via email.
Here's an example of a great email to send to your customers: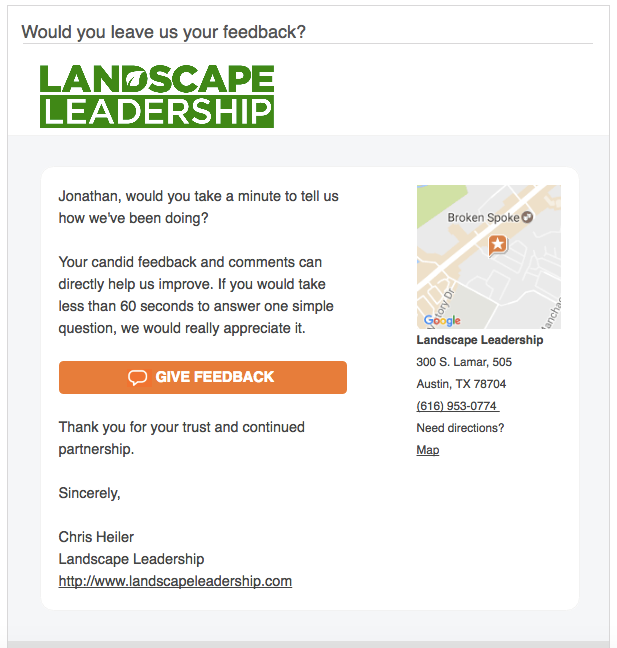 If you notice in this example, we didn't directly ask for a review. That was completely intentional. Instead, we ask for feedback, showing the simplicity of the task.
After they click on the link "Give FeedBack", they are then directed to this screen.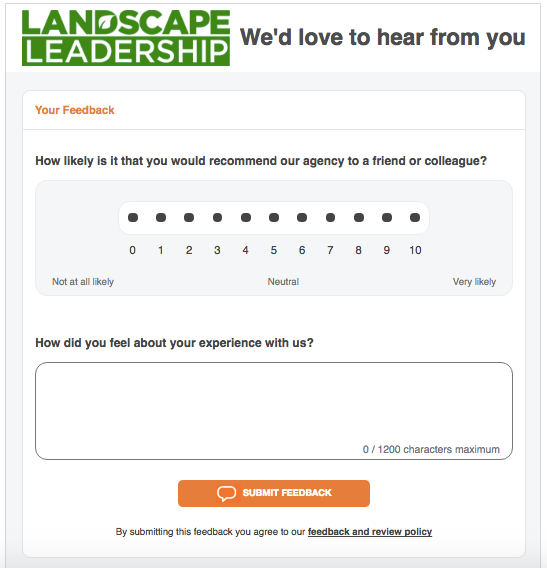 The customer is asked to complete a Net Promoter Score (NPS), indicating how likely they are to recommend your company.
When someone clicks a 8-10, they love you. They're called promoters. However, 5-7 are neutral and below 4 are detractors and are really upset with you.
The software we use with our clients works in this manner. When someone scores your company between an 8-10, they are immediately redirected to another page, asking them to write you a review (on a platform of your choosing). You've got the best chance for a good review from these promoters. This also provides them the opportunity to be specific. If you're lucky, they'll even throw in specific details about which services they use and how wonderful you are.
However, if a customer scores your company a 7 or below, they get a different message (shown on the right below). They will have a place to send you a message instead of reviewing your business. This allows them to voice their frustration and for you to respond to their issue.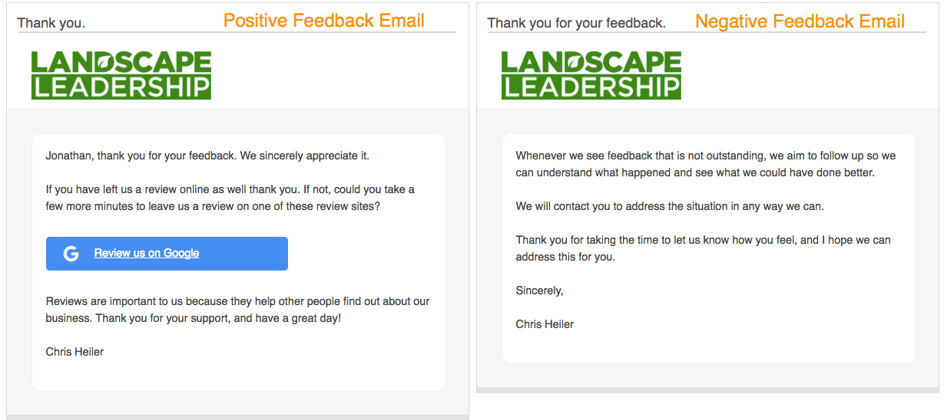 The icing on the cake is that the process is very easy for Landscape Leadership clients to handle. They simply provide us with a customer list, and the tool automatically sends three separate emails to their customers. Only five customers can be emailed each day. If a customer provides feedback, the sequence of emails stops.
Embracing Online Reviews
Online reviews are here to stay for the foreseeable future and a great opportunity for your green industry company to have valuable feedback to teach your team how to provide exemplary service.
Seize the opportunity! Instead of being fearful and frustrated, develop a strategy to maximize your success for getting great online reviews for your landscaping, lawn care or tree service company.
What are some online review success stories you've had? Feel free to connect with me on LinkedIn or Twitter and share them. For great regular sales and marketing tips, be sure to subscribe to our blog as well.
Image Sources: online reviews, keyboard, stars, 5 star review,