Meet Bob.
Bob owns a landscaping company.

Bob is buying a lawn care business to add more annual revenue.

Bob is going to mail out some transition letters to his new customers and plans to keep delivering "the same great service."

Many of Bob's new customers are going to cancel in the next year and find a new provider.

Bob is going to curse the day he wasted his money buying a lawn care business.
Don't be like Bob. Follow these four tips that he did not.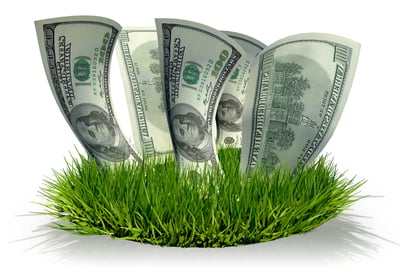 Are you considering buying another lawn care business or landscaping company? Over the past 20+ years that I've been in the green industry, I've worked at companies that acquired others and also have provided marketing support for many of our clients in their acquisitions. That has taught me some valuable lessons I'd love to share with you.
Regardless if you are buying a landscaping company to add to your client base or buying a lawn care company to create a stronger turf division, these marketing tips will be helpful.
Critical Fact: Your newly-acquired customers did not choose to be your customers. You have a lot to prove and most will immediately be skeptical regardless of how "awesome" you think your company is. Don't underestimate this challenge.
Let's get started.
1. Develop a Customer Outreach Strategy that Creates Brand Advocates
Sending out a letter or two is typical. Most company owners get this. However, you have an opportunity for this to not just be dull, corporate communication.
Here are some steps I recommend:
Send or hand-deliver customized printed welcome packets that mention the acquisition.

Be personable and creative. There isn't anything appealing about getting 5 paragraphs on your company letterhead. Consider your newly-acquired customers' biggest questions and concerns.
Initiate a welcome email campaign with messages spaced out over the first six months.

Next, give new information in a different format. Make this fun and interesting with personalized videos and links to drive them to useful resources on your website.
Welcome them, personally.

Print and digital communication is a great way to introduce your company but remember you're back at square one in this customer relationship. If you're buying a landscaping company, try to get face time with the most valuable clients. If you are buying a lawn care business and can't facilitate hundreds or thousands of these interactions, you can utilize calling campaigns to get better acquainted. Just commission your relationship-builders for this task, don't just have people try to burn through a call list quickly.
Whatever you do, be deliberate to allow these new customers to feel like you chose them, not just bought a book of business. When they see you're passionate about creating a successful new partnership with them, it will foster brand loyalty.
2. Initiate Some Creative Public Relations Measures
Try to give your new customers a chance to hear the news first from you, directly. Afterward, it could be a good idea to enlist the help of a public relations firm to circulate some press releases or pitch stories to the local media or industry publications to start some buzz and get some online citations/links (which helps with SEO).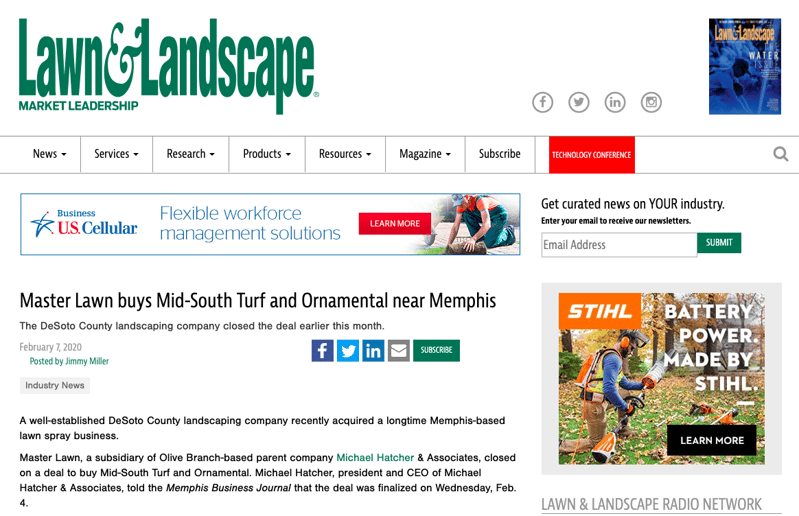 In 2018, a parent company, Michael Hatcher & Associates acquired a well-known local residential lawn care company, Master Lawn. They later continued to acquire more lawn care companies such as Mid-South Turf & Ornamental in 2020 and have these customers serviced under the Master Lawn brand. This is the story in Lawn & Landscape magazine.
If you have an individual in your company that is passionate about this task, you could even attempt some of this yourselves.
RELATED READING: This Just In! 8 Tips to Get Featured in Local News Media
Just remember that sending out an informational press release is a typical move. You could host a unique educational or charity event, invite newly-acquired and existing customers, as well as the public. Get creative!
3. Plan a Successful New Branding Transition
When buying a lawn care business or landscaping company, you may have acquired more than their customers. There may be new additions to your fleet and team.
Here are some tips:
Understand that rebranding should be done soon, but not always immediately.

The familiarity of the prior brand may be initially comforting to your new customers. Try to not create more confusion with a hasty transition.

Install new branding on vehicle graphics.

Make sure you can't still see where the old logo has faded the paint and is still showing through.
RELATED READING: Wrapping Landscaping & Lawn Care Vehicles - Ideas, Examples & Cost Considerations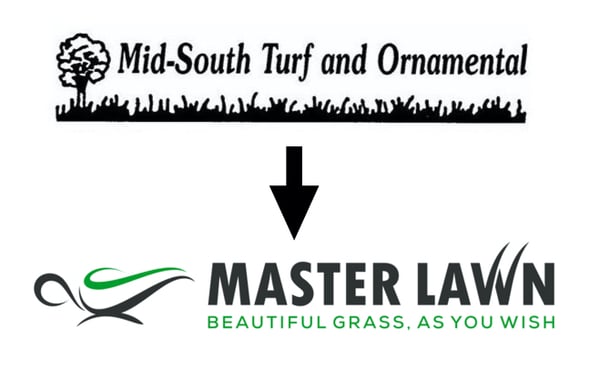 The customers of Mid-South Turf & Ornamental were slowly transitioned to understand that their lawn would now be serviced by the Master Lawn brand, but with the same team members they already trusted.
Get rid of any prior assets with the old branding.

This means print media and the old shirts and hats your new team members may have.

Use the old and new logos in some of those welcome packets, emails, invoices, or billing inserts.

That's a good way to show the connection and slowly make the old brand disappear over the following months.
4. Create an Acquisitional Marketing Strategy
There are a lot of considerations and different scenarios for this step. I strongly recommend enlisting the help of a marketing agency with expertise with acquisitions that also understands how local search engine optimization works.
Here are some general tips to consider:
Determine if the physical location of the old business will remain active.

Will this now be a new branch of the new brand? If not, all of the former brand's online directory listings will need to be deleted at some point. If this is your new branch, these old directories will need to be edited to reflect your new brand information. If you are buying a lawn care business or landscaping company and intend to operate two distinct brands, make sure they each have a unique physical address. Trying to combine these at one location creates big problems with Google and can hurt how both brands appear in search results.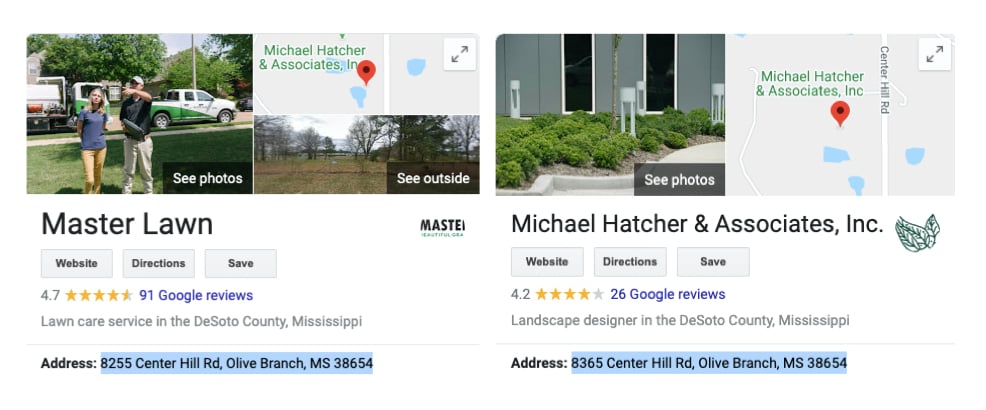 Michael Hatcher & Associates acquired Master Lawn and created a separate physical address to reduce confusion for search engines. When Master Lawn acquired Mid-South Turf & Ornamental, they made a plan to wait a few months and then close the Google My Business location for Mid-South as this location no longer exists.
Analyze the old brand's website results.

If you are dealing with minimal traffic and leads, your steps with this will hold less weight. However, if you are dealing with an established brand with a great website, you may want this transition to be slower. I often recommend building a landing page addressing the transition on the new brand's website and redirecting the old website to this destination. If there are some powerful assets on the old brand's website that are driving traffic and leads, your marketing agency should determine the best steps for these.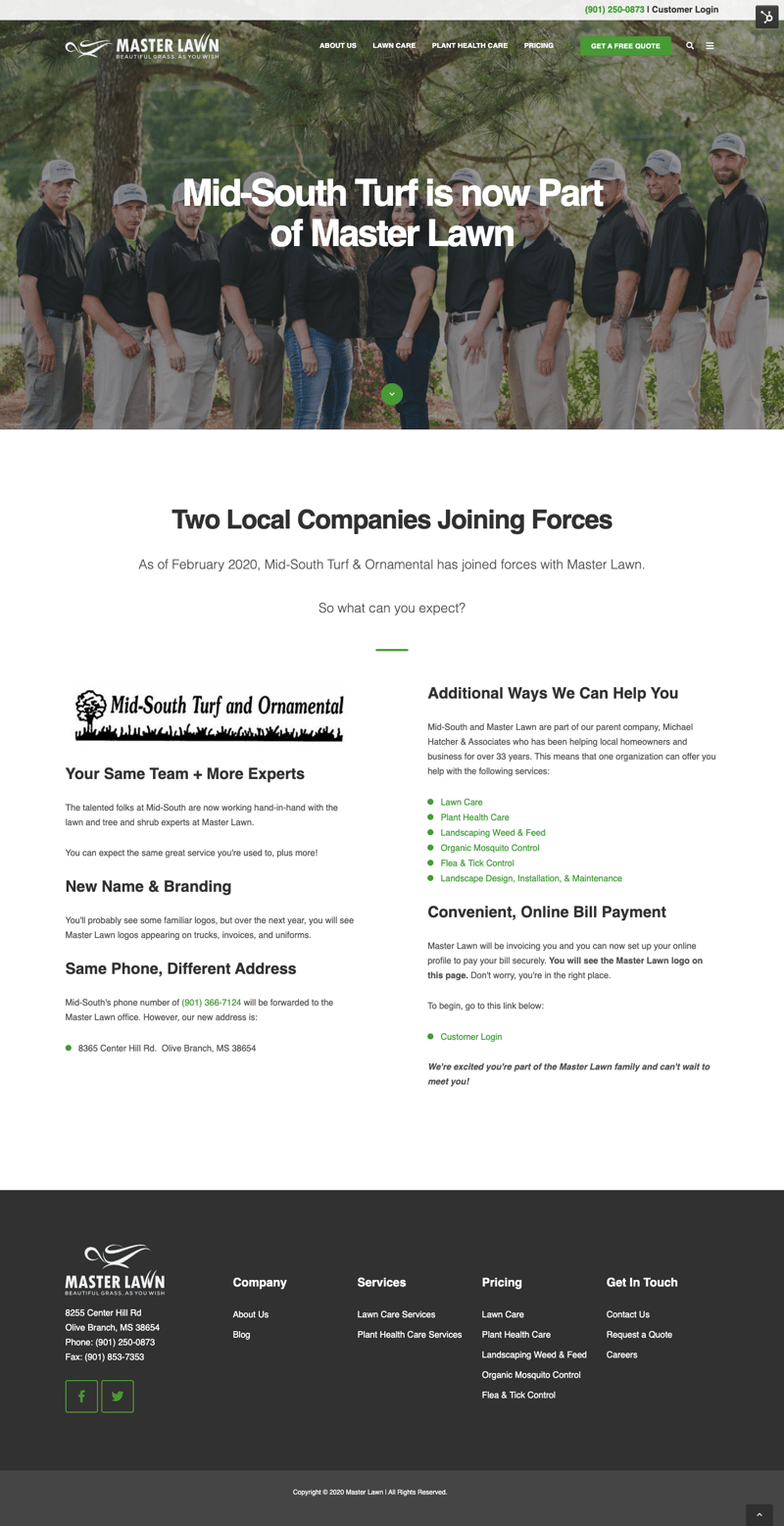 We built a landing page on Master Lawn's website and pointed the Mid-South Turf & Ornamental's website to it.
Analyze the old brand's social media presence.

If you are dealing with a few dozen followers, this isn't critical. However, if the acquired brand has an active following of hundreds or thousands of fans, you may want to slowly transition messaging and communication before you delete these profiles.
Analyze any of the old brand's existing offline marketing or advertising measures.

Many of these campaigns will not be remembered. However, if there is a sponsorship or other ad campaign that is well recognized by the public, this could also be a place for a slow brand transition.
Create marketing campaigns to sell more services to ALL of your customers, new and old.

When you are buying a lawn care business or landscaping company, you may have services available. Make sure to keep this information top-of-mind.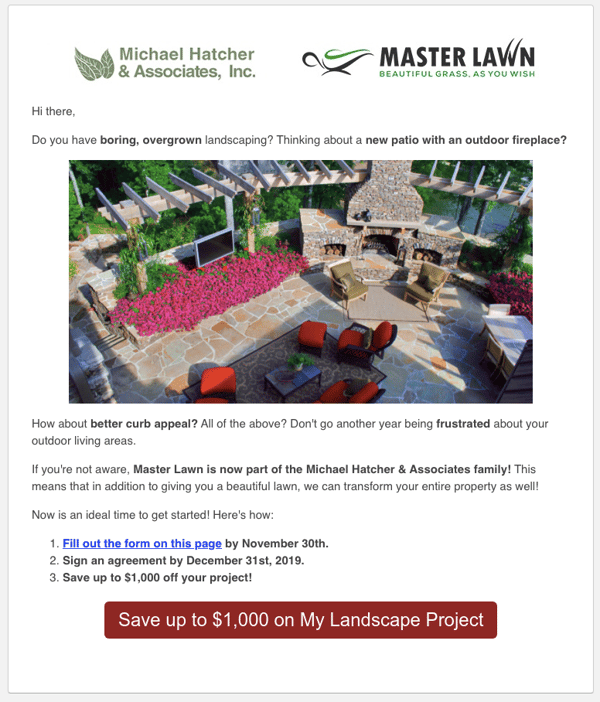 Shortly after Michael Hatcher & Associates acquired Master Lawn, we sent out an email to their customers to inform them about some new services which were available.
Request feedback and Google reviews from your new customers at the right time.

Ask for direct feedback immediately after providing service. It's very important that your new customers understand their satisfaction is very important to you. After some time has passed and you are sure there has been a somewhat smooth transition, I would recommend asking your new customers to write you a Google review.
RELATED READING: How to Get Google Reviews for Your Lawn Care or Landscaping Company
Making the Best Decisions After Buying a Lawn Care Business or Landscaping Company
Meet Bob.
He owns a landscaping company.

Bob bought a lawn care business.
Bob gave a lot of thought to his post-acquisition strategy.
Bob's new customers think he and his team are the best thing since sliced bread.
Bob is looking to buy a lawn care business now.
Be like Bob.
There are plenty of important decisions you'll need to make when buying a lawn care business or landscaping company. The critical steps you take to market your lawn care or landscaping business are just a few.
Hopefully, you now see that taking some time to carefully consider these tips will help you, your team members, and your new customers accomplish your goals.
Buying a lawn care business or landscaping company can be an exciting adventure! Enjoy the ride!If you have any questions about these recommendations, feel free to reach out to me on LinkedIn or drop us a message here on our website.