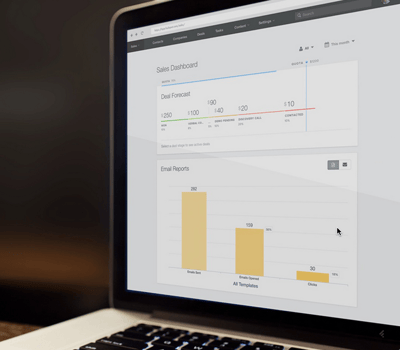 Most of you have (hopefully) created a sales goal for your company and expect your team to meet or exceed those expectations.
But reaching your goal isn't something that happens all at once: You and your salespeople have to work toward it one day at a time.
To know if you're staying on track, you need to keep up with your leads and prospects throughout the sales cycle, making it vital to have a reliable process in place.
Here's why and how to set up a sales tracking process for your lawn care or landscape company.
Why You Need a Sales Tracking Process
To create accountability, forecast sales and analyze important data, you need to have a sales tracking process in place for your business.
"A formal sales tracking process allows you to analyze data from the time the receptionist takes the lead until the closing of the sale or perhaps the unfortunate denial," says Steven Cohen, landscape-snow industry consultant with GreenMark Consulting Group.
By tracking your sales, you'll be able to see your close rate, get a better understanding of the bidding cycle and make adjustments as needed, says Kevin Kehoe, partner at Three Point Group. For example, if you have a 20-percent close rate on commercial work and a goal of selling $500,000, you'll know you have to bid $2.5 million a year to reach your goal.
You can also break that down further to see how many touches (emails, meetings, phone calls, etc.) and leads you need to generate each day to reach your sales goals, he adds.
While the benefits are clear, it only works if you and your sales staff invest the needed time and effort.
"Everybody knows it's important to have a sales funnel with a backlog of at least 90 days," says Terry Delany, partner at Davis+Delany. "The problem is that most people stay so focused on what might get sold/just got sold today that the funnel never gets the attention it requires to keep it healthy."
(RELATED READING: Introducing Describeit: Landscape Sales and Proposal Software)
How to Set Up a Sales Tracking Process
Once you realize its importance in meeting your goals, start collecting information that will be beneficial to improving sales.
Start by inputting your leads into the tracking process as you receive them. Include all of their information:
Prospect or contact's name
Company name (if commercial)
Phone number
Email address (it's 2015 – get the email address!)
Lead source
Date of contact
Services requested
You can also track different stages within the sales cycle, making them as simple or complex as you like.
Stage 1: Meet with the prospect for a consultation.
Stage 2: Send the proposal.
Stage 3: Win or lose the proposal.
"Each new lead and opportunity should fall within a certain stage of your unique sales process," says Chris Heiler, CEO here at Landscape Leadership. "Then, you deliberately move that opportunity from one stage to the next as they progress."
By monitoring what stage each opportunity is in, bottlenecks and holes in your sales pipeline will be obvious.
"You might have 20 proposals on the street, but you might not have any consultations or meetings scheduled over the next two weeks," Heiler says. "That's a hole in your pipeline that can be spotted (and fixed) only if your landscaping company is following a formal sales process."
You can get as detailed as you want with the data, but here are some recommended metrics to track:
Number of new contacts made each week
Number of proposals submitted each week
Average dollar value of proposals
Total dollar value of proposals
Average gross margin of the proposals
Close ratio
No matter what you decide to measure, your tracking process should be accessible and accountable. "We all get paid based on the sales that are made, so we all have a right to see what's happening," Delany says.
Delany's team used a magnetic dry-erase board that was in the middle of the office. It showed how salespeople were performing and which services were selling the best. Software, like HubSpot CRM (see below), takes the dry-erase board a step further and puts your sales tracking process in the cloud for your sales people to access anywhere, from any device.
(RELATED READING: Determining a Landscape Salesperson's Salary and Commission Structure)
Sales Tracking Tools
One of the best ways to keep up with the sales process is by using a customer relationship management (CRM) system.
There are several available that are probably familiar to landscape and lawn care companies, including Hubspot, GoldMine, AspireCRM, BaseCRM, Highrise, Nimble and Salesforce.
When choosing software, make sure the CRM you go with has sales pipeline reporting and sales forecasting built into it, Heiler says.
Tracking sales with HubSpot's Free CRM
Note from Chris:
At Landscape Leadership we use HubSpot's CRM. About 50% of our clients do the same right now. We predict 70% or more of our clients will have adopted HubSpot's CRM by the end of 2016. It is, by far, the CRM software we recommend most, especially to small and medium-sized business like those in the green industry.
Beside the fact HubSpot's CRM is FREE (yeah, true story), I love how effective the tool is for tracking and reporting on your company's sales pipeline.
With the Deals tool you can create specific "stages" in your sales process and then track your leads and opportunities through each stage. This gives you a high-level, real-time view of your sales pipeline. See the screenshot below.
If you have a deficiency in your sales process or even a bottleneck at a specific stage, you'll spot it in the HubSpot CRM.
The Deals tool is also highly valuable for sales forecasting. You can set a "probability" rate for each stage of your sales process which will allow you to see how much revenue is likely to close over future months.
If you're sick and tired of unproductive sales meetings, then you need HubSpot's CRM.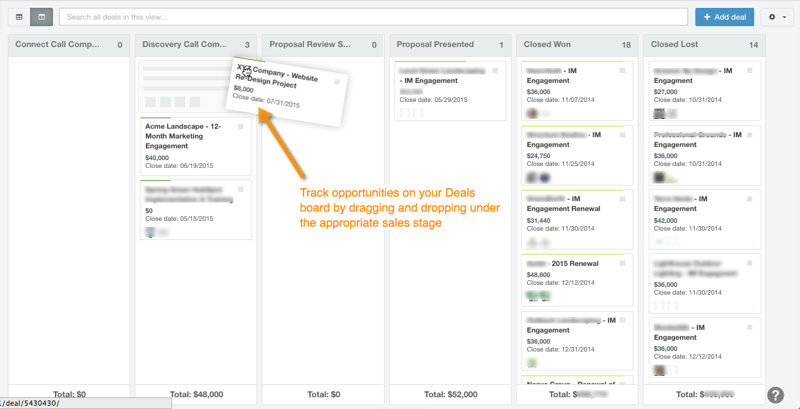 Collect the Information You Need
When you start the tracking process, there's a tendency to try and collect too much information. "It can be overwhelming for salesreps, and many times the data a company is requiring is really not all that meaningful," Heiler says. Only require the information that is necessary for moving the sale forward and that will be needed for reporting purposes.
On the other hand, there are times your salesperson doesn't give you enough information. For example, if they leave off the lead source for one of your contacts, you won't be able to get a clear picture of where your leads are coming from.
"I don't think a sales rep should get a commission on his/her sale unless the data is complete," Heiler says.
(RELATED READING: When to Hire a Landscape Salesperson: 5 Steps From 3 Experts)
Take it to the Next Level
Once you have a process in place, don't just record the sales data — do something with it.
If after tracking your sales, you forecast a large increase in business in the next four months, in may be time to hire extra labor. Or, if you see a salesperson is falling behind, talk with them and see what you can do to help.
Use your sales tracking process to improve your business – and your people – one day at a time.
Want more sales insight and advice? Enter your email below to receive new articles instantly (about one per week). And be sure to check out our new podcast, Smarketing Talk, which features candid discussions related to the marketing and sales issues green industry companies face everyday.