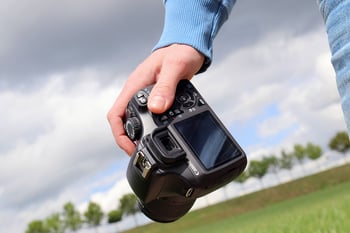 If leveraging photography isn't part of your landscaping company's marketing strategy, be prepared to be left in the dust by your competitors. Landscaping photography is undoubtedly one of the most impactful tools in your marketing toolbelt. It's versatile, powerful, and precise.
Here are some statistics to consider about visual content marketing:
Images increase people's willingness to read an article or website copy by 80%.

Compared to a 10% retention of written content, 65% of visual content is remembered 3 days later.

Content with relevant images gets 94% more views.

Studies show that people spend considerably more time viewing content with images.

Articles with images every 75-100 words get twice the number of social shares than those with fewer pictures.

Facebook posts with images get 2x more engagement, and Twitter tweets 150% more retweets than just text updates.
If you have failed miserably at collecting quality images of your landscaping projects, you're in the majority of over-worked, exceedingly busy company owners and marketing managers. Most companies struggle to remember to take pictures or have a poor process in place to make sure it happens.
But this is great! With so many of your competitors missing the mark with great pictures of their work, this gives you a huge opportunity to improve and pull ahead in the race.
In this article, we'll cover some tips, general costs, and hacks for you to succeed with landscaping photography.
Using a Pro for Landscaping Photography
Of course, you get what you pay for. Using a professional to capture images of your projects will typically get you a much better end product and make life more convenient while you're taking care of business.
Finding the right landscaping photographer can take a little research. Ask for references from nearby companies that aren't in your market. Most photographers are willing to travel for substantial projects. If you cannot get references, you can look online for freelance photographers on sites like Upwork or on Houzz. We also have a few recommendations of photographers we've used on projects for our clients.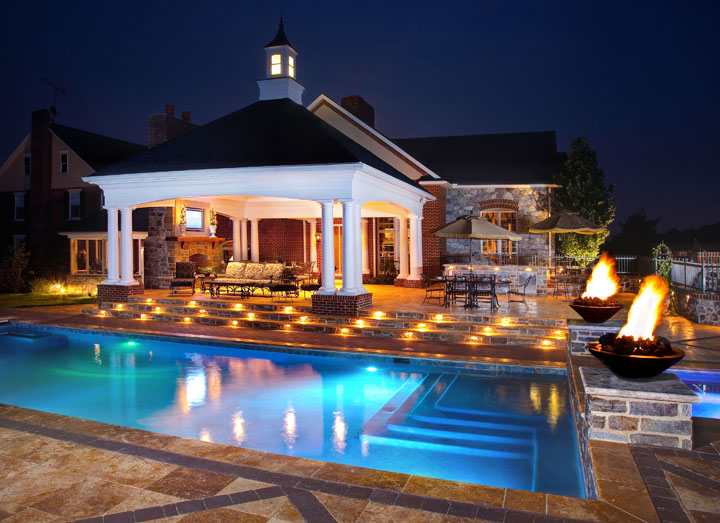 Here's a great example how our client at Earth, Turf & Wood takes full advantage of professional photography to capture landscape lighting, fire pits, and pool lighting to show how their prospective customers can enjoy an outdoor space designed and built by them.
Not all professionals are suited for landscaping photography. Be sure to ask if they've ever shot for landscapers and ask to see examples of their work.
If you hire a professional photographer, be prepared to spend anywhere from $1,000 - $2,500 per day, but understand it's money well-spent. A good landscaping photographer will give you maximum value for that cost, shooting multiple properties, capture pictures of your crews working, and snagging images of anything else you ask for while on site. Even if you don't have them initially edit or use all of the photos for the primary reason you hired them, these images can be used at a later time.
(RELATED PODCAST: Using Professional Video & Photography in Your Marketing)
Is DIY Landscaping Photography a Good Idea?
We strongly suggest getting a pro to shoot at least a few projects each year. Work it into your budget. However, there will be other projects throughout the year you may want to snag some shots from and some photos are better than no photos.
You may also not have money to hire a professional photographer yet. Instead of losing all opportunities, you may choose to take some pictures of the work yourself. Just follow the tips in the rest of this article.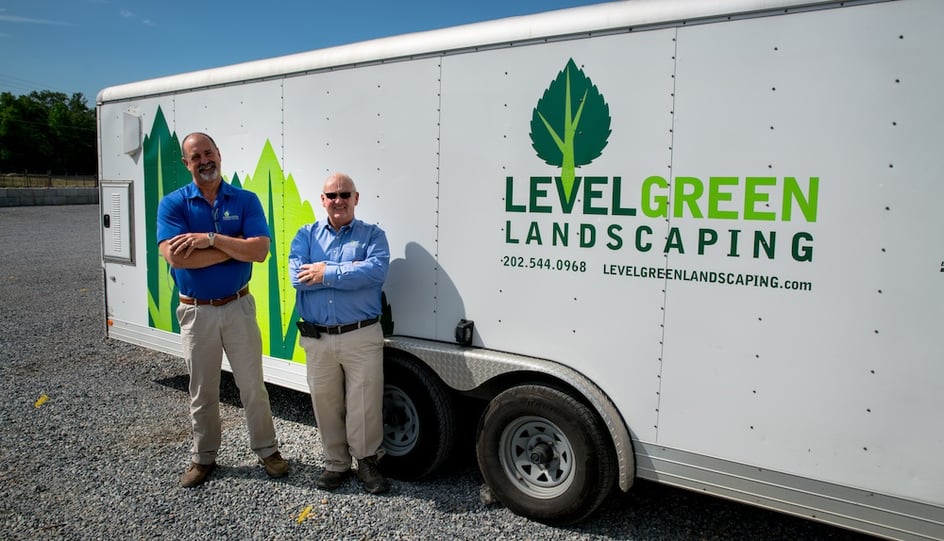 Level Green Landscaping incorporates their team into many of their images for a humanizing touch to their work.
Tips & Hacks for Both DIY and Professional
Landscaping Photography
We have some tips that cannot only help your DIY efforts, but also provide general guidelines for capturing landscaping photography that you can share with the pro you end up hiring at some point.
Be Proactive, Not Reactive
Just grabbing the camera and taking it out to some properties when you feel like it is not a plan. It will become a forgotten initiative, so a proactive plan is essential. Here are some questions to consider when making a plan:
Who will be involved in all stages?

Your strategy may enlist multiple people at your landscaping company. Detail out how it will all work.

What projects need photographed?

Make and keep a running list. You may come back to some later.

What is the best time of year to take pictures?

You may have a couple ideal times to take pictures after grass grows in, plants are in bloom, etc. Make a calendar item and set it up to remind you later.

When is it best to wait a few years?

If you have small plants, you may be served well to come back in a couple years after they mature and the pictures look more impressive. This may also cause you to look back a few years in your records and go back to take pictures of past projects.
Take Ugly Before Pictures
If you're using the before pictures side-by-side with the new photos, these are easy to grab. No staging is needed and you can take them when grass is crunchy-brown, and trees don't have leaves on them yet. The uglier and messier the site, the better!
Store these pictures away for future use or post the images to social media to give a teaser to your followers about what is to come.
Get the Right Equipment & Learn the Basics
Invest in a good camera. For $800-$1,200 you can buy a nice DSLR camera that will take considerably better pictures than a point-and-shoot camera that will fit in your pocket (or your phone).
Invest in a tripod. You can find one for $25-$50 and this will be necessary if you try your hand at taking exposures during nighttime that will cause a hand-held capture to blur.
Read your camera's manual and watch some tutorial videos on YouTube. Your camera's manufacturer may also provide these for a small fee as well. It won't make you an expert photographer, but it may help you take better pictures by knowing how to use your tool vs. just putting it in the auto mode.
Taking Pictures in the Right Conditions & At the Right Time
Shadows and wind are not the friends of photography. The best time to take pictures is on an overcast day when the wind is calm. Extreme brights and dark shadows don't typically make for the best pictures of landscaping and windy days may not be conducive if you're shooting on a tripod with a shutter speed setting that's slowed down. Try to pay attention to sun exposure on properties and be mindful of what time of day is best to prevent shadows.
If you're shooting pictures of landscape lighting projects at night, arrive an hour before dusk to stage your shoot, and then wait until dusk and take several series of the pictures to get the right amount of light.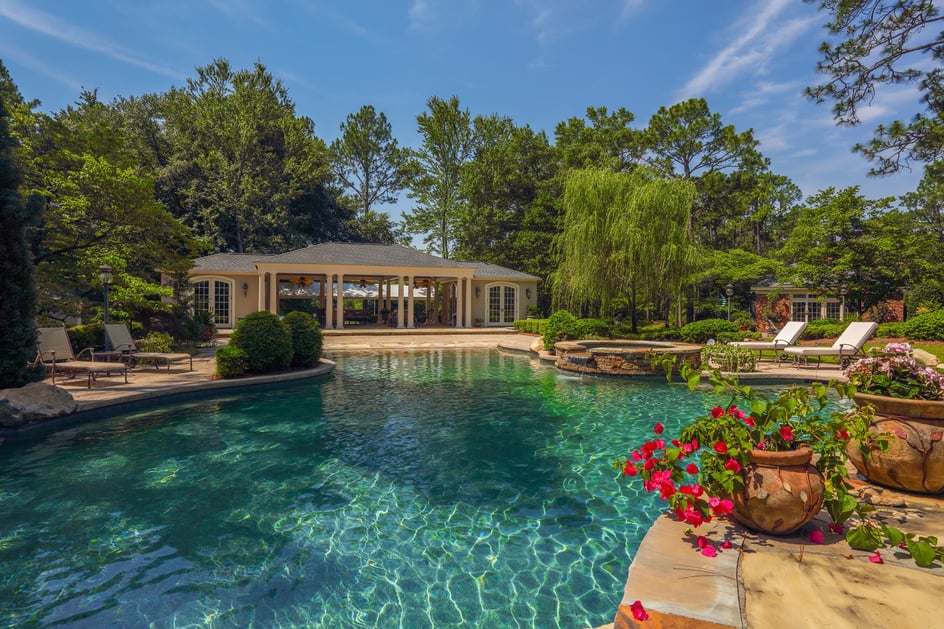 T. Lake Environmental Design grabs images of their customers' properties when trees are in bloom, lighting is great, and beautiful planters are filled with colorful blooms.
Coordinating Shoots with Customers
Obviously, you'll want to make sure your customers are okay with taking pictures of your property and using them in your marketing materials. You should draft a release for them to sign to allow you to use these images and keep it in their customer file. Let them know you don't need to identify their address or name them unless they want that kind of exposure.
Give your customers plenty of time to be ready for your shoot. They may want to make sure the lawn is mowed, beds are mulched, and weeds are pulled. You can decide if it's worthwhile to do this for them, but that will be part of your costs as well.
Your customer may have cushions for patio furniture, decorative accents, or other enhancements they regularly use in these spaces. Coordinating these items in advance can make a huge difference in how great your landscaping photography looks.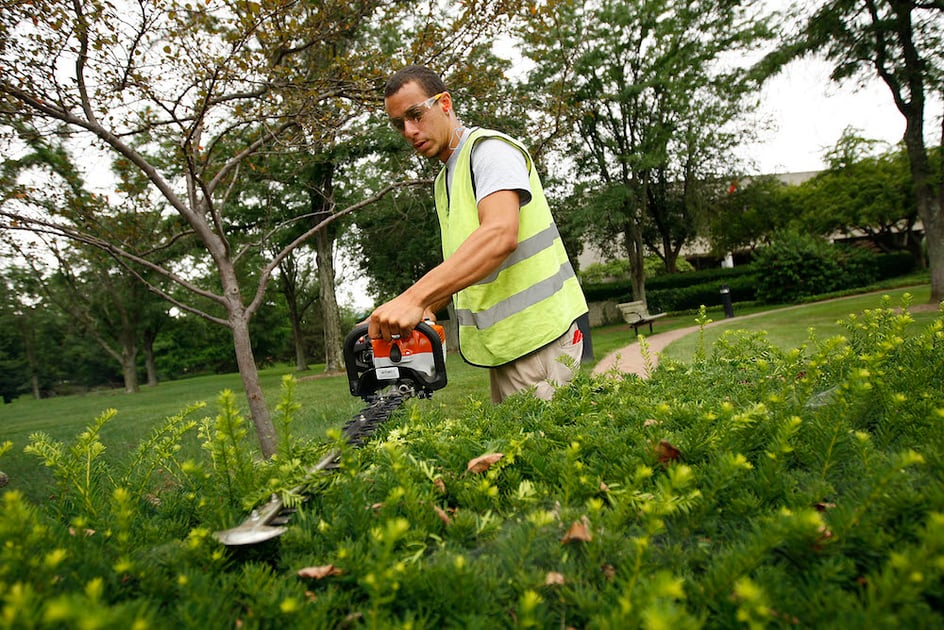 Klausing Group uses a photographer to capture images of their crews hard at work. These make great additions to website pages or in blog articles.
Get Rid of the Eyesores
Even with a careful approach, you'll be amazed at the times you get back to the office to view your photos later and realize you should have moved something in the shot.
Here are some of the things to make sure do NOT make it into your picture:
Weeds, leaves and debris (some minor ones could be edited out)

Garden hoses and temporary tree irrigation bags

Lawn and dog toys

Your equipment and nearby materials

Distasteful neighboring views (may make you change your angle of shot, or crop)

Grill and fire pit covers

Tree stakes and wires

Vehicles, unless they add to the image

Declining plants (may make you change the angle of shot, or crop)
Taking a little time to bring a leaf blower, broom and pruning tools can make a big difference in your landscaping photography.
Plan the Angle of Attack
Look at your image opportunities critically, making sure everything in the frame is putting your work in the best light. Just shifting a few feet one way or another, or zooming slightly can make a big difference.
If you plan on putting side-by-side comparisons of before and after images, print out copies of your before shots and take them along when you snag the after shots. Line up the shot as closely as you can to make for a great impact.
Edit and Store Images
You or a graphic designer can enhance your photos with some manipulation in photo editing software. Shadows can be lessened, colors can be adjusted, and some minor fixes like cloning out a weed or leaf can make for some fine tuning that leads to much better pictures.
When you're finished editing your landscaping photography, store them either in the cloud (Google Drive, Dropbox, etc.) or in a secure server that is backed up. You don't want to go to all that work only to not be able to find your images later. Storing them on the cloud also creates ease with sharing these images among your team and with advertising companies.
You may want to make several sets of your images, storing some under the project name, and another set under specific project types. It can be easier to find an image called "paver-patio-12" than it could be "Jones-12", years later.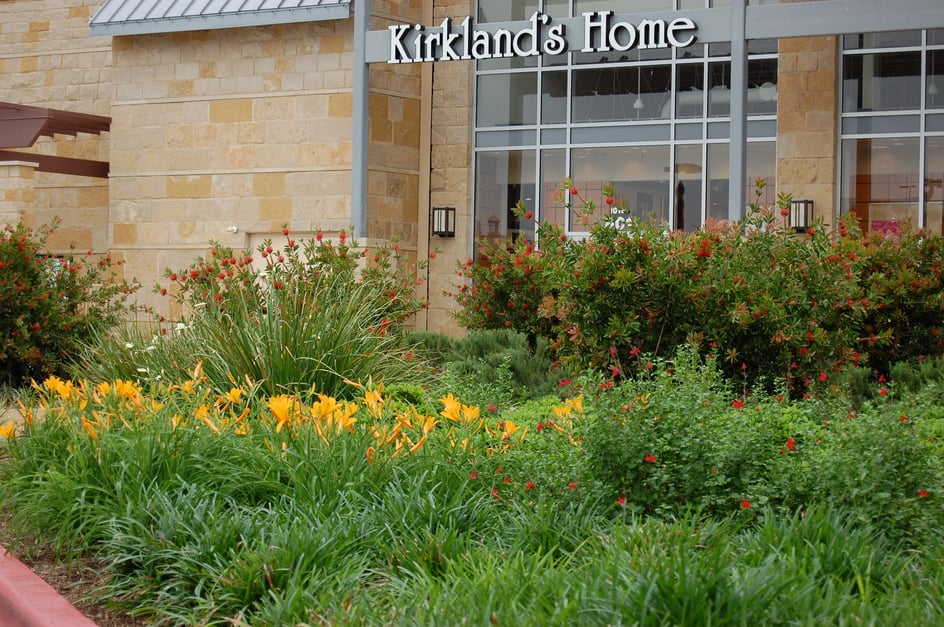 Native Land Design captures images of beautiful properties they service and uses them online and in print advertisments to showcase the types of commercial properties they are capable of services.
(RELATED READING: Getting Started With Drone Photography and Video for Landscaping)
Where to Use Landscaping Photography in Your Marketing
There are many ways you can leverage your landscaping photography in order to enhance your marketing efforts.
Here is a list of some marketing ideas for landscaping photography:
Website pages

Brochures, flyers, direct mail

Blog articles

Online or printed

image portfolios

Magazine and newspaper articles/advertisements

Social media posts/albums

Case study articles

Printed or online guides for your customers
The great thing about landscaping photography is that, for the most part, images and styles span multiple decades. You can get a lot of mileage out of great pictures. The more of these images you have available for your prospective customers to see, the more it shows your capability to help them enhance their property.
We hope you and your images help you kill it when it comes to both your traditional and Inbound Marketing efforts. Don't be surprised if you see some of our team commenting, liking, or sharing some of your great landscaping photography we find online. If you'd like to see some examples of great ways to leverage visual content, check out the websites of our clients.
For regular tips on marketing and sales for your landscaping company, lawn care or tree service, be sure to subscribe to our blog as well. Now get to taking some awesome pics!