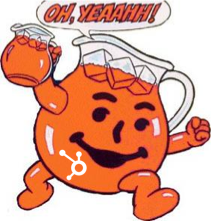 If you've been following us for any length of time you know we're heavy HubSpot Kool-Aid drinkers over here. Ahhhhhh, marketing automation.... Very refreshing....
Anyway, yeah, we love HubSpot's all-in-one marketing automation software. We've been using it at Landscape Leadership for almost a year and a half now. We also use the software with all of our clients. In fact, we just became a Silver Partner last month (slap on the back!).
(UPDATE July 2015: We've been using HubSpot for over three years now and have been a Gold partner for over a year. Another slap on the back!)
In our minds, Tuesday (October 1, 2013) was a big day for HubSpot and small businesses like many of yours in the green industry. You see, for many small businesses, HubSpot's software -- though super valuable -- is was just too damn expensive. The monthly cost of the software has excluded many small businesses from using it.
But Tuesday HubSpot updated their software plans and pricing to be more accommodating to small businesses. In our opinion this is a really big deal for companies like yours who want to get started with HubSpot's software on a smaller scale. Let me give you an example: We have a client who has wanted to use HubSpot's software but has held off due to the $800/month license they would of had to pay. With this pricing update, they can now purchase a HubSpot license for only $200/month (and they did!).
Read this updated post for more on how much does HubSpot cost and is it worth the price.
Ummm, what is HubSpot exactly?
Yes, let's not skip this.
Many people know the HubSpot name and brand -- usually for the killer content they create -- but many don't realize they're a software company. But selling software is exactly what they do. And they're damn good at it.
Self-proclaimed, "the only marketing software you'll ever need", HubSpot is referred to as all-in-one marketing automation software, providing inbound marketing tools for website design, blogging, SEO, social media, email marketing, lead generation, contact management and closed-loop analytics.
Why we love HubSpot...and why you will too!
Yes, we're excited about the price change making HubSpot's software more accessible, but let's put that aside and in this post focus on the reasons we think HubSpot's marketing automation software is so valuable to small businesses in the green industry.
#1: All the inbound marketing tools you need in one software solution
There are a lot of tools available to help marketers and small businesses succeed online today. While it's great having so many tools at our disposal, it can be a pain working with all of them--especially if they are not integrated in some way.
HubSpot eliminates this software silo effect by offering all-in-one marketing software with a suite of tools that work together seamlessly, letting you focus on your marketing content and performance, not on cobbling together different tools.
#2: From top-of-the-funnel to bottom-of-the-funnel, HubSpot has you covered
There are other quality all-in-one marketing automation software providers on the market, like Infusionsoft for instance. However, their tools don't assist in all the stages of the marketing and sales process quite like HubSpot's suite of tools.
HubSpot offers the tools you need to:
Attract visitors to your website
Convert those visitors into leads
Turn those leads into customers
Delight those customers after the sale
These are the most basic steps of the inbound marketing methodology. And HubSpot has all the tools you need to work the process.
#3: Closed-loop reporting
HubSpot's reporting capability is really what appealed to us the most when we first began investigating the software.
As a marketing agency (like us) or an in-house marketer for a small business, you have to show your return on investment (ROI) in all that you do. HubSpot gives you the ability to do just that, with integrated analytics data from all tools, all in one place, so you can analyze and compare across all channels. You can see who clicked what, what they did on your website, and what they did over time. You can see exactly where your customers came from and how they moved through your sales funnel.
#4: Support like no other
No one offers after-the-sale support like the folks at HubSpot. They truly want you to succeed and do everything they can to empower you as an inbound marketer.
Whether it's accessible technical support, product training or teaching you inbound marketing, HubSpot is not just a provider, they are a partner in your Inbound journey.
#5: Blogging and keyword tools
We absolutely love HubSpot's keyword tool and how it integrates with the blogging tool. You can do your keyword research, write your blog posts and then track your keyword rankings all from a single dashboard.
This unique tool set and integration has been huge for us and our clients because it saves us so much time.
#6: Turn your website into a lead generation machine
Time to get pragmatic. And this is where most companies in our industry are missing out. What good does it do to have people visiting your site only to see them bounce without first converting them into a lead you can follow up with?
HubSpot's software has all the tools you need to turn your website into a lead generation machine. With HubSpot's software you can:
Create landing pages for all of your offers
Create custom web forms for your landing pages to collect contact/lead information
Create calls-to-action (CTAs) buttons to place on your site (leading to landing pages)
Measure the performance of your landing pages and CTAs
Automatically send "new lead notifications" to your sales team in real-time
This is really where HubSpot shines.
#7: Email and marketing automation tools
HubSpot's email tools and ability to segment contacts into extremely targeted lists is second to none and ensures you reach your prospects with timely and relevant messages that get opened and clicked.
Not only can you send your customers relevant emails, you can segment that list of customers by service type, or location or even revenue. This segmenting allows for ultra-effective cross-selling to your customers and an increase in add-on sales.
Generic monthly e-newsletters are out. Laser-targeted, ultra-relevant email campaigns are where additional sales are uncovered.
#8: CRM integration
You know what sucks? Manual input of data. You know what sucks more? Manually inputing the same data twice.
Wouldn't it be cool if when a visitor comes to your website and fills out your "free estimate request" form, that data would magically appear in your CRM and a member of your sales team would be notified in real-time? Well, it's not magic folks, it's the dual-syncing capabilities the HubSpot CRM integration gives you.
You can connect HubSpot to many of the most popular CRM software solutions like Salesforce, Highrise, Microsoft Dynamics and Sugar CRM so data flows back and forth automatically (or, auto-magically). We have this integration setup with numerous green industry clients.
(UPDATE July 2015: HubSpot now offers their own CRM in their software and it is completely FREE. We've switched to HubSpot CRM at Landscape Leadership and have also switched over almost half of our client base to the CRM. It is perfect for landscaping and lawn care companies.)
#9: The HubSpot Marketplace
The growing HubSpot Marketplace is a go-to resource center for HubSpot users that offers:
Premium templates such as email and landing page templates
Services provided by inbound marketing professionals and HubSpot experts
Specialized apps that extend the power of HubSpot
If you're a small business using HubSpot but need a little help with specific tasks or services -- like creating an email template or writing blog posts -- the HubSpot Marketplace is a terrific resource.
#10: Fun!
The folks at HubSpot don't take themselves too seriously. And I like that. Don't get me wrong, they're all about building awesome software and changing the marketing world, but they have fun doing it. These are the types of companies we like to work with.
To learn more about how to put HubSpot to work for your green industry business you can call us at (800) 681-9169 or use this contact form.