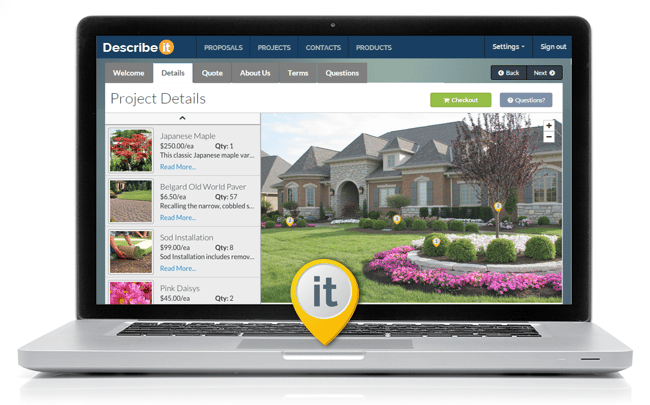 In this article I want to introduce you to a new app and software that I'm really excited about. It's called Describeit, and for full disclosure, I'm an advisor for this startup. I've invited David Marciniak from Describeit to give you guys an overview of their software.
There's a new class of software that has been gaining traction over the past couple of years that is often referred to as "sales acceleration" software. This type of software enables companies to do two things: Shorten the sales cycle and increase closing rates. Kind of important, right? Describeit enables you to do both of these things.
Here's David.
---
In twenty years of working with landscape contractors, you know what I've never heard anyone say?
"Dave, I got into the landscape business because I love, love, LOVE writing proposals."
My guess is you've never heard – or said – that either.
Proposals are a necessary evil, where we force ourselves to lay out everything we're going to do for our client in a manner that:
Clearly defines the scope of the landscape project
Protects us as a contractor
Doesn't scare off the customer (or put him/her to sleep)
What if your proposals were quick and easy to put together? What if they were accurate? What if your proposals clearly explained everything to your prospects, saving the time usually spent going back and forth on questions?
What if they actually got the prospect excited to work with you?
There hasn't been landscape sales and proposal software that does what I just described – until Describeit.
(RELATED: Lawn Care Software Review: Jobber vs. Service Autopilot vs. Real Green Systems)
Describeit: sales and proposal software for the landscaping industry
A landscape architect who's a friend and mentor once told me that the goal of landscape design – or landscape sales in general – is "to remove uncertainty from the customer's mind".
Does this sound familiar? If...
You've shown up to a meeting with your Dirr's Manual of Woody Plants bookmarked with a whole pack of Post-It Notes.
You've painted and re-painted bedlines over bedlines.
You've stood in the yard with your arms raised, pretending to be a crape myrtle.
...Then you know how difficult it can be describing your vision for your prospect's home.
This is where Describeit comes in. Our unique landscape sales and proposal software helps you remove uncertainty and give your clients the confidence to sign on the dotted line (they literally sign on the line in our app!).
How the software works
In our proposals, every line item you specify allows you to include photos, sizes, colors, and detailed descriptions of each plant, paver or other product. Describeit currently has a library of over 10,000 items in our database. Adding your own items is simple.
Now, as your customer is reviewing your proposal, she can click on that line item to pull up a lightbox with the photos and descriptions. Those 1am emails from the customer wanting to know where that blue Christmas tree-looking thing was again are a thing of the past.
The screenshot below shows this lightbox effect highlighting images and a description for Sweet Bay Magnolia.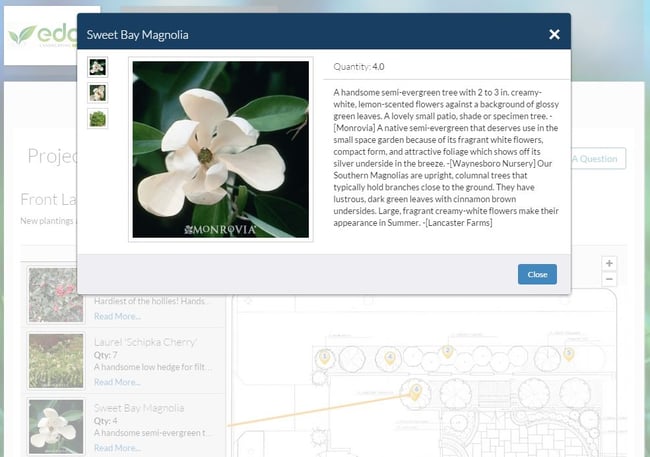 Describeit also allows you to create advanced proposals that show exactly where on the property certain items will go. As an example, you can scan in landscape plan drawings, import PDFs or image files from a CAD program. Each line item in your proposal is then mapped to its location on the drawing.
Whether it's a complex drawing with 300 shrubs and perennials or you're showing where three trees will go on a survey plat, Describeit helps the customer visually understand what they're getting and where it's going.
The screenshot below shows an example of these callouts overlaying the original landscape plan that was imported into Describeit.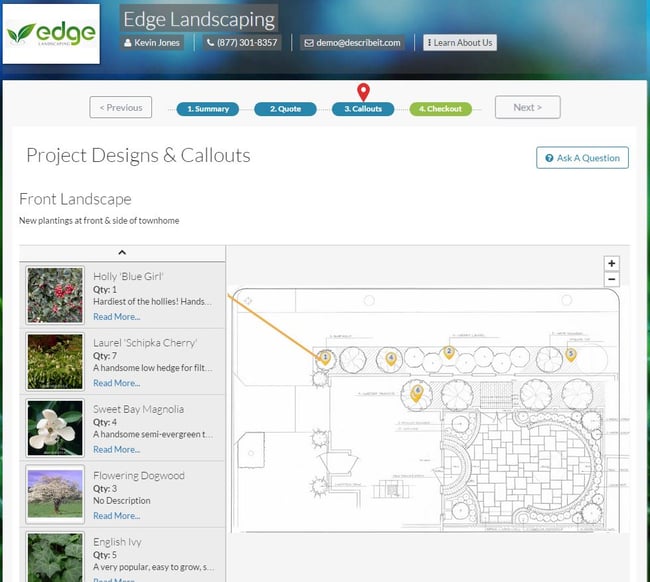 The beauty of Describeit is that it turns every proposal into a sales and marketing tool. Every proposal contains the scope of work to be performed, the price, and your terms and conditions. That's no surprise. But every proposal also includes a photo portfolio of your work, video content, a company description and more.
Describeit gives you a competitive advantage by showcasing your company's professionalism in a visually compelling way.
Who is Describeit for?
Our sales and proposal software is for any landscape professional who wants to:
Shorten their sales cycle
Close a higher percentage of sales
Spend less time at his or her desk
Sound good?
Describeit is a game changer for landscape design-build companies. No matter how you create your design documents, as long as you convert them into electronic image files they can be brought into Describeit where your proposals can be broken down into logical phases of construction. Your client can even decide whether to do all phases or only the phases that fit this year's budget.
Our software is also a sales tool for landscape maintenance companies with an option to create proposals for recurring tasks like weekly mowing, monthly plant care and seasonal color.
Because our callout mapping feature lets you identify problem areas in a lawn - and describes exactly how you'll fix them – Describeit works great for fertilizer and applicator proposals.
No one feels good about buying what they don't understand. Describeit solves that problem.
What Describeit is NOT
Describeit is not an all-in-one solution for running your entire landscape company's operations.
Think of it this way: When you need to prune a tree branch do you reach for your Silky pruning saw, or do you fold out the little saw blade from your Swiss Army knife? Sometimes a product designed for one particular task performs that function a thousand times better than a product that "kind of does that too."
Describeit is an amazing sales tool because our focus was on creating the best landscape sales and proposal software we could.
That doesn't mean you'll have to do the same work twice or reinvent the wheel, however. Describeit integrates with Quickbooks so you can share customer data between the two programs and push accepted proposals to Quickbooks for invoicing.
We have other integrations coming, and don't be afraid to ask us if we can integrate with the tools your company currently uses.
Describeit currently has integrations with Quickbooks and payment processor, Stripe, as the screenshot below shows.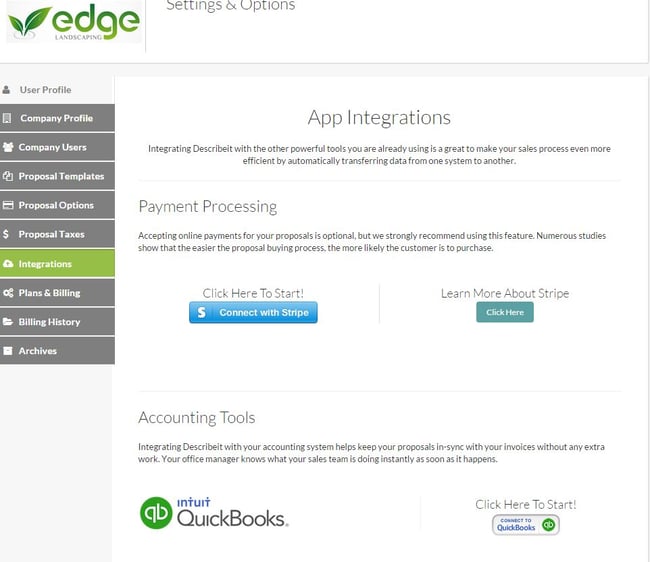 (RELATED: How to Add a Customer Portal to Your Lawn Care or Landscaping Website)
5 unique features of Describeit's proposal software
Chris asked me to come up with five features that make our software unique. Here are five of my favorites:
Our library of over 10,000 plants and landscape items is easily customized by each user and makes it easy for customers to understand what they're buying.
Our callout mapping. Identifying where on a drawing or photo each line item will be placed helps customers connect the dots and understand that this tree goes here, the roses go there, and that's where the path lights will go.
Describeit provides ample opportunity to reinforce your branding and your marketing message. From photos and video to company descriptions and even info about each sales rep, we make it simple for the customer to get to know you – and to trust you.
Describeit is an ideal tool for all landscape industry companies, from small contractors to those with large sales teams. Our software offers reporting so you'll know what the different members of your team are working on and what they're closing.
Because Describeit is web based you can access it from any device with an internet connection and there's nothing to install. You can work from your desktop, your laptop, or your tablet seamlessly.
The screenshot below illustrates how you can add images, video and other detailed information to your Describeit profile.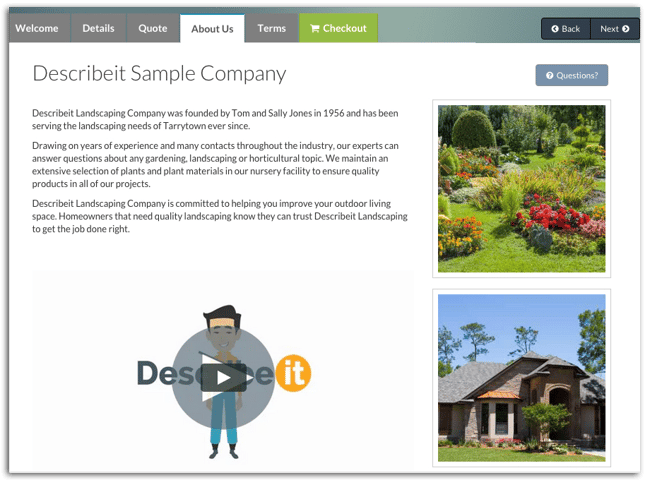 Note from Chris: One feature I really like about Describeit is the ability to collect a digital signature and payment via credit card. Imagine walking a property with a prospect discussing a renovation of their front walk and foundation. Instead of leaving with a promise to "draw up a plan for them" and return at a later date, use Describeit on your iPad to map out your plan and generate a proposal. Then get their signature and deposit on the spot. That's sales acceleration!
(RELATED: Ready to Exit Your Green Industry Business? Get Your Sales & Marketing in Order)
Wrap up
I was one of those designers who despised doing proposals and thought there had to be a better way. It's why I was so excited when I first tried Describeit, and I want you to get excited too.
While we offer a 14-day free trial, I recommend you contact us for a free online demo first. This way we can show you everything Describeit can do and answer your questions. Then you'll be able to jump right in, start getting your proposals done faster and close more sales.