Topics: Sales
Contact Management Software: Why We Love Highrise CRM Software From 37signals

Author: Chris Heiler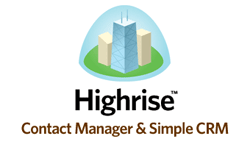 Software should be simple...if you want your staff to actually use it. This is especially true for your company's contact management software, or CRM (customer relationship management) software, as it is typically called.
It cannot be difficult to learn--or teach--or an overwhelming task just to access and update it. Adding, or retrieving, information from your contact management software should be as frictionless as possible.
If your company is anything like ours, you use your CRM software...Every. Single. Day! So it is critical that you choose the right CRM solution for your business.
Why we use--and love--Highrise CRM software
So many people. So many phone calls, emails, notes, follow-ups, and tasks. Who is this person again? When did we last speak? What did we talk about? Has anyone else in my company talked to this person? What's supposed to happen next? Highrise is here to keep track of it all. - Highrise
We use and highly recommend Highrise as a contact management software solution for three primary reasons:
Simplicity
Accessibility
Cost
A painless CRM software solution
As we mentioned, your CRM software should not overwhelm you and your staff with its features and functionality. The ideal software should have "just enough" built-in, and nothing more.
Highrise fits this criteria perfectly with its simplicity and intuitiveness. It has what your business needs in a CRM tool and nothing more. Because of this the learning curve is small and initial implementation is pretty painless.
A web-based CRM software accessible to your team
Everything is moving to the cloud--including how companies manage their database of customers and contacts.
Highrise is web-based so your CRM software is accessible from any device with an internet connection. When you use Highrise, contacts and communication history can be shared across your entire company. Office staff can access your Highrise account from a desktop computer while your sales staff can access it in the field from a tablet computer.
Highrise allows for multiple users with a single license. You can even create groups of users--"sales staff" for example. And permissions can be set for each user and group.

Pricing options that scale with your company
The Highrise pricing options are competitive with other similar CRM software, and sometimes much less expensive.
Most companies in the green industry can easily get by with the Plus plan that is priced at $49/month. This plan allows for up to 15 users and 20,000 contacts.
Additional Highrise features we like
Like we mentioned, Highrise gives us the features we need in its core product and nothing more. That said, Highrise offers extras and add-ons which extends functionality that some businesses may find valuable: Mailchimp, Wufoo, HubSpot, Wordpress, FreshBooks, Constant Contact and Harvest just to name a few.
You may have heard the term, "Social CRM". This is CRM software that retrieves and tracks data from your contact's social media accounts. While this can be beneficial, this is not the focus of Highrise. That said, you can add a contact's Twitter handle to their profile and Highrise will automatically add your contact's LinkedIn profile to the contact's Highrise profile. You can view both the Twitter stream and LinkedIn profile from within Highrise without leaving the app. Again, there is "just enough" social baked into the core product.
We love that we can add companies and people alike as unique contacts. Then, when you add a new person as a contact he/she get's linked to the company profile. This is great for B2B companies who deal with multiple people within a company.
You can also track proposals and leads by creating "deals" that attach to your contacts. Know which proposals/bids are pending, which you've won, and which you've lost. Enter notes about the deals, attach proposals or contracts to the deals, and keep a log of any changes. This is probably our favorite feature.
We also love that we can create "tasks" for contacts and deals and also receive notifications via e-mail when these are due. Tasks can be assigned to yourself or to others. You can also add action categories such as "Call", "Follow Up", and "Thank You". We rely on this extensively internally for all sales follow up.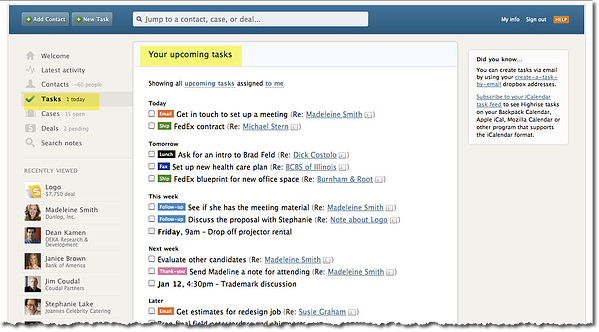 The last feature we really appreciate is that Highrise works together with email. You can send, BCC, or forward emails to Highrise and they'll automatically be attached to the right person's page. This is a terrific way to keep conversations between your team and customers in one place.
Your address book doesn't do enough. And most CRM software tries to do too much. Highrise is the just-right, more thoughtful way to keep track of the people, conversations, and tasks that are the lifelines of your business. And that's why we love it!
Get the full tour of Highrise here.