Video Transcript
If you're watching this video, it means that you're either extremely ticked off because some customer just lit you up with a bad review online for your landscaping or lawn care business, or you are extremely frustrated because you have happy customers that are nowhere to be found or heard. Would you like to learn how to crush it when it comes to your online reputation for your lawn care landscaping company? Well, then stay tuned.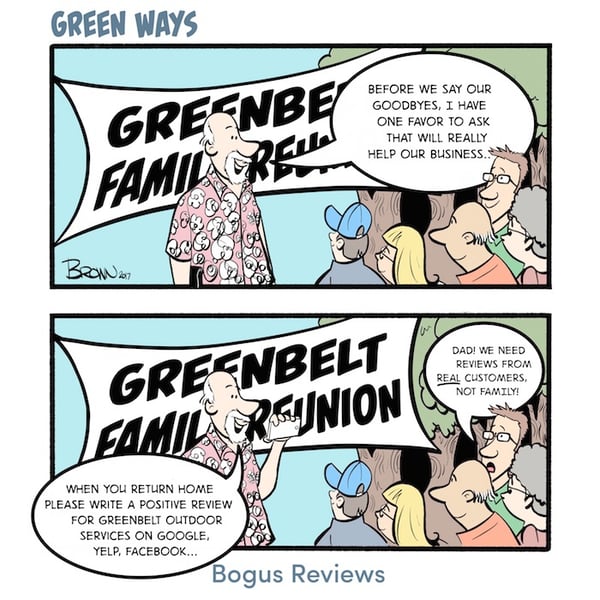 Hey, what's up? It's Chad from Landscape Leadership. We help dozens of mid-sized lawn care and landscaping companies all across the United States and Canada to generate a ton of five star online reviews and crush their competition. Today, I'm going to be kicking off a video series all about online reviews for your lawn care business or landscaping company.
And specifically, today we're going to be talking about the "Why" and "Where". Why is this actually huge when it comes to getting a ton of leads for your lawn care and landscaping business, and where should you be trying to get these and also where really doesn't matter all that much?

If you love landscaping and lawn care marketing videos like these and you want to see new videos as they release, be sure you click the subscribe button.
So let's get started. Shall We?
Why are online reviews so important to your lawn care business or landscaping company? Did you know that according to a recent study that 86% of people will trust an online review as much as a personal recommendation from one of their friends.
And did you know that most consumers read two to 10 reviews before deciding to do business with a company?
And if that isn't enough, did you know that online reviews account for up to 15% of the reason why you may or may not be showing up in local search results?
(RELATED VIDEO: SEO Ranking Signals for Lawn Care & Landscaping)


Don't underestimate the "why". But another question that I frequently get asked is "where", meaning where should we really care about having online reviews?
Google My Business, Yelp, Facebook, HomeAdvisor, Angie's List, and the list goes on. These are review sites that constantly enter the conversation when I'm talking to lawn care and landscape company owners all across the country.
Just like most things, if you try to focus on too many priorities, you can't focus really well on one, so it's really that you pick the best one to go after. So where does it matter?
Google My Business, which is owned by Google. It's the most impactful place that you can focus on for reviews for your lawn care business or landscape company.
Your first goal should be to aim for 100 reviews as well as as close to a five star rating as you can possibly get.

Now, while those other sites that I mentioned might be really great places to get customer reviews, remember that they don't account for as much as you think they do in how you show up in search results. Google's search algorithm really gives a lot of weight to their own platform, Google My Business. If you can get reviews on these other websites, fine, go for it. But don't lose focus or energy when it comes to Google My Business!
(RELATED READING: How to Get More Positive Reviews Online)
A word on Yelp...Yelp is a racket and I can't believe that this site has not been shut down yet. Now, while I'm not going to go into studies that have been done and shown on how Yelp works, and how it's a complete scam, I will say this, you're gonna have to pay to play and to show up with good reviews on Yelp. It's been the case for me and it's been the case for dozens of lawn and landscape company owners that I've talked to.

It is my firm belief that Yelp is ran by the devil and his minions. Shame on you, Yelp. How do you sleep at night? And Yelp's users are a compilation of whiners and groaners. Look at your own profile as well as the profiles of your competition. You'll see that everyone is catching on and Yelp is losing a lot of credibility when it comes to looking for legitimate online reviews.
So if the goal is to get 100 Google My Business reviews and have a five star rating, then how do you get more online reviews for your lawn care business or landscaping?
That is a great question and the focus for our next video in this series about online reviews for lawn care businesses and landscape companies. But we're also going to cover topics in this series such as:
How should you respond to good, bad, even ugly reviews that are left for your lawn care business or landscaping company?
And finally, after you have all these stellar online reviews, what can you do with them? How can you power up your marketing efforts using these testimonials and glowing reviews to close more sales?
There is a lot of great stuff coming, so make sure you click that subscribe button so you know when these videos are released.
Here's to an impeccable online reputation for your lawn care business or landscaping company! Thanks a lot. Have a really great day!
Want regular, practical tips like these to take your lawn care or landscaping business to the next level? Then consider subscribing to my YouTube channel. Or if you'd rather read our in-depth articles on Landscape Leadership's website, you can also subscribe to our blog.
Image Source: Oasis Turf & Tree