Sell More Landscape Design-Build Using These 3 Videos

Author: Chad Diller
If you'd like your landscape company to not be seen as Just Another Landscaper, using video during your sales process is a great way to stand out.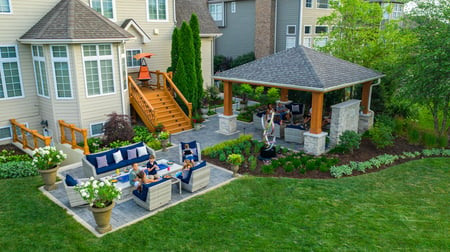 Not only can video improve the experience for everyone involved, but it can also help you sell more landscape design-build projects.
You're probably sick of dealing with prospects who get multiple bids and lose interest along the way. And, I think you're likely fed up with wasting time and missing out on better opportunities.
Does this sound familiar?
Selling Landscape Design-Build Using Video?
There are plenty of industries already implementing video into their sales process. In the landscape industry, it's becoming more common to see videos used for marketing and recruiting.

But rarely for selling.

For the past 20+ years of my experience in the green industry, I have spent half of that selling landscaping. I've also worked alongside landscape designers and companies that have sold millions of dollars of projects.

Some of these ideas may stretch you but hang with me. I'm going to highlight opportunities where you can incorporate video into your landscape design-build sales process. I've also used many of these tactics myself.

You likely won't incorporate all of these ideas at once. In fact, I think that would be biting off more than you can chew. Implement these in stages.

Selling Landscape Design-Build: 3 Ways to Use Video
I'm going to outline these ideas with some level of explanation, along with some additional resources for you. Please note that these appear in chronological order as it relates to a typical landscape design-build sales process. You don't have to start implementing them in this order.
1) 1-to-1 Introduction Video
In a previous video series, I talked about how to use personalized 1-to-1 sales videos to sell more landscaping. After you get a landscaping design-build lead, you can send your prospect a brief 1-to-1 introduction video.
[RELATED VIDEO SERIES: Using Personalized Sales Videos]
The primary goal of this video is to humanize your landscaping company. Your second goal is to set up the next step, a brief discussion to further pre-qualify your landscape design-build lead. This 1-to-1 video can be sent via email or SMS message.

I would also recommend using a tool like HubSpot Meetings to create a convenient link to the available times on your calendar. In this one-minute 1-1 video, introduce yourself, reference their project details, and tell them the next step is to click an additional link to schedule a time for a "Project Discussion Call".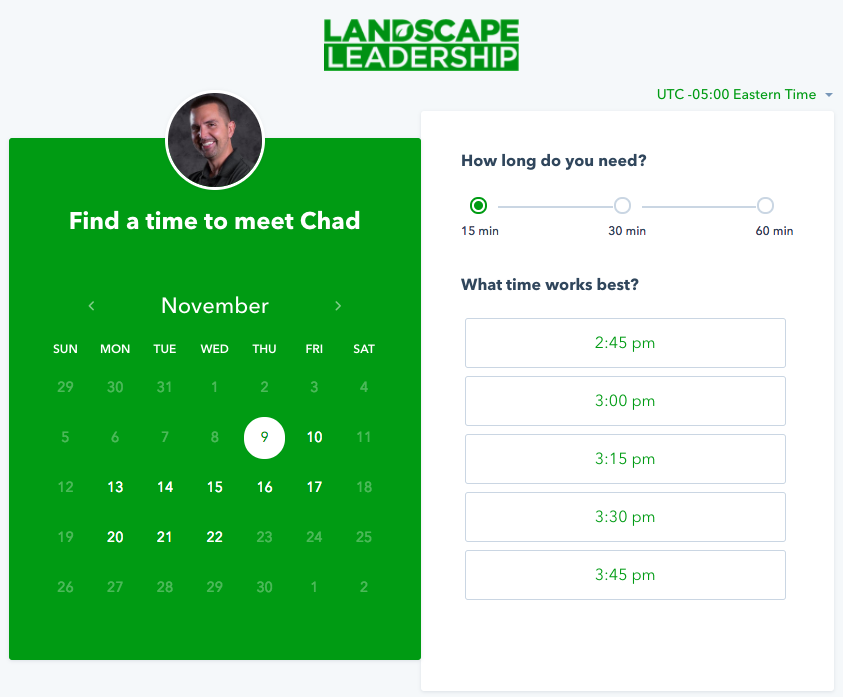 [RELATED VIDEO: How to Sell More Landscaping & Stop Playing Phone Tag]
Bonus Tip: There are other times during the sales process when you can send more 1:1 videos. When you've completed your landscape design, send your prospect another email or SMS message with a one-minute 1-to-1 video. Enthusiastically explain that you have their landscape design ready and instruct them to use the calendar link in your email to schedule a meeting.
2) Pre-Qualification Video Meeting
Your landscaping company should be having a pre-qualification phone call at a minimum. I would present this to a prospect as a "Project Discussion Call". Alternatively, you could use a video meeting instead.

Video meetings have become a way of life, post-pandemic. In addition to deepening your connection, your pre-qualification video meeting should follow a specific outline to qualify your prospect.

In 15-20 minutes, qualify your landscape design-build prospect for Budget, Authority, Need, Timeline, and your company's Positioning.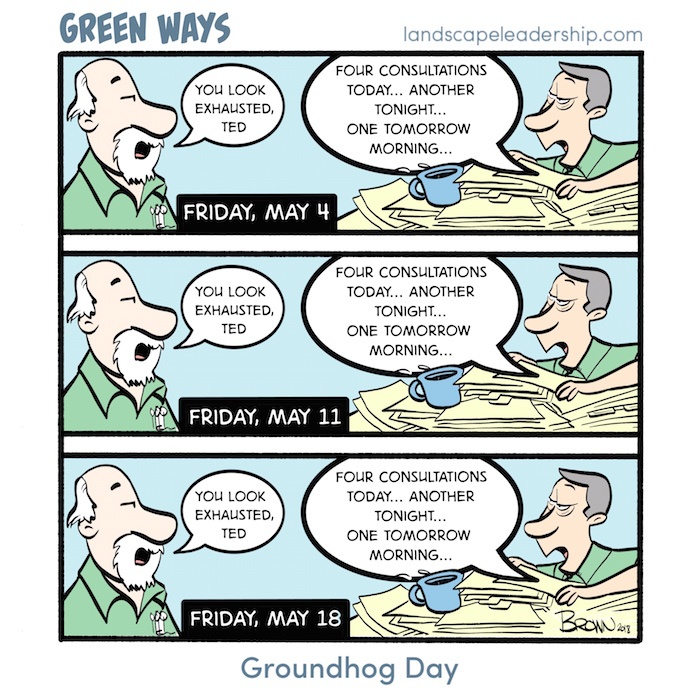 [RELATED READING: A 5-Step Checklist for More Effectively Qualifying Prospects w/ BANT+P]
When you've agreed there is a mutual fit, schedule an on-site consultation while on this call. You may want to charge for a landscape design consultation. If so, you could collect payment on this prequalification call.
[RELATED READING: When, Why, & How to Charge a Landscape Consultation Fee]

Then tell them how to prepare for the on-site consultation.
3) Client Video Assignments
At this point, you've had a valuable discussion and are building rapport with your prospect. At the end of your pre-qualification video meeting, I would recommend saying the following:
"Okay, I'm glad we've determined there's a mutual fit here. Before I come out for your on-site consultation on (date), I will have some homework on my end so we can have a productive conversation.

I'm going to send you an email in a few minutes. I have two short videos I'd like you to watch before we meet. It shouldn't take you more than 10 minutes. Can you agree to do that?"
You've qualified for BANT+P but your prospective client is not just along for the ride. It's time for them to confirm they're serious. Send them two professionally-produced videos, one about your design-build process, and the second video should be a video case study on a past project.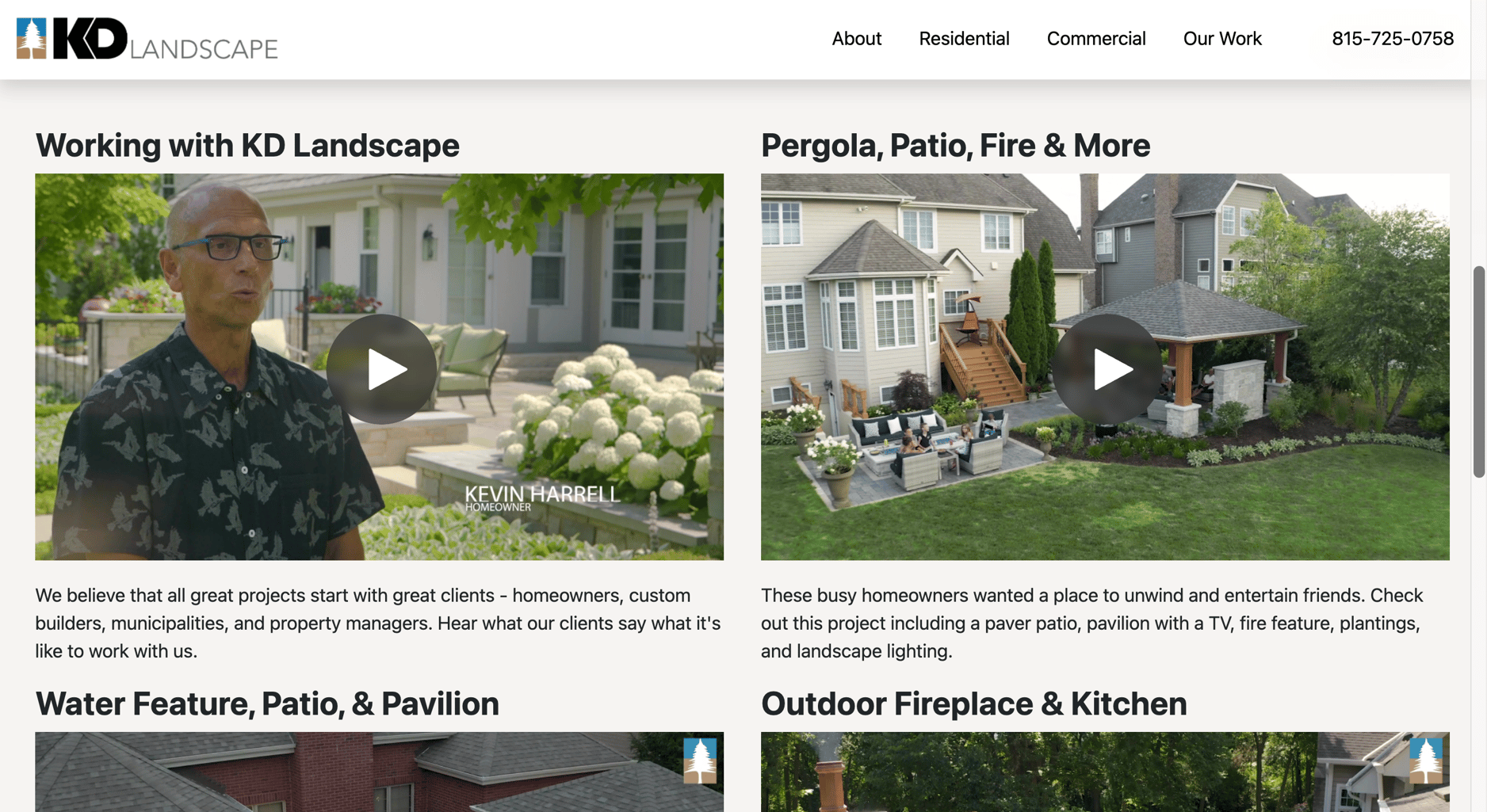 (KD Landscape near Chicago, IL has partnered with Landscape Leadership to create videos to leverage in their sales and marketing process.)
[RELATED READING: 14 Examples of Landscaping & Lawn Care Videos for Marketing and Recruiting]
If you have CRM software like HubSpot, you can actually tell if they click those links and visit the website page containing those two videos.
[RELATED READING: 10 Cool Things HubSpot's Sales Software Can Do for Your Landscape Sales Team - With Video Demos]
I am not suggesting that you cancel your on-site consultation if they don't view the videos. Most prospects will, and they'll be better informed and will be more impressed with your client's success story.
Getting Started with Video
If you are incorporating video into your landscape design-build sales process, you're going to stand out. Most of your competitors aren't doing this.

Your landscape company will transition from a brand to a friendly personality. These video steps will help you to sell more landscape design-build and stop wasting time as an unpaid consultant. Your prospective clients will be more engaged, informed, and invested.

This is work. It requires change. Implement one of these ideas at a time and learn to do them well.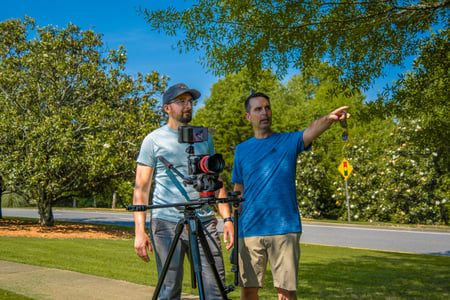 Pay money to hire a professional when it makes sense. They should be able to help you develop a strategy and provide creative direction for your DIY 1-to-1 videos and video meeting formats. They can also do the best job at producing case studies and topical videos to wow your prospects.

If you'd like to learn more about a comprehensive video strategy for the marketing and sales at your lawn and landscape company, schedule a meeting with us. We've helped dozens of lawn and landscape companies create videos just like these.
Want more insight like this? Join over 4,000 of your green industry peers by subscribing to the Landscape Leadership blog. We'll send new content directly to your inbox. Just add your email address below.
Image Source: KD Landscape