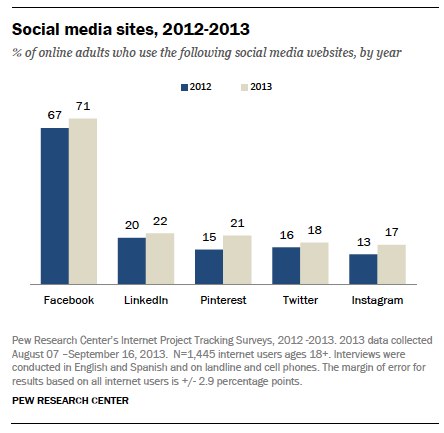 Pew released their findings from a recent survey today revealing "73% of online adults now use a social networking site of some kind."
While these usage stats are pretty impressive, what really jumped out to me is the comparison in usage amongst the five individual social networks that were included in this survey--Facebook, LinkedIn, Pinterest, Twitter and Instagram.
Noteworthy to me is the fact that Pinterest jumped Twitter, with Instagram also nipping at Twitter's heels in usage numbers. This is more evidence of how visually-focused our online experiences have become. This should be good news for companies in the green industry! You and your people have camera phones, right? We work in a very visual industry, right? Start taking more pictures and sharing them on sites like Pinterest and Instagram!
Another finding that jumped out at me: "Facebook is the dominant social networking platform in the number of users, but a striking number of users are now diversifying onto other platforms. Some 42% of online adults now use multiple social networking sites."
I've always been an advocate for focusing your time and efforts on a small number of social networking sites. You can't be everywhere and be effective. But, man, this is becoming more and more difficult for small businesses as people expand their usage to multiple networks. Just keep in mind: Where there are challenges, there are opportunities!
You can read the Pew survey results here.
How has your social media usage changed over the past year? I'd love to hear your thoughts. Please share below.