Is your business at a point where you are giving careful consideration to hiring a marketing agency for outside support? Maybe your in-house marketer/s need a little support with your company's website and blog? Or help with SEO? Or, maybe you need a full-blown, comprehensive inbound marketing program? If you're like most green industry companies we speak with, you don't really know what you need--you just know you have to do something.
Ultimately, your mind drifts to the inevitable question: "What's all this going to cost me?" and then (wishful thinking?), "I think I'll call Chris at Landscape Leadership and ask him!"
And you get an answer from me like this:
"Hmmmm...well, it depends..."
And everything is much, much clearer for you, right? If only it was an easy question to answer. I'm sure you've been in a similar spot: A homeowner calls and asks, "How much do you charge for a landscape design?", or, "How much will it cost to re-mulch my beds?" The answer: It depends...
In this post I'm going to outline five key considerations that factor into how much it will cost to hire a marketing agency. But first, let's back up a bit and draw a clear distinction between retainer-based services and project-based services.
Being in the green industry you should be quite familiar with both models.Here are some examples of project-based work:
Landscape design
Landscape lighting installation
Full-blown landscape design/build project--hardscaping, plantings, etc
And now retainer-based work:
On-going consulting and garden coaching
Monthly landscape lighting service
Monthly landscape maintenance, tree and shrub care and/or lawn care programs
Most marketing agencies offer services in a similar manner, mixing project-based services like website design and development with monthly retainer-based services like search engine optimization and social media management. At Landscape Leadership we focus on delivering monthly retainer-based services, which account for 90% of our total revenue.
Most likely, when you engage a marketing agency as a partner, you will have some project-based costs up front and retainer-based fees each month moving forward. Of course, these costs are dependent on a lot of different variables. So let's now jump into the five factors that will determine how much it will cost to hire a marketing agency.
(RELATED: If You Suck at Marketing...You Can't Just Ignore It)
Your current assets
Everything begins with identifying your current assets, because each company is unique. Here are questions we would ask you:
Do you need/want to redesign your website?
How many visitors do you get to your website each month?
How many leads do you get from your website each month?
Do you have a database of customers and clients, including email addresses?
Do you use customer relationship management (CRM) software?
Do you have a database of media contacts, both in the industry and local?
How large is your social reach (Facebook fans, blog subscribers, etc)?
How would you describe your reputation? Do you have online reviews?
Do you have a formal sales process?
This is how expectations are set and typically where reality sets in. Scope of services and costs involved will vary based on these answers. A lawn care operator who is attracting 4,000 visitors each month and generating 100 qualified leads and effectively utilizes a CRM software and formal sales process is in a much stronger position than a lawn care operator who just launched a new website two months ago and has no database of contacts. Each will have different needs from the outset and costs will reflect that.
(RELATED: 4 Tips For Getting Your Agency Relationship Off to a Fast Start)
Your in-house capabilities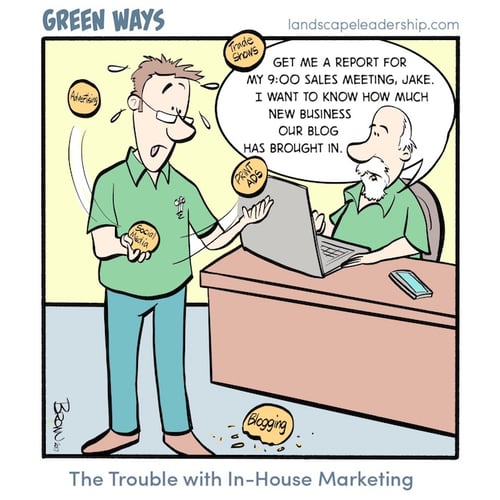 Most large companies will have a dedicated marketing director while many small and mid-size companies will have someone in-house who is responsible for marketing activities along with a handful of other responsibilities.
The cost of hiring a marketing agency is somewhat dependent on what you're currently doing in-house. Do you want your in-house marketer or marketing team to provide support to the agency? Or, do you want the agency to support your in-house team? There's a difference. If an agency is playing more of a support role then fees can be less compared to an agency who is playing the leadership role.
Some companies rely completely on an outside marketing agency and have no employees involved with marketing internally. Monthly retainer fees will be higher in this case, but ultimately, total marketing costs can be lower because there is no in-house staff.
Your goals and objectives
How aggressive do you want to be? Your marketing budget will have to reflect this.
Let's compare two very different goals:
Increase new sales by 30% over the next six months.
Increase new sales by 20% over the next 12 months.
It should be apparent that the first goal will require a more aggressive marketing approach and larger budget than the second. That's just reality. There needs to be alignment between your expectations and what you're willing to spend. If a marketing agency utilizes a goal-oriented sales process these are the conversations you will have before agreeing to work with each other.
(RELATED: Setting Expectations: Hiring Digital Marketing and SEO Help)
Scope of services
The scope of services your agency delivers is obviously reflected in your monthly spend. And many times this is impacted by your in-house capabilities (see above).
For example, a scope of services that includes 20 service hours per month and six blog posts is going to cost more than a scope offering 15 service hours and four blog posts. Now, if your in-house team were to write all of the blog posts each month your costs would be significantly lower.
Most marketing agencies will create packages and pricing that is scaleable for many different sized companies. For instance, we have comprehensive inbound marketing programs priced at $2,000, $3,000, $5,000 and $8,000 per month that include our full range of services. That said, we also have smaller packages focused on specific services like blogging, SEO or social media which are priced at $499, $799 and $1,299 per month. All have tremendous value, they just offer a different scope of services to fit a businesses' unique needs.
Ancillary costs
Beyond the monthly retainer you pay an agency, there may be other ancillary costs you need to consider. These can include costs for software as well as additional training for your staff.
Marketing automation software like HubSpot and CRM software like Highrise or Salesforce come with annual or monthly licensing fees. You need to account for these fees up front.
Also keep in mind, when you introduce new software or new processes to your staff there will need to be additional training. This training cost may or may not be covered in your marketing agency's monthly retainer fees. This is a question to ask your prospective agency up front.
Hopefully this article is useful to you if you've been considering hiring a marketing agency. If you need more specifics regarding costs and services feel free to give us a call at (800) 681-9169, or fill out our handy contact form. And be sure to download our extremely helpful ebook, "The Ultimate Guide to Hiring an Inbound Marketing Agency". You can grab it by clicking on the image below.
image credit: 401(K) 2013