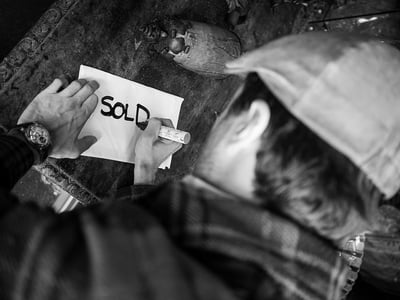 If you've been subscribed to our blog or following our writing for any period of time you know how passionate we are about lawn and landscape industry companies using content marketing.
We've written in-depth about how content – like a blog – can attract massive amounts of new traffic (and potential customers) to your website. We've also written about how you can use content "offers" to turn website visitors into leads for your company.
Traffic is great. Leads are awesome. But what about $$$SALES$$$?
If your company is investing in content, it shouldn't be in a marketing vacuum. Your sales team should be leveraging this content to qualify prospects and close deals.
You're not getting a full return on your investment if this is not the case.
It's frustrating for me to admit seeing this play out on a regular basis with many of our clients. The companies we work with pay us good money to create kick ass content on the marketing side – blog posts, videos, case studies, white papers, etc. – only to see their sales teams ignore the opportunity these valuable assets provide when it comes to actually selling their landscaping services.
Assignment Selling 101
Do your sales people complain about the poor quality of leads, and the amount of time they spend on each crappy lead that goes nowhere?
As an owner, how do you feel about the "bad fit" customers your sales people are more than happy to bring on-board?
Do you enjoy answering the same questions and objections from each new prospect?
There's a better way, folks. It's called assignment selling. (Tip of the hat to my Sales Lion friend who either coined this phrase himself or stole it from someone else.)
Assignment selling is all about leveraging the content and collateral on-hand to assist you in the sales process by qualifying and educating your prospects.
This collateral can be in the form of blog articles, customer video testimonials, case studies, buyer's guides, etc., etc.
This is different than educating anonymous visitors lurking on your website. Assignment selling is more personal: You actually assign Mr. or Mrs. Prospect some homework.
"Wait… what?!?! I'm going to ask the prospect to do something for me?"
That's exactly right. And in doing so you'll build up a tremendous amount of credibility with the quality prospects and scare away the "bad fits".
There are three common situations in which assignment selling can be extremely effective.
1. Qualifying prospects
How do you deal with that new prospect who you just know is kicking the tires of every company in your area?
I would suggest not giving them a quote or proposal. I'd give them homework instead to gauge their real interest.
We do this in a couple of different ways at Landscape Leadership early in the sales process. I would guess 90% of the companies who reach out to us inquiring about our services do so through our website's Contact page. Most of these inquiries are very brief, along the lines of, "We need help with our marketing. Please call to discuss".
I don't pick up the phone and call for two reasons. First, I don't know how qualified this prospect is to work with us, and second, I don't know their genuine level of interest.
Instead, I send some homework via an email template (shown below).
This asks them to do three things before we schedule our first phone call:
Provide more specific background and information related to the help they are seeking.
Review two pages on our website (these are meant to further qualify them)
Review our in-depth guide all about working with a marketing agency (less important than the previous two items)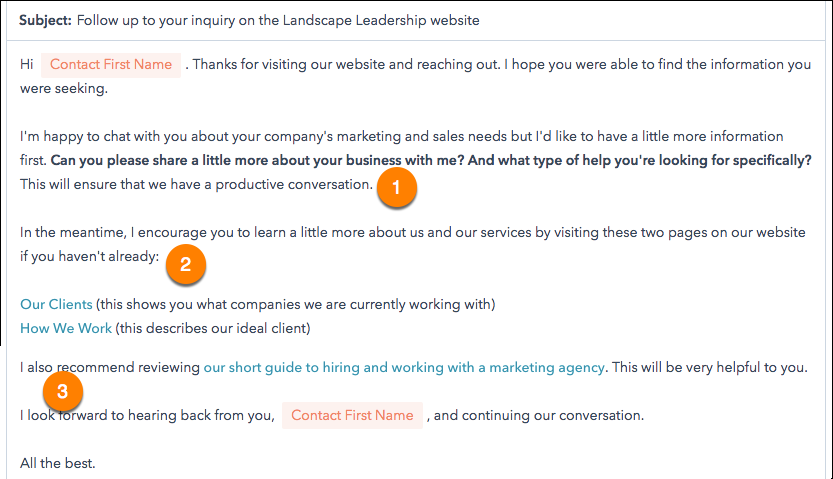 After our initial "exploratory" call with a prospect, we give them more homework by requesting access to their Google Analytics account and more sales-related data.
Fulfilling this request confirms their genuine interest in potentially working with us.
2. Addressing common objections
You will always face common questions, challenges and objections during the sales process. Use assignment selling to address these. Following up with a written response can be powerful. It goes a long way to proving your expertise and building trust.
Do you charge a substantial landscape design fee when your competitors do not? You could have a blog article that addresses this. Send it to your potential client to reaffirm what you discussed over the phone or in person.
We are often asked about how long it will take to get results if a company works with us. We have a series of blog posts that addresses that question.
We also speak with some companies who are more inclined to work with a local marketing agency instead of us. We have an article that speaks to that common objection.
3. Demonstrating your position or process
This is similar to addressing objections, but I think this goes a step further in establishing your authority and expertise.
Here's an example: We have a client who chooses to only use natural stone in their hardscape projects. They don't use concrete pavers. Explaining why they take this approach in a blog post or position paper will be very helpful to them and their prospects when they are trying to sell a $40,000 bluestone patio.
Laying out your unique position in a thoughtful way establishes trust.
We've aimed to do exactly this with our recent article about why we don't encourage companies in the lawn and landscape industry to invest in pay-per-click advertising.
(RELATED READING: Getting Started With CRM Software For Your Lawn Care or Landscaping Company)
How to get your content in the right hands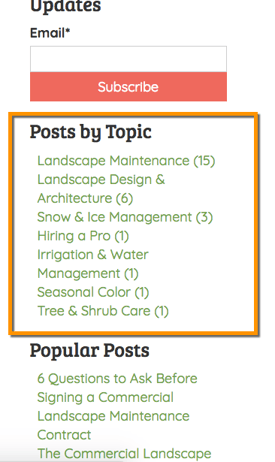 Hopefully you can see how the content you've created on the marketing side can be of extreme value during the sales process. The difficult part is making sure these assets are easily accessible to whomever is doing the selling within your company.
We recommend four ways to accomplish this.
First, and at a minimum, make sure everyone on the sales side is subscribed to your company blog. This will ensure they receive notifications in their inboxes whenever a new blog post is published.
Second, because each blog post can be attributed to one or more categories, make sure your topics or categories are organized in a thoughtful way. Keep this list of topics between seven and 12 and be sure to display them in the sidebar of your blog for easy search ability. I also suggest adding a search box to the sidebar of your blog.
Third, add a "resource" page to your website that hosts more in-depth content like case studies, video, white papers, e-books, checklists, etc. Here's a great example from Outback Landscape in Idaho Falls.
Lastly, if your company is using a CRM like HubSpot you can actually manage some of your content assets in the CRM where they will always be in front of your sales people. You can share these assets with your prospects directly from the CRM and even track what your prospect has viewed and for how long. Read more about this feature here.
Wrap up
Remember, if your company is investing in content, it shouldn't be in a marketing vacuum. Your sales team should be leveraging this content to qualify prospects and close deals in order to get a full return on your investment.
I hope this article introduced you to some new ways to leverage your content in the sales process and to keep your assets in front of your sales people.
Want more insight like this? Join over 2,000 other lawn and landscape industry professionals who are subscribed to our blog. Subscribe here or just add your email below.
image credit: Sold