I promise to keep this blog post short. In return I want you to spend a few minutes reviewing the graphic below.
These charts are showing the website traffic growth (measured by "visits") for five companies we've been working with over the past three years. Traffic growth is tracked from January of 2014 through what we project for January of 2017. So three full years of data.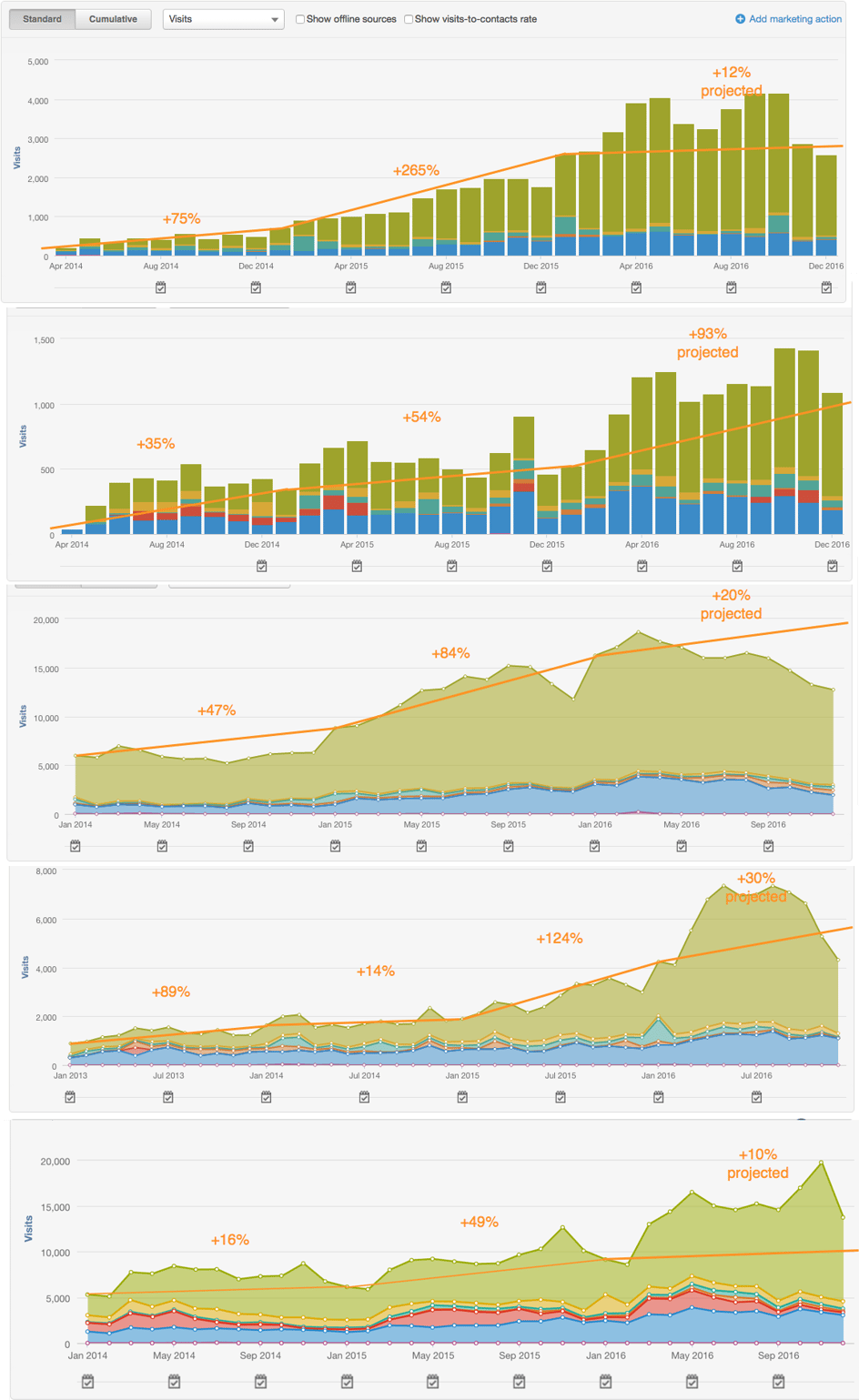 When we punch the numbers here's what we find related to the website traffic growth for these five companies:
Average growth of 37.4% in 2014
Average growth of 115.2% in 2015
Average growth of 33% projected for 2016
Also notable is the increase in visits specifically from organic search (the search engines like Google). This is the green color you see in the charts. Traffic from organic search increased 152% on average for these five companies when you compare January 2014 to December 2016. That's a 2.5x jump in website visits directly from the search engines.
This is the growth trend we see with most companies we work with: Solid growth in year-one as we build the foundation, a huge jump in year two, then back to solid growth in year-three as the momentum continues (read more about building momentum through inbound and content marketing here).
You're familiar with the "sleep, creep, leap" refrain as it relates to landscaping. I've compared inbound marketing results to this in the past. But what you see in these three years of results is more like "creep, leap, creep a little more".
The main point I want to emphasize is that this is what can happen when you invest in inbound marketing and create great content. I refer to this as the snowball effect. The longer you stick with inbound marketing the more traffic growth you get year after year. This is especially true when it comes to the organic search traffic.
An example of spending on marketing is pay-per-click advertising. Look at the graphic again and you'll see two companies with small blips of red on their graphs. That's the traffic from spending on PPC those specific months. The only way to sustain the traffic from pay-per-click advertising is to spend, spend, spend...
When companies like you guys in the lawn and landscape industry ask us how we get such great results for the companies we work with, my answer is simple: We invest in great content. This content drives results long into the future (see how here), even after we're done working with each other.
Invest, invest, invest...
And subscribe to our blog. We have over 2,000 subscribers now :-) Just enter your email below.