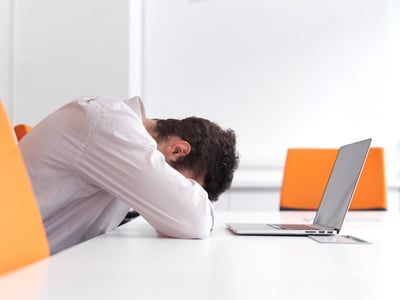 Have you gone online recently to research the cost of something?
What happens when you search a company's website for pricing information but you come up empty handed?
If your online behavior is anything like mine, I bet you get frustrated and bounce elsewhere.
Many times I feel like the company is intentionally hiding information it could easily share with visitors. And, I know if I just dig a little more I'll eventually find another company who shares their pricing information.
Whether researching the cost of a camera, a new car, a vacation package or an annual lawn care program, consumers are starting their journey online.
Is your website giving your prospects the information they need? Or are you frustrating them and allowing them to bounce to a competitors website?
A competitive advantage
When we recommend companies address the cost of their services on their websites, many times we'll get these two responses:
"We don't have pricing on our website because we want our prospects to have to call us for that."
And…
"We don't want our competitors to see what we are charging."
If you're waiting for your prospects to pick up the phone and call you to request more information, you're missing out.
Consumers are in control of the buying process and they don't want to talk to you until they are ready.
As far as your competitors are concerned, most companies already have a pretty decent idea of how their competitors charge for their services. So what if it's on your website?
Are you afraid addressing cost on your website will leave you at a competitive disadvantage?
In reality, it's exactly the opposite.
Transparency leads to more opportunity
The screenshot below shows the top five most viewed blog posts on Reef Tropical's website. We've been working with the South Florida pool and landscaping company for just over a year.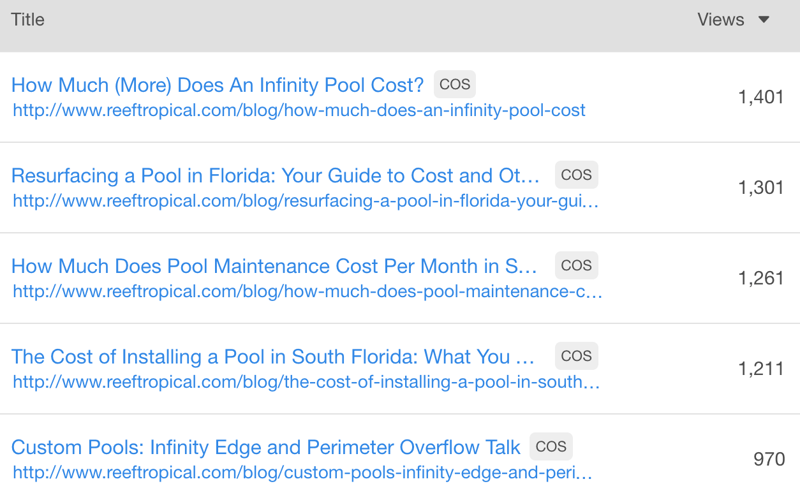 What do you notice about the titles of these blog articles? What do they address?
That's right… Cost!
(Here's the Reef Tropical blog if you want to review these articles)
"Okay, Chris, views are nice, but what about new leads?"
I hear you. That's the same question I like to ask.
The screenshot below shows which blog posts on Reef Tropical's website generate the most new leads.
Again, four of the top five articles address cost. 21 new leads have been generated from these articles so far.

Aligning content with the buyer's journey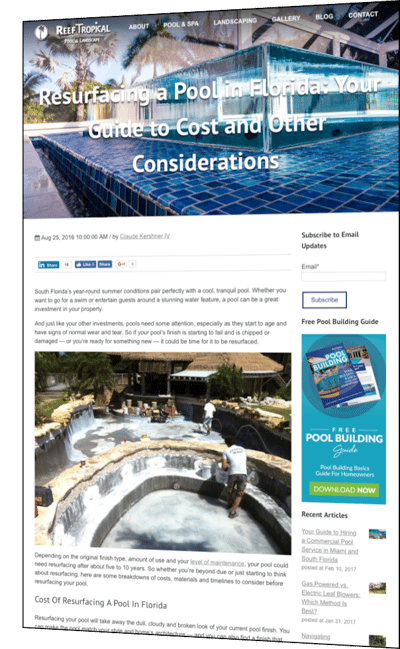 There are three stages in the buyer's journey: awareness, consideration and intent.
If someone is searching online for pricing information related to swimming pools, they are beyond the awareness stage, somewhere between consideration and intent.
These are the folks you want on your website because they're close to making a purchasing decision.
This is why content like blog articles and videos that align with each stage of the buyer's journey are so important to have on your website. I think cost-related content should be at the top of the list based on all the metrics we have seen.
Addressing cost the right way
Friends, I'm not suggesting you put a price list of square foot and unit costs on your website for visitors to dissect.
Instead, I want you to address the unique factors that can impact the cost of your services.
How does choosing natural bluestone for a patio impact the price tag? How does the pricing compare to choosing concrete pavers or stamped concrete? What if the bluestone is dry-laid versus set on concrete?
The best place to address cost is on your blog where you can have an endless number of articles addressing your unique services. You saw how Reef Tropical is doing this. And they're just getting started.
If you don't have a blog, the next best place to address cost would be directly on the service pages of your website.
Wrap up
I hope it is clear to you that you can address the cost of your landscaping, lawn or tree care services in a helpful way that doesn't reveal trade secrets.
You will attract visitors that are deep into their buyer's journey, and because you actually address cost (unlike your competitors), you will build a tremendous amount of trust and credibility with these visitors.
This will ultimately lead to more qualified leads and sales for your company. You gotta love that, right?
We hope you love our blog too! If so, subscribe! We have over 2,000 green industry pros subscribed to our blog. Just add your email below.