I recently returned from HubSpot's impressive Inbound 14 marketing conference where I sat in on Marcus Sheridan's presentation about "creating a culture of Inbound".
In his impassioned talk (if you know Marcus you know what I'm talking about) he outlined the most common reasons why companies fail at inbound marketing and content marketing. I completely agreed with the five reasons he laid out so I thought I would go deeper and relate each back to businesses in our industry.
Let's go!
#1: Management hasn't bought-in
This is most definitely numero uno right here. If management hasn't truly bought-in to the principles of inbound and content marketing you will not succeed. No way.
Trust me on this – we talk to many frustrated marketers within landscaping companies who have personally embraced the inbound marketing ideals but who struggle to push their initiative forward because they can't get management to buy in. I know of marketers who have created a company blog only to have management pull the plug three months later. Yeah, that's a little frustrating.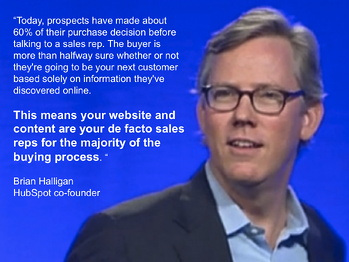 Let's face it, most companies in the green industry are sales-driven companies – marketing has been an afterthought to most. While it should be obvious to all of us that buying habits have changed, companies are still trying to catch up to the reality that they need to invest more time and resources into marketing to keep up with consumers' insatiable appetite for information.
Consider this quote from Brian Halligan, co-founder of HubSpot:
"Today, prospects have made about 60% of their purchase decision before talking to a sales rep. This means your website and content are your de facto sales reps for the majority of the buying process."
Management has to recognize that their prospect's habits have changed. Just look in the mirror for goodness sake! Haven't your habits changed in the way you make buying decisions? Amazon, Houzz, Yelp... Have you used any of these recently?
Once they recognize (admit?) that consumer habits have changed, management then needs to buy into the fact that they need to make a meaningful investment in their website and the content they put on it. This is what your prospects want and need in order to make well-informed buying decisions. This is what they rely on for information and research – they don't want to talk to your sales reps (yet).
"But Chris, our industry is different! People still buy lawn and landscaping services exactly the same way they did 20 years ago."
I still here this objection from top management folks. If you want buy-in at the top – and thus succeed with this new way of marketing – you've gotta throw cold water on this false belief.
#2: Employees haven't bought-in
Okay, I'll be the first to admint, this isn't all on management. Many times the CEO or business owner might embrace inbound marketing, but his or her enthusiasm doesn't trickle down the ranks. When this is the case their marketing program will struggle to gain traction. To avoid failure with inbound and content marketing you must have employee buy-in, especially from those in marketing, sales and customer service roles.
Here are three reasons companies fail to get buy-in from their employees:
It's extra work! "You want ME to do WHAT? Write a blog post once a week? Yeeeaaahhh... That won't happen."
Employees don't want to put in the extra work because they don't understand why and how inbound marketing impacts the business as well as them personally.
Salespeople recognize their own buying habits have changed – along with those of their prospects – but they don't fully understand how to adapt their skills to this new reality.
Let's think about point three for a moment. The reality is that your prospects are spending more time on research during their buying journey and also using more sources for their research (see the image below). This is the perfect opportunity for a salesperson to utilize helpful content before and during the sales process, providing prospects with the valuable information they crave.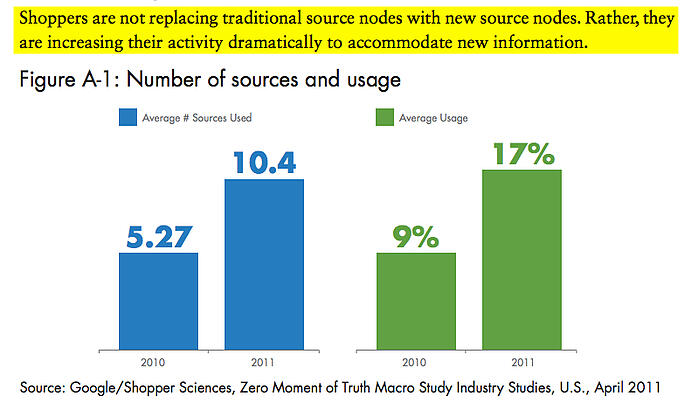 A second reality is that your prospects, especially in the B2B world, are much more difficult to get in touch with today. When was the last time a prospect actually picked up the phone for you? This is where social selling is so valuable, yet the majority of salespeople don't understand how to leverage social networks like LinkedIn and Twitter for prospecting and forging relationships.
Without complete management and employee buy-in a company's inbound marketing program will never get off the ground.
#3: Lack of (quality) content
To be successful with content marketing, your company needs a shit-ton of quality content. This is another reality that's hard to swallow. It's a big commitment and investment for a company.
To offer some perspective, for our clients, we write on average one blog post per week, typically around 600 words. I'll be the first to tell you that we need to step that up. Even this current frequency and word count won't be enough in the future. We're in a content arms race, folks! (Marcus Sheridan coined this phrase – read this article.)
Who's creating the content your company needs to attract and educate your prospects – and do it better than your competitors? I can tell you that it's typically a single person burdened with blogging, writing web copy or a case study, shooting a video, sending a timely email or sharing an update on your company's Facebook Page. One person can't handle this, especially when they're strapped with other responsibilities often unrelated to marketing.
If a landscaping company has a "marketing director", trust me, they are overwhelmed and understaffed. This is when you need to consider partnering with an awesome inbound marketing agency like Landscape Leadership. Yeah, that's a blatant plug :-)
#4: Too many silos in the company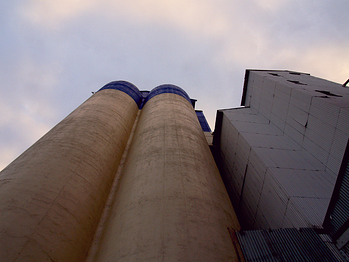 Inbound and content marketing isn't "owned" solely by your marketing team. To truly be successful with inbound marketing your sales team, customer service and even IT and HR need to be onboard. The problem for many landscaping companies is that these departments and individuals often operate in silos, disconnected from one another.
Creating content is mostly seen as marketing's job. That's a problem. The reality is that content marketing should be everyone's job. Employees from all departments should be working together and contributing. All hands on deck!
Sales people are on the front line dealing with prospects' objections and questions every day. They should be working hand in hand with marketing to answer them in the form of blog posts, case studies and buying guides.
Operating in silos also leads to poor communication between departments, especially marketing and sales in larger companies. The sales team should be helping their marketing team identify timely promotion opportunities as well as timely and relevant topics for content.
#5: Poor marketing strategy
A common reason your landscaping company's inbound marketing program or content marketing initiatives can fail is simply due to poor strategy – or no strategy. The reality is that most landscaping companies don't have a well thought out marketing strategy with concrete objectives. They're mostly reactive as it relates to marketing, following fads and their competitors.
Spending time and money in the wrong places is a sure recipe for inbound marketing failure.
Many companies have their priorities out of whack, spending time and resources in the wrong places. In a 2012 Lawn & Landscape survey, 95% of landscape contractors and lawn care operators surveyed claimed to have a company Facebook Page while only 27% had a blog. I'll argue until I'm blue in the face that regular blogging trumps an active Facebook audience.
Instead of investing in content – your website, photography, blog, case studies, etc. – that has a lifetime of value many landscaping companies instead spend a big chunk of their marketing dollars on pay per click advertising with Google Adwords. Companies are still blasting out generic e-newsletters to their turned-off and tuned-out list of "subscribers" (I use that term loosely).
Spending time and money in the wrong places – with no real goals – is a recipe for failure.
Add to that a lack of buy-in from management and employees, disconnected departments and a lack of quality content, and a company's inbound marketing program has zero chance getting off the ground.
Need help getting your inbound marketing program off the ground? Let us help! You can read about our services and who we work with here. If you're ready to get in touch you can do that here or just give us a call at (800) 681-9169.