"They had no clue how much a patio/lawn program costs."
"We don't even do [insert service]!"
"Ugh! They're not even the decision-maker!"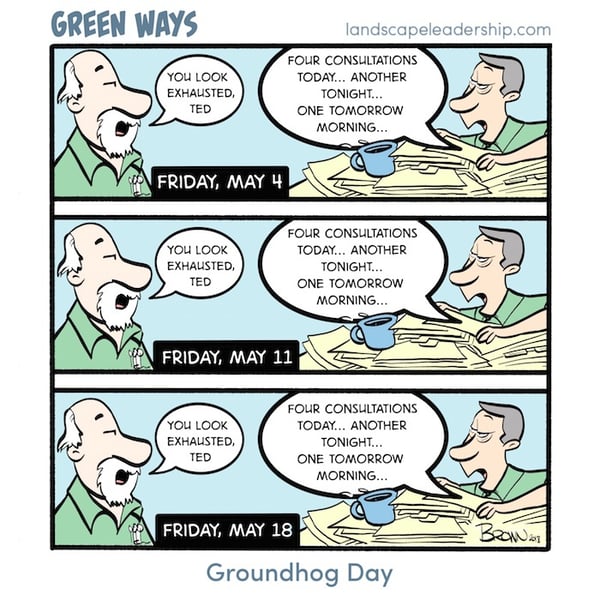 Sound familiar? Do you ever get the feeling that your lawn care or landscaping prospects are clueless tire-kickers that just eat up all of your precious time?
Maybe the problem isn't your prospect. Maybe your website does a lousy job of disqualifying bad-fit leads.
Wasted time means less time you can spend closing better opportunities (which ultimately leads to less profit for your company).
And if your website isn't disqualifying bad-fits, it is likely that it's also not generating the great leads you're really after.
You want slam-dunk, profitable sales from the best customers.
Today, I'm going to show you some practical ways (and examples) of how lawn care and landscaping websites can do that.
A Framework for Qualified Lawn Care or Landscaping Leads
Previously, we wrote an article about a checklist for qualifying prospects using the BANT+P framework. I encourage you to check it out.
The BANT+P framework looks at five criteria to assess a good fit:
Budget
Authority
Need
Timeline
Positioning
Now before we get started, a bit of clarification…
I am not talking about what happens during the sales process. You're going to do some of this on the phone, over email, or when you meet with the prospect.
Please also understand that there is an overlap with these suggestions. Some of these website elements can address multiple facets of BANT+P.
We're going to look at how your website can do this before your time is wasted in the sales process.
Qualifying Budget
If you don't disqualify bad-fit lawn care or landscaping leads in this area, you'll end up with:
Prospects with unrealistic budgets
Price shoppers (who often cancel when they find a cheaper price)
Unprofitable projects
No fun and a waste of your time. Here are some ways your website can disqualify these types of bad-fit leads.
1. Price/Cost Blog Articles
After spending 20+ years in the green industry, I understand that there are a lot of variables that go into pricing lawn care and landscaping services. However, interested prospects just need to know a basic idea of pricing at this point.
Whether it's talking about lawn care programs, building a patio, or even commercial maintenance, price/cost blog articles are a great way to steer away bad-fit prospects. These articles address cost-impacting factors involved and give ballpark ranges, when possible.
Here's an example of how Rock Water Farm Landscapes & Hardscapes addressed this for one solution they provide: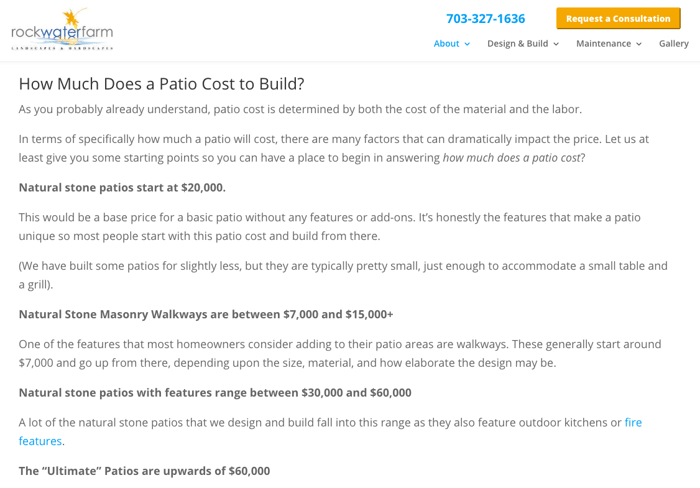 2. Interactive Pricing Calculators & E-Commerce
Okay, say someone isn't patient enough to read an article about what a patio with an outdoor kitchen costs. Additionally, you can create an interactive pricing calculator on your website.
Check out how Michael Hatcher & Associates does this to give residential design/build prospects a starting point for research (and disqualify bad-fits).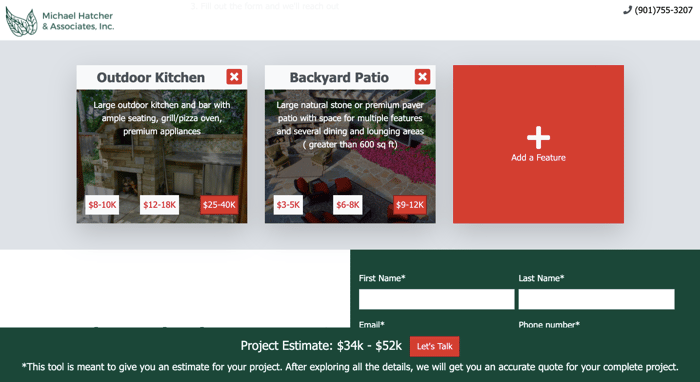 You can even build out an e-commerce solution to measure lawns, price programs, and purchase services. This can work for a variety of service offerings in the green industry.
3. Static Pricing Pages
In some instances, it's a lot easier to give prospects an idea of pricing. For instance, the Oasis Turf & Tree lawn care pricing shows a starting point, and what's included in the costs. This also steers away small, less profitable work prospects may want to purchase as a one-off service.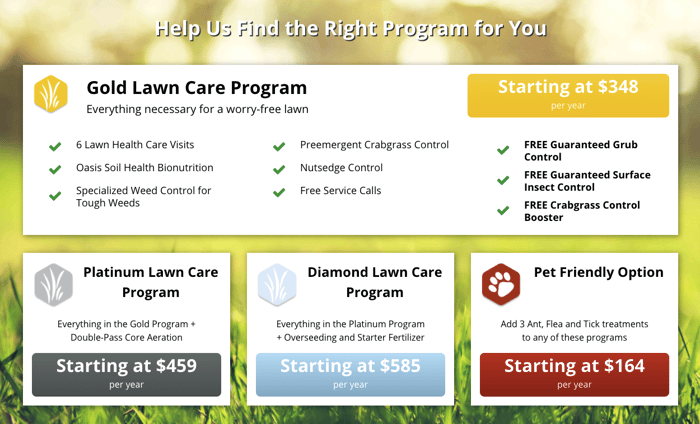 Pricing pages are particularly useful for:
Lawn Care Programs
Mowing Service
Irrigation Service
Plant Health Care Programs
Maintenance Packages
Pest Control Programs
[RELATED READING: Why & How to Address Cost of Services on Your Website]
Program and pricing pages are a great way to visually explain what is included in your services, but creating a video is another way to build value and trust as your prospect considers their options.

Check out this Pest Control Programs & Pricing video Joshua Tree uses just above where those pricing options are laid out side-by-side on their website.
You could even create videos comparing your professional services to other popular DIY methods (or your competitor's solution).
4. Professional Photography
The images you use on your website can disqualify or deter certain projects. For example, say you primarily want to design and install residential design/build projects that are over $75,000. If your images show larger-scale projects with a patio, pavilion, and outdoor fireplace, it will give an initial impression as you see here on the Earth, Turf, & Wood homepage.
Maybe you don't really want to just install a fire pit. You want that fire pit to be part of a project that has a larger patio, lighting, and pergola. Using these kinds of specific images subconsciously conveys you build entire spaces vs. just a single feature.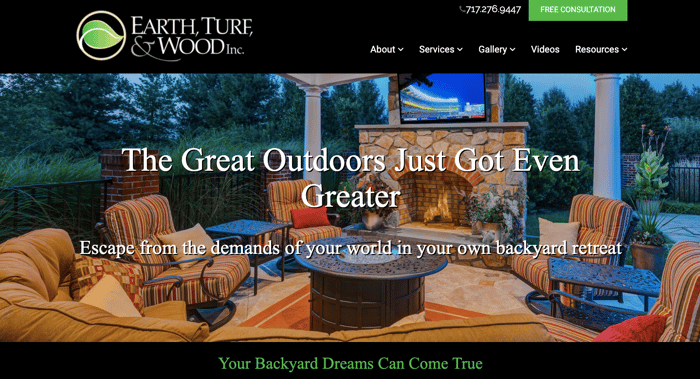 It's not to say that you won't accept smaller projects, but this can help to deter some of them if you so desire.
This same strategy can be used if you have the appetite for specific clientele. If your company is shifting to only service large commercial properties, your images should convey that positioning.
[RELATED READING: 3 Ingredients for a Perfect Lawn Care or Landscaping Photography Shoot]
5. Stating Minimum Levels of Engagement
Maybe you have plenty of leads and you're interested in raising your average customer value. One way to do this is to clearly state your minimum level of engagement (MLOE) on your consultation page or other places on your website. Here's an example:
New Customers:
Design/build projects start at $75,000
Maintenance agreements start at $500/mo.
Existing Customers:
Smaller projects considered on a case-by-case basis
[RELATED READING: When & How to Raise Prices for Landscaping & Lawn Care Services]
Qualifying Authority
In the lawn and landscaping industry, decision-makers are typically:
B2C: Adult heads of household (both of them in many cases)
B2B: Business owner, facility manager (in-house or outsourced)
(ACCESS NOW: Your Guide to a Kick-Ass Commercial Landscaping Website)
Getting to the "table" with the right people all starts in the marketing process.
Here are some ways that your website can qualify the authority of your prospects.
6. Targeted Content Marketing
If you want to attract prospects with decision-making authority, offering up tips that would be of exclusive interest to the right parties is a good move. For example, say you want to target HOA board members. They often deal with confused residents who make false assumptions about their own responsibility vs. those of the contracted landscape service provider.
This article on the Yellowstone Landscape blog is a great way to attract HOA board members vs. community residents. Just look at how the article begins.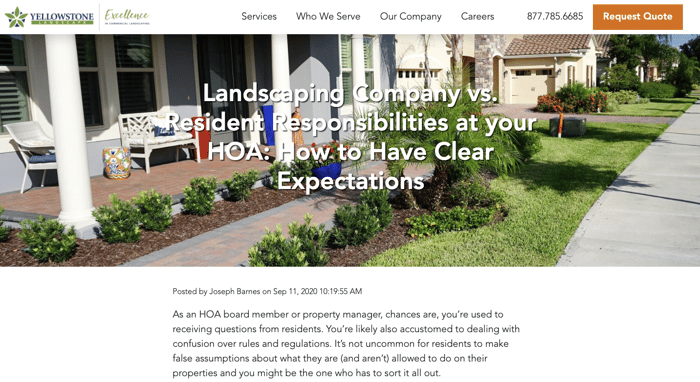 7. Required Form Fields
When someone requests a consultation, you can add required form fields to ask a simple question that would indicate their authority.
For example, on our website, one of the questions we ask is, "Position at company". This helps me see if I'm going to be talking with someone who can truly make a decision or someone just fishing for information to pass on. I will treat each of those situations differently.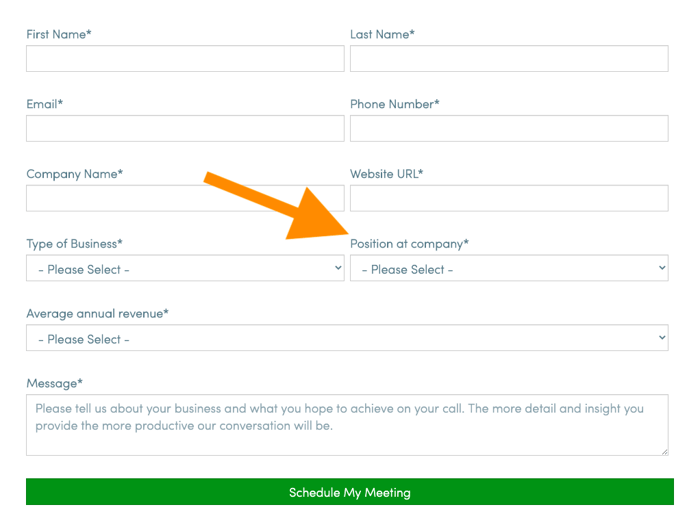 In the case of residential landscape design/build, you may ask a simple question like:
"Who will be involved in your decision?", and then give options such as:
Just me
Me and my significant other
My clients (I'm the general contractor)
8. Strategic Testimonial Videos
Another great way to reinforce which decision-makers need to be involved is to create testimonial videos that include customers that had authority in their decision process.
Here's a great example of how to do this if you're a commercial landscape company. Check out how this video on the North By Northwest website features an HOA president.
You can also do this for B2C services. Check out this video on the Natural Green Lawn & Pest website that features both Mr. and Mrs. talking about how they made the decision together.
[RELATED READING: 14 Examples of Landscaping & Lawn Care Videos for Marketing or Recruiting]
Qualifying Needs & Timing
Need and timing go hand-in-hand. After all, if they have a need, but don't need your services relatively soon, that's not a very qualified prospect. You may want to keep marketing to them, but they're not ready for the sales process.
Tire-kickers can be infuriating. Like you have nothing better to do with your day than to answer 50 questions from someone who is just going to end up doing the work themselves or won't be ready for a proposal for months (or years) from now.
Here are some ways to qualify needs and timing.
9. Form Fields Addressing Needs
There are a couple of ways you can do this. The most simple option would be to offer checkboxes for the services of interest to them. You can see here how RainMaster Lawn Systems does this with a required field.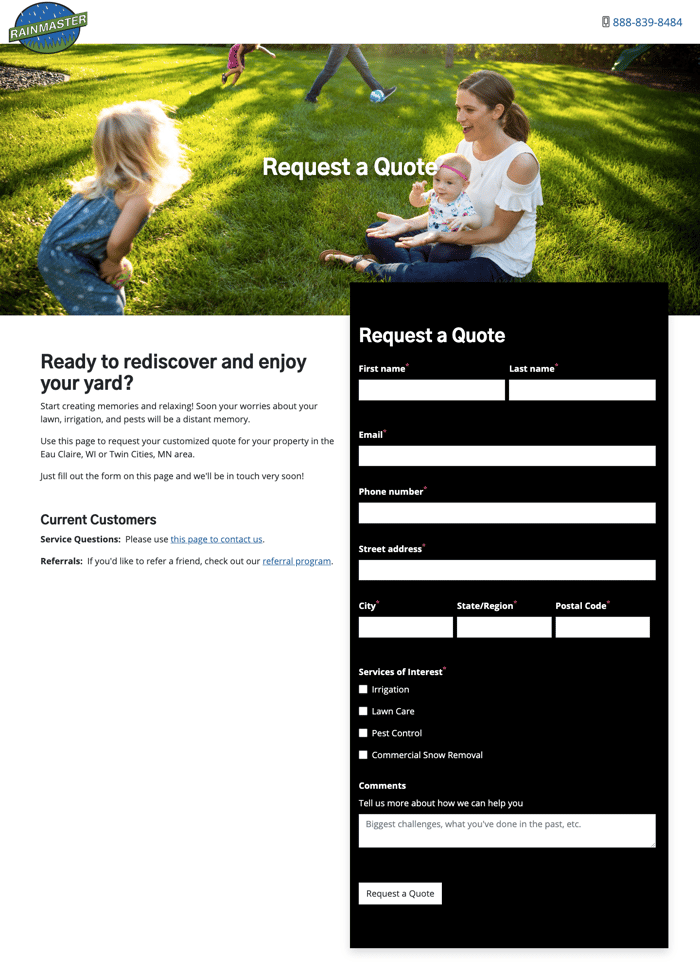 The addition of another field for "Comments" can ask open-ended questions. However, if you want to understand your prospect's timeline, you can ask more direct questions such as, "When are you hoping to install your new irrigation system?"
10. Written & Video Content
On your website's homepage and/or consultation/quote request pages, it's good to show prospects how making a good decision takes time. This can sort out people who are in a rush or want to buck your process.
As you can see on the Blanchford Landscape Group website's homepage and consultation request page, the methodical (but simple) process is clearly explained.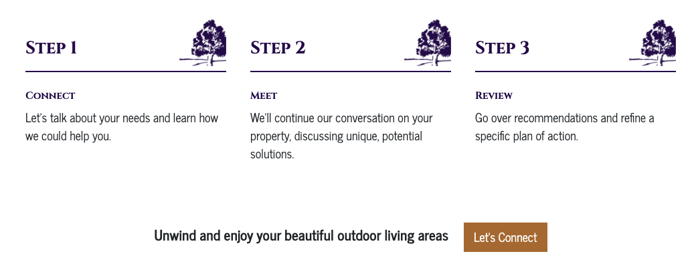 Blog Articles
If a simple process module doesn't offer up enough information, you can create content marketing that explains more processes.
Here's an example of how Grassperson Lawn Care & Landscape addresses that it takes time to fix problems with your lawn's soil. This can help to deter prospects that are in a big rush and don't want to wait for real results.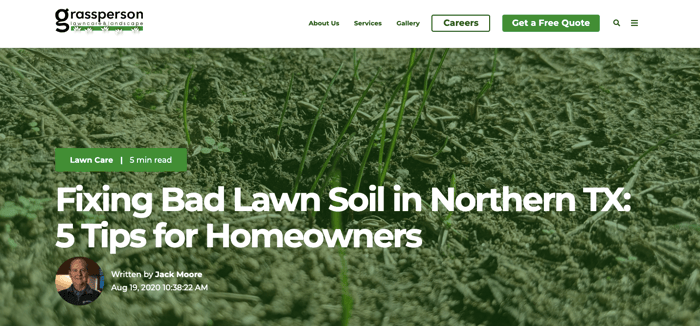 In-Depth Guides
Big projects like building a pool and the surrounding landscape take time. Rock Water Farm Landscapes & Hardscapes addresses this and many other lead qualification factors in their in-depth Complete Swimming Pool Planning Guide.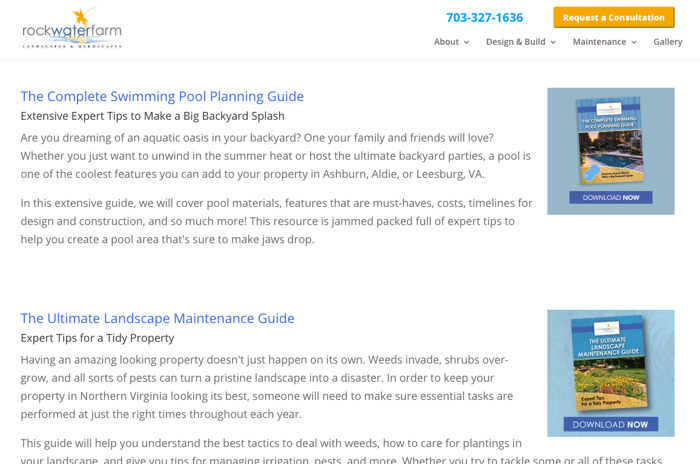 Process Videos
Videos are a great way to show what comes next. One of the issues we were having on our website was with bad-fit leads that were in a rush (in addition to other red flags).
I created a short video that I added to our "Schedule a Meeting" page. This is something you could do to disqualify bad-fit leads for your lawn or landscape company.
You could also detail the design/build process or explain how long it takes to transform a lawn. There are a lot of opportunities for videos to deter bad-fit prospects.
11. Leverage Design or Consultation Fees
I'm always impressed by companies that require design or consultation fees. The design fee is becoming more widely-recognized by prospects. However, a consultation fee is a step beyond this.
Requiring pre-qualified prospects to put some "skin in the game" can really help to keep prospects from wasting your team's time.
Kingstowne Lawn & Landscape has done such an amazing job over the years by leveraging this. Oh, and it doesn't hurt their chances. This page gets 35% of all visitors to fill out the form, knowing they have to pay for a consultation (time to raise that consultation price!).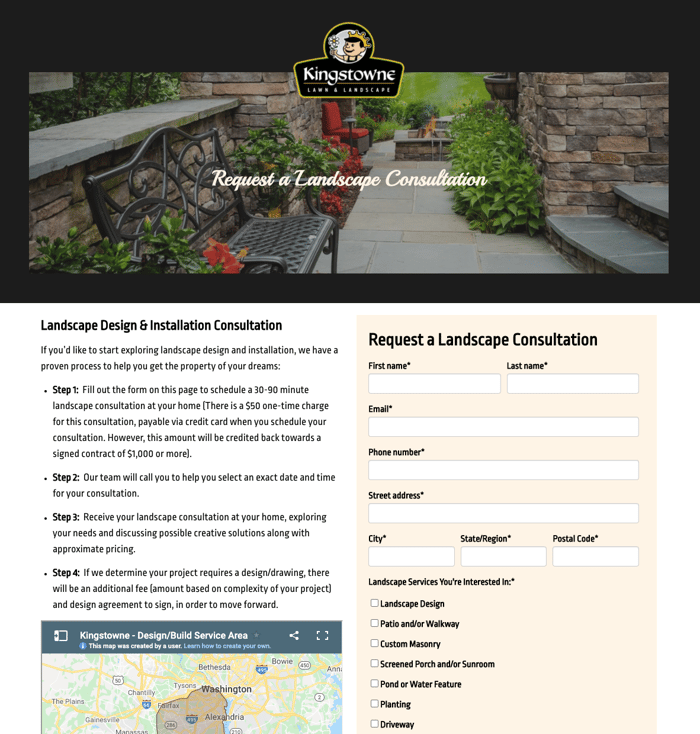 [RELATED READING: When, Why, & How to Charge a Landscape Consultation Fee]
Qualifying Based on Your Positioning
As you've read through the examples above, you'll see how addressing BANT with certain elements on your website can help prospects to understand pieces of your company's positioning.
Simply stated, positioning is:
What you do (lawn care applications)
Who you do it for (residential homeowners in San Francisco)
How you do it (process, price minimums, full programs, etc.)
[RELATED READING: The Fine Art of Positioning (or, how to Differentiate Yourself From All the Generalists in the Lawn & Landscape Industry)
Here are some additional ways to help disqualify bad-fit prospects that don't support your company's positioning.
12. Ideal Customer Content
Whether it's with the words on your website or with video, you can really dive deeper into what kind of work and what kind of people you want to work for.
Check out how Earth, Turf, & Wood communicates their unique positioning regarding landscape maintenance customers.
You could even create a prominent page about your ideal client (Who We Serve) or segments of them. Yellowstone Landscape communicates this right in their navigation and also dives into the segments deeper on subsequent website pages.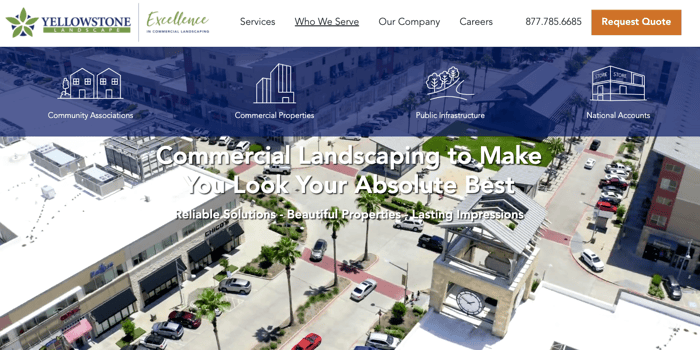 13. Service Area Pages, Maps, & Content
It's frustrating when you get a lead that's not in your service area. One way to reduce this is to use customer maps and copywriting.
Check out how Master Lawn does this on their website's homepage.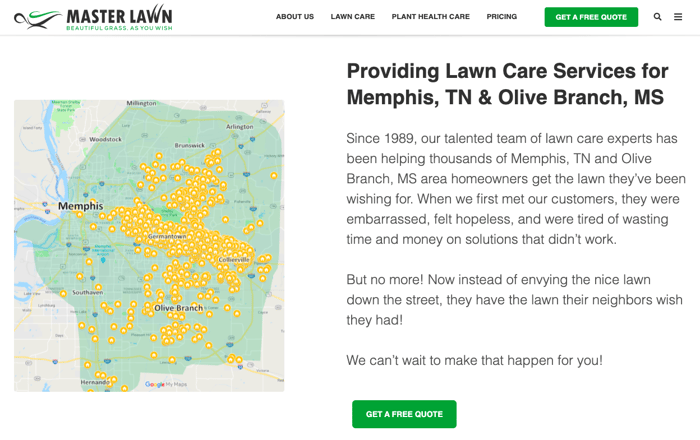 You can also create separate pages that show your service area in more detail or include zoomable Google Maps embedded on your consultation page as you see here in this example we embedded on Grassperson's quote request page.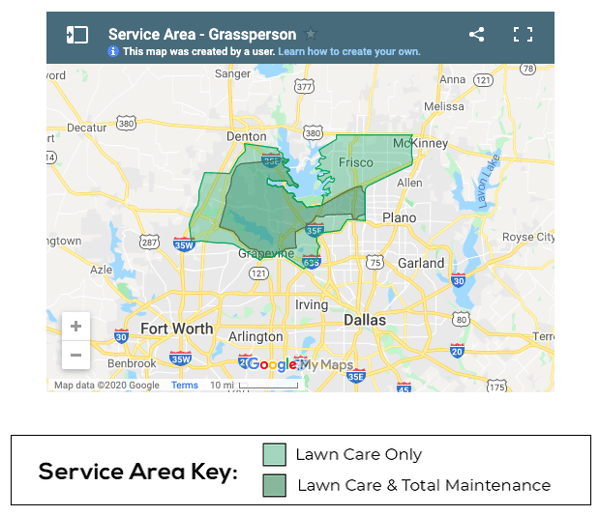 You can also write content that addresses several aspects of your company's positioning (landscape lighting for homeowners in Orlando). Check out how Ground Source does this on their blog.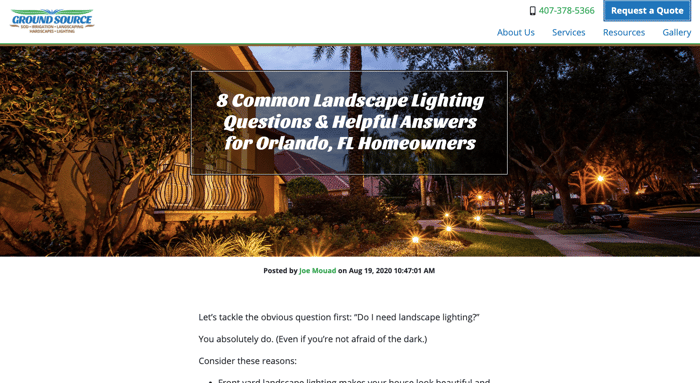 More Qualified Leads, Easier Sales, & Happier Clients
It's common to be shortsighted when it comes to your approach to lead qualification. As you can see, multiple website elements will make a quicker impact on your success.
It doesn't just mean better leads. Sales will happen more easily. Your clients will be happier when they align with your company's positioning. This all contributes to more future success for your lawn and landscape business.
In order to make this happen, it's going to require that you start answering some of the questions that determine what a "good lead" is for your company.
When you're ready to start that process and move onto creating a website and marketing strategy that supports your goals, we'd love to talk. Learn more by Scheduling a Meeting with us.
Oh, and watch the video on that page to see if you're a good fit ;)