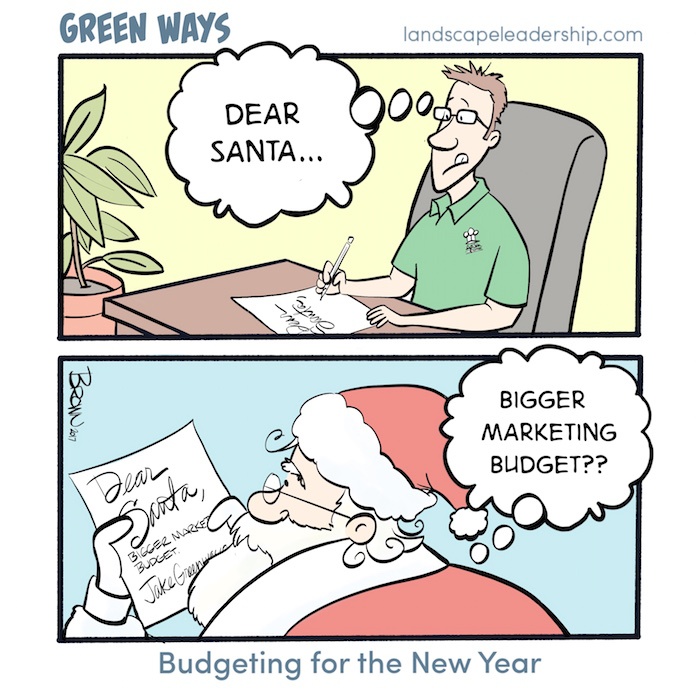 Purchase our entire collection of Green Ways comics on Amazon
'Tis the season for budgeting.
You have started... right?
Here's a question you might ponder during the budgeting process:
"Why should we spend money on marketing when we have all the work we can handle?"
This is actually a common objection raised in conversation with business owners, especially when the economy is doing well.
I'll respond to this with a few questions of my own.
"How profitable is all that work?"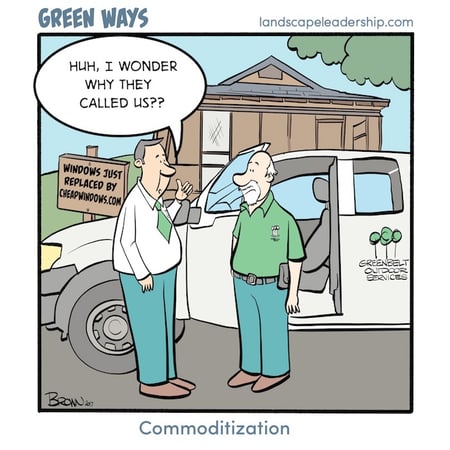 Are you being selective about who you work with, or do you feel obligated to accept every new opportunity that comes through the door like an annual Christmas gift from crazy Aunt Sally?
If you are fortunate to be at capacity then now is the time to take a purposeful approach to reevaluating your positioning.
Are you working with the right clientele? Are you offering the right mix of services?
Are you pricing these services to earn the profit you deserve?
There is typically a direct correlation between your positioning and profitability.
Don't spend money just to spend money. Spend money on marketing that will strengthen your positioning so you attract the right clientele at the right profit margin.
"How's your recruiting going?"
Lawn and landscape companies love to complain about the labor shortage, yet they don't spend adequate dollars on marketing themselves as an "employer-of-choice" in their local market.
You shouldn't be spending money on marketing and advertising solely to generate new customers.
It's equally important to consistently build your employer brand, which requires a line item in your annual budget.
"What's your churn rate?"
It amazes me how many companies don't factor in customer churn rates in their annual planning and budgeting.
You're going to lose customers. We do. It happens every year.
What is your plan to replace them?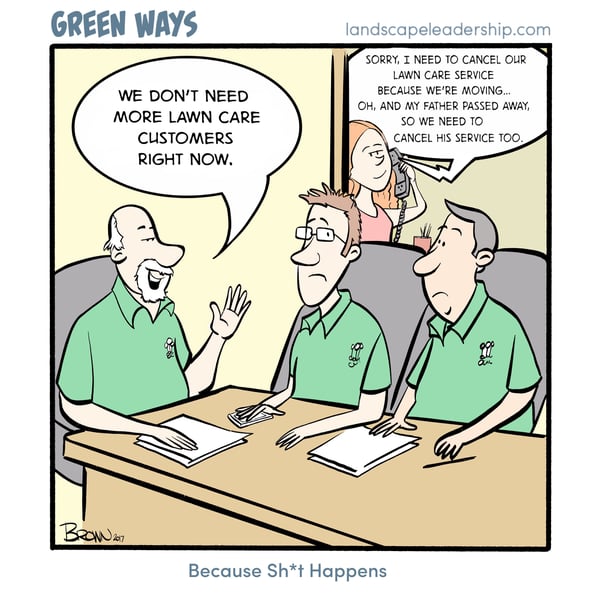 (RELATED READING: 5 Reasons Your Company ALWAYS Needs More Customers)
"What will you do when the economy tanks?"
Let's be honest, it's not that difficult to sell lawn and landscaping services in a bullish economy. Especially if you're underpricing those services to begin with (see my first point above).
The problem, of course, is that all bulls eventually turn into bears. Always. We might as well talk about it openly... because it's coming, my friends.
Consistent marketing – along with smart positioning – is a buffer against competitors and downturns in the economy.
It's all about maintaining visibility in your marketplace- in good times and bad.
(RELATED READING: My Thoughts On Why You are Viewed as a Commodity)
Let's recap
Why spend money on marketing, even when at capacity?
So you can be more selective in who you work with. And charge them more.
To build an employer-of-choice reputation, thus maintaining a full pipeline of job candidates.
To replace the customers you are going to lose.
To position yourself ahead of the coming downturn in the economy.
Too many companies in our industry use the "Stop n' Go" approach to marketing: "We're booked through fall, let's hold off on spending." Then, "Oh, shit, our spring is looking a little light."
And so on and so on.
But you're smarter than that.
Put a line item in your annual budget for marketing and stick to it (at least 5% of your projected 2018 revenue please).
That's my Christmas wish.
---
Now that you're killing it and have extra dollars budgeted for marketing, I'd like to suggest our Total Marketing Review. It's the perfect gift for yourself.
I'll personally assess everything you're doing (and not doing) related to marketing, both online and offline. From positioning and messaging to your website and SEO- I look at it all. I'll make recommendations to help prioritize how to spend your marketing dollars in 2018.
It's honest, third-party objectivity with no sugar coating (also a tax write-off). All for only $1,000.
Schedule a meeting to learn more about our Total Marketing Review and if it's a fit for you.
Want more candid insight like this? And more of our Green Ways comics? We've got more planned for 2018. Subscribe to our blog and receive new articles every Tuesday morning. Just add your email address below.
Purchase our entire collection of Green Ways comics on Amazon