Topics: Recruiting
Recruiting in the Green Industry: How to Create a Winning Employer Brand

Author: Chris Heiler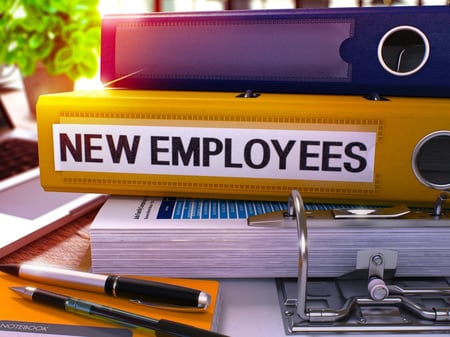 When talking to business owners in the green industry about labor, I get the sense that the overwhelming majority of the available American workforce is either too lazy to work, or on drugs. Or both.
I guess we're all in deep shit if that's the case.
But, alas, there are always two sides to every story.
I know how difficult it is to recruit good people in our industry. I'm not minimizing the difficulties we face.
I got a friend of mine a job at a garden center I was working at 20 years ago. Picking him up on the second morning I found a note on his door that read, "Don't bother waking me up."
Just recently, when visiting a client, local police officers showed up searching for a fugitive who evidently had been working for the company for just a few weeks.
I don't argue that it has become more difficult to find capable people willing to work.
What I take issue with is how companies in the green industry have adapted to this. I mean... Have they??
As it relates to recruiting and human resources, I don't see much change in 2017 compared to 1997. Except Craigslist replacing the local paper.
(ACCESS NOW: Your Guide to a Kick-Ass Commercial Landscaping Website)
Speaking of which...
We were working with a large landscaping company who desperately needed labor for their spring rush (The fact they over-sold and over-promised beyond their capacity is a separate story).
Their solution was to post a "help wanted" ad on Craigslist. After this multi-million dollar company posted an ad full of misspellings and grammatical errors, they seemed surprised by the quality of candidate their ad attracted.
Hmmm...
(RELATED READING: Inbound Recruiting in the Green Industry: 5 Recommendations)
Working for a winner
According to LinkedIn's Ultimate List of Employer Brand Statistics,
75% of job seekers consider an employer's brand before even applying for a job.
Back in 2001 when I was pursuing a full-time landscape design position, I wanted to work for the most innovative and progressive landscape design/build company I could find. I wanted to work for a winner.
This is no different today, other than the research has become much easier.
Just a few weeks ago at Landscapes 2017 in Louisville, I had a conversation with two employees of one of our clients. They had been with the company for less than two months, one an operations manager and the other an account manager.
Both volunteered the same answer when I asked how they decided on pursuing a job with their new company. I paraphrase: "I researched as many local companies online as I could. Based on their website and social media, this company was clearly the leader in the local market. It wasn't even close."
Everyone wants to work for a winner.
(RELATED READING: How to Turn Your Website Into a Recruiting Machine)
Creating an employer-of-choice reputation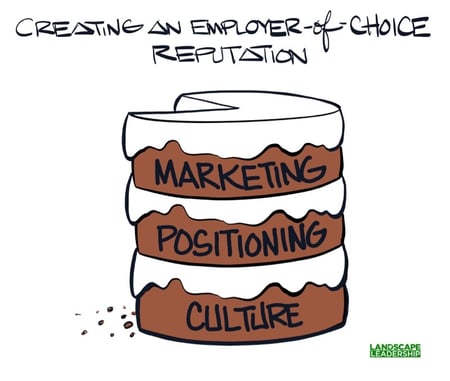 One reason green industry industry companies struggle to recruit labor is because they have a weak "employer brand" which does not distinguish themselves from other home services providers in their market.
Without this employer-of-choice reputation (i.e.- a winner), companies compete on wage alone.
A strong employer brand that will attract candidates, from field labor to management positions, is built on three pillars:
Positive company culture
Strong positioning
Effective marketing
Let's touch on each of these.
Positive company culture
I have two friends who own landscaping companies. One constantly struggles to grow in a booming market while the other amazes me by the amount of revenue he generates in a much smaller market. The first cannot find – or keep – good people, while I've never heard the other complain about labor issues.
Their company culture couldn't be more different.
There's a strong connection between your company culture and your ability to attract and retain top talent at all levels. This is especially true as it relates to general labor and skilled labor which tends to be attracted via word-of-mouth (I include Facebook as part of that).
While this may be obvious to most, I think companies in our industry need to be much more purposeful when it comes to crafting a positive culture. You cannot let it "just happen". This won't distinguish you from your competitors who are competing for the same work force.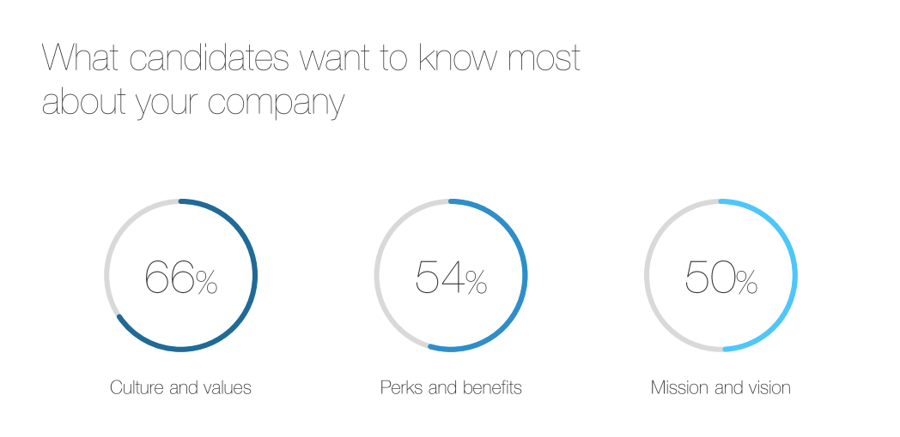 via LinkedIn's 2016 Global Talent Trends report
Strong positioning
People prefer to work for a company who has an identity and strong positioning in their market. This is no different than how consumers associate themselves with certain luxury brands.
This happens to be one of our competitive advantages at Landscape Leadership as it relates to recruiting. I couldn't be happier with the quality of individuals who show a genuine interest in joining our team. It's because of our positioning.
Weak positioning means you're undifferentiated. Recruiting and retaining talent – at any level – will be extremely difficult when you're viewed as Just Another Landscaper.
Effective marketing
As a marketing agency, it gets frustrating every time I hear a multi-million dollar company brag about how little they spend on marketing. Then, in the next breath, they complain about how difficult it is to find good people.
Hmmm...
I suppose this is why I write for a couple of hours every morning. It's my much needed therapy after many years in the lawn and landscape industry :P
When it comes to recruiting in the green industry there are three important pieces of an effective marketing strategy.
1. Your company website
According to LinkedIn's Ultimate List of Employer Brand Statistics,
The #1 obstacle candidates experience when searching for a job is not knowing what it's like to work at an organization.
Absorb that for a moment.
Companies in our industry do a very poor job educating candidates about what it is like to work for them.
A company website is the best platform for this, yet it is underutilized by the majority of green industry companies. A single paragraph on a Careers page doesn't cut it in 2017 and beyond.
Along with the above, consider this finding from LinkedIn's report:
Candidates trust the company's employees 3x more than the company to provide credible information on what it's like to work there.
Companies in the green industry do an underwhelming job leveraging their people for recruiting purposes, especially as it relates to what should be their number one recruiting tool: their websites.
Check out Level Green Landscaping's website, specifically their "Career Center", as an example of how to leverage your website as a recruiting tool, including your people.
Their "Culture Blog" tells a compelling story about what it is like for employees working at Level Green, at every level of the company. You'll notice the professional writing, video production and photography.
Level Green is serious about attracting candidates so they invest substantial marketing dollars towards that goal. They've been working with Landscape Leadership for over two years. You can read more about what we've done together here.
2. Social media
Also from the LinkedIn study:
52% of candidates first seek out 1) the company's website and 2) social media to learn more about an employer.
It shouldn't be a surprise that social media plays a huge role in building an employer brand, but again, when it comes to the green industry, companies are playing catch up.
Social media is the perfect platform for giving candidates a glimpse behind the curtain to see what it is like working for your company.
We'll go deeper into using social media for recruiting in a future article, but for now, here are the three main channels I would focus on to create an employer-of-choice reputation:
Company Facebook page- this is the best platform for showcasing your culture and people and attracting candidates at all levels.
LinkedIn company page- this is the best platform for building your thought-leadership to attract management level positions.
Instagram company account- Similar to Facebook in that you can showcase your culture and people in a visual way.
3. Public relations (PR)
PR locally and within the industry – combined with your website and social media – is still an effective way to build an employer brand and attract candidates.
Writing, speaking, being featured in industry magazines, etc, etc. is a great way to build authority and credibility. There's nothing quite like positive publicity to fuel the perception that a company is a winner.
Candidates take notice of these things.
Wrap up
It's not easy finding capable people willing to work in this industry. I get it.
That said, green industry companies can do a helluva lot more to improve their position as an employer-of-choice in their local markets.
To start:
Be more purposeful in crafting a positive company culture.
Fix your positioning so you're not viewed as Just Another Landscaper.
Invest the necessary money into marketing, most importantly into turning your website into your online recruiting hub.
These are very difficult (and potentially painful) undertakings, which is exactly what big problems require.
At Landscape Leadership, we won't help you with your culture, but we can help with your positioning strategy and, of course, the marketing you will need to build a strong employer brand. From web design and copywriting to professional video production and photography, we'll help you stand out as the clear employer-of-choice in your market.
Schedule a meeting with us to learn how we can help your unique situation.
Want more insight like this? Join over 3,000 other green industry professionals by subscribing to our blog. You'll receive a new article every Tuesday morning. Subscribe here or just add your email below.