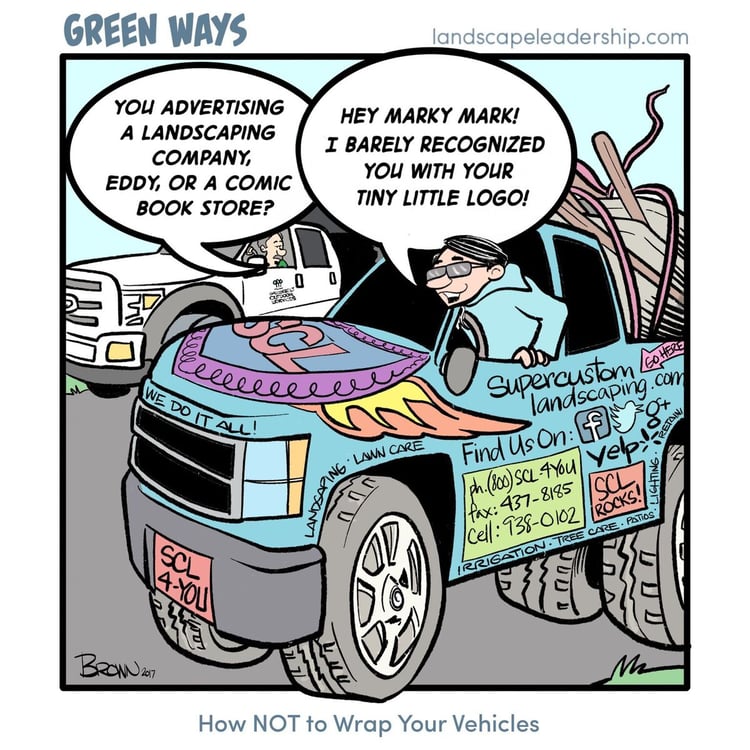 Purchase our entire collection of Green Ways comics on Amazon
Good ole' Eddy...always busting one of Greenbelt's guys' chops every time he gets the chance. But who is the real punchline of this joke? Is it the ultra-minimalist whom people scarcely notice or is it the landscaping company that is impossible to miss?
Think about it. You've seen your competitor's trucks. Some fill you with envy and others leave you shaking your head and snickering. You may not be able to put your finger on it, but you know when to smile and when to cringe. But is it just a matter of preference when it comes to wrapping landscaping trucks, trailers or equipment? Or is there some degree of too much or too little to include?
Some time ago, I wrote an article about wrapping landscaping and lawn care vehicles and included some ideas, examples and cost considerations. We highlighted some practical design tips that related to logos, essential elements, placement, color and branding.
For this article, I posed three questions to three of our clients who have been running diverse landscaping businesses in different areas of the country.
Here were the questions I asked them about wrapping vehicles for landscaping companies:
What do you think is too much and too little vehicle lettering or graphics, and do you have any examples of what drives you nuts?

How have your fleet graphics changed over the years?

What advice would you have for someone who was doing this for the first time?
Landscaping Industry Experts
Before we dive into the answers about vehicle wrap designs and branding, let's learn a little more about these landscape industry experts.
Ben Collinsworth: CEO of Native Land Design

When it comes to making decisions about creating new positions at Native Land Design, expanding into new markets or even wrapping landscaping trucks, Ben and his team give matters a lot of careful consideration.
It's no surprise this is what makes NLD one of the leaders taking over Austin and Houston, Texas. And you don't have to be driving very far in their parts of Texas to spot one of their beautifully-branded vehicles.
Jarod Hynson: President of Earth, Turf, & Wood

Nationally recognized in several leading publications and hardscape products catalogs, this small town landscape firm in Denver, PA is anything but small-time.
Specializing in elaborate backyard resorts reflecting their gifted design skills, Earth, Turf, & Wood brings the same level of creativity in all they do, including how they brand their image on their vehicles, equipment and trailers.
Chase Coates: President of Outback Landscape

This Inc. 5000 company was incorporated when Chase Coates was only 16 years old. Since then, they have experienced rapid growth in Idaho Falls, expanding into the Rexburg and Pocatello markets.
When it comes to attention to the smallest of details, the thoughtfulness of Outback Landscape can be easily recognized whether on the gorgeous properties they service, to the way they brand their trucks, trailers and equipment.
What do you think is too much and too little vehicle lettering or graphics? Any examples of what drives you nuts?
Ben: I don't think that you need to make your graphics too busy. I still see people putting every service line, with tons of pictures and graphics. It seems too busy to me. I think it is more important to push the name and the brand instead of all the different services offered. People tend to go to your website or digital presence once they learn about you. You don't have to put your entire website on your vehicles. I would stick with name and method of contact, nothing else.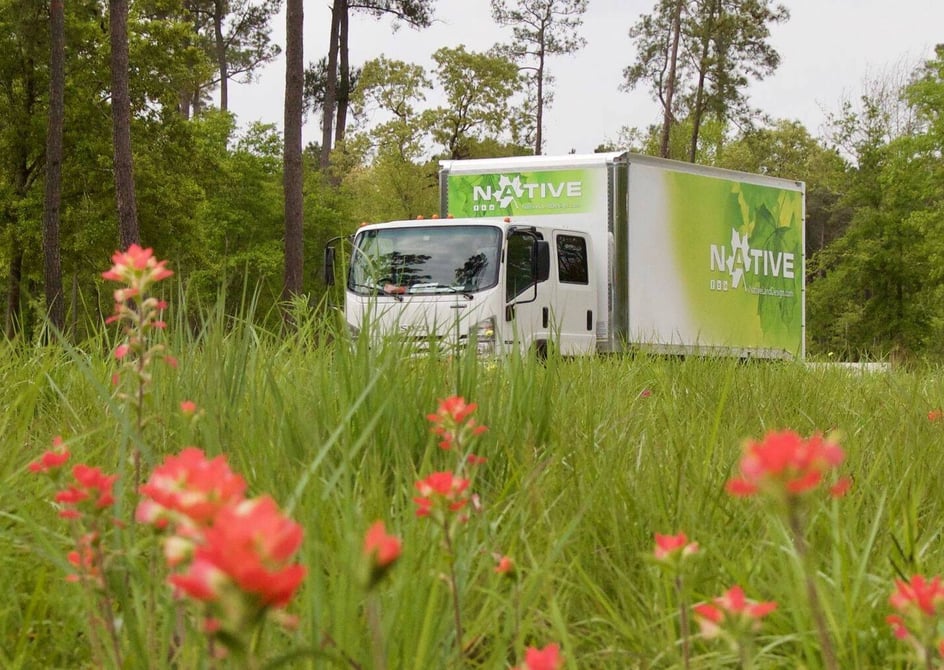 Image courtesty of Native Land Design
Jarod: Many full vehicle wraps are so busy that you can't even tell what the company does. All of those elements become too much of a distraction. A great design has to be a good combination of graphics, pictures and words but you have to be careful not to overdo it or it becomes ridiculous.
Chase: My thought has always been if you're going to do something like a trailer wrap, make it large enough people can easily see it. I see guys all the time decide to put a logo on their trailer and they put a 6" tall font on the side of a 24' trailer. It has no impact and it just doesn't work. Another one is when guys try to put a photo of every job they've ever done all over the wrap. I don't think it matters much. If someone needs a landscaper and they see your trailer that says ABC Landscape Co., chances are they know you're a landscaper. I wanted ours to be big and bold but clean. I wanted them to know it was us based on our logo also. If people see the "O" with the leaf in it they know it's us even without the text next to it.
How have your fleet's graphics changed over the years?
Ben: Certainly, the older we get the more simplistic and shorter the message. I want to create a brand that someone can see and recognize easily from a walking speed to 80 MPH and can transfer easily from business cards to billboards to vans, trucks and trailers. Think Coke, Apple, Amazon, Nike and other huge brands that spend many millions of dollars getting their messaging right. Utilize their lessons for your business.
Jarod: I can think back to what our vehicles looked like 15 years ago, and it was horrendous. The difference now? We use very high quality professional photography on our trucks now. It makes a huge difference.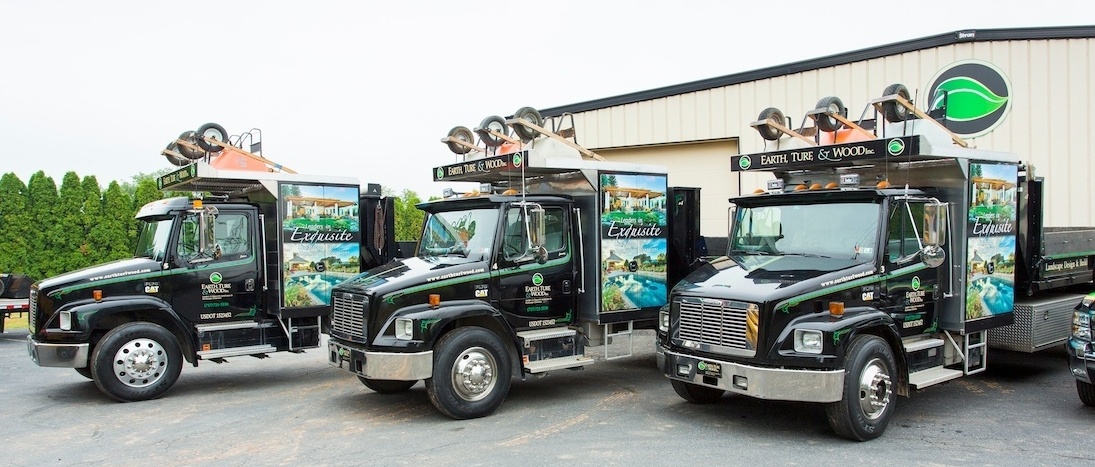 Image courtesy of Earth, Turf, & Wood
Chase: My original logo looked terrible - it looked like I built steel buildings. No one remembered it, and it looked terrible screen printed or embroidered. I'd say what we have done now is much more of a brand feel.
What advice would you give a landscaping company who is doing this for the first time?
Ben: Start with something simplistic. The graphic doesn't need to be over-thought and portray everything about you. Make sure to use a good marketing person who has a portfolio of design that appeals to you and trust them to help you make the decision on what to use. Make sure you create something that can go between all methods of communication. That will typically force you to keep it simple. Simplicity and cleanliness is the key to recognition.
Jarod: Stay simple. You have 2-3 seconds for someone to know who you are and what you do. Use the same graphic designer for all of your marketing to maintain a consistent image from trucks, to magazines to brochures. Spend more than you think you should. Seriously, you get what you pay for. Run the idea past several people, like industry peers, clients, and business owners you respect outside of your industry. And get your people very familiar with what a bucket of soapy water and a garden hose is! What good is a vehicle wrap if it's filthy all the time?!
Chase: Hire someone to design your logo and develop a brand. Don't over think it and make it overly complex. Simple and impactful is better in my opinion. It makes more of a statement. Also don't be afraid to take it up a notch. There are guys who only wrap their truck cabs green and leave the box just the plain black or white. Consider wrapping it all.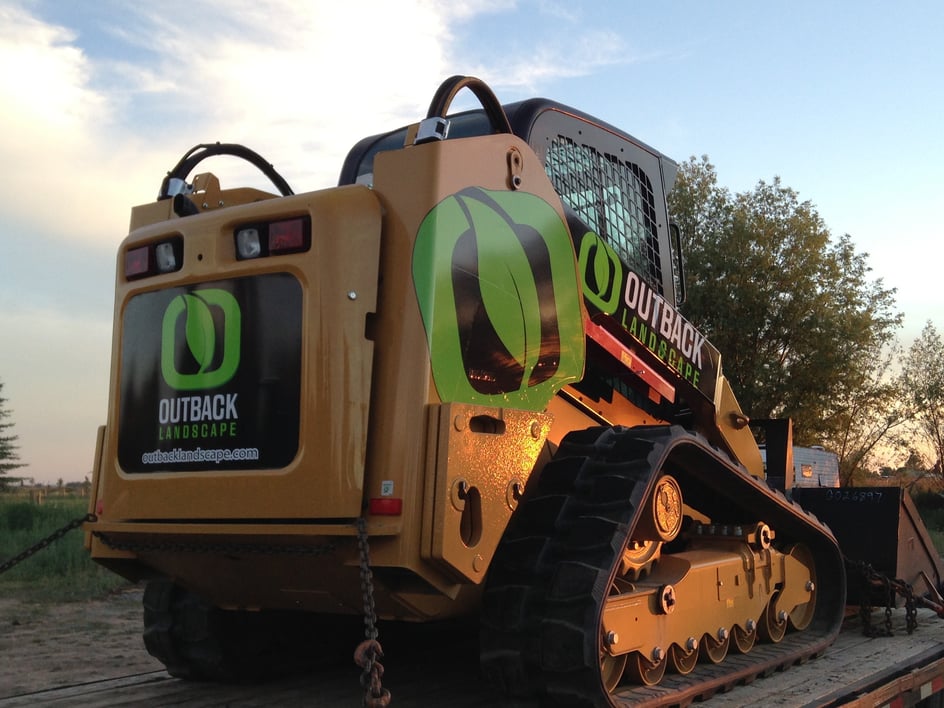 Image courtesty of Outback Landscape
That's a Wrap!
There you have it, expert advice from Texas, to Pennsylvania to Idaho. The perfect recipe is anything but comical. It's neither Eddy's flamboyant style nor Greenbelt's miniscule branding.
Remember these expert tips:
Keep it simple

Clearly and quickly communicate what you do

Hire a professional designer

Get feedback from others

Wash your trucks

Go big when it makes sense
Again, a big thanks to Ben Collinsworth from Native Land Design, Jarod Hynson from Earth, Turf, & Wood and Chase Coates from Outback Landscape!
For more practical tips for marketing for landscaping companies and expert insights, be sure to subscribe to our blog. This will deliver helpful articles to your inbox as well as our new installments of the Green Ways comic.
Purchase our entire collection of Green Ways comics on Amazon