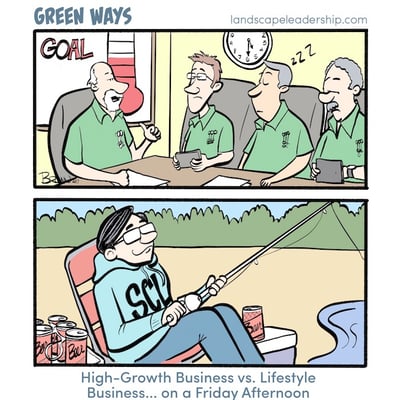 In this article I want to speak directly to you owners of high-growth companies (read more about the difference between high-growth companies and lifestyle businesses here).
By "high-growth" I'm referring to companies who want to aggressively grow their top line revenue and scale from $1million to $2million to $5million to $15million and so on. Being acquired may be the ultimate goal.
I think this article will apply to young companies – even startups – who have the high-growth mentality, as well as mature companies who may have hit a wall as far as growth is concerned.
One roadblock to aggressive growth is... yourself. I have the same issue in my company.
As your company grows, more and more inefficiencies creep into your sales organization that threaten future growth. As the owner, it will become more and more difficult to manage this yourself. The longer you do so, the more you gunk up the gears of your sales machine.
At some point you will need to hire a sales manager or VP of sales to oversee your sales team.
I know it's not an easy decision to add more payroll to your overhead or to give up control. But, the high-growth approach requires it. And, probably sooner than you would like.
An underperforming sales organization
Personally, I'm exposed to both sides of this in the lawn and landscape companies we work with: Some have successfully made this hire while many have not (yet).
With this unique perspective, I've picked up on a handful of inefficiencies plaguing your sales efforts.
If you recognize many of these in your company then it is time to hand over sales oversight to someone else.
Lack of processes and systems
You may have individual high performers, but are they performing at the highest level together as a team?
Let's use a football analogy. A team may have five talented, experienced offensive lineman, but without a proven, capable offensive line coach leading them, they will not perform at the highest level as a group. The same is true for your sales team.
Processes and systems provide guidelines and standards that hold teams accountable.
Here are some of the inefficiencies we see related to lack of process:
Sales reps do things differently
CRM software is not used company-wide. Information is scattered across disconnected software and devices.
A common sales language hasn't been adopted in the company (What is a "lead"? What is a "sales qualified lead"? What is an "opportunity"?)
Lack of urgency
Without proper oversight and accountability, a lack of urgency can set in on your sales team.
Sales organizations use a fancy term, "pipeline velocity", which refers to how fast opportunities move through your sales pipeline. Your high growth – and velocity – can stall when:
New leads aren't followed up with on a timely basis
Proposals aren't delivered on a timely basis
Proposal follow-up is inadequate
Leads and opportunities are given up on too early
Standards related to the points above should be created for your sales team and they should be held accountable to them.
As the owner or CEO of the business – and being pulled in many different directions – it will be extremely difficult to uphold these standards.
Lack of sales training
New employee training, along with on-going sales training, will be extremely difficult if it is on your shoulders as the owner of the company.
Poor hiring decisions
You know who makes the worst hires? Owners. Yeah, me included.
We don't do our due diligence and end up hiring too quickly (after we've waited too long).
Insufficient reporting
I don't know many business owners who enjoy looking at reports. Because of this, key sales-related performance metrics get ignored, leading to bad decision making.
(RELATED READING: When to Hire a Landscape Salesperson: 5 Steps From 3 Experts)
A prescription for stagnant growth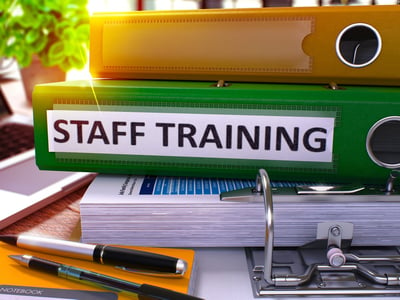 For you high-growth businesses, my recommendation is to stop thinking like a landscaper and think more like a professional sales organization.
That means hiring a VP of sales (or similar) to oversee your sales organization so you can get out of the way.
Here are some suggested responsibilities for this key role:
Implementing sales processes, systems, and technology. Then holding teams accountable.
Creating standards for sales activity (ex.- phone calls, meetings, etc.) and follow-up. Then holding teams accountable.
Conducting or facilitating sales training
Recruiting and hiring for sales-related roles
Sales-related reporting
What you don't want is someone who is also...
Responsible for managing their own book of business
Spending time creating proposals and bids
Responsible for new business development
My point: You don't want a "doer" stuck in the weeds chasing new business. You want a leader to oversee your sales team (and hold them accountable as they chase after the new business).
---
Our sales enablement program addresses many of these inefficiencies, from sales process design and CRM implementation to speeding up your pipeline velocity. If you have aggressive growth goals schedule a meeting with us to learn how we can help you reach them.
Want more insight like this? Subscribe and receive new articles every Tuesday morning. Just add your email address below.