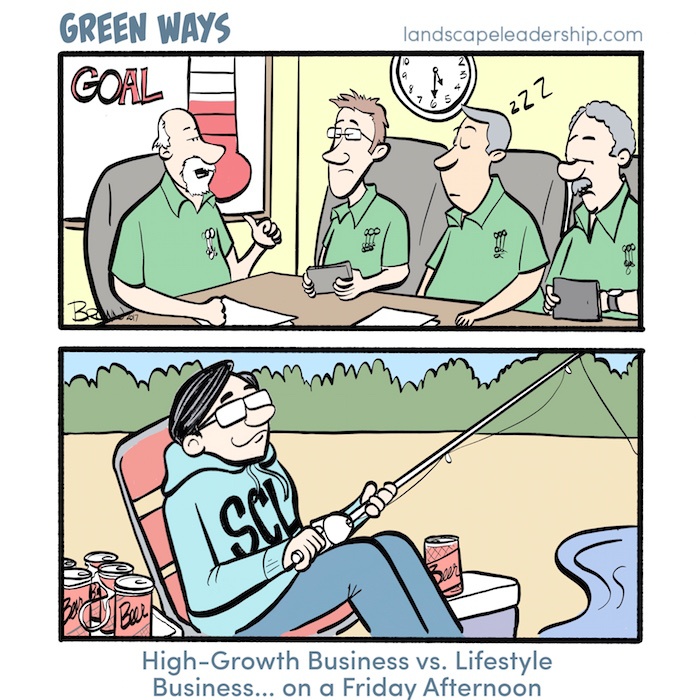 Purchase our entire collection of Green Ways comics on Amazon
I have a question I'd like you to ponder:
Why have you assumed the risk of owning and operating a business?
This is exactly what you've done, most likely with the understanding that the majority of businesses fail (and fail fast).
What's your goal? Why not toil away for someone else, like so many others do?
I appreciate and respect your courage, which is why I've asked this question.
How do you think our friends, Archie (Greenbelt Outdoor Services) and Eddy (Super Custom Landscaping), in this week's comic would answer our question?
A fork in the road
I was first introduced to the distinction between a high-growth business and a lifestyle business a couple of years ago by management consultant, Karl Sakas. It was one of those rare aha! moments that I've always treasured.
Hearing Karl position these two very different approaches against each other provided more clarity and self-validation into my own thoughts on what it means to be a business owner.
You see, there is no one-size-fits-all, right or wrong way to operate your business. Every entrepreneur is in the game for their own unique reason or purpose. What's yours?
Here's how Sakas summarizes the two approaches:
High-growth business
You'll structure your business around maximizing company valuation, while often letting quality of life (e.g., vacations and time with your family) slide. Your goal is to sell the company. The business is typically built around offering highly-scalable products and/or services.
Lifestyle business
Your goal is to earn enough money to enjoy a comfortable lifestyle. You'll structure your business around maximizing quality of life, while letting profit maximization slide a little.
(Read Karl's article on this topic here)
What is most important is that you understand what type of business and career you're creating for yourself.
In our comic, Eddy obviously appreciates the freedom he's created for himself as a business owner. Archie and the Greenbelt team are content putting in more hours to reach their goals.
Get comfortable with your own approach and you'll find that planning and decision making becomes much easier. As Sakas says, "The happiest owners I know make business choices that match their natural preference on the 'lifestyle vs. high-growth' continuum."
Where are you on this continuum? Give it some thought this week.
—
Are you concerned your business isn't affording you the lifestyle you want? If so, let's talk about how Landscape Leadership can help you transform your business, just as we've done for many others in the lawn and landscape industry. Start here.