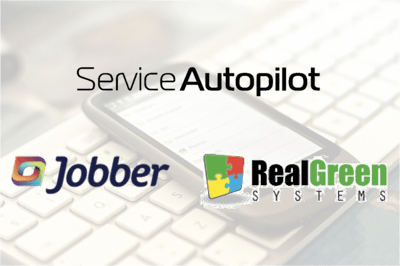 Most lawn care professionals get into the industry because they're passionate about the work and helping customers.
But often, you aren't as excited — or comfortable — with the business aspect of it.
"You have to be able to track production, revenue received for accounting, the ability to send statements to customers that owe money, have efficient routing in the jobs that are to be done on specific days and finally the ability to forecast the revenue your business will generate for the year for budgeting purposes," explains Brian Leto, IT manager at Green Lawn Fertilizing.
That can be a lot to wrap your head around no matter your lawn care company's size. So what should you do?
Lawn care business and scheduling software can help you manage and grow the different aspects of your business, while eliminating some of the guesswork.
To help you find the right software for you, we've talked with industry pros to see what they had to say about three of the more popular lawn care business software solutions: Jobber, Service Autopilot and Real Green Systems.
Jobber

The newest of the three, Jobber offers a range of online and mobile features to help your team and customers, including:
ePayments: Email invoices to customers with a link for them to pay online.
Scheduling: Create a job, choose the client and assign it to your team.
Team Assignments: Schedule, assign tasks and notify your team.
CRM: Set automatic client email reminders, import existing client lists and store client history.
GPS Tracking: When your team clocks in, edits a job or creates an invoice, their exact GPS location is tracked.
Kirk Brown, Kirk's Lawn Care, started using Jobber three years ago. With a tech-savvy business model, Brown says the software has played a large role in the company's success.
"Our cash flow has greatly improved with more than 90 percent of our customers taking advantage of the ePayments feature," Brown says. "With it being mobile-friendly, I can look up and record payments on the spot at job sites, as well as create and email invoices."
When deciding which lawn care scheduling software to go with, Brown says he was drawn to Jobber because of the online billing, price and customer support.
"Jobber has made billing painlessly easy with the email invoicing and integration with various third parties like PayPal and Stripe," he says. "The process of creating quotes, jobs and invoices is very easy and quick — greatly reducing the time it takes to do scheduling and billing."
Jobber can also send out automated emails to alert customers about appointments. That eliminates the need for you to remember and send messages reminding clients.
The software starts with two login users (admins), unlimited employees, website integration, client reminders, expense tracking and route optimization. There are also several add-ons you can get for an additional monthly charge:
Chemical Tracking, $3: Track pesticide and chemical treatments.
ePayments, $5: Collect credit card and debit payments from your customers.
Time Tracking, $5: Manage employee timers and time sheets.
Additional Login User, $9: Users can access your account with their own email and password.
Xero Sync, $9: Synchronize your clients, invoices and line items with Xero accounting software.
GPS Tracking, $9: Track where and when actions were performed in the field.
QuickBooks Sync, $9: Synchronize your clients, invoices and line items with QuickBooks Desktop and QuickBooks Online.
Jobber recently integrated with Square, a payment solution for small businesses. Now, Jobber users can connect their accounts with Square, helping them collect customer payments while in the field and online.
Base Price: $39/month; 30-day free trial
Main Advantage: Automated customer alert emails and recurring invoices
Service Autopilot

With a package specifically designed for lawn care professionals, Service Autopilot offers a variety of management tools:
Billing: There's an automated billing and online payment option.
Tickets: You'll receive instant status updates from employees and appointment reminders.
Job Costing: Plan and analyze which clients and employees earn the most.
Scheduling: Optimize your routes and manage schedules from the cloud.
Mobile App: Access your client and lead information while on the go.
Employee Tracking: Locate and communicate with your team.
Integrated Websites: Capture online requests, and receive alerts when you receive messages.
One of the most-used features is routing, the company says. This function will take the maintenance schedule on Tuesday, for example, and map out which order the crew should visit each to be the most efficient.
Andy Batcheller, Handy Andy Outdoors, used other software before switching to Service Autopilot three years ago. He says the company took their old data and integrated it with the new software. Service Autopilot's how-to videos and education materials were also helpful when making the change, he says.
"I've tried other lawn care software, and it does way more than most for a fraction of the cost. They've been very forward on development," Batcheller says. "This is by far the most advanced mobile-friendly application available on the market today. I have looked at almost everything out there."
The company says the Startup version is ideal for companies with 50 to 100 residential accounts. To benefit from the CRM functions, you'll need to upgrade to the Pro account, their most popular option.
With Pro, you'll have all of the Startup benefits plus custom training sessions, time tracking/card, to dos, sales and marketing, email tracking, job costing, asset tracking, mobile GPS tracking and more.
You can also add other features by paying these extra costs each month:
Invoice Service: $0.99/each
Extra Mobile Users: $15/user
Customer Portal: $19.97
QuickBooks Full Two-Way Sync: $25
Extra Office Users: $25/user
Batcheller's crew leaders use the mobile aspect of the software for routing and completing jobs in the field. They can also clock in and send invoices. Currently, they use it for both maintenance and design/build clients and mostly do residential work.
Base Price: Startup: $47/month; Pro: $79.99/month
Main Advantage: Route scheduling; syncs well with QuickBooks
Real Green Systems

With a variety of educational webinars and resources, Real Green Systems has software geared toward business operations, fleets, people management, lawn care and pest control.
Leto, who manages the software at Green Lawn Fertilizing, says it's integrated into almost every aspect of the business. They chose Real Green's Service Assistant because of its usefulness with lawn care and pest services.
"It's incredible in managing the data for your active, canceled and prospective customers," Leto says. "This makes it easy to market to your current customers, as well as potential customers."
There are four package options — Starter, Business, Corporate and Enterprise — that determine what features are included.
Service Assistant (All): Manages marketing outreach, monitor initial calls, check the status of invoices, receivables and more
Routing Assistant (All): Plans and optimizes routes
Measurement Assistant (All but Starter): Creates estimates, provides high-resolution aerial photography
Mobile Live (All but Starter): Tracks vehicles and field technicians
Customer Assistant Website (Corporate and Enterprise): Allows customers to pay online, request services and ask questions
Automated Marketing Assistant (Corporate and Enterprise): Offers an automated email, letter generation and mailing program
Referral Assistant (Enterprise): Gives customers a way to refer you to their friends
Statement Processing (Enterprise): Sends automatic statements
Benefits for Leto include scheduling, marketing (such as tracking prospect data, automated follow-ups and email marketing), accounting and routing. One of his favorite features is Mobile Live, which allows him to track the exact location of vehicles and field technicians.
"For pest services, Mobile Live allows full remote access in the field for the technician and also the outside sales team to perform their work, log what they've performed, enter estimates that syncs up immediately into the account and, most importantly, the Call Log feature," Leto says. "I like to think of the Call Log feature as a built-in email within Service Assistant."
When they log information about an account, it goes into the Call Log, which is supported by Mobile Live.
Base Price: $125/month; $995 implementation and training fee
Main Advantage: Mobile tracking services
(RELATED READING: Getting Started With CRM Software For Your Landscaping or Lawn Care Company)
When should you buy lawn care business and scheduling software?
No matter their software preferences, all of the pros say you should begin using lawn care business and scheduling software from Day 1.
"If you start a business with the idea of growing, the software is going to streamline your process," Batcheller says. "If you start with the right tools, it's much easier."
Having the right software can take a lot of the pressure off you, giving you time to focus on other important — and enjoyable — aspects of the business.
Want more insight like this? Enter your email below to receive new articles instantly (about one per week). And be sure to check out our new podcast, Smarketing Talk, which features candid discussions related to the marketing and sales issues green industry companies face everyday.
Image credits: cell phone on keyboard