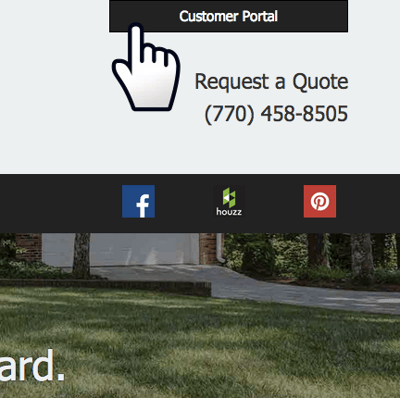 Imagine having an employee who took client questions, payments and service requests 24/7. You'd be at the top of your game when it came to customer service – and probably bankrupt from paying all of the overtime hours.
What if I told you this mystical employee exists and they are a lot more affordable than you may think?
OK, maybe it isn't actually an employee, but a customer web portal can do all of that and be a vital part of your business.
What Is A Customer Portal?
A customer portal is a link you can add to your website that directs clients to their account information.
When clients click the link, they are taken to a site where they can log into their accounts and view past invoices, pay their bills, ask questions or request services.
The portal is offered as an add-on feature with many landscape business software packages, so you'll need to pick one of those first. The software company hosts and sets up the customer account for you.
How To Add A Portal To Your Website
After you install the business software, it's pretty simple to add a customer portal, says Chase Coates, owner of Outback Landscape.
The software company will give you code to embed on your site that will create the button. You can choose where you want the button to show up on your site and what it says.
Coates's portal is on the bottom right of his homepage (in the footer), and it reads "Pay My Bill."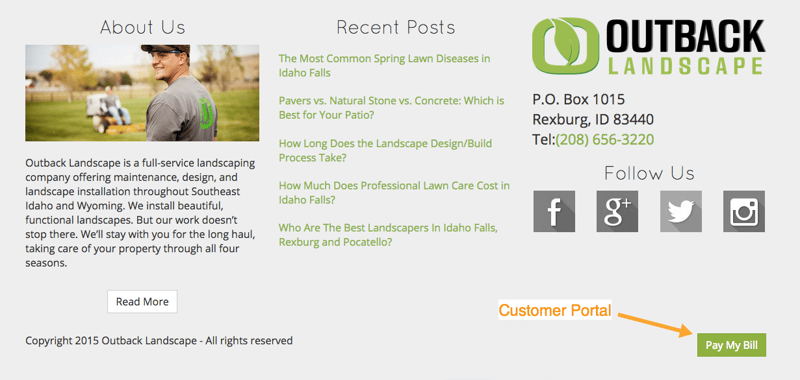 Andy Batcheller, owner of Handy Andy Outdoors, also has a portal and placed his on the top right of his page. The button reads "Customer Portal."
You can also include a link to the portal in your email signature and marketing materials.
The client portal can be personalized and branded to your company. When adding one, owners will be taken through the setup steps and asked questions like the company name, phone number and for an image of their logo, which will be added to the page. The software company uses that info and image to finish the site. They manage the page and its compliance.
"We don't store credit card numbers on our side at all," Coates says. "We can only see the last few numbers, so we are PCI compliant. The nice part of this is that we aren't liable for anything."
When everything is set up, you can use an available template to email clients about the portal. It will email them automatically generated user names and passwords, which can be changed by them later.
How Portals Help You
The portal is a two-way communication tool that provides several benefits to your business.
It reduces the amount of time staff spends on the phone answering questions or taking payments.
Providing convenience and information are critical to good customer service.
It helps with payment time.
"The biggest factor is that it's really going to speed up cash flow for a company," says Chris Sims, sales and marketing manager, Service Autopilot.
Adding a customer portal to your website adds convenience for your customers and saves you time
And the auto-pay function aids in that. "Instead of waiting 30 to 90 days for a payment, we're trying to get as many clients on auto pay and streamline our accounts receivable process," Coates says.
The portal also helps eliminate guesswork on your end. You won't have to wonder if clients received their invoice, which crew was on the site or if the service was done. You can simply check the records on your dashboard.
Benefits For Your Customers
In a technology-driven society, customer portals give clients what they want, how they want it.
"Your customers now expect the ability and convenience to pay online, request services and generally communicate with service providers online," says Joe McPhail, vice president of operations, Real Green Systems.
And this trend shows no signs of slowing down. "Hardly anyone uses checks anymore, so why are we still making that one of our only forms of payment?" Coates asks.
In addition to being accessed online, the portals also provide a variety of other features for clients:
Payments are secure.
They can ask questions and request services at their convenience.
Customers can access their service information and pay bills 24/7.
"They might not think of things until late at night, and it's easy for them to just request it from their screens," Coates says. It's also a convenient option for clients who don't like to call.
Your landscaping and lawn care customers expect the convenience to pay online. Here's how to set it up
Coates has his customer portal set up so that employees receive messages for their accounts. For example, he can set it up so that all of Mrs. Smith's requests go to the employee managing her property.
The customer portal syncs throughout the day, giving you and clients a real-time look at their accounts.
"Embrace that technology because it's the future," Sims says. "Going forward, the entire industry is going to run everything off of their mobile phones."
Who Should Use Customer Portals?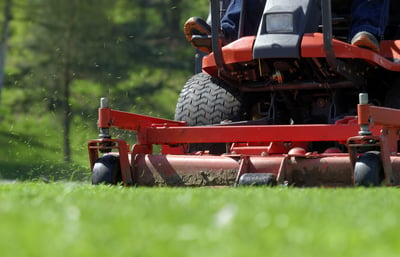 One of the main deciding points is whether or not you offer credit cards as a payment option. For those who accept credit cards, customer portals can streamline the process and limit liability.
Customer portals are also especially useful for landscapers who offer residential maintenance services, Coates says.
"I didn't think a lot of clients would use it at first," Coates explains. "But a lot of customers like it and put their cards on file."
Surprisingly, residential clients aren't the only ones using customer portals.
"Commercial accounts have really liked it because their accounting department can just log in and see everything without having to call us," Coates says. "They can print their own invoices and know exactly what their balance is."
Incorporating design/build payments into the portal has been a bit slower, although both Outback Landscaping and Handy Andy Outdoors offer it for their customers.
"With design/build, I think the short project window along with being on site makes one-on-one communication easier and more valuable," McPhail says.
Customer Portal Cost Rundown
Since customer portals come as add-ons with landscape business software, you'll want to figure out which overall program fits your needs best. To give you an idea of what the portal feature costs, here's a range.
Service Autopilot's customer portal is $19.97 a month, and you can add additional users for $15 a month.
For Real Green Systems' users, the customer assistant website is $80 a month. If you have more than 1,000 active customers, it's an additional $20 a month.
Take The Next Step For Your Business
Adding a customer portal will make it easier for clients to pay, request services or ask questions, all allowing your business to run more smoothly.
Being able to speed up cash flow is huge. Plus, you'll be able to look back through invoices and records if you ever have questions.
If you already have business software for your landscaping or lawn care business, adding a customer portal is a logical next step. And if you don't, it's probably time you look at what's available to see if it would benefit your company.
If you found this article to be helpful, be sure to subscribe below for updates. We focus on marketing and sales topics for green industry companies. We want to help you sell more and communicate better with your unique prospects and customers. Just add your email address below.