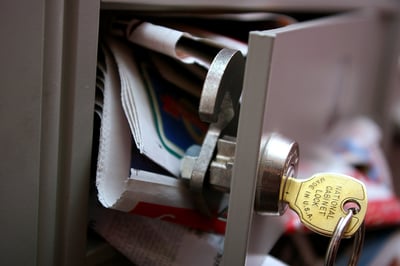 Whoa, hold it right there. Take your finger off the "send" button and read this post first, because we're gonna set the record straight when it comes to email marketing and how to use it to reach your customers.
First, as a sign of togetherness in this important fight against crappy emails, let's agree that: 1) We will never use the words "email blast" again and, 2) Promise each other that we will never send another email that we would not want to receive ourselves. "The Golden Rule of Email" we'll call it.
Shake?
When done right, email can be one of your company's most effective marketing and communication channels, directly contributing to your bottom line. Here's why:
You can't get much more direct than email. If your message lands in your customer's inbox a decision needs to be made: read it or delete it. You can't reach your audience on social media as directly as this.
Direct mail is, well, direct, but much more expensive (though prettier, if you care about that kind of thing). Email is pretty darn inexpensive.
Timing is an important factor in any marketing campaign. Email gives you the ultimate in flexibility when it comes to timing your message.
So there's a lot to like about email marketing. Which is probably why green industry companies have been abusing their contact's inboxes for so many years.
Email can be one of your company's most effective marketing channels, directly contributing to your bottom line
Who is email marketing best for?
I think email should play an important role in every company's marketing strategy. Whether you're a B2B or B2C company email is an important way to reach your prospects and customers.
So what can you do?
My advice is more of a what-not-to-do: Get rid of those generic, spammy e-newsletters that no one wants to receive. You should aim to be much more intentional and purposeful with your email campaigns.
The fewer actions you try to elicit from your contact list the higher your response or conversion rate will be.
Get rid of those spammy e-newsletters that no one wants. Be more purposeful with your email marketing
Take for instance a garden center. Instead of sending a monthly e-newsletter to every contact you've collected over the past 10 years, how about sending a weekly email to your past customers promoting a special offer only for them? It's more targeted, more frequent, more purposeful and will no doubt add more to your bottom line in actual sales.
If you're a landscaper or lawn care operator, think "cross-selling". Your current customers are an untapped gold mine of revenue if you can stay in front of them promoting your seasonal services. Using email to promote annual add-on services like lawn aeration and holiday decorating to your current clients should be an integral part of your annual marketing strategy.
Think beyond selling and educate your customers. If you're a landscape contractor, why not put together an automated sequence of emails (we call this lead nurturing or an "auto-responder") educating your new clients on the construction process. Call it "What to Expect". It could be a simple series of emails detailing the various things your customer can expect after signing a contract and taking them through the construction process. Don't you think your customers would love this?
How about setting up an auto-responder series for your landscaping or lawn care customers who just had their project completed? This can be an effective way to ask for reviews in an automated way.
Again, be purposeful.
Two types of email marketing
Most landscaping and lawn care companies are familiar with the broadcast email – or the name that drives me crazy – "email blast" (it sounds so spammy). This is when you manually send a single email to a list of your contacts. A monthly e-newsletter is a classic example.
But there is another form of email marketing that folks in our industry don't utilize nearly enough. This is typically called "lead nurturing" or "auto-responders". These are an automated series of pre-written emails that are delivered over a specified period of time.
As an example, when someone visits our website and fills out a web form in order to download an offer (like an ebook), they are automatically added to a "lead nurturing" campaign that consists of a series of seven short email tips sent automatically over the span of seven weeks. This is an excellent way to keep new contacts engaged and coming back to our website for more information.
This type of email "drip" marketing campaign can be created with any basic email marketing software like Constant Contact or Mailchimp. At Landscape Leadership – and for our clients – we use HubSpot.
Email marketing best practices for landscapers and lawn care operators
Here we go ladies and gents, the nitty gritty of email marketing for landscapers and lawn care operators. Let's dive into some best practices.
1. Use email marketing software
Folks, let's be real, email marketing software is not expensive. And it is not difficult to learn how to use. If you are sending broadcast emails to your contacts using your personal email (you know, bcc'ing 500 people from Outlook) we can no longer be friends :-)
Seriously. C'mon.
Here's why you want to use email marketing software:
It's a helluva lot easier to manage your contacts, even segmenting them into lists by customers, prospects, vendors, etc.
Your emails will be mobile-friendly.
You will have higher deliverability rates, meaning more of your emails will actually get through to the recipient.
You can measure your campaigns – open rates, click through rate, unsubscribe rate, etc. All very important stuff.
Contacts can easily unsubscribe from your list (this is a good thing!).
No excuses. Get yourself some software. Read on for some email marketing software reviews.
2. Allow your subscribers to easily opt-out
Please, for the love of God, do not require your subscribers (I use that term loosely) to send you an email in order to unsubscribe. You've seen the "If you want to unsubscribe, just reply to this email with 'unsubscribe' in the subject line" crap before.
The last thing I want to do is send an email to someone (especially someone I may know personally) saying, "Hey bud, do you think you could unsubscribe me from your list? Nothing personal, it's just, you know, I don't want to read your stuff."
Unsubscribing from your email list should be a single click away.
3. Provide value (or at least what you promised)
Please, just send me what the heck I requested or what you promised me. Don't fill up my inbox with the latest news on your new hire or your special offers if I live a thousand miles away.
Don't abuse your list. Educate them and provide them with something useful.
4. Segment your contacts into highly targeted lists
Your contacts are all very different. You probably have customers, prospects, vendors, friends, colleagues, peers, etc. on your email list. They shouldn't all receive the same messages. This is a sure-fire way to piss people off.
This is when segmenting comes into play. Create unique lists of your audience. Have a list of customers, or segment even deeper by creating a list of your lawn care customers, irrigation customers, holiday décor customers, etc. You get the point.
The more targeted you are with your campaigns the more success you will have (and fewer people pissed at you).
5. Don't waste your hard-earned money
Do you really want to be a company who is known for spamming people? That's exactly what you're doing if you purchase email lists from a third-party.
An unsolicited email is a terrible first impression of your company – not a great way to build a strong brand and earn trust, folks.
6. Analyze your numbers
I know we're all limited when it comes to time, but here's the thing: If you're going to invest your valuable time in putting together a kick ass email marketing campaign, then you need to spend a little additional time reviewing the metrics from your campaign.
To be successful with email marketing you have to know what's working and what isn't so you can continually improve your campaigns. The only way to know is by looking at real numbers like click through rates, unsubscribe rates and sales.
All email marketing software will provide these basic analytics.
7. Increase your frequency
As long as you're following the best practices I've laid out up to this point, chances are you should be creating email campaigns more frequently.
And, don't be afraid to send multiple emails in the same campaign. Oftentimes it is the second or third email in a campaign that drives the action. For example, when promoting your holiday decorating services to your lawn care customers, your campaign will be much more successful if you hit your customer list with three emails instead of only one.
(Pro tip for the B2C crowd: Don't be afraid to send a promotional email like this on a Saturday or Sunday morning).
The best email marketing software for landscapers and lawn care operators
If you've ever researched email marketing software for your company I'm sure you're keenly aware of how many options are on the market. Yup, there's a lot of them.
I want to mention four of these solutions that are popular in the green industry. I'll add some personal opinion based on my own experience as well as cite other sources I trust.
First, I'm breaking these into two categories for you. The first category is purely email marketing software. That's the singular purpose.
The second category is all-in-one marketing automation software which includes email tools in their suite of marketing awesomeness along with tools for social media, blogging, analytics, etc.
If your landscaping company is just getting started with email marketing a basic email marketing software like Mailchimp or Constant Contact is most likely a wise starting point. This software offers a small learning curve and can be very inexpensive.
If you're a bit more advanced and looking to integrate your email marketing with your other digital marketing efforts then having all your tools in a single software is a smart decision.
Email marketing software: Mailchimp versus Constant Contact
Mailchimp and Constant Contact are the two email marketing solutions I hear landscapers and lawn care operators mention most.
Personally, I've used both. I find Mailchimp to be superior software from a user experience perspective. But let's not rely on just my opinion. The following is an excerpt from a Capterra blog post comparing the differences between Mailchimp and Constant Contact:
"Capterra recently conducted a poll of 60 small businesses that use either MailChimp or Constant Contact for their email marketing needs. Shockingly, more than half of the respondents had used both systems at some point in time, which speaks to the enormous market share these two leading email marketing software providers have. The more interesting finding from our study— of the businesses that had used both, 75% of respondents preferred MailChimp over Constant Contact."
Read the in-depth comparison here. Both Mailchimp and Constant Contact offer a free trial, so why not take both for a test drive and determine which is the best fit for your business?
All-in-one marketing automation software: HubSpot versus Infusionsoft
We're huge fans of HubSpot here at Landscape Leadership and use the software with all of our clients. So, yeah, I'm biased. We're actually a "partner agency" with HubSpot (fancy, I know).
Even though I drink the HubSpot Kool-Aid I readily admit that Infusionsoft has some kick-ass software of their own that can be a good fit for small to medium sized businesses like those in the green industry.
In fact, Infusionsoft really got started as email marketing software and expanded their tool box from there.
You shouldn't choose either HubSpot or Infusionsoft based solely on their email tools – they both do a lot more than that. I suggest reading our (completely biased) review of HubSpot and the unbiased and highly-researched comparison from The Sales Lion.
Wrap Up
Email marketing is one of the most effective and direct ways you can reach your customers and prospects. Whether you are a landscape company, lawn care operator or a garden center, email should play an important role in your marketing strategy.
By following these email marketing best practices and utilizing email marketing software we can all put an end to crappy emails (Hooray!) and instead focus on providing timely, helpful information for our contacts, in turn adding more to our company's bottom line.
Do you find our insight helpful? If so, please consider subscribing to our blog. Just add your email below and you'll receive our new articles instantly (about one per week).
Image credit: G M (first), notoriousxl (second), Tomos (third)