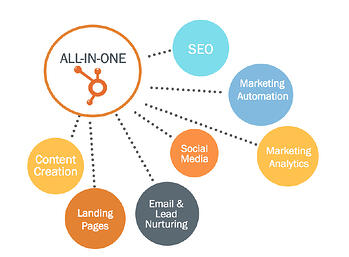 This post was updated on October 1, 2013 to reflect HubSpot's update to their plans and pricing.
Self-proclaimed, "the only marketing software you'll ever need", HubSpot is referred to as all-in-one marketing automation software. Infusionsoft, ExactTarget, Eloqua and Marketo are all players in this same category. As an all-in-one solution, HubSpot provides inbound marketing tools for website design, blogging, SEO, social media, email marketing, lead generation, contact management and closed-loop analytics.
Full disclosure here: Landscape Leadership is a HubSpot-certified partner and reseller. As an inbound marketing agency, we utilize HubSpot's 20+ marketing tools to drive inbound marketing campaigns for the majority of our green industry clients. 80 to 90 percent of our clients own a HubSpot license (our goal is 100%). That should tell you how much we believe in HubSpot's software and how valuable it can be.
We're not going to cover all of HubSpot's features/benefits in this post, instead I want to focus on how much a HubSpot license actually costs and whether or not it's a smart choice for your business.
Is HubSpot worth the cost?
As you'll see, a HubSpot license can be a big chunk of dough to swallow every single month. That said, keep this in mind: Why would we use it ourselves and for our clients if we didn't get tremendous value and ROI from it? Trust me, we wouldn't spend the money on it every month if we didn't see the value.
BUT, this is not to say that HubSpot is a good fit for every company. How do you know if you're a good fit? How can you be sure your company will get a return on your investment? If your business is to get the full benefit and value from HubSpot you'll need to meet two criteria:
Your business must be committed to inbound marketing and the proven inbound methodology developed by HubSpot.
You must commit the time to implementing the methodology and staying up to date with everything HubSpot's software offers.
If you purchase a license and let it "sit on the shelf" you'll be throwing your money away. On the other hand, if you fully commit to the inbound marketing methodology -- with HubSpot's software as the catalyst -- you'll get your return on investment.
I recommend reading this case study about Weed Pro, a lawn care company in Cleveland, OH, who is committed to HubSpot and the inbound way.
How much does a HubSpot license cost?
The cost of a HubSpot license is based on two things:
The type of license: Basic, Professional or Enterprise
The number of contacts in HubSpot
The cost is not based on number of users like many other software solutions. The base pricing for each type of license is shown in the screenshot below. You can view extensive pricing information here on HubSpot's website.

Companies in the green industry will most likely choose either the Basic ($200/month) or Professional ($800/month) HubSpot license. The majority of our clients have a Professional license.
HubSpot's software will integrate with your existing site by way of a HubSpot-hosted subdomain.
The Basic license comes with a smaller tool box and some limits (users, monthly visits, email sends) compared to the Professional license but it can be a really good starting point for many companies.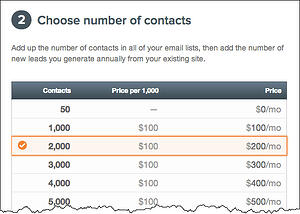 The cost of your license will also be based on the number of contacts in your HubSpot portal. This is your database of customers, past opportunities/leads and active prospects that you import into HubSpot when you begin. This number of contacts will also grow over time as you generate new contacts/leads using HubSpot's software and the inbound methodology.
For example, if you begin with HubSpot's Basic license and import 900 contacts your monthly cost will be $300. After you cross the 1,000 contacts threshold your monthly cost will jump to $400. The more value you get from the software (i.e. more leads), the more you pay. This is actually a pricing model we prefer because we don't mind paying more money for the software as long as we know we are getting a lot of value from it. It's a scaleable pricing model for us (and our clients).
Side note: You're probably familiar with email marketing software like Constant Contact or MailChimp. Because HubSpot includes its own powerful email marketing tools, most companies will move their email list of contacts from a Constant Contact into HubSpot, thus eliminating the need for the stand alone email marketing software.
Will there be additional costs to consider?
Aside from the monthly or annual HubSpot license, there are a couple of additional costs to consider.
Upon purchasing a license you will be required to fulfill HubSpot's Inbound Success Training for a one-time cost of $2,000. The exception to this is when a company purchases a HubSpot license through a certified partner agency like Landscape Leadership. This training cost is waived under the assumption the partner agency will either conduct its own training or will be managing the HubSpot software for the client.
If you decide to move your current website to HubSpot's platform you may incur some website migration costs if you choose to have HubSpot do this for you. The one-time cost is extremely reasonable at only $10 per page. For example, if your current website has 30 pages it will cost you $300 to have HubSpot migrate them to your new HubSpot-hosted site.
If you want to learn more about HubSpot's software visit their website here and take a look at their pricing page here. If you want to learn more specifically how we use HubSpot with our green industry clients we welcome your inquiries. We love to talk about HubSpot! Feel free to call us at (800) 681-9169 or fill out our handy contact form.