Each part of your inbound marketing campaign should be educational, helpful, timely, customized and consistent--in other words, lovable! With this in mind, their are five key components of a successful inbound marketing campaign that are required to generate leads and new customers and deliver a positive ROI. Here are the five steps:
Produce a compelling marketing offer
Place the offer on your website
Attach the offer to automated workflows
Promote the offer via email, blog and social media channels
Measure results
Step 1: Produce a compelling marketing offer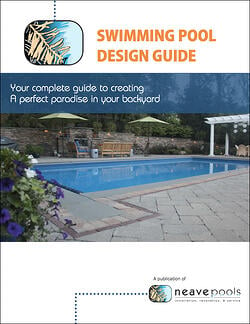 A compelling marketing offer is the gateway to lead generation. You cannot convert website visitors into leads without one.
A compelling marketing offer can include a free download of an ebook or case study or an invitation to join a future webinar, among other things.
Your business must have a detailed picture of your target audience in order to create optimal content for them. Who are your ideal customers and prospects? What are their biggest concerns, needs, and interests? Where can you reach them – on search engines, social media, or blogs – and what kinds of content do they prefer?
These questions will help you develop buyer personas and create a successful inbound marketing campaign with appropriate offers that attract qualified leads.
Throughout this post will refer to an offer created by Neave Pools (client) as an example, their "Swimming Pool Design Guide"
Step 2: Place the offer on your website
In order to start generating new leads from your offer, you need to place it on your website.
You do this by creating a landing page which is a web page featuring a description and an image of the offer along with a form for visitors to fill out in order to receive the resource.
This transaction is a type of information exchange, in which the visitor gets the offer they are interested in and you receive the contact information of your visitor. They then transition into their next lifecycle stage, that of leads. This is the process of lead generation.
A good landing page will target a particular audience, such as traffic from an email campaign promoting a white paper or case study, or visitors who click on a pay-per-click (PPC) ad promoting a particular ebook.
Creating landing pages enables you to target your audience, offer them something of value, and convert a higher percentage of your visitors into leads.
View the landing page for Neave Pool's Swimming Pool Design Guide here.
Step 3: Attach the offer to automated workflows
So you have designed a stellar marketing offer and placed it on your website--perhaps an ebook like Neave Pools. But before you start driving traffic to it, you need to consider how you are going to nurture the new leads that you create. How are you going to further educate them about your company and product or service? You will need to use workflows.
What is a workflow?
Workflows are an automated series of emails or other communications that pre-qualify early-stage leads before handing them over to sales. Workflows are also known as advanced lead nurturing, marketing automation, drip marketing, and auto-responders. Their goal is to make your new leads more sales-ready.
By using workflows to nurture your leads, you save your sales team time because you educate and qualify the lead over time.
Once you set up workflows, emails are sent out automatically according to your schedule as new leads come in. You might launch the campaigns and forget about them, but the emails will be doing the work for you, helping you qualify leads and push them down the sales funnel faster.
Direct mail and a direct phone call can also be incorporated into your followup workflows.
Step 4: Promote the offer via email, blog and social media (and even offline!)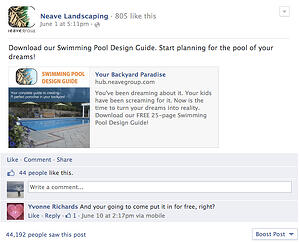 Once you have created a compelling marketing offer and have placed it on your website, you can start looking for other opportunities to drive traffic to your landing page.
This is where you can leverage your blog and social media channels. Your blog and social media can increase the reach of your content and support your lead generation efforts. Just remember to always have a call-to-action: a link to your landing pages with the marketing offer.
Take excerpts from the content in your offer and feature them as blog posts. Share the offer on your social networks and even consider advertising your offer through social channels like Facebook. You can even include calls-to-action in your offline campaigns, like direct mail and advertising, leading prospects to your landing page.
The screenshot shows how Neave Pools promoted their Swimming Pool Design Guide using Facebook's advertising platform.
Step 5: Measure results
Now that you have created a marketing campaign from start to finish, you need to revisit each element of the campaign and analyze how it performed individually and as a part of the whole.
There are a wide range of metrics that you need to look at in order to evaluate if your campaign was successful or not. If you are trying to have a quick peek at your overall performance, you should start with a look at the analytics tied to the landing page that hosts your marketing offer.
You should be able to explore the number of new leads and customers you generated from each channel, and you should also have access to key performance indicators that give you cues on how to improve the final results of your campaign. This final step is critical and should never be brushed aside.
[NOTE: Below is a perfect example of how we routinely use an "offer" (the ebook), a "call-to-action" (the image) and a "landing page" to generate leads from this blog.]
This blog post is an excerpt from our recently released ebook, "How to Create an Effective Inbound Marketing Campaign". This special ebook was published in collaboration with our friends at HubSpot. Grab your free copy today by clicking the image below.