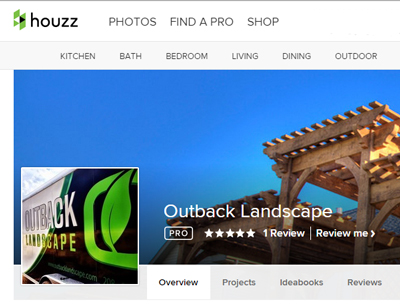 Ask any landscape contractor what sells his design services, and he'll probably tell you "project photos."
While social media sites like Facebook can be a good way to showcase your photos, you can't guarantee the people looking at them are actually on the hunt for a landscaper. But that's not the case with Houzz.
"Houzz is the place for people who are actively looking for help with their landscape projects," says Liza Hausman, vice president of industry marketing and community at Houzz. "They are looking for ideas and landscaping professionals to help them with their projects."
The photo-centric site has 25 million unique users each month, and 90 percent of those are homeowners. This social media platform brings together homeowners who are browsing home or landscaping project photos with the professionals who offer those services.
Houzz users can browse, upload, like and comment on photos. Most homeowners use the site to get ideas for their home improvement projects – including landscaping – and to find professionals to hire.

Here's how you can tap into that network of potential clients and market your landscaping business on Houzz.
(RELATED: Is Your Web Presence Attracting or Repelling Potential Employees?)
How Houzz is different from other social media sites
Unlike social media sites like Facebook and Pinterest, Houzz attracts visitors who want to do more than just look at design ideas, says Paige Worthy, client services director at Landscape Leadership.

"Houzz users are people who are actively planning to make some updates to their homes and landscapes," Worthy says.

The site is especially suited for residential properties – especially high-end, landscape design/build work – since that type of work better translates through photos.

"The reason Houzz has grown as quickly as it has is because people find it easier to communicate with photos. It's a very visual platform," Hausman says. "Houzz is doing the work while you're out in the field taking care of business."
How to create a Houzz profile
The first step to marketing your landscaping business on Houzz is to create a profile.
Once on the site, you can either signup with an email address or through Facebook. The site will ask what describes you best, so choose "professional".
You can then enter information on your business, including your location, company name, contact information and category. There are a variety of landscape-related categories, so choose the one that best fits your business.
Here are a few options:
Decks, Patios & Outdoor Enclosures
Design-Build Firms
Driveways & Paving
Garden & Landscape Supplies
Landscape Contractors
Lawn & Sprinkler
Lighting
Stone, Pavers & Concrete
Tree Services
The image below illustrates how Landscape Ligting Pro of Utah has set up their main profile: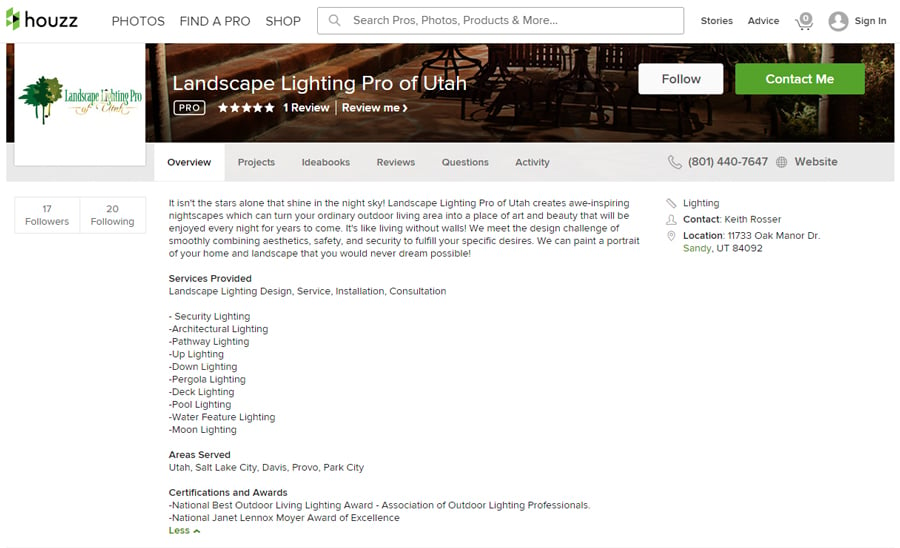 After you've entered your basic information, you'll be taken to a page where you can add more details about your landscaping business, such as:
Services provided
Areas served
Company website
License/certification information
Typical job cost
Profile photo
Be sure your business description gives homeowners a good understanding of who you are and what you do.

"Don't just say, 'I do landscape design and lawn maintenance,'" Hausman says. "Describe why your business is unique and why someone should hire you instead of your competitors."
(RELATED: The Best Ways to Advertise a Landscaping Business in the Digital Age)
Professional photos sell services
The most important part of completing your profile is adding project photos.

When deciding which images to upload, pick high-resolution images from residential properties that are at least 1,000 pixels wide. The Houzz staff will actually delete low-resolution and non-residential photos that you upload.
Neave Group Outdoor Solutions features professional photos, such as the one below, on all of their project pages: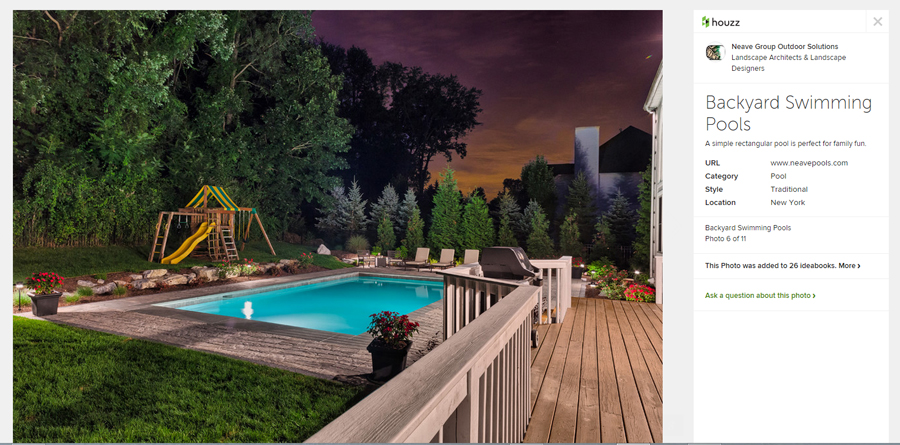 Your photos should look professional. "If you don't think you're a good photographer, trust your gut, and hire a professional," Worthy says. "It's worth it – it's a good investment."

If you're not sure where to find a photographer, Houzz lets landscapers tap into their network of professional photographers through the Houzz Photographer Network where you'll find local professional photographers who offer special packages and pricing to first-time clients.

Packages are set at three different price points: $200, $750 and $1,500. Each package includes eight daylight project photos and the rights to use them on Houzz and your website.

"It's all about the details and beauty on Houzz," Worthy says. "Homeowners want to be wowed." So, save your "before" and "during-the-project" photos for Facebook, and upload your very best "after" shots to your Houzz profile.

When creating a project, you have options. You can either create a project for the location, such as The Smith Residence, or you can create a Houzz project that features a collection of images of a specific landscaping element like outdoor kitchens or swimming pools.

After you name the project, add the location and get as detailed as possible when writing the description.

"Instead of saying 'hardscaping,' you can go deeper and say 'natural flagstone' or 'bluestone,'" Worthy says. Use keywords in your image and project descriptions that Houzz users would actually be searching for.

You can also share the materials, shapes and plants you used, and add superlatives to play up your work. For example, you could use words like beautiful patios, contemporary water features, stunning firepits or water-wise plant beds. Have fun with your Houzz profile!
How to get reviews on Houzz
After creating your profile and adding photos, you need to focus on getting customer reviews. They not only give your landscaping business more credibility with potential clients, but Houzz also values reviews and will increase your profile's visibility as you receive them.

There are a few ways you can get reviews:
Ask clients to review you after finishing their project by directing them to your Houzz profile online. Make this easy for them by giving them step-by-step instructions. Ask them directly for the review and also add a request (and instructions) to your invoices.
Email existing customers. You can click "Get Reviews" on your profile and email existing customers to get their recommendations.
While all of your clients probably aren't using Houzz, you can still ask them for reviews. There's a printable document at info.houzz.com/reviewform that your client can fill out and mail to Houzz. Once approved, it will be added to your profile.
Do not underestimate how effective this can be! Many of your clients will be more willing to use this approach versus going online to leave a review. Again, make it easy for them by providing them with the form and a self addressed stamped envelope.

Ask your customers to be specific about the finished project and their experience working with you. They can also add photos of the finished space to their review.

And when you get a review, make sure you respond – whether it's good or bad. Just as Neave has in the comment below: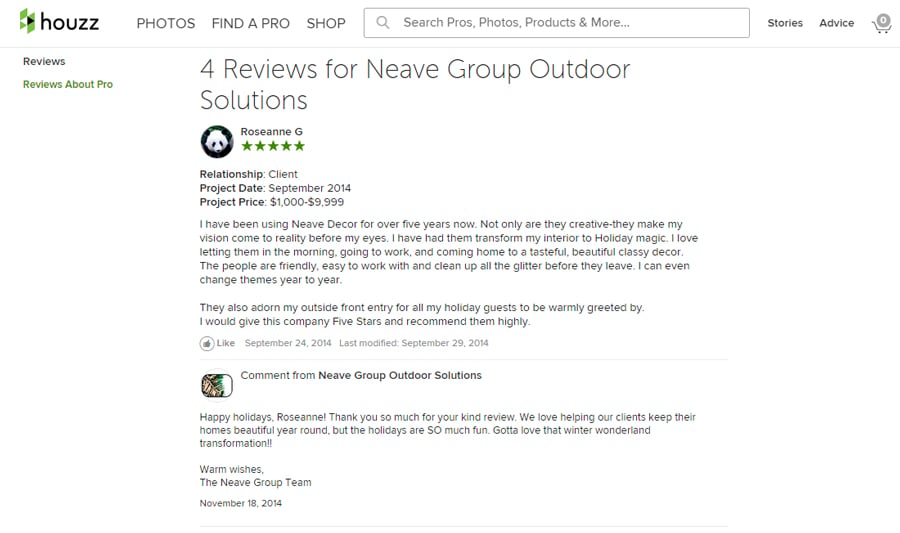 How to reach local homeowners
Landscapers who want to take their Houzz experience to the next level can upgrade to a Houzz Pro Plus account.

This paid service allows pros to geographically target homeowners in their communities and increase their profiles' visibility on a local level. The package starts at a few hundred dollars a month, and it is custom built for each professional depending on his or her marketing objectives.

Pro Plus provides guaranteed, targeted and contextual exposure for the landscaping company, Hausman says. This includes targeted placement in the Find a Pro directory and in the Houzz photo stream.

Targeting is by geography and professional category. Visit houzz.com/proplus for more information.

Note: This is not an endorsement by Landscape Leadership. You will need to decide if a Houzz Pro Plus account is best for you.

You can also win Houzz awards, which can be used as another marketing tool. The site gives the "Best of Houzz" awards to professionals on the site each year, broken down into two categories: customer satisfaction and design.

Pros are automatically entered by uploading photos or having reviews (for the satisfaction award). Only 4 percent of professionals receive awards, Hausman says.
(RELATED: The Expert Guide to 11 Need-To-Know Social Media Sites for Garden Center Retailers)
What not to do when using Houzz
While a Houzz profile is pretty straightforward, there are things to avoid for your landscape business to get the most from the site.

Instead of trying to "sell" yourself, use your profile, projects and idea books to inspire homeowners.

"Let the benefits of working with you come out organically," Worthy says. "Don't try too hard: Just share good work, and the rest will follow."

Once you have a profile, don't stop adding to it as time goes by. Gradually upload photos and descriptions as you finish projects, finding a posting schedule that works for you. Adding six to 10 new projects each year is a reasonable goal.

"Consistency is more important than frequency," Worthy says. "Houzz is one of those really simple tools that will get you good mileage if you commit to it."
Learn what other social networks and apps are a smart choice for green industry companies by downloading our infographic, "The 11 Most Important Social Networks & Apps for Green Industry Companies". And be sure to subscribe to our blog to receive new articles – usually one per week. Just add your email address below.