This article originally appeared in the March 2014 issue of Garden Center Magazine and was written by Paige Worthy, client services director at Landscape Leadership.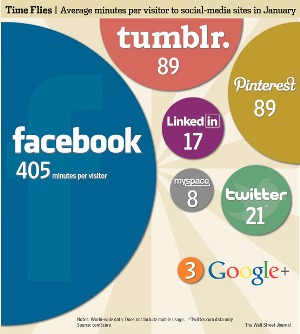 It's never too late to embrace social media, even as new platforms crop up seemingly every day.
More than three-quarters of internet users over the age of 15 use at least one social media site, and the more social media sites and apps there are, the more your garden center customers will be expecting to be able to find and engage with you online.
If they can't find you on Facebook, Twitter or any of the panoply of social media platforms available now, there's a good chance they'll find your competitors somewhere — and that's bad for business.
Now, more than ever, is the time to bring your garden center into the 21st century and get social!
Consider this quote, though: "Just as movies were different from Broadway and television shows were different from feature films, every form of online media is also different."
So says Om Malik, the founder of tech website GigaOM. What's he getting at? The idea that social media isn't just social media. There are many different platforms available to consumers today — and to you. Each social media site or app has a different audience that demands a different type of attention and specialized communication.
There's a lot of nuance in the world of social media, and if you feel overwhelmed at the thought of diving in, trust me, you're not alone. Here's a look at a few of the many social media platforms out there today — and how you can use them to your garden center's benefit.
Get active on the big 3
These are the holy trinity of social media for garden centers. Get to know these platforms, and understand who among your customers — and potential customers — would use them, and then find a way to carve out your own niche on each one.
Facebook
There are more than 1.23 billion — yes, billion — active Facebook users worldwide, including more than 50 percent of the United States population. How many are in your garden center's area?
A Facebook business page is your chance to engage with a sliver of the 757 million people who log on to the site every day.
Sure, you can share photos and check-ins from your personal page, but creating a Facebook business page has all kinds of benefits: You can target sponsored posts to highly specific groups of people, see demographic information on everyone who likes your page, and allow multiple team members to update from their own accounts, freeing you up to focus on other parts of your business, too.
Twitter
To the uninitiated, Twitter can still seem like an untamed frontier. With more than 340 million tweets posted every day, the sheer volume of information alone can be overwhelming.
There's plenty a garden center can do to market itself on Twitter, but more than anything, it can be an amazing listening platform. Search for your garden center's name on Twitter once in a while; you may be surprised what people are saying. And don't be afraid to respond, either.
This social network can also be a wonderful place to connect with other green industry professionals, trade associations and other thought leaders. You can swap new ideas and best practices, find out what's happened at trade shows and garden center tours, and keep up with industry news.
Instagram
More than 17 percent of all online adults are now using Instagram, and the average user spends 257 minutes a month (more than 4 hours) on the social media network. It's safe to say it isn't going anywhere. Instagram is one of very few platforms that still requires an official app for full functionality, which fosters a great microcosm of dedicated users who share photos through shared interests and hashtags.
This social media platform is one of Landscape Leadership's favorites for sharing that "day-in-the-life" snapshot of our clients' businesses, from in-office training sessions to on-site projects in progress.
Just think of the behind-the-scenes action could you show off at your garden center! Why not share your business's login information with your greenhouse manager, your merchandiser and even a couple of your most trusted cashiers to show your customers what happens at your garden center when they're not around?
Set your business in motion
Industry experts at The 7th Chamber, a video distribution company, estimate that two-thirds of the world's data will be video by 2017. Have you captured a piece of the video pie? If it's a medium your garden center is willing to invest time (and sometimes money) in, here's a look at the sites that can help you get your message out there.
YouTube
Boasting more than 4 billion video views per day, YouTube has managed to capture a lot of internet users' attention since its inception in 2006. Even I've been known to lose a few minutes occasionally to videos of French-speaking cats or Oscar-night bloopers.
YouTube users upload an hour of video to the site every minute. That's a lot of content vying for your customers' eyes, but if you create truly compelling videos — your own unique spin on everyday gardening tips, perhaps? — you can build a devoted local audience that will love them.
If you're committed to sharing videos from your garden center regularly, YouTube is a perfect place to host them. It's also easy as pie to embed videos on your website or blog from YouTube.
Vine and Instagram Video
Twitter and Instagram both have their own short-form video platforms now, too: Vine and Instagram Video. The catch: Vine videos are limited to 6 seconds, and Instagram videos are cut off at 15 seconds.
Videos on these social networks require a lot more creativity and ingenuity to get the same message across as you might in a three-minute video. But if you've got the creative spirit needed and prefer more off-the-cuff sharing, Vine and Instagram video can be useful tools for video sharing.
Go local
Keep your finger on the pulse of what's going on near your garden center by staying up to date on social networks like Foursquare and Google+.
Foursquare
There may have been other GPS- and location-based services before it, but Foursquare is the only one that's really stuck in users' minds. There are more than 60 million Foursquare "venues" around the world - is your garden center one of them?
Truly devoted Foursquare users use the app to check in everywhere from their desk at work to their favorite lunch spot, from their church on Sunday to the dentist's office the next day. If they check in often enough, they could become mayor of a venue — which can offer benefits that range from simple bragging rights to fantastic discounts and other perks. Savvy businesses can create business profiles on Foursquare that allow them to create those specials for frequent visitors and the mayor, as well as interact with people who check in and leave comments.
Google+
Compared to some of the more established social networks, it's tough to see the immediate value in Google+ alone. Even Google calls it a "social layer" that ties together all of its online properties.
As a brick-and-mortar business, you can take advantage of linking your enriched Google+ profile to your listing within Google and Google Maps, which gives you more colorful real estate — and authority — in search results.
And, if you're creating content online and concerned with search engine optimization (you should be, by the way) Google+ and Google Authorship should be integral to your garden center's strategy.
Stay on top of trends
What better way to wow your garden center customers than by inspiring them in-store with the very trends they've seen online and in magazines?
Pinterest and Houzz
Websites like Pinterest and Houzz can give you a leg up on what's hot in the industry — from the consumer perspective.
Did you ever create an inspiration board for yourself? Pinterest is the online version. More than 70 million users — 80 percent of them women — have joined since the site launched in 2010, sharing everything from recipes, home décor ideas and wedding planning tips to motivational quotes and, yes, gardening inspiration!
Pinterest can be valuable to a business owner just by offering a glimpse into the mind of the consumer and what inspires her — but the best brands on Pinterest take a more active role.
Create boards not just about flowers and gardens but also about enjoying life outdoors — whatever that looks like to you. Make Pinterest boards full of funny quotes about gardening. Tell your own story through Pinterest; what you love might just be what your ideal customers love, too.
Houzz, the high-end, high-design site is the new kid on the block, offering homeowners a look at real projects on properties — inside and out — all over the United States.
If you don't offer professional landscaping or other home services, Houzz may not be a site where you can have a business presence, but it's still worth checking out. It could be the perfect place to get some cutting-edge inspiration for merchandising — or even a glimpse into outdoor living product trends for the months to come. Houzz is perfect for a landscaping business.
Keep customers in the loop
Blogs have been around since the dawn of the Internet. These days, they're a great way for businesses to connect with their audiences beyond advertising, providing content that draws customers to them through valuable information.
Wordpress
WordPress is one of the most enduring platforms for blogging. It's currently the most popular self-hosted blogging tool and content management system on the Internet, with more than 74 million active sites. Users published 489,281,136 blog posts in 2013, 12 times the number of books in the Library of Congress.
WordPress is great for garden center owners who are really committed to blogging — it's relatively easy to put together a blog with a sophisticated look that integrates seamlessly with your current website.
WordPress also offers several plugins that can help you maximize your search engine optimization efforts.
Tumblr
If your garden center is looking to corner the up-and-coming younger demographic as they come of age and become more interested in building up their homes and gardens, Tumblr will be your go-to blogging platform.
Tumblr's got the youth blogger market cornered, with more than 600 posts published every second. (Every. Second.) Tumblr makes sharing information, links, photos and videos as easy as a few simple clicks of a button — perfect for distributing lots of photos and short-form content.
Close the loop
The most important thing to remember here: These social media platforms don't exist in a vacuum. This is not an "if you build it, they will come" scenario. It's important to be consistent in your content creation and posting efforts — and to make sure your customers know that you're creating and posting, too!
Link to your active social media sites from your garden center's website. Include links to your Facebook, Twitter and blog in your personal emails and enewsletters.
And don't stop with your online properties — tell your customers about your active social media presence while they're in your store, too! Incorporate them into in-store signage, merchandising displays and even your contests and promotions.
The more your customers know about your social media and what social networks you're active on, the more they'll be able to interact with you and build a stronger relationship with your garden center, one that slowly weaves its way into their everyday lives.